CREATIVE WORK
Scholarship remains the focus of every graduate student's career at UCSB, however several opportunities for creative work exist to supplement the academic program.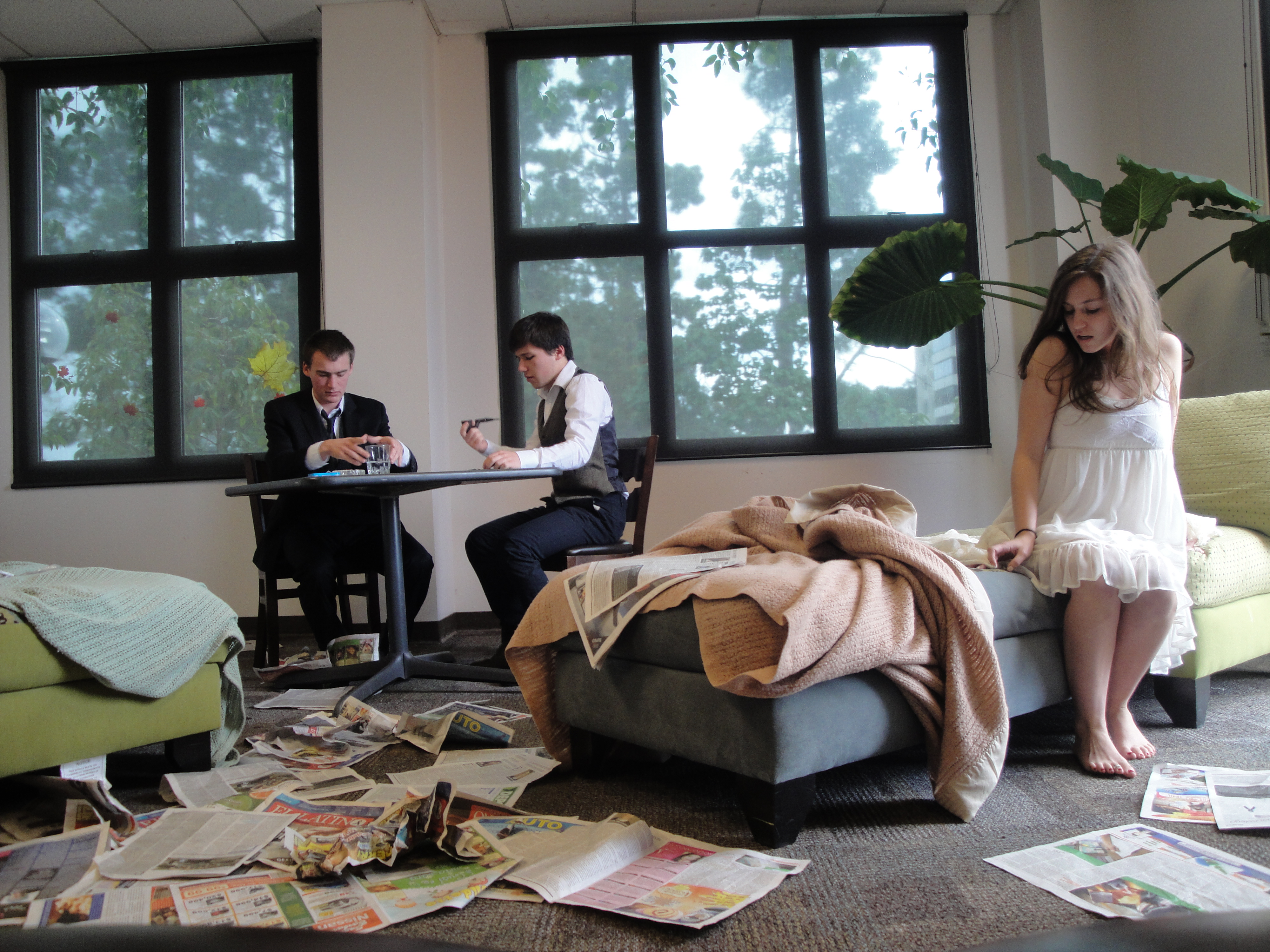 Mind Readers
Mind Readers is an initiative dedicated to organizing creative readings of old and new plays. We combine the talents of UCSB Theater and Dance graduate directors and BA student actors with the engaging material being taught in Theater Studies courses. Mind Readers strives to integrate theoretical and scholastic work with the joy of creating and performing. We bring research to life! (Mindreader's 2015 production of Eugene O'Neill's play Exorcism pictured left)
Graduate Directed One Acts
Offered as a one-quarter course each year, the One Acts provide an opportunity for Graduate Students to develop or advance their directorial skill under the mentorship of a professional director.
Assistant Directing and Dramatrugy on the Mainstage
Graduate students regularly work as Assistant Directors and Dramaturgs for Mainstage productions
Our current and former students have been published in a variety of Journals, Encyclopedias, and Electronic Media.
Recent publications by current and former Graduate Students:
Anderson, Kane. "Secret Identity Crisis: Gender Studies and Queer Studies Approaches to Graphic Literature" in The Routledge Handbook to the Secret Origin of Comics Studies, eds. Matthew J. Smith and Randy Duncan,  forthcoming (2016)
Boulos, Dan. "'Anna Christie,' Chris Christophersen, and dat ole davil Broadway," Eugene O'Neill Review Vol.36 No. 2 (2015)
Claveria, Alesha. "The Great God Pan/Brown: Shared Origins and Theme of A Victorian Horror Classic and Eugene O'Neill's Masked Play." Eugene O'Neill Review Vol. 36 No. 2 (2015). Project MUSE. Web. 27 Aug. 2016. https://muse.jhu.edu/
Heller, Meredith. "Gender-Bending in El Teatro Campesino (1968–1980): A Mestiza Epistemology of Performance" Gender & History Vol. 24, No. 03 (2012)
Jahanmir, Yasmine. "Picture perfect: nostalgic femininity and temporal disruptions in the Aqualillies' water ballets" Women and Performance Vol. 25 No. 2 (2015)
Johnson, Kellyn. "Undermining Identities in Johnny Blazes' Check One Please: The Ambiguous Body as Feminist Performance Tool" Frontiers: A Journal of Women's Studies Vol. 36, No. 2 , (2015)
Price, Zachary. "The Odyssey Project: A Martial Arts Journey Toward Recovery and Liberation." Theatre Topics Vol. 24, No. 1 (2014)
Speer, Annika. "The Feminist Potential of Docudrama: Destabilizing the Primacy of Primary Sources through Paula Kamen's Jane" Frontiers: A Journal of Women's Studies  Vol. 34 No. 3 (2013)
CONFERENCES & PROFESSIONAL ORGANIZATIONS
Our current and former students have been featured as plenary panelists and presenters at conferences across the globe including The American Society for Theatre Research, Association for Theatre in Higher Education, Popular Culture Association, International Federation for Theater Research, Modern Language Association, Comparative Drama, among others.
Additionally many of our students have been elected to leadership service positions with the American Society for Theater Research.
Organizational Grants received by students in our department include:
The Steve and Barbara Mendell Graduate Fellowship in Cultural Literacy
Helen Krich Chinoy Dissertation Research Fellowship
The Thomas Marshall Graduate Award
The AAUW Dissertation Fellowship
CLIR/Library of Congress Mellon Fellowship
PROFESSIONAL SUCCESS
Our alumni have found success in academia and beyond. Current positions held by our alumni include:
James Al-Shamma, Assistant Professor of Theatre, Belmont University
Kane Anderson, Visiting Murphy Fellow in Language and Literature in Theatre Arts and Dance, Hendrix College
Judy Bauerlein, Associate Professor of Theatre, California State University, San Marcos
Rose Elfman, Editor and Publications Manager, The Center for Black Studies Research, University of California--Santa Barbara
Andrew Gibb, Assistant Professor of Theatre History, Theory, and Criticism in the Department of Theatre and Dance, Texas Tech University
Meredith Heller, Lecturer in Women's and Gender Studies, Northern Arizona University
Andrew Henkes, Assistant Director of Admissions, MBA & Dual Degree Programs, Drucker School of Management
Kellyn Johnson, Coordinator for Student and Cultural Engagement, Arizona State University
Jan Lewis, Associate Professor of Theatre, Wesleyan College
Jason Narvy, Associate Professor of Theatre, Concordia University Chicago
Annika Speer, Lecturer in Theater and Public Speaking, University of California- Riverside
Anne Garcia Romero, Thomas J. and Robert T. Rolfs Assistant Professor of Film, Television, and Theatre, University of Notre Dame
Jason Davids Scott, Assistant Professor in Theatre, Arizona State University
Marc Shaw, Associate Professor of Theatre Arts, Hartwick College
Beth Wynstra, Assistant Professor of English, Babson College
Edward Ziter, Associate Professor of Drama, Tisch School of the Arts, NYU