ALL UCSB STUDENTS ARE WELCOME AND ENCOURAGED TO AUDITION.
ONE DOES NOT NEED TO BE IN THE THEATER/DANCE DEPARTMENT TO AUDITION. 
2022-2023 Auditions and Callback Dates
Government Inspector
Auditions: Monday, September 26, 2022

Callbacks: Tuesday, September 27, 2022
Fall Dance Concert
Auditions: Friday, September 23rd
Fall One Acts: 
Auditions: Monday, October 3, 2022

Callbacks: Tuesday, October 4, 2022
Winter (NNRR & She Wolf) 
Auditions: Monday, November 28, 2022

Callbacks: Tuesday, November 29, 2022
LAUNCH PAD Amplify Reading Series Festival
Auditions: Monday, November 21, 2022
The Last Days of Judas Escariot:
Auditions: March 13, 2023

Callbacks: March 14, 2023
Spring One Acts: 
Auditions: Monday, April 3, 2023

Callbacks: Tuesday, April 4, 2023
Scripts and links for upcoming auditions 
The scripts for auditions can be found below. You must use your UCSB email account to view them. If you use your personal Gmail account it will say that you need to ask permission which you will not recieve. Please note that the scripts cannot be downloaded nor printed. You must be logged into your ucsb google account to view.  Please do not share these scripts with anyone. 
Fall One Acts (SCRIPTS AND AUDITION SIDES)
Spring One Acts (Coming Soon)
TO AUDITION YOU MUST:
1) SCROLL DOWN ON THIS PAGE TO READ ALL AUDITION INFORMATION
2) FILL OUT The AUDITION FORM
The Last Days of Judas Iscariot (Click Here)
Spring One Acts (Coming Soon)
3) Fill in your name on the aUDITION sIGN-uP sHEETS (FILL IN YOUR NAME IN EACH SHOW YOU ARE AUDITIONING FOR):
The Last Days of Judas Iscariot - There is no audition sign-up sheet for this production. Instead, you will submit an audition tape. Please scroll down for more information.
Spring One Acts (Coming Soon)
4) READ THE SCRIPTS PROVIDED AT THE TOP OF THIS PAGE
5) show up to your audition 10 minutes early and be prepared to stay until released by the directors. 
---------------------------------------------------------------------------------------------------------------
The Last Days of Judas Iscariot
By Stephen Adly Guirgis
Directed by Kendra Ware
PERFORMANCES:           
Thursday, May 25th – Sunday, June 4th
Performing Arts Theater
NOTE FROM THE DIRECTOR, KENDRA WARE:

With this nontraditional production, I am aiming to create a multicultural show that reflects the melting pot of humanity since time began.  I am under the belief that we are creating a world where anyone regardless of age, creed, sex, or disabilities can and should audition to participate in co-creating this imagined space. Anyone can be anything in this time-bending play so I am adding gender and race-bending as well.  The playwright, Stephen Adly Gurgis is an Egyptian/Irish New Yorker and this informs the text greatly.  Auditioning and further performing in this play requires a serious dramaturgical investigation into the text.  I am looking to work with those who are highly imaginative and creative risk-takers.  Those who are willing to stretch and challenge themselves as artists,  and see themselves as investigative thinkers.  Feel free to make bold choices, play, re-interpret, and be willing to think out of the box in preparing your auditions or scenes from the play.  I am asking you to give yourself permission to be audacious in your dreaming and let them shine through your auditions.  I  am honored and excited to be going on this endeavor with you all and I look forward to working with you very soon.
GENERAL AUDITIONS: 
AUDITION TAPE SUBMISSIONS
 DUE: 9AM Monday, March 13th                   
●     Email submissions to Trinity Wicklund
●     EMAIL SUBJECT LINE: Your Name - Judas Audition Tape
●     Please send as a downloadable video file, a link to a google drive folder is also acceptable (no youtube links please)
●     You will receive a confirmation email from Trinity once we have received your submission.
●     Submissions received after the deadline above will not be accepted.
CALLBACKS:            
Tuesday, March 14th, 2023
 6pm - 11pm
TD-W 1507
1ST REHEARSAL:      
Monday, April 3rd, 2023
REHEARSALS:
Typically 20-25 hours per week until tech rehearsals begin.  This play will rehearse Monday – Friday between the hours of 6-11 until tech week. There will be some Friday afternoon rehearsals and possibility of rehearsals on Saturdays.  There are additional hours for techs and dress rehearsals leading to performances including Saturdays and Sundays.
CREDIT:
3 units of THTR 49/149 will be given to cast members.
SCRIPTS:
The script is now available on GauchoSpace. Please go to the online student callboard at http://www.theaterdance.ucsb.edu/academics/call-board for further information.
AUDITION REQUIREMENTS:
Any full time UCSB student is welcome and encouraged to audition.
AUDITION PREPARATION:
Please read the script carefully and choose a short monologue from the play: character of your choice. This should be no more than 2 minutes, please time yourself so you do not go over. You do not need to memorize this scene, but it should be prepared well.
When recording the monologue, please move away from the camera to create a three-quarters to full length shot, rather than a close-up.
If you have questions or need more information contact
Trinity Wicklund at trinity_wicklund@ucsb.edu
THE PLAY:
Set in a time-bending, darkly comic world between heaven and hell, The Last Days of Judas Iscariot reexamines the plight and fate of the New Testament's most infamous sinner.
THE PLAYWRIGHT:
Stephen Adly Guirgis is a Pulitzer Prize winning playwright, screenwriter, director, and actor. He grew up on the Upper West Side of New York City, attending school in Harlem. Guirgis studied at the University of Albany, SUNY, graduating in 1992. Some of his most famous works include Jesus Hopped the 'A' Train (2000), The Last Days of Judas Iscariot (2005), and Between Riverside and Crazy (2015) for which he won the 2015 Pulitzer Prize for Drama. Guirgis has had his plays be produced both off and on Broadway as well as in the UK. He is also a member and the former co-artistic director of the New York City LAByrinth Theatre Company.
Guirgis is also an actor and has performed in films (Palindromes, Jailbait), TV (Law & Order), and on stage (Guinea Pig Solo). Guirgis has directed productions across the USA including Sistah Supreme (2000), Behind the Counter with Mussolini (1998, 2002), and Kiss Me on the Mouth (2009). Through his work in theatre, Guirgis has used improvisational theatre to teach HIV/AIDS prevention and conflict resolution in prisons, schools, and hospitals. He was a close friend of actor Philip Seymour Hoffman and often collaborated with him in his theatre works. In addition to his Pulitzer Prize, Guirgis is the recipient of the Windham-Campbell Literature Prize, the Lucille Lortel Award, and Whiting Award.
THE DIRECTOR:
Kendra Ware is a performance-based multidisciplinary artist whose work reveals an interest in history, personal narrative, and experimental approaches to art-making. Using live performance, video, and installation, she creates hybrid staged environments that explore the intersections of race, gender, class, cultural politics, and identity while challenging social norms and notions of otherness.
Currently, she is working in collaboration with Grammy-Award-winning artist Martha Gonzalez of Quetzal, on a concept album and theatrical concert, Riding the Currents of the Wilding Wind, a project of the National Performance Network Creation Fund. She is the creator/writer/performer in The American Dream Nightmare: How to Wake Yourself Up, a multimedia performance experience depicting anti-Blackness, that deep dives into the ancestral. Most recently, she staged the experimental video Soñar es Luchar at the Latino Cultural Center for Cara Mía Theater and directed the premiere of Virginia Grise's theatrical adaptation of Their Dogs Came with Them site-specifically in Perryville Women's Prison and under the I-19 Freeway in Tucson, Arizona with Borderlands Theater.
Her work has also been developed and/or produced by Automata LA, REDCAT, Son of Semele, Upright Citizens Brigade, The Santa Barbara Contemporary Museum of Art, East West Players, The Last Bookstore, La Mama Theater, Pregones Theatre, The Flea Theater, Pan Asian Rep, Borderlands Theater, and a todo dar productions. Ware has been a guest artist with La Mama Theater in Umbria, Italy, Long Beach Dance Foundation, Indy Convergence Indianapolis, York University, Northwestern University, Sarah Lawrence College, CalArts, Arizona State University, and the University of Arizona. Her work has been awarded a NEFA Creation and Touring Grant, NPN Documentation and Creation Fund Grant, and 2022 Drama League Directing Fellowship and is the inaugural recipient of the 2022 Lloyd Richards SDCF New Futures Residency. MFA: California Institute of the Arts.
CHARACTERS:
* NOTE: All roles are open to all ethnicities and gender identities. 14 actors will be cast: 7 actors play one role, 7 actors are in the ensemble playing multiple roles.
* Please feel free to choose any monologue
Fabiana Aziza Cunningham
Yusef El-Fayoumy
Judas Iscariot
Jesus of Nazareth
Satan
Judge Littlefield
Court Bailiff
Henrietta Iscariot
Mary Magdalene
Saint Monica
Saint Peter
Saint Matthew
Saint Thomas
Simon the Zealot
Caiphas the Elder
Pontius Pilate
Mother Teresa
Sigmund Freud
Matthias of Galilee
Butch Honeywall
Gloria
Loretta
DANCE AND THEATER MAJORS WORKING ON CLASS CURRICULUM ONLY.
Not a major or working on something for a club? Be sure to get written approval from Daniel Herrera (daniel12@ucsb.edu) prior to booking a room. 
Steps for booking a room:
Most theater/dance majors already have an account that was created for them.  Just click this link to start booking: theaterdance.skedda.com
If that does not work, click here to register an account
Please only reserve one hour per day per project.
If you no longer need a reservation, please delete it so it can be used by your colleagues.
Leave your contact information in the event of an emergency.
Don't see the room you're looking for? Scroll to the right!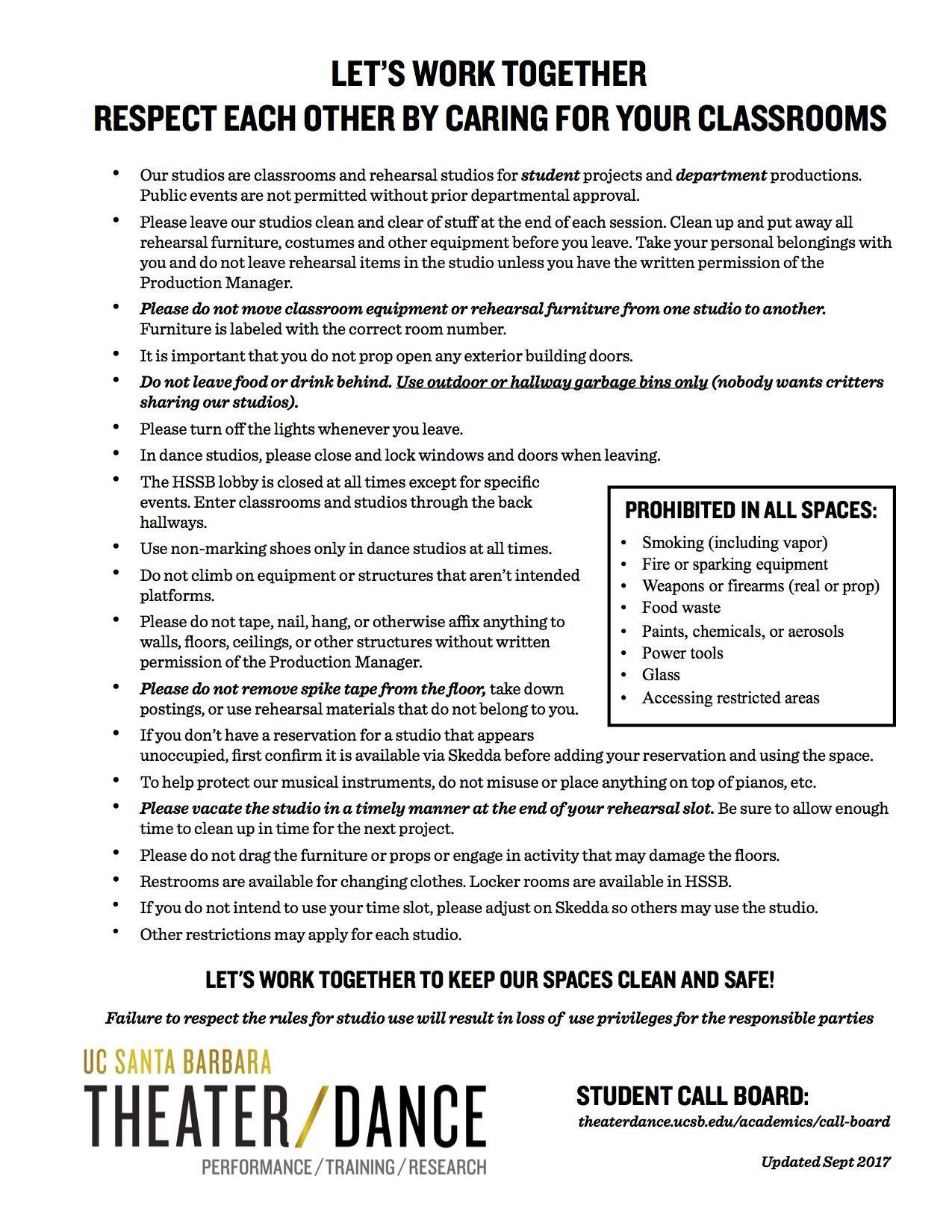 Looking to book a room further out than a week or on a re-occuring basis? Email dherrera@theaterdance.ucsb.edu.
Do you know your 29D, 49 or 149 requirement? Find it HERE
POSITIONS AVAILABLE (DEPENDS ON THE PRODUCTION)
Light Board Operator
Sound Board Operator
Fly Crew
Deck/Props Crew
Followspot Operator
Wardrobe/Makeup Crew
HOW TO APPLY FOR RUN OR WARDROBE CREW:
If you have any general pre-emptive questions about crew assignments, positions feel free to email either the Technical Director Jackson Golden at JTGOLDEN@UCSB.EDU or the Costume Shop Manager Denise Umland at DENISE.UMLAND@UCSB.EDU. The dates for each of the productions can be found in the Calendars section below.
Fill out the following google form to express your interest in specific shows/ assignments throughout the year. NOTE: Filling this out does not guarantee that position or show. https://forms.gle/FE252RwbfRoaDjgD9
We will schedule an appointment via email to discuss/finalize position assignments and to potentially assign your add code through the Academic Advisor Sean O'Shea.
IMPORTANT NOTES:
All crew positions are first-come, first-served your spot is not secure until you have signed the crew contract after meeting with Denise or Jackson.
All events listed on the calendars are required. It is not possible to partially participate in a production.
There are no opportunities to make up for an unexcused absence or lateness.
CALENDARS:
In order to see the specific dates and times of the shows, go to the following link to view the crew calendars. Each show has its own calendar to view. 
CONTACTS:
Want to be more involved with the Department? Want to see shows for free? Volunteer to be an usher for one of our shows!
WHAT: As an usher for the department's productions, you will be asked to hand out programs before the show, direct audience members to facilities during intermission, and organize the venue after the performance.
WHEN: Ushers should arrive 45 minutes PRIOR to curtain at the VENUE of the performance and check in with the house manager for instructions and a brief training session.
WEAR: Please arrive dressed tastefully in ALL BLACK.
WHY: For ushering, students may see the performance at no charge. It is possible (though not likely) that ushers will be asked to attend another performance if seating is very limited.
HOW: Use the buttons below to to sign up! You will be asked to enter your email address so that we can send you a reminder. Be advised that sign ups are on a first come, first served basis.
TO SIGN UP CLICK HERE!
Email Sean at sposh@ucsb.edu with your @ucsb.edu address and the subject "Please add me to the Mailing List." The Mailing List will have the latest information regarding department events such as auditions, run/wardrobe crew, and special events.
Props/Furniture Rental Guidelines
Props and furniture are available for rental to the following:
Students currently enrolled in a class within the department
Recognized UCSB student organizations with a faculty advisor
Declared Majors/Minors within the department
Others as determined by the Technical Director
Rentals are available by appointment only. To make an appointment email Devin Gee at dgee@ucsb.edu. A $50 deposit check is required for all rentals.
Props/Furniture Rental Guidelines