ALL UCSB STUDENTS ARE WELCOME AND ENCOURAGED TO AUDITION.
ONE DOES NOT NEED TO BE IN THE THEATER/DANCE DEPARTMENT TO AUDITION. 
Scripts and links for upcoming auditions 
The scripts for auditions can be found below. You must use your UCSB email account to view them. If you use your personal Gmail account it will say that you need to ask permission which you will not recieve. Please note that the scripts cannot be downloaded nor printed. You must be logged into your ucsb google account to view.  Please do not share these scripts with anyone. 
TO AUDITION YOU MUST:
1) SCROLL DOWN ON THIS PAGE TO READ ALL AUDITION INFORMATION (coming Soon)
4) READ THE SCRIPTS PROVIDED AT THE TOP OF THIS PAGE
5) show up to your audition 10 minutes early and be prepared to stay until released by the directors. 
 Spring One-Acts
PERFORMANCES:            Friday, May 13th – Saturday, May 14th
                                           Studio Theater (TD-E 1101)
GENERAL AUDITIONS:    Tuesday, April 12th
                                           6pm-10pm
                                           Studio Theater (TD-E 1101)
CALLBACKS:                     Wednesday, April 13th
                                           6pm – 10pm
                                           Studio Theater (TD-E 1101)
1ST REHEARSAL:             Thursday, April 14th
REHEARSALS:
Typically 20 hours per week until tech rehearsals begin.  This play will rehearse Monday – Friday between the hours of 6-11 until tech week. There will be some Friday afternoon rehearsals and possibility of rehearsals on Saturdays.  There are additional hours for techs and dress rehearsals leading to performances including Saturdays and Sundays.
SCRIPTS:
The current draft of the scripts are now available at the top of this page
AUDITION REQUIREMENTS:
Any full time UCSB student is welcome and encouraged to audition. There will be a link to sign up for auditions coming soon. 
AUDITION PREPARATION:
The scripts are currently available to read at the top of this page.
Thank you for auditioning for the One Acts. You will be auditioning for four separate plays.
"The 146 Point Flame" directed by Michael McConnell
"You See Them in the Corners of Your Eyes" directed by NIkki Stark
"Across a Crowded Room" directed by Cecilia Zhang
"Am I Blue" directed by Grace Wilken
All of the plays are available at the top of this page, it is recommend you read them if at all possible. For your audition please pick one character from one set of sides from the available choices to read at your audition. These do not need to be memorized but it is highly recommended you familiarize yourself with them as much as possible. Even though you are reading one character you will be auditioning for all four plays in front of all four directors and will be considered for every show. Another director may ask you to read from a different set of sides after your audition. 
Callbacks will take place the following night. At callbacks you will be assigned a separate set of sides for each play you are called back for.
Thank you so much for auditioning and break a leg.
Across a Crowded Room
by F.J. Hartland
Directed by: Cecilia Zhang
SYNOPSIS:
To meet a stranger or NOT to meet a stranger - it could change your life! Follow the story of two individuals meeting for the first time at a party at a suburban home as they peer into their future "together".
CHARACTER BREAKDOWN:
HIM: A dad, a husband, a man who fell in love with HER at first glance
HER: A mom, a wife, a woman who said "yes" to HIM.
Am I Blue
by Beth Henley
Directed by: Grace Wilken
SYNOPSIS:
After being kicked out of a bar for being underage, John Polk kills time before his
late-night rendezvous with a sex worker by talking and walking the streets of the French
Quarter in New Orleans with Ashbe, an intriguing stranger.
CHARACTER BREAKDOWN:
Ashbe Williams: 16, possibly a kleptomaniac
John Polk Richards: 17, a member of Sigma Alpha Epsilon
Hilda (will also be playing ensemble roles): 35, a waitress tired of her job
The 146 Point Flame
by Matt Thompson
Directed by: Michael D McConnell
CHARACTER BREAKDOWN:
- Tessa: Slovakian or French Female, any race. Age range 18 - 45
- Yetta: Russian Jewish Female, any race. Lena's sister. Age range 18 - 25
- Lena: Russian Jewish Female, any race, Yetta's sister. Age range 18 - 25
- Vincenza: German Female, any race. Age range 18 - 65
- Male: plays multiple characters, any race. The Foreman, Garcelanco, A Father, A  Brother, The Mysterious Man, The Elevator Operator. May be cast into two roles. Age range 18 - 65
All actors auditioning should prepare a monologue/dialogue from their character of choice for the audition. Personal monologues of choice are also welcome. All auditioners will be considered for other roles. Actors should prepare for multiple roles. Accents/Dialects are welcome but not required for audition and consideration in casting.
You See Them in the Corners of Your Eyes
by Daniel Prillaman
Directed by: Nikki Stark
SYNOPSIS:
You See Them in the Corners of Your Eyes by Daniel Prillaman
An abandoned well in the middle of the forest is the perfect place for best friends Max and Charlie to do their annual get-together, telling spooky stories and catching up.
CHARACTER BREAKDOWN:
Max: Late twenties/Early thirties. Great story-teller. Short tempered, and haunted.
Charlie: Late twenties/Early Thirties. Great story-teller. Fun-loving, and forgiving.
DANCE AND THEATER MAJORS WORKING ON CLASS CURRICULUM ONLY.
Not a major or working on something for a club? Be sure to get written approval from Daniel Herrera (daniel12@ucsb.edu) prior to booking a room. 
Steps for booking a room:
Most theater/dance majors already have an account that was created for them.  Just click this link to start booking: theaterdance.skedda.com
If that does not work, click here to register an account
Please only reserve one hour per day per project.
If you no longer need a reservation, please delete it so it can be used by your colleagues.
Leave your contact information in the event of an emergency.
Don't see the room you're looking for? Scroll to the right!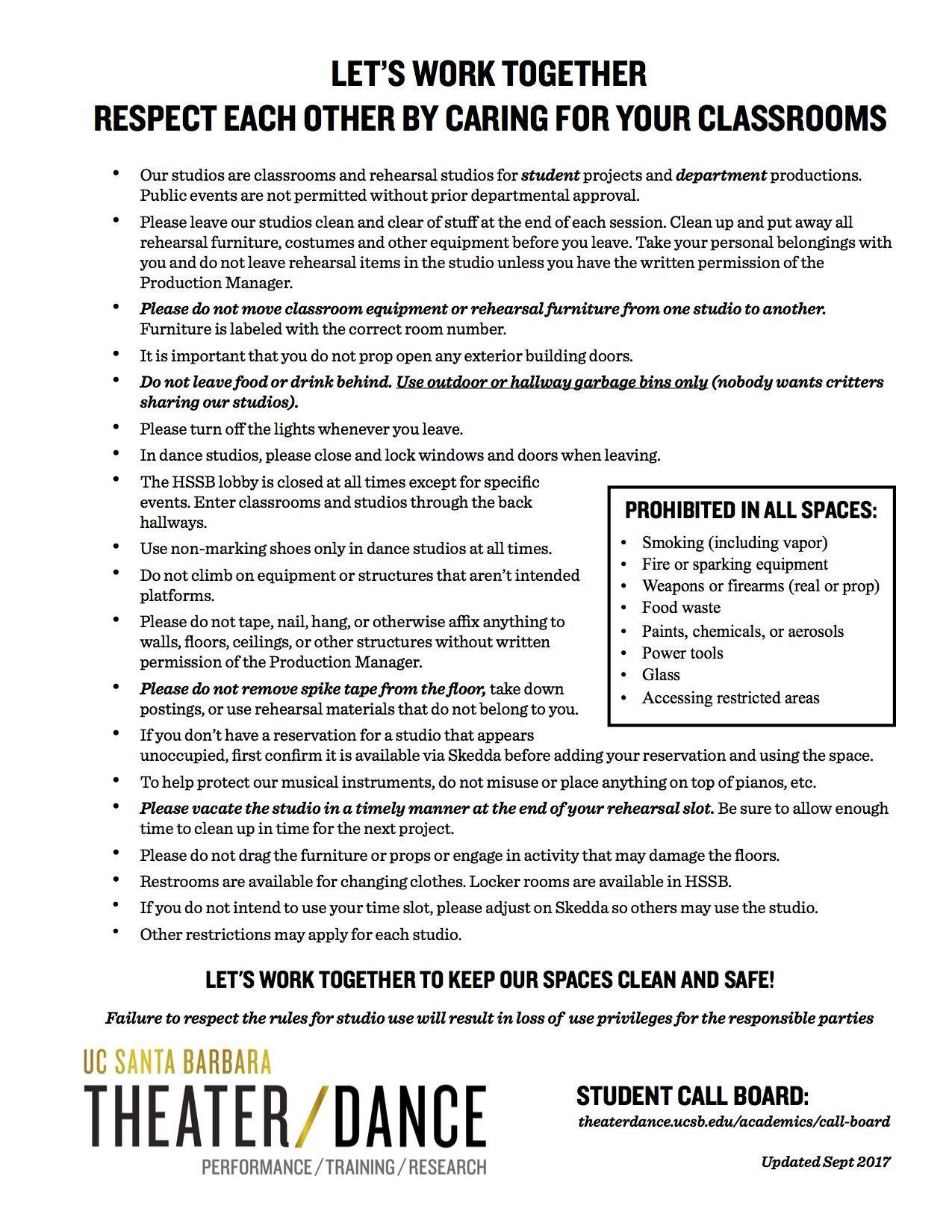 Looking to book a room further out than a week or on a re-occuring basis? Email dherrera@theaterdance.ucsb.edu.
Do you know your 29D, 49 or 149 requirement? Find it HERE
POSITIONS AVAILABLE (DEPENDS ON THE PRODUCTION)
Light Board Operator
Sound Board Operator
Fly Crew
Deck/Props Crew
Followspot Operator
Wardrobe/Makeup Crew
HOW TO APPLY FOR RUN OR WARDROBE CREW:
If you have any general pre-emptive questions about crew assignments, positions feel free to email either the Technical Director Jackson Golden at JTGOLDEN@UCSB.EDU or the Costume Shop Manager Denise Umland at DENISE.UMLAND@UCSB.EDU. The dates for each of the productions can be found in the Calendars section below.
Fill out the following google form to express your interest in specific shows/ assignments throughout the year. NOTE: Filling this out does not guarantee that position or show. https://forms.gle/FE252RwbfRoaDjgD9
We will schedule an appointment via email to discuss/finalize position assignments and to potentially assign your add code through the Academic Advisor Sean O'Shea.
IMPORTANT NOTES:
All crew positions are first-come, first-served your spot is not secure until you have signed the crew contract after meeting with Denise or Jackson.
All events listed on the calendars are required. It is not possible to partially participate in a production.
There are no opportunities to make up for an unexcused absence or lateness.
CALENDARS:
In order to see the specific dates and times of the shows, go to the following link to view the crew calendars. Each show has its own calendar to view. 
CONTACTS:
Want to be more involved with the Department? Want to see shows for free? Volunteer to be an usher for one of our shows!
WHAT: As an usher for the department's productions, you will be asked to hand out programs before the show, direct audience members to facilities during intermission, and organize the venue after the performance.
WHEN: Ushers should arrive 45 minutes PRIOR to curtain at the VENUE of the performance and check in with the house manager for instructions and a brief training session.
WEAR: Please arrive dressed tastefully in ALL BLACK.
WHY: For ushering, students may see the performance at no charge. It is possible (though not likely) that ushers will be asked to attend another performance if seating is very limited.
HOW: Use the buttons below to to sign up! You will be asked to enter your email address so that we can send you a reminder. Be advised that sign ups are on a first come, first served basis.
TO SIGN UP CLICK HERE!
Email Sean at sposh@ucsb.edu with your UMail address and the subject "Please add me to the Mailing List." The Mailing List will have the latest information regarding department events such as auditions, run/wardrobe crew, and special events.
Props/Furniture Rental Guidelines
Props and furniture are available for rental to the following:
Students currently enrolled in a class within the department
Recognized UCSB student organizations with a faculty advisor
Declared Majors/Minors within the department
Others as determined by the Technical Director
Rentals are available by appointment only. To make an appointment email Devin Gee at dgee@ucsb.edu. A $50 deposit check is required for all rentals.
Props/Furniture Rental Guidelines