Scripts and links for upcoming auditions 
The scripts and sides for auditions can be found on
GauchoSpace
. Please note that the scripts cannot be downloaded nor printed.  Please do not share these scripts with anyone. 
Winter One Acts Auditions
PERFORMANCES:       February 6th – 9th, 2020
                                      Studio Theater
GENERAL                  Monday, January 6th, 2020
AUDITIONS:              7:45pm-11pm
                                  Studio Theater (TD-E 1101)
CALLBACKS:             Tuesday, January 7th, 2020
                                   6pm – 11pm
                                   Studio Theater (TD-E 1101)
1ST REHEARSAL:     Wednesday, January 8th, 2020
SCRIPTS:
Scripts and audition sides are now available on GauchoSpace.
AUDITION REQUIREMENTS:
Any full time UCSB student is welcome and encouraged to audition. The audition sign-up list will be posted in the Production Office (TD-W 1600) starting on Friday, January 3rd, 2020.
AUDITION PREPARATION:
The scripts and audition sides are currently available to read on GauchoSpace. For your audition, please choose and prepare one of the provided sides from either play. The directors may ask you to prepare additional sides for call-backs. Your audition side does not need to be memorized but you should have it well prepared.
If you have questions or need more information contact
Risa Brainin at rbrainin@ucsb.edu.
Vivien
By Percy Granger
Directed by Ezra Adkins
The Play:
Mental illness can drive a wedge in any relationship, even more so for estranged father and child. After years of distance they meet as adults and attempt to reconcile their relationship. At first seeing only the differences that make them both difficult, as they get to know each other they find there is more in common than originally thought. The resident nurse provides cryptic and insightful observations to their generational divide. Can a bridge be built? What does it mean to be family mudlling through mental illness? Who needs care as children become adults and parents become elderly?
Characters:
Paul/Pauline- aprox 30yr old theater director, Viviens kid. They are high strung and unfulfilled by their successes in life. They lack a connection to parenthood and seek it by reconnecting to their father.
Vivien - an elderly man, a bit odd, but confident in his beliefs. Has been mentally unwell for a long time and has developed habits to deal with this. Holds some resentment towards his child for their lack of connection.
Mrs. Tendesco- female, the resident nurse who takes care of Vivien. Is crass and blunt without giving away much. She is extremely perceptive but does not have a savior complex. She mostly accepts things as they are, which makes other people uncomfortable. Compassionate under a veneer of sarcasm. 
Trifles
by Susan Glaspell
Directed by Anna Holman
Character Breakdown:
3F, 2M *see Additional Information
The Play: 
After the discovery of farmer Wright's death by strangulation, the Sherriff, Attorney, and neighboring farmer, with their spouses, go to the Wright farmhouse to gather evidence against Wright's spouse, being held in prison under suspicion of murder.
About the Playwright: 
Susan Glaspell grew up in rural Iowa before receiving a degree from Drake University and becoming an author in Chicago. Involved in the avant garde theater scene, she eventually moved to Massachusetts where she helped found the Provincetown Players. Her plays are considered some of the best modern American feminist dramas.   
Additional Information:
Originally written for 3 men and 2 women, this production will swap the genders of the characters as an exploration of femininity and masculinity in modern America. (For example, Mrs. Hale will now be Mr. Hale.) Gender nonconforming and gender nonbinary actors are encouraged to audition.   
DANCE AND THEATER MAJORS ONLY.
Reserve rooms from anywhere you have an internet connection. Don't see the room you're looking for? Scroll to the right! 
Not a major? Be sure to get written approval from Daniel Herrera (daniel12@ucsb.edu) prior to booking a room.
Please only reserve one hour per day per project.
If you no longer need a reservation, please delete it so it can be used by your colleagues.
Leave your contact information in the event of an emergency.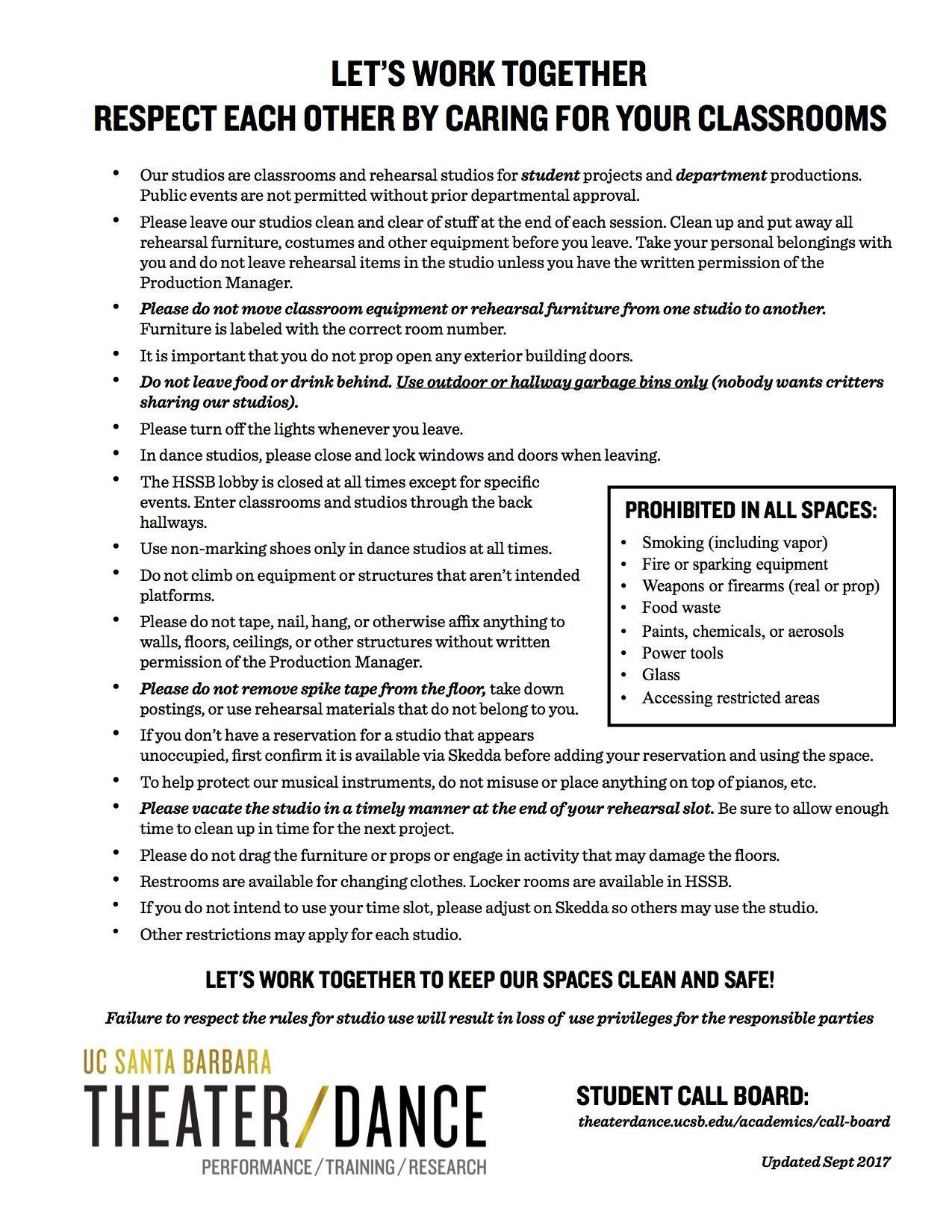 Looking to book a room further out than a week or on a re-occuring basis? Email dherrera@theaterdance.ucsb.edu.
Do you know your 29D, 49 or 149 requirement? Find it HERE
One can split their 2 Unit commitment up for instance taking one Unit of 29D and one unit of 49 or 149 on the same show.
POSITIONS AVAILABLE (DEPENDS ON THE PRODUCTION)
Light Board Operator
Sound Board Operator
Fly Crew
Deck/Props Crew
Followspot Operator
Wardrobe/Makeup Crew
HOW TO APPLY FOR RUN OR WARDROBE CREW:
Review the show calendars below to find a production that fits your schedule.
Email the Technical Director Jamie Birkett jbirkett@ucsb.edu with CREW/29D in the subject line, send him the name of the production you would like to work on, a screen shot of your weekly schedule, and three potential times you tend to have available during the week to sign the contract.  For Wardrobe/Makeup Crew, email the costume shop manager Denise Umland at denise.umland@ucsb.edu
We will schedule an appointment via email to give you to discuss and to potentially assign your add code.
IMPORTANT NOTES:
All crew positions are first-come, first-served your spot is not secure until you have signed the crew contract..
All events listed on the calendars are required. It is not possible to partially participate in a production.
There are no opportunities to make up for an unexcused absence or lateness.
CALENDARS:
WMDID Crew Spots Still Available: 0 of 4 Needed 6
WMDID Wardrobe Crew Spots Still Available: 0 of 3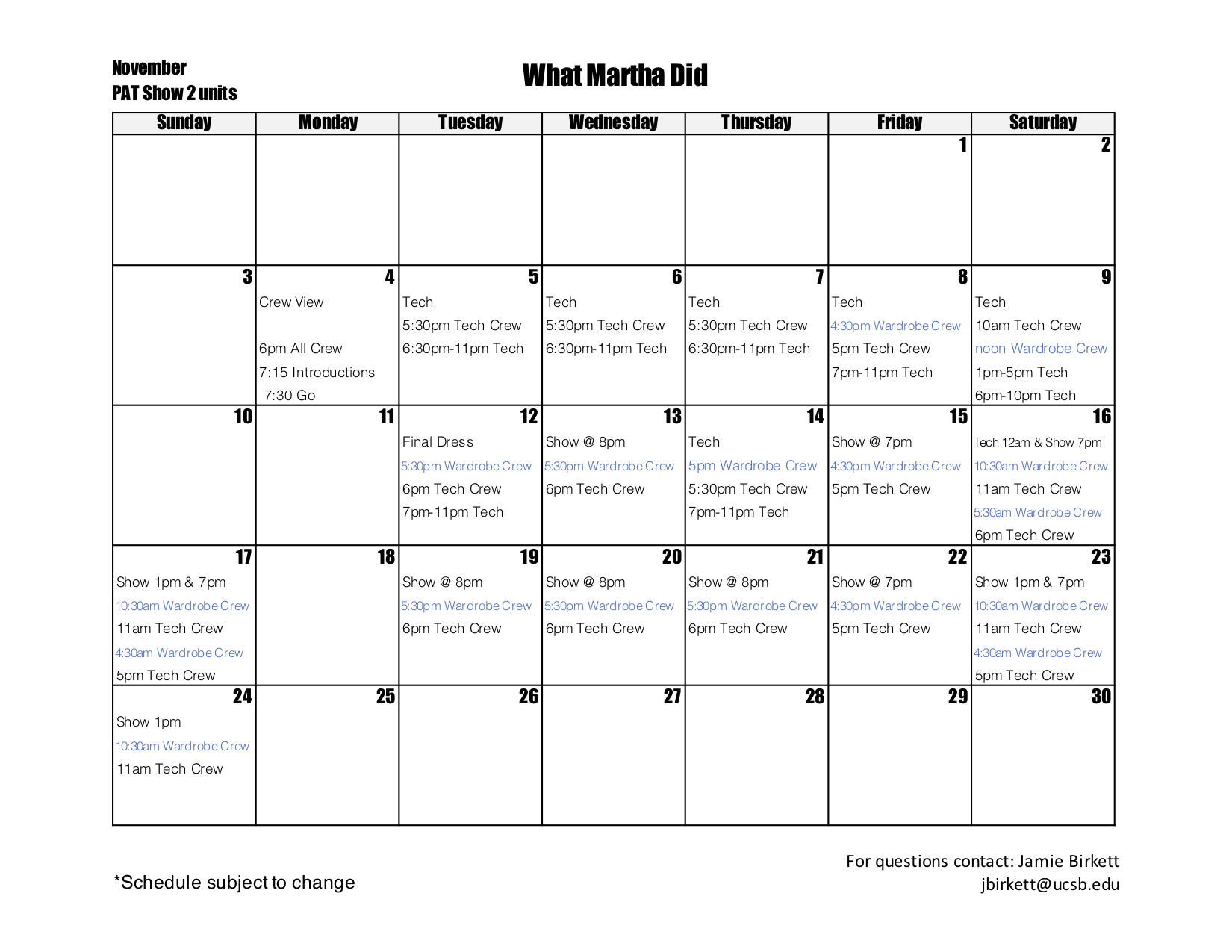 Fall Dance 2 unit Crew Spots Still Available: 0 of 3
Fall Dance 2 unit Assistant Stage Manager: 0 of 2. (Dance majors get priority) 2 dance majors were accepted late with Faculty approval.
Fall Dance 1 Unit Crew Spots Still Available: 0 of 4: Color Changers. 1 dance major was accepted late with Faculty approval.
Fall Dance Wardrobe Crew Spots Still Available: 0 of 4. 1 dance major was accepted late with Faculty approval.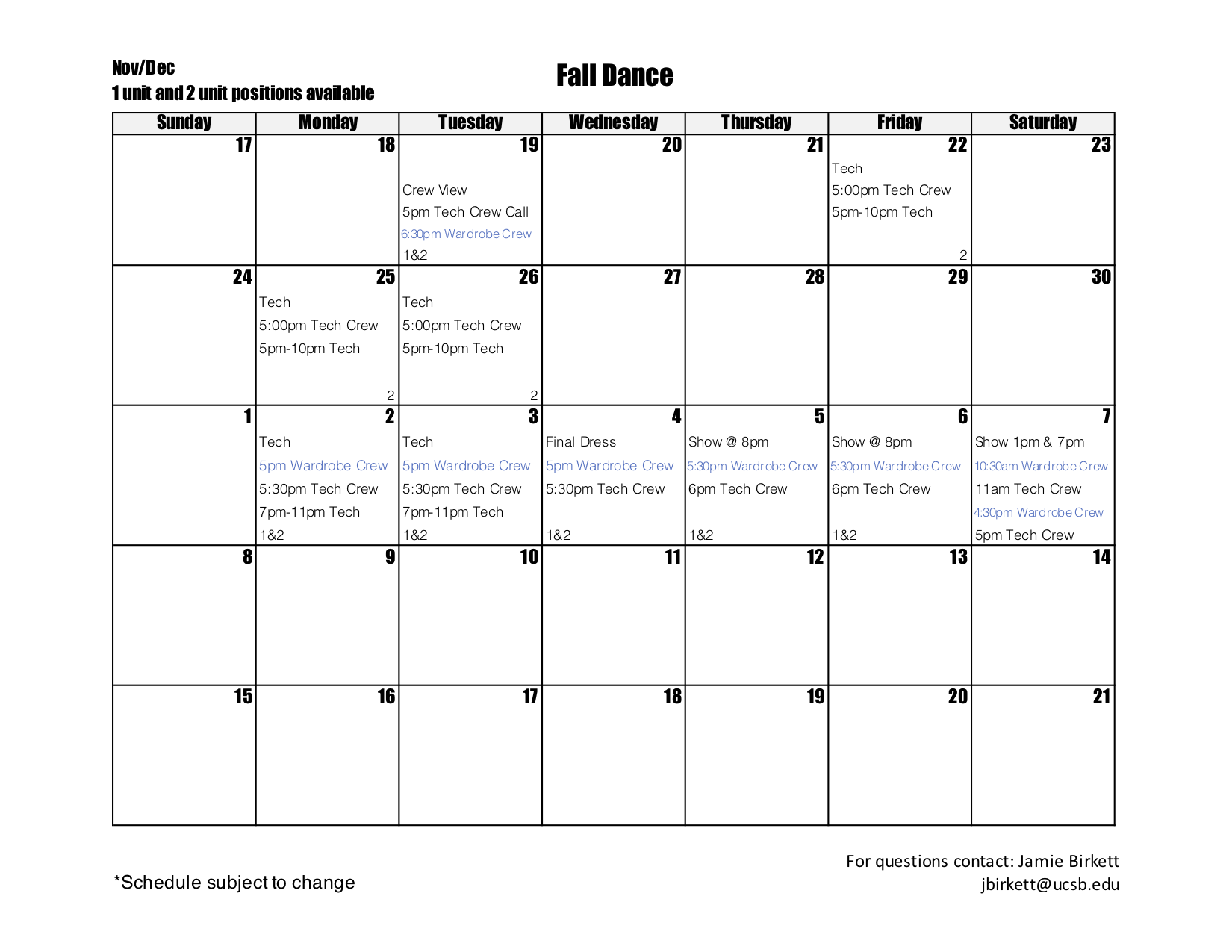 Black Flag 1 unit Crew Spots Available: 1 of 5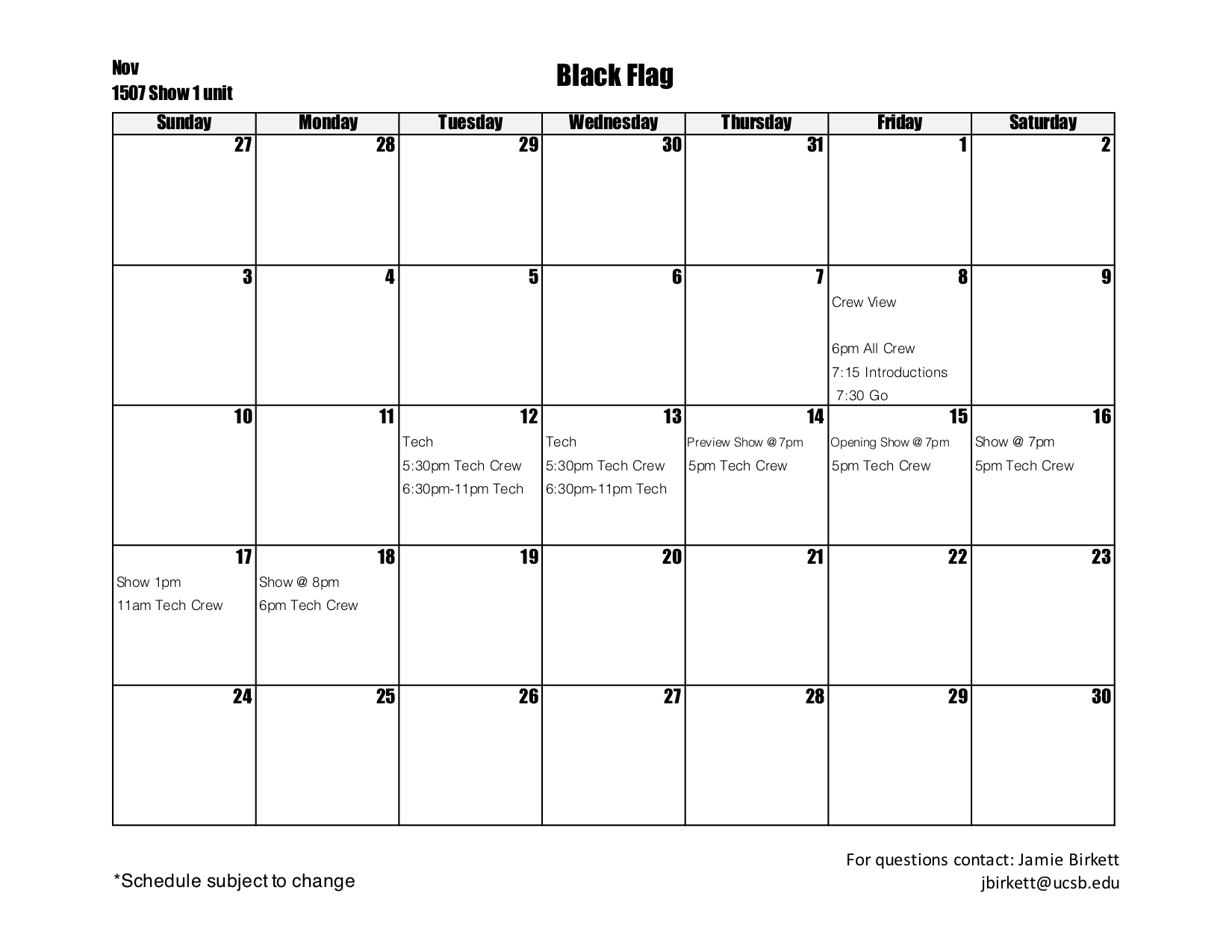 Winter One Acts 1 unit Crew Spots Available: 0 of 5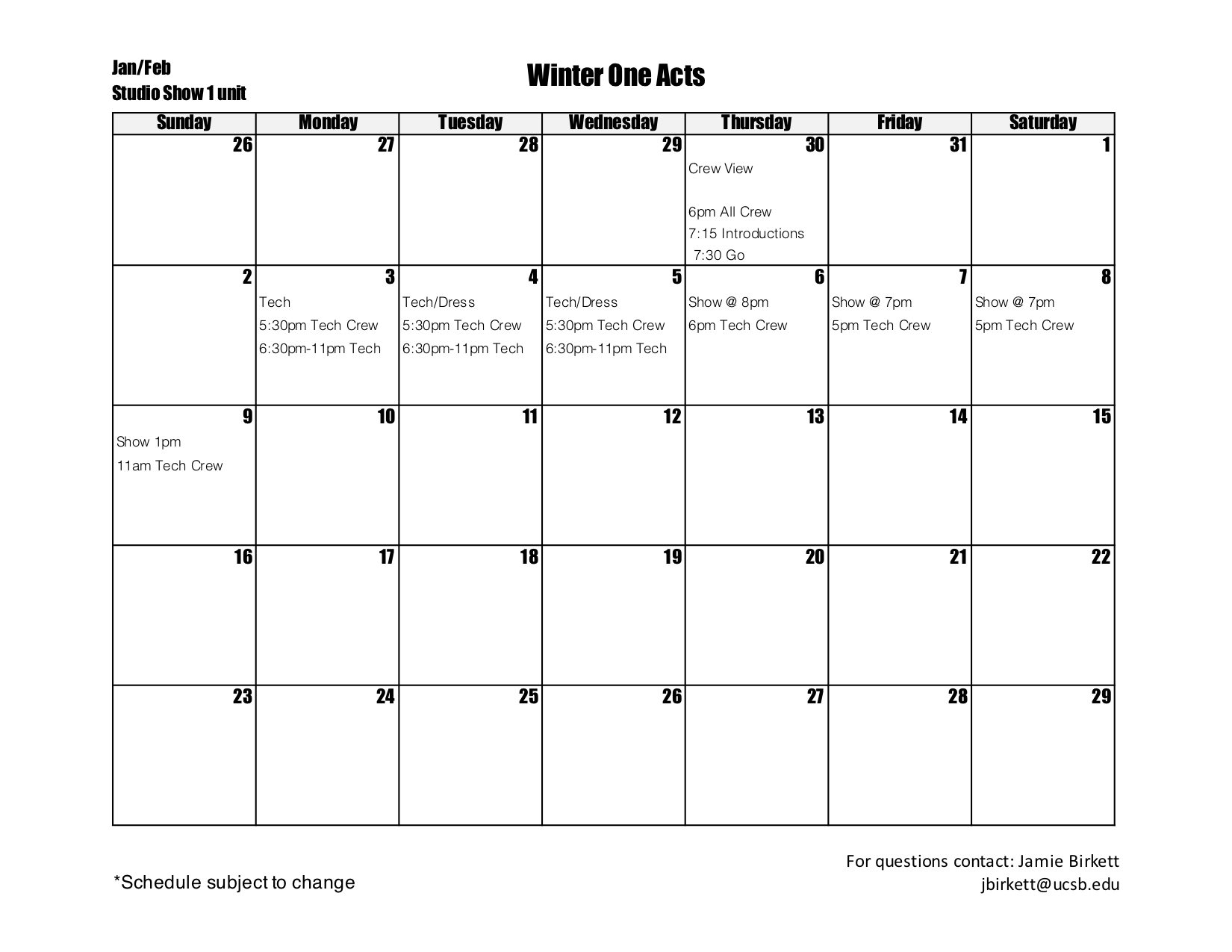 HOOKMAN Crew Spots Still Available: 1 of 6
HOOKMAN Wardrobe Crew Spots Still Available: 3 of 4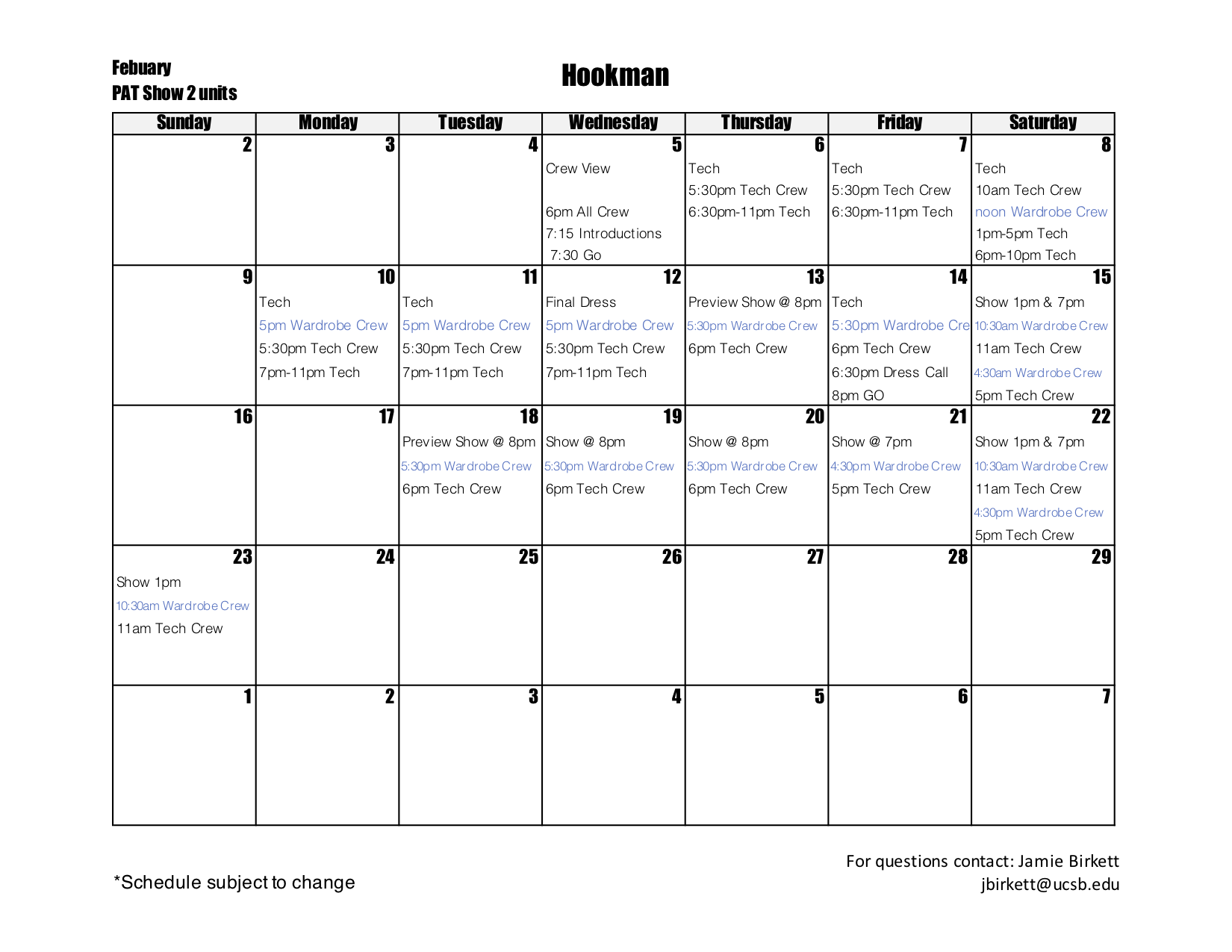 Tartuffe Crew Spots Still Available: 2 of 6
Tartuffe Wardrobe Crew Spots Still Available: 0 of 4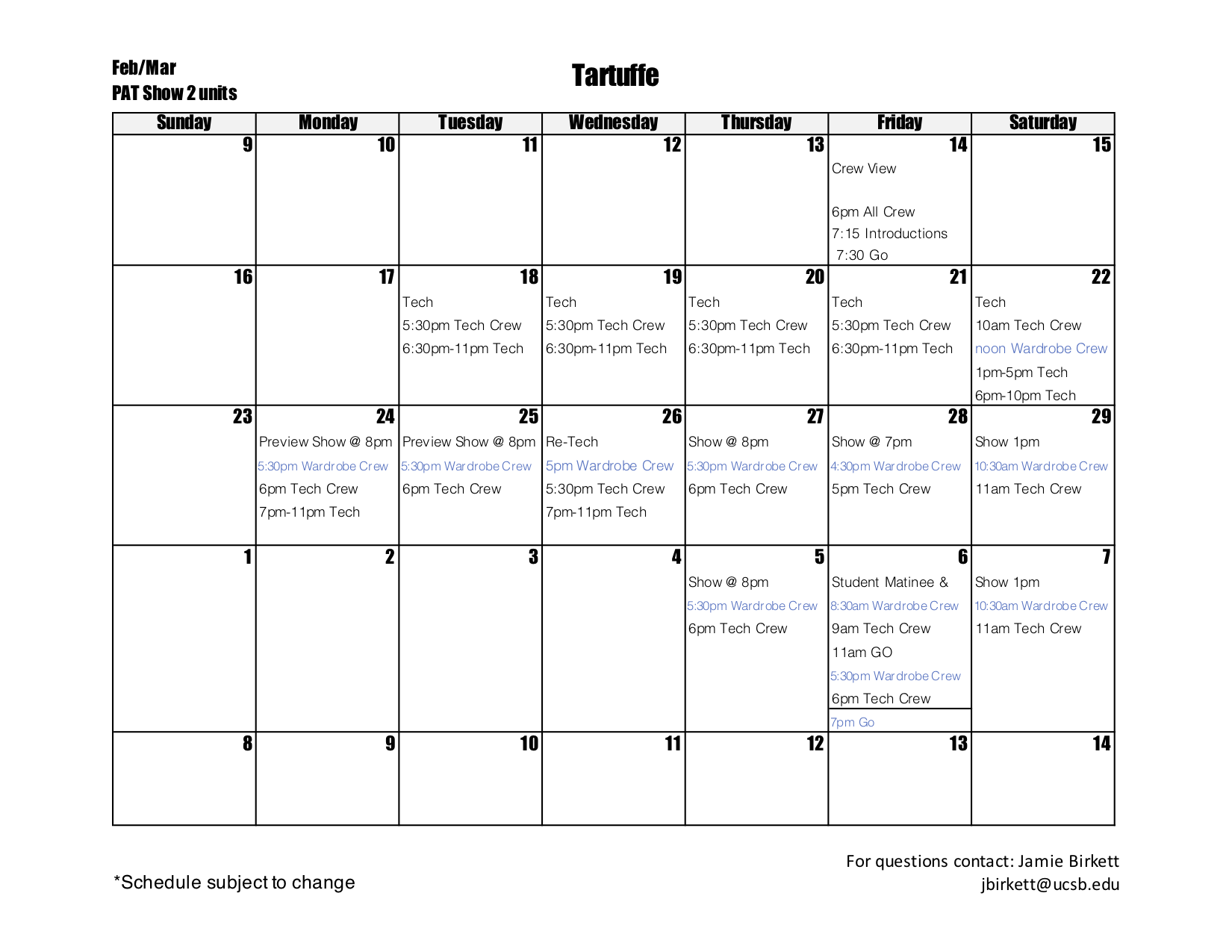 Crew Spots for Spring Dance 
Fall Dance 2 unit Crew Spots Still Available: 4 of 4
Fall Dance 2 unit Assistant Stage Manager: 2 of 2. (Dance majors get priority) 
Fall Dance 1 Unit Crew Spots Still Available: 4 of 4: Color Changers/Deck crew
Fall Dance Wardrobe Crew Spots Still Available: 4 of 4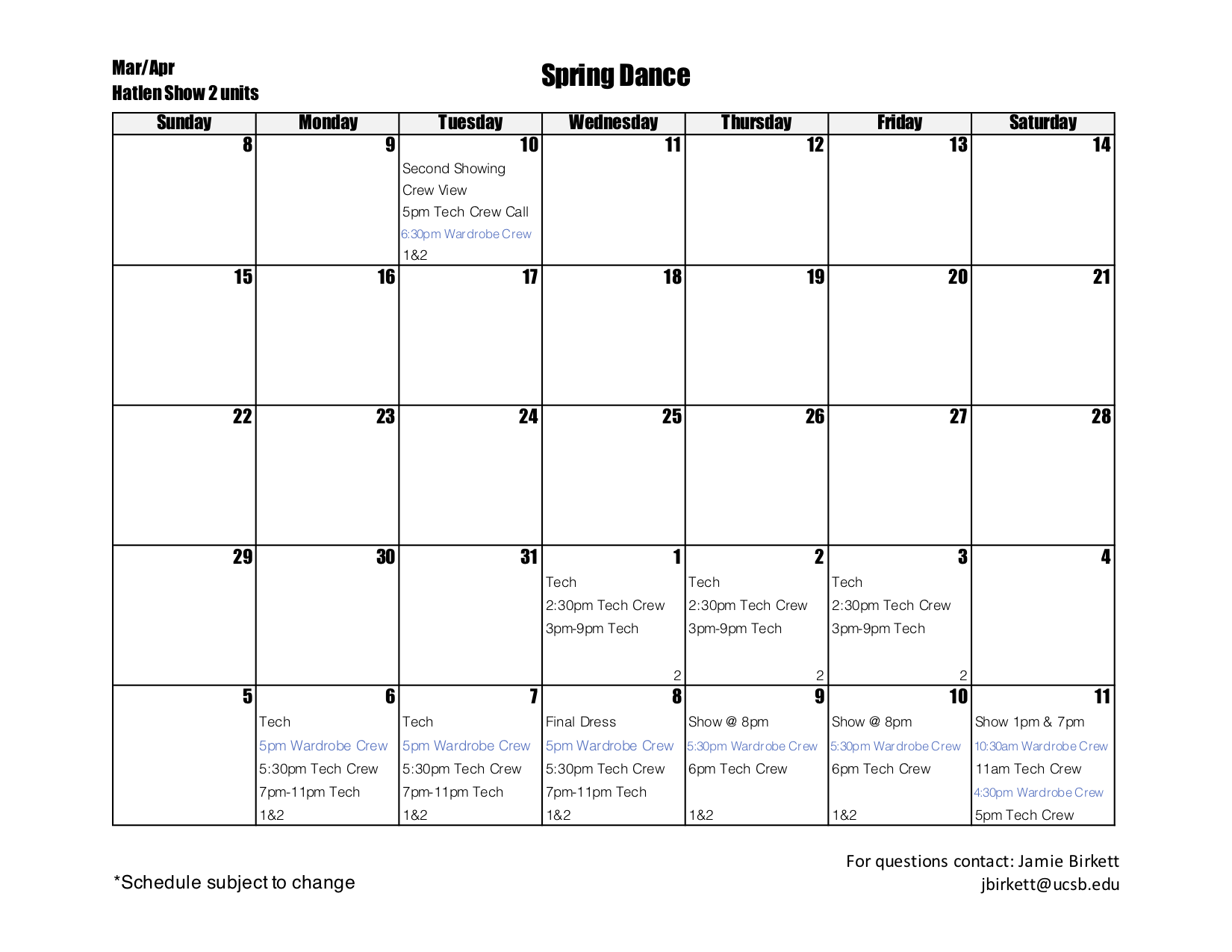 Crew Spots for Airness needed 6 of 6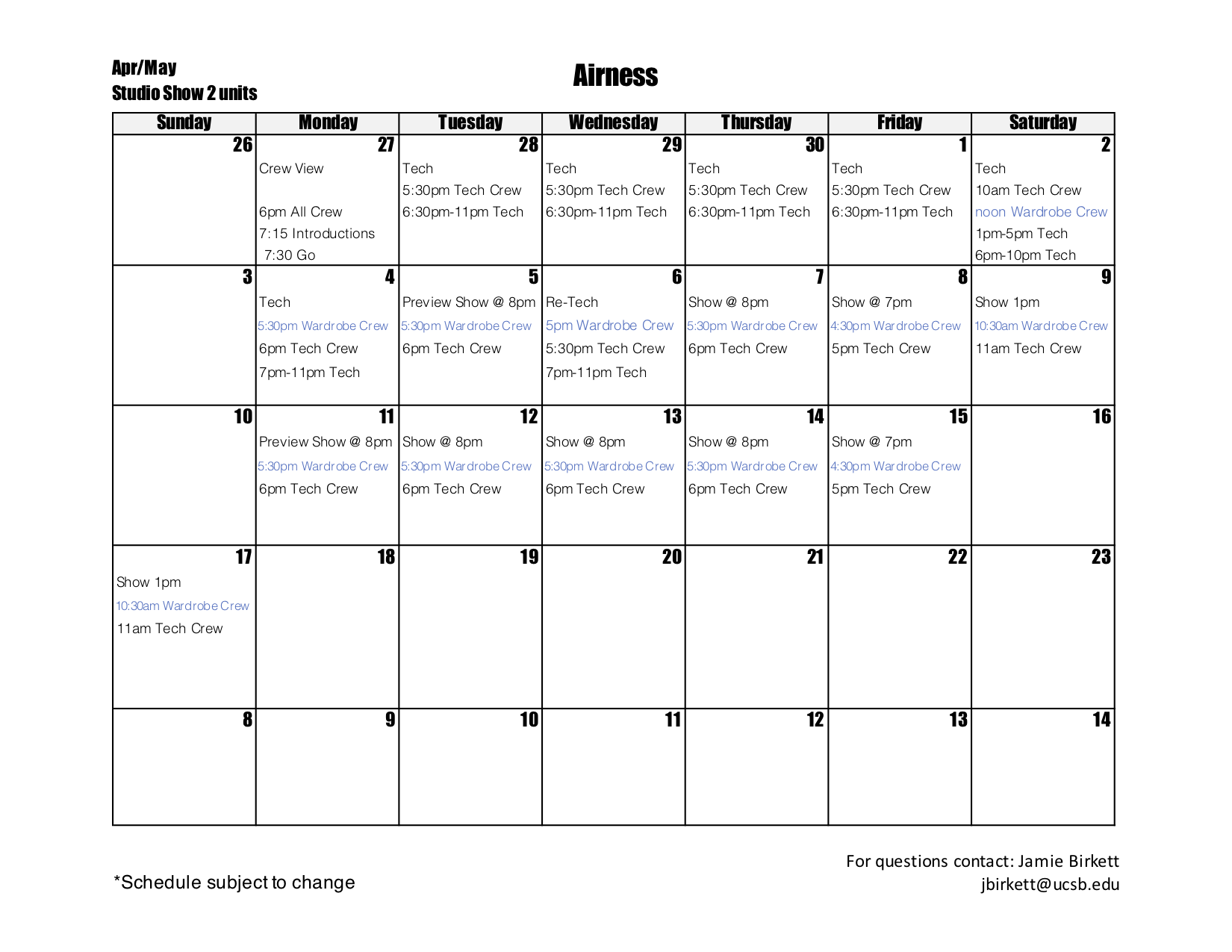 Crew Spots for Five Prayers needed 4 of 4
Wardrobe Crew needed 4 of 4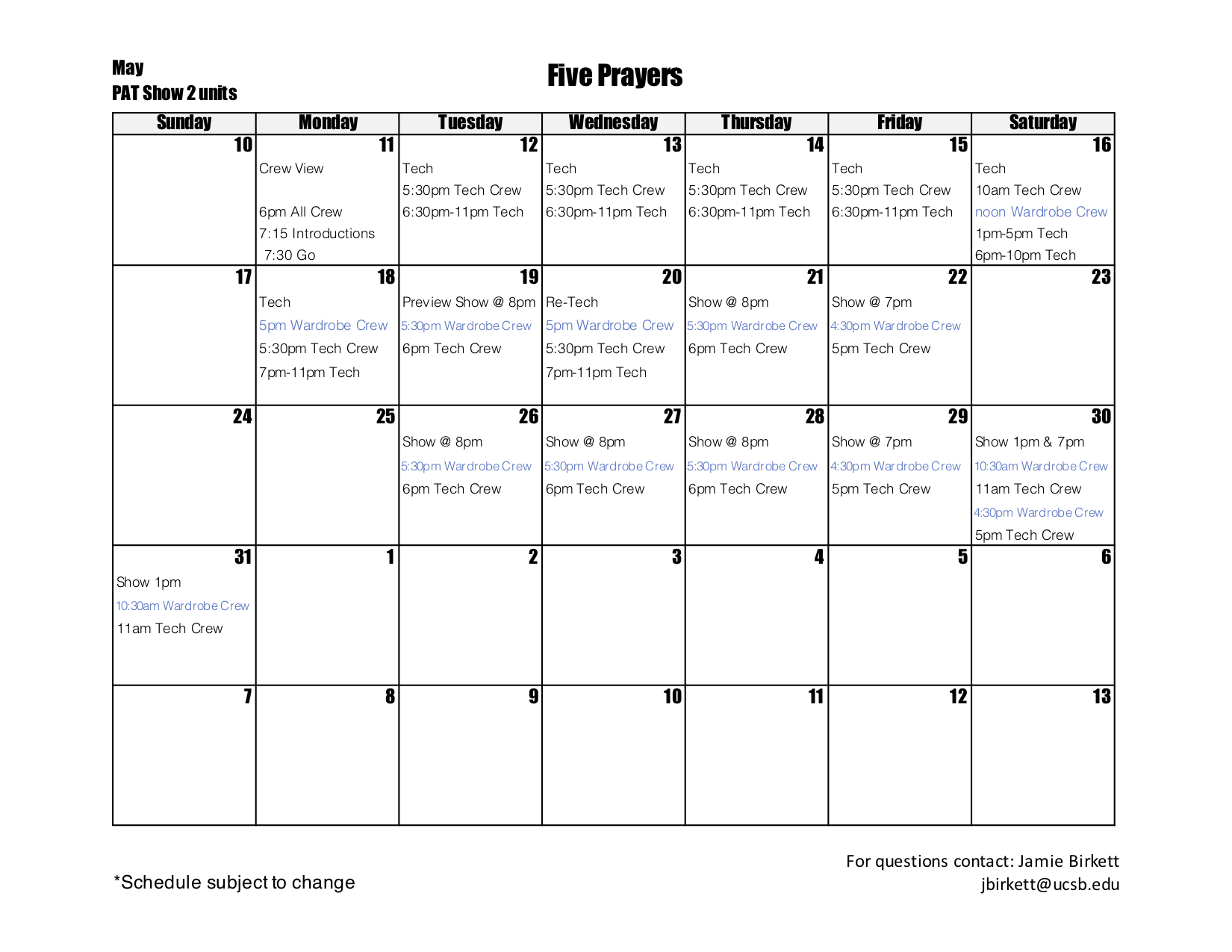 CONTACTS:
Want to be more involved with the Department? Want to see shows for free? Volunteer to be an usher for one of our shows!
WHAT: As an usher for the department's productions, you will be asked to hand out programs before the show, direct audience members to facilities during intermission, and organize the venue after the performance.
WHEN: Ushers should arrive 45 minutes PRIOR to curtain at the VENUE of the performance and check in with the house manager for instructions and a brief training session.
WEAR: Please arrive dressed tastefully in ALL BLACK.
WHY: For ushering, students may see the performance at no charge. It is possible (though not likely) that ushers will be asked to attend another performance if seating is very limited.
HOW: Use the buttons below to to sign up! You will be asked to enter your email address so that we can send you a reminder. Be advised that sign ups are on a first come, first served basis.
TO SIGN UP CLICK HERE!
Email Sean at sposh@ucsb.edu with your UMail address and the subject "Please add me to the Mailing List." The Mailing List will have the latest information regarding department events such as auditions, run/wardrobe crew, and special events.
Props/Furniture Rental Guidelines
Props and furniture are available for rental to the following:
Students currently enrolled in a class within the department
Recognized UCSB student organizations with a faculty advisor
Declared Majors/Minors within the department
Others as determined by the Technical Director
Rentals are available by appointment only. To make an appointment email Jaime Birkett jbirkett@ucsb.edu. A $50 deposit check is required for all rentals.
Props/Furniture Rental Guidelines