Scripts and links for upcoming auditions 
The scripts and sides for auditions can be found on
GauchoSpace
. Please note that the scripts cannot be downloaded nor printed.  Please do not share these scripts with anyone. 
A LAUNCH PAD Preview Production
What Martha Did
by Enid Graham
Directed by Risa Brainin
PERFORMANCES:  November 15th  – 24th, 2019
                                 Performing Arts Theater
GENERAL                Sunday, September 29, 2019
AUDITIONS:             5pm-10pm
                                 Performing Arts Theater
CALLBACKS:          Monday, September 30, 2019
                                 6pm – 11pm
                                 Performing Arts Theater
1ST REHEARSAL:  Tuesday, October 1, 2019
REHEARSALS:
Typically 20-25 hours per week until tech rehearsals begin.  This play will rehearse Monday – Friday between the hours of 6-11 until tech week. There will be some Friday afternoon rehearsals and occasional Saturdays.  There are additional hours for techs and dress rehearsals leading to performances including  Saturdays and Sundays.
CREDIT:
3 units of THTR 49 and/or 149 will be given to cast members.
SCRIPTS:
The current draft of the script is now available on GauchoSpace.
AUDITION REQUIREMENTS:
Any full time UCSB student is welcome and encouraged to audition. The audition sign-up list will be posted in the Production Office (TD-W 1600) starting on 9/23/19.
AUDITION PREPARATION:
The script is currently available to read on GauchoSpace.
Please read the script carefully so you can use it to pick a short scene or speech from the play to perform. You do not need to memorize this scene, but it should be prepared well. If you choose a scene, you should also choose a partner and prepare together. It is possible to have a partner who is not auditioning for the role that they read in the scene. Selections should be no more than 2-3 minutes. Time your scene please.
Please specify which role you are reading for on the sign-up sheet.
If you have questions or need more information contact Risa Brainin at rbrainin@ucsb.edu.
THE PLAY:
What Martha Did was a finalist for the National Playwrights' Conference in 2015, a semi-finalist in the American Blues New Play competition in Chicago, and a contributor to the Alma Theatre New Play series in San Francisco.
THE STORY:
A gathering to commemorate the twenty-fifth edition of Martha Fisher's celebrated book of poems brings her fractured family back home – all except Martha herself, who committed suicide soon after the book's original publication.  Haunted by the past and events they can't explain, her family struggles to move forward.  How can they reconcile the Martha who wrote so brilliantly about the joys of living, and the hidden Martha who ended her own life?  Into this volatile mix a young stranger arrives, forcing them to resolve the dreams of their youth with the people they have become. What Martha Did is a darkly funny drama about regret, facing the truth, and finding forgiveness. 
THE PLAYWRIGHT:
Enid Graham is a writer and actress living in New York City. Her writing credits include - plays: Ruth, For I Know the Plans I Have For You, Something Unrecognizable, and Pathological Venus (working title) screenplays: Texas, short stories: "Galveston", "Blind Spot", "Go Fish" among others. Ruth was included in the 2018 National Playwrights' Conference at the O'Neill Center, as well as the newTACTics New Play Festival in NYC.  She is a founding member of the 72nd Street Gang, a playwrights' collective in New York City. As an actress, Ms. Graham has numerous Broadway credits including: M Butterfly (2017) and The Curious Incident of the Dog in the Nighttime (original Broadway company). Her television and film credits include: Mindhunter, The Sinner, The Red Line, Boardwalk Empire, Grey's Anatomy, Margaret, Margot at the Wedding and The Glorias (upcoming) among others.
ROLES CAST:
What Martha Did was workshopped in the LAUNCH PAD Summer Reading Series in August 2019. Guest Artists Julie Fishell and Brian Harwell appeared in the reading and we are happy to announce they will reprise their roles and appear side by side our UCSB students this fall. Those roles are:
Mrs. Fisher – a woman in her early seventies, Martha, Sam and Richard's mother (CAST: Julie Fishell)
Mr. Greene – a man in his eighties, Mrs. Fisher's lawyer (CAST: Brian Harwell)
AVAILABLE ROLES for UCSB Students:
Karen – a woman in her early forties, was Martha's best friend
Surrey – a woman in her mid-forties, Martha's cousin
Sam – a woman in her late thirties, Martha and Richard's younger sister
Richard – a man in his early forties, Martha and Sam's brother
Misty – Richard's wife, mid-thirties
Frank – a man in his late forties, friend of the family
Young Woman – a visitor, early twenties
DANCE AND THEATER MAJORS ONLY.
Reserve rooms from anywhere you have an internet connection. Don't see the room you're looking for? Scroll to the right! 
Not a major? Be sure to get written approval from Daniel Herrera (daniel12@ucsb.edu) prior to booking a room.
Please only reserve one hour per day per project.
If you no longer need a reservation, please delete it so it can be used by your colleagues.
Leave your contact information in the event of an emergency.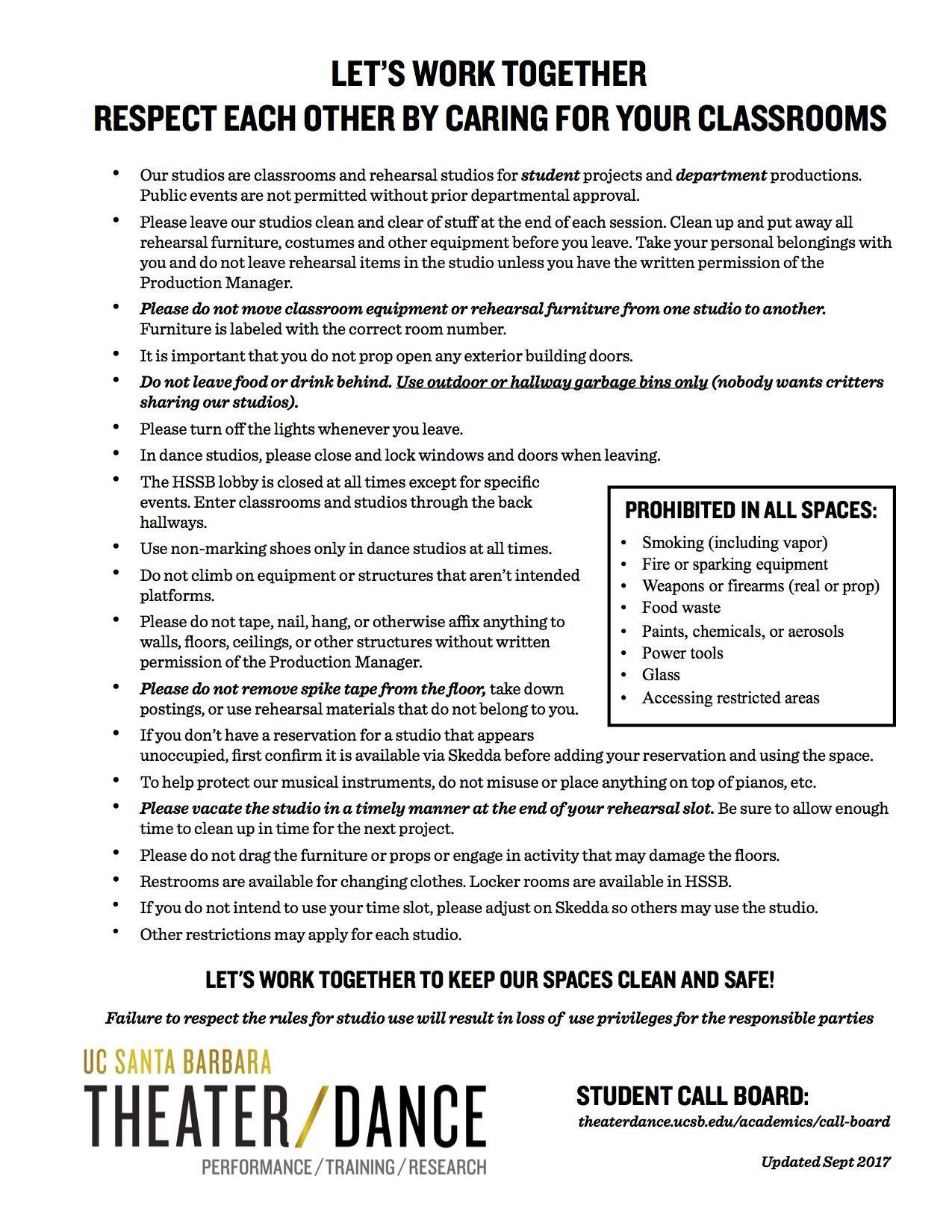 Looking to book a room further out than a week or on a re-occuring basis? Email dherrera@theaterdance.ucsb.edu.
Thank you to everyone who applied for this quarter's productions. Information on Winter Quarter will be posted in January.
POSITIONS AVAILABLE (DEPENDS ON THE PRODUCTION)
Light Board Operator
Sound Board Operator
Fly Crew
Deck/Props Crew
Followspot Operator
Wardrobe/Makeup Crew
HOW TO APPLY FOR RUN OR WARDROBE CREW:
Review the show calendars and course requirements to find a production that fits your schedule.
Email the Technical Director Jamie Birkett jbirkett@ucsb.edu if you are interested in any of the positions other than Wardrobe/Makeup Crew.  For Wardrobe/Makeup Crew, email the costume shop manager Denise Umland at denise.umland@ucsb.edu
We will schedule an appointment via email to give you to discuss and to potentially assign your add code.
IMPORTANT NOTES:
All crew positions are first-come, first-served. We will respond to emails in order that they are recieved on the day the positions are officially posted online.
All events listed on the calendars are required. It is not possible to partially participate in a production.
There are no opportunities to make up for an unexcused absence or lateness.
CALENDARS:
COURSE REQUIREMENTS:
Full Course Requirements (.pdf)
CONTACTS:
Want to be more involved with the Department? Want to see shows for free? Volunteer to be an usher for one of our shows!
WHAT: As an usher for the department's productions, you will be asked to hand out programs before the show, direct audience members to facilities during intermission, and organize the venue after the performance.
WHEN: Ushers should arrive 45 minutes PRIOR to curtain at the VENUE of the performance and check in with the house manager for instructions and a brief training session.
WEAR: Please arrive dressed tastefully in ALL BLACK.
WHY: For ushering, students may see the performance at no charge. It is possible (though not likely) that ushers will be asked to attend another performance if seating is very limited.
HOW: Use the buttons below to to sign up! You will be asked to enter your email address so that we can send you a reminder. Be advised that sign ups are on a first come, first served basis.
SIGN - UPS
Email Sean at sposh@ucsb.edu with your UMail address and the subject "Please add me to the Mailing List." The Mailing List will have the latest information regarding department events such as auditions, run/wardrobe crew, and special events.
Props/Furniture Rental Guidelines
Props and furniture are available for rental to the following:
Students currently enrolled in a class within the department
Recognized UCSB student organizations with a faculty advisor
Declared Majors/Minors within the department
Others as determined by the Technical Director
Rentals are available by appointment only. To make an appointment email Jaime Birkett jbirkett@ucsb.edu. A $50 deposit check is required for all rentals.
Props/Furniture Rental Guidelines