Scipts and links for upcoming auditions 
The scripts for
World of Extreme Happiness
and
Staging the Daffy Dame
can be found on
GauchoSpace
. Please note that the scripts cannot be downloaded nor printed.  Please do not share this script with anyone.  Thank you.
Winter One-Acts
PERFORMANCE DATES:
February 23-25, 2018 
Theater Dance West 1507
GENERAL AUDITIONS:
Tuesday, January 16th
6pm-8pm
TD-W 1703
CALLBACKS: 
Wednesday, January 17th
6pm – 11pm
TD-W 1703
AUDITION REQUIREMENTS
Any full-time UCSB student is welcome and encouraged to audition. The audition sign-up list is posted inside the Production Office. Please sign up for a 3-minute audition slot and arrive ten minutes prior to your appointment to fill out audition forms. Please be prepared to stay longer than your allotted 3-minute slot if necessary.
Please have one, 1-minute contemporary monologue prepared for the audition.
Callback information and Cast Lists will be posted in the Production Office.
Sides for callbacks, if available, will be available in the Production Office by 10am the morning after general auditions.
REHEARSALS
The directors will schedule rehearsals after casting is complete.  Rehearsals are typically held weekday evenings between the hours of 6 and 10pm.  Some weekends may be required as well.
SCRIPTS
Scripts are available to view on GauchoSpace. 
THE PLAYS
Lost in Thought
By Christopher Lockheardt
Directed by Katherine Arevalo
Man: Any Age
Woman: Similar Age
Tom: Male, Similar Age
Description:  Set in the imagination of a man as he recalls a past relationship and his struggle to move on from it. 
About the playwright: Christopher Lockheardt of Andover, MA, has had 35 of his short plays produced over 200 times by over 80 different theaters in the United States, Canada, Ireland, Hong Kong, and Australia. His work has been included in ten short play anthologies, including four of Smith & Kraus's Best Ten-Minute Plays of the Year collections.
Playwriting 101: The Rooftop Lesson
By Richard Orloff
Directed by Corey Carpenter
3 Performers
Script Plot: An instructor lectures on the craft of playwriting, using two live examples: a would-be jumper on the edge of a ledge, and a would-be Good Samaritan trying to save him. But after being paused and replayed one too many times, these two characters rise up and revolt against both the instructor and the rules of playwriting itself....
About the playwright: He has taught playwriting at his alma mater Oberlin College, at Miami's City Theater, and for the Connecticut Young Playwrights program. He has also given lectures and workshops at Central Washington University, Western Michigan University and State Fair College in Missouri. 
Additional information: All roles can be cast as either male or female! Actors must be able to move quickly and engage in some light stage combat. 
Communicating

 Through the Sunset
By Kerri Kochanski
Directed by Rachel Gregory
1 woman, 1 man
Plot: When Frankie, a high school student, finds his crush, Rachel, hiding out on a dirt hill in the Midwest, she rejects his attempts at connection. He must help her confront her violent past, and move toward a place of healing & happiness. A serious drama. Themes of: re-invention and twisted beauty.
About the Playwright: 
Kerri Kochanski is an author and playwright. Her plays have been produced throughout the United States and Canada. Excerpts from her dramatic work have been performed at various thespian festivals across the United States, and are published in anthologies by Smith & Kraus, Meriwether Publishing, Dramatic Publishing, Cengage Learning, ICWP, and Applause Theatre & Cinema. She is the author of a pop culture/humor book & blog. She lives in Greater Philadelphia.
Additional Information: This play includes sensitive material. TW: Rape, abuse, murder.
Bethlehem, PA
By Suzanne Bradbeer
Directed by Taylor Santos
Joe: An antisocial realist mourning the death of a dear one
Bunny: A bubbly charismatic "dancer" new to the area
Plot Summary: Bunny is new to the area and trying to get to know her neighbors. Joe is to himself and would rather be left alone. Through their strange late night encounter, they find they may not be as alone as they previously thought.
About the Playwright:
Ms. Bradbeer has received grants from the New York Foundation for the Arts, the Berrilla Kerr Foundation, and the Anna Sosenko Trust, as well as the 2012 BMI Foundation Harrington Award for Creative Excellence. Ms. Bradbeer was also a winner of the Ashland New Plays Festival, and is a two-time finalist for the Heideman Award. Residencies include The New Harmony Project, the Dorset Theatre Festival, and New River Dramatists. Nominated by Theresa Rebeck, Ms. Bradbeer was a fellow of The Lark's Playwrights' Workshop. Monologues from many of Ms. Bradbeer's plays have been published by Smith & Kraus, who have also published her plays Bethlehem, PA; Sometimes Romeo is Sad; Full Bloom; and Okoboji. Ms. Bradbeer has written a series of children's books, used to facilitate a Headstart teaching program through Penn State. She is a member of the Ensemble Studio Theatre Playwrights Unit, the BMI Workshop, The Actors Studio P/D Workshop, and the Dramatists Guild.
Reserve rooms from anywhere you have an internet connection. Don't see the room you're looking for? Scroll to the right!
Please only reserve one hour per day per project.
If you no longer need a reservation, please delete it so it can be used by your colleagues.
Leave your contact information in the event of an emergency.
Looking to book a room further out than a week or on a re-occuring basis? Email dherrera@theaterdance.ucsb.edu.
Winter calendars are now available to view!
POSITIONS AVAILABLE (DEPENDS ON THE PRODUCTION)
Light Board Operator
Sound Board Operator
Fly Crew
Deck/Props Crew
Followspot Operator
Wardrobe/Makeup Crew
HOW TO APPLY FOR RUN OR WARDROBE CREW:
Review the show calendars and course requirements to find a production that fits your schedule.
Take the application quiz for that production (via Gauchospace).
We will schedule an appointment via email to give you your add code.
IMPORTANT NOTES:
All crew positions are first-come, first-served. We will respond to applications in the order they are completed.
All events listed on the calendars are required. It is not possible to partially participate in a production.
There are no opportunities to make up for an unexcused absence or lateness.
CALENDARS: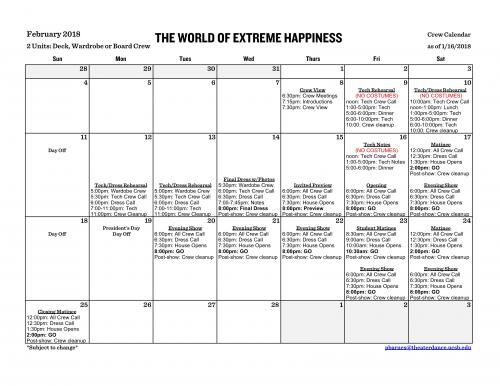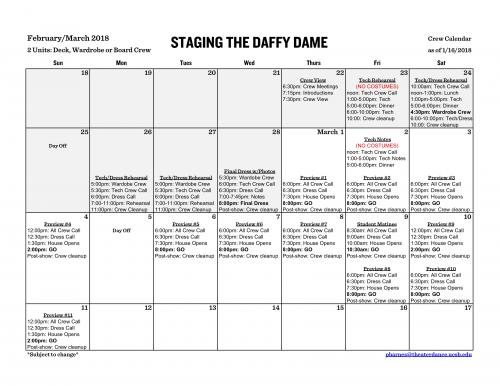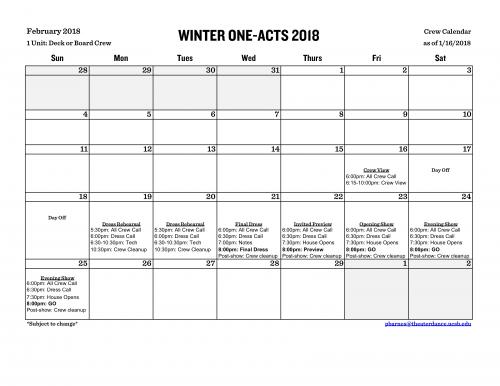 COURSE REQUIREMENTS:
Full Course Requirements (.pdf)
CONTACTS:
Want to be more involved with the Department? Want to see shows for free? Volunteer to be an usher for one of our shows!
WHAT: As an usher for the department's productions, you will be asked to hand out programs before the show, direct audience members to facilities during intermission, and organize the venue after the performance.
WHEN: Ushers should arrive 45 minutes PRIOR to curtain at the VENUE of the performance and check in with the house manager for instructions and a brief training session.
WEAR: Please arrive dressed tastefully in ALL BLACK.
WHY: For ushering, students may see the performance at no charge. It is possible (though not likely) that ushers will be asked to attend another performance if seating is very limited.
HOW: Use the buttons below to to sign up! You will be asked to enter your email address so that we can send you a reminder. Be advised that sign ups are on a first come, first served basis.
SIGN - UPS
Email Sean at sposh@ucsb.edu with your UMail address and the subject "Please add me to the Mailing List." The Mailing List will have the latest information regarding department events such as auditions, run/wardrobe crew, and special events.
Props/Furniture Rental Guidelines
Props and furniture are available for rental to the following:
Students currently enrolled in a class within the department
Recognized UCSB student organizations with a faculty advisor
Declared Majors/Minors within the department
Others as determined by the Technical Director
Rentals are available by appointment only. A $50 deposit check is required for all rentals.
Prop Shop Rental Hours:
Tuesdays 10:00-11:30am
Fridays 10:00-11:30am
Props/Furniture Rental Guidelines