Scipts and links for upcoming auditions 
The scripts for
Cabaret
and
New Works Lab
 can be found on
GauchoSpace
. Please note that the scripts cannot be downloaded nor printed.  Please do not share this script with anyone.  Thank you.
Cabaret
Book by Joe Masteroff
Based on the play by John Van Druten and stories by Christopher Isherwood
Music by John Kander
Lyrics by Fred Ebb
Directed by Julie Fishell
PERFORMANCES:           May 25th – June 3rd, 2018
                                          Performing Arts Theater
GENERAL                        Sunday, MARCH 4th, 2018
AUDITIONS:                    10am until 1pm; 7pm until 10pm
                                         TD-W 1507
CALLBACKS:                  Monday, MARCH 5th, 2018
                                        6pm – 11pm
                                        TD-W 1507
                                        Sunday, MARCH 11th, 2018
                                        2pm-10pm
                                        TD-W 1507
1ST REHEARSAL:         Monday, April 2nd
REHEARSALS:
Typically 20-25 hours per week until tech rehearsals begin.  This play will rehearse Monday – Friday between the hours of 6-11 until tech week. There will be some Friday afternoon rehearsals and occasional Saturdays.  There are additional hours for techs and dress rehearsals leading to performances including a Saturday.
CREDIT:
3 units of THTR 49 and/or 149 will be given to cast members.
SCRIPTS:
The current draft of the script is now available on GauchoSpace. Please go to the online student callboard at http://www.theaterdance.ucsb.edu/academics/call-board for further information.
AUDITION REQUIREMENTS:
Any full time UCSB student is welcome and encouraged to audition.  The audition sign-up list will be posted in the Production Office (TD-W 1600) starting on November 6th.
AUDITION PREPARATION:
Please read the following information VERY CAREFULLY.  There are three components to your CABARET audition: acting; singing; dancing. 
IMPORTANT:  On Sunday, March 4
IF YOU ARE AUDITIONING BETWEEN 10AM AND 1PM IT IS MANDATORY THAT YOU ATTEND THE 1PM UNTIL 2:30PM DANCE AUDITION.   
IF YOU ARE AUDITIONING BETWEEN 7PM AND 10PM IT IS MANDATORY THAT ATTEND THE 5:30PM UNTIL 7PM DANCE AUDITION.
In general, throughout the audition and callback process for CABARET, please try and clear your personal calendar to accommodate possible EXTENDED AUDITION CALLS throughout the day of your audition or callback, over and above your set time.
ACTING AUDITION
The script is currently available to read on Gaucho Space (see above link). 
Please read the script carefully so you can use it to:
Pick and Print a short scene or monologue from CABARET for your acting audition. You do not need to memorize this scene or monologue, but it should be prepared well.
Caveat:  1) If you choose a scene, please choose a partner and prepare together. 2) If at all possible, pair with a scene partner who is not auditioning for your chosen role. For example:  if you want to do a Sally scene, please partner with someone who has not chosen to audition for the role of Sally.
Selections should be no more than 2-3 minutes. Time your scene please.  You will be asked to specify the role you are auditioning for when you check-in at the audition.
SINGING AUDITION
Prepare a song OF YOUR OWN CHOOSING.
-You will sing Acapella.
-ONE minute in length or less.
-From the Musical Theatre genre that is representative of the style and period of our show, CABARET.
-That you really like!
DANCE AUDITION
Please dress comfortably in order to participate in moderate to intensive dance work.  This clothing should be worn to the audition or easily changed into for the dance portion of your group movement call (see details above for 3/4/18)
If you have questions or need more information contact Julie Fishell at fishell@ucsb.edu.
THE PLAY/PRODUCTION FOCUS:
The social and cultural backdrop for the musical CABARET is the city of Berlin in 1931, "a time when political unrest racks the country, the economy has been destroyed, and millions of unemployed roam the streets." Two distinct worlds comprise the settings for CABARET and both worlds are ferociously denying reality.  A reality forged by the economic aftershocks of a WWI defeat, the global impact of the Great Depression, and the strengthening and rise of The Third Reich.
The world of the Kit Kat Club helmed by the Emcee and featuring English entertainer Sally Bowles is a place to "leave your troubles outside" and serves up raucous, boozed up, irreverent, sexy and politically sharp entertainments.  The world is falling apart, what would you do?  Have Fun!  In contrast, Fraulein Schneider strives to maintain traditional values and keep her boarding house roof squarely over her head.  Her boarders are a mixed lot, late on the rent and prostituting themselves to stay afloat.  Poverty becomes the catalyst for Schneider's weary battles with principle. When offered a life of love and devotion with Herr Schultz, a Jewish fruit-seller, Fraulein Schneider abandons this love out of fear of political retaliation.  Her country has become an unforgiveable place, her home and her life on the brink of destruction. What would you do?  Be quiet and look the other way. CABARET was written as a manifesto to the horror of the Holocaust as a direct product of social apathy, denial or willing participation.  At every turn, the play confronts us with the direct question, "What would you do?"  What would we have done then?  What would we do today?  What principles would we abandon in a heartbeat to save our hides?  This minute?   NOW?
THE BOOK WRITER: 
Joe Masterhoff (1919) won a 1967 Tony Award as author of the book of the Best Musical winner "Cabaret." He was also twice Tony-nominated in 1964: as Best Author (Musical) and as author of the book of Best Musical nominee "She Loves Me."
THE COMPOSERS:
John Kander (1928) and Fred Ebb (1928-2004) were a highly successful American songwriting team.  Known primarily for their stage musicals, include Cabaret (1966) and Chicago (1975), Kander and Ebb also scored several movies.
THE UCSB PRODUCTION TEAM:
Book by:                            Joe Masteroff
                                          Based on the play by John Van Druten and stories by Christopher Isherwood
Music by:                           John Kander
Lyrics by:                            Fred Ebb
Director:                             Julie Fishell
Musical Director:                Jonathan Nathan
Choreographer                   Christina McCarthy
Scenic Designer:                Greg Mitchell
Costume Designer:             Ann Bruice
Lighting Designer:               Andrew Schmedake
Stage Manager:                  Daniela Sherwin
ROLES TO BE CAST: 
SPECIAL NOTE:
Actors of ALL ETHNICITIES NEEDED. ROLES MAY OR MAY NOT BE CAST AS GENDER-SPECIFIED. VOCAL RANGES LISTED BELOW BASED ON TRADITIONAL CASTING.  UNDERSTUDY ASSIGNMENTS MAY OR MAY NOT BE CAST PRIOR TO THE FIRST REHEARSAL. YOU WILL BE CONSULTED PRIOR TO BEING CAST AS AN UNDERSTUDY.
CHARACTERS:

Neimand, 10 years of age, country boy, innocent, Kit Kat Club performer, Hitler Youth, Soprano.
Clifford Bradshaw, American, aspiring writer, late 20's early 30's, Baritone.
Ernst Ludwig, German, businessman, 30's, minimal singing.
Emcee, an ageless creature of the night, gender-fluid, possibly German or French, Jewish, Tenor.
Sally Bowles, English Entertainer/KKC, early 30's, Mezzo-Soprano.
Max, 50's, German, Formerly full-owner of the Kit Kat Club, possibly Jewish, no singing. 
Fraulein Schneider, 40's, German, runs a boarding house, possibly of aristocratic heritage, Mezzo-Soprano.
Herr Schultz, 40's, German, Jewish, owns a fruit-stand, Baritone.
Fraulein Kost, 20's, boards in Fraulein Schneider's house, prostitute, Mezzo-Soprano.
*Customs Officer/Party Guest, 50's, a Weimar Republic presence, German, minimal singing.
*Telephone Girls/Boys, 20's, young workers in the Kit Kat Club, Party Guests, minimal singing.
*Kit Kat Club Performers, Dance and Singing heavy.
Lulu, Rosie, Texas, Fritzie, Frenchie, Helga, Bobby, Victor, Hermann, Hans
Additional characters = Customs Officer, Gorilla , Party Guests and AS NEEDED will be played by the Ensemble. *VERY EXCITING – full lives and specific relationships will be developed in rehearsal! These characters are crucial to our production - very meaty and important acting roles!
New Works Lab
Featuring Original Plays by UCSB Students
Producing Director: Vickie Scott
Artistic Director: Frances Ya-Chu Cowhig
New Works Lab provides opportunities for original student plays with a year of developmental support, culminating in moderately produced workshop. We will be holding open auditions for all six plays. Information is listed below.
Performances:                                   May 10 – 20, 2018
                                                            Studio Theater
General Auditions:                            Sunday March 4, 2018
                                                             3pm – 10pm
                                                             TD-W 1703
Call Backs:                                         Sunday March 11, 2018
                                                             10am-2pm
NOTE:  Call back information (protocols as well as specific location information) will be posted in the Production Office window soon after the completion of general auditions.
First Rehearsal:                                  Monday April 2, 2018
Rehearsals: All actors will be required to meet weekly with the entire Lab company on Tuesdays from 6-10pm. Most other rehearsals will take place Monday, Wednesday, Thursday, and Friday from 6-10pm except for technical rehearsals.
Credit: 2 units of THTR 49 or THTR 149 will be given to cast members.

Scripts: The current drafts of the scripts are now available on GauchoSpace. Please go to the online student callboard for further information.
Audition Requirements:
Any full time UCSB student is welcome and encouraged to audition. The audition sign-up list is posted inside the Production Office. Please sign up for ONE of the audition time-slots and arrive 10 minutes prior to your appointment to fill out paperwork outside of the audition room. Please be prepared to stay longer than your scheduled time-slot should your audition run long, or the process be behind schedule.
Audition Preparation:
Please prepare a 1 - 2-minute contemporary monologue.
Although this does not need to be memorized, it should be thoroughly prepared.
Play Specific Audition Information:
All the Wrong Places by Alessandra Albanese
Directed by Mabel Moll
CHARACTER BREAKDOWN:
4 women, 3 men
BILLIE:
Female, mid- to late 20s. Recently dumped. Charlotte's best friend. Kinky, and relatively experienced. Somewhat worn down by her dating history. The main participant of the Spectacular.
CHARLOTTE:
Female, mid- to late 20s. Secretly in love with her best friend, Billie. Curious about kink, but mostly inexperienced. Zealous, somewhat self-centered, showy. Has big ideas that she doesn't think all the way through. The emcee of the Spectacular.
THE LEATHERETTES:
Two females, mid-20s. Clad in sexy leather/faux leather outfits and boots, they are Charlotte's assistants for the Spectacular.
MALE ACTOR #1:
Plays JOE. Male, 28. Nice, but boring. In the bakery of men, he is Wonderbread. Also plays GEORGE. Male, mid- to late 20s. Works in tech, lives with his ex.
MALE ACTOR #2:
Plays CHAD: Male, 26. A fuckboy living off of Daddy's money. Tinder incarnate. Also plays BRIAN: Male, mid- to late 20s. Works in finance, a poor listener.
MALE ACTOR #3:
Plays KEVIN. Male, early 30s. Kinky. Dominant. Predatory. If 50 Shades of Grey was a person. Also plays TIM. Male, mid- to late 20s. Works in retail, has some niche fetishes and no shame.
SYNOPSIS:
After her best friend Billie's recent breakup, Charlotte sets up a dating game show in their local sex dungeon in order to find Billie a new, kinky partner. Billie meets men ranging from unsuitable to distinctly terrible, and grows increasingly frustrated at Charlotte's seeming lack of consideration for her feelings. As tensions reach their climax, Billie forces Charlotte to admit that she has feelings for Billie, and that the game show was a selfish plot to either get over or get with her best friend. In the wake of this revelation, Charlotte must confront the consequences of her actions, and the impact they have on her relationship with Billie.
ARTIST STATEMENT:
Through the absurdity that is all too common in online dating, I aim to explore themes of alternative sexuality and BDSM, consent and communication, and the fine line between friendships and relationships. While BDSM as a practice requires negotiation and mature communication, the people who practice it are often flawed – though no more so than their "vanilla" counterparts. I want to take a look at what happens when feelings and desires are expressed in healthy and unhealthy ways, and what the consequences are on relationships both platonic and romantic.
Enamored with the Ephemeral by Malique Guinn
Directed by Daniel Colohan
CHARACTER BREAKDOWN:
2 M, 3 F, 3 A (armadillos)
AL:
Male in his early 20s. Prideful when he's in the mood, somewhat grounded when it's mandatory (i.e. in the presence of a higher power). He is an individual whose mind is trapped within the confines of the Internet. Think of an Internet troll who matured but still hangs around, like the guy who is three years removed from high school but still attends the football games even though he no longer knows anyone.
KANYE WEST:
Male in his 50s. Retired rapper, aspiring filmmaker who possesses an ego that is irritating, but justifiable. Ethnicity: Either a white male or a black female in whiteface.
ZITI:
Female in her 40s. Mother of Al. She is sweet and mother-like to an extent. Faces trauma after losing something close to her.
BEESCH NIAGA:
Female/Male who is a pre-teen. Daughter of Kanye West. She is somewhat mature for her age but her actions somewhat counter that. Sports an egg-shaped helmet/mask. Ethnicity: Ambiguous.
INES:
Female in her early 20s. Al's "girlfriend", a woman who exudes a great deal of affection and joy.
ANDY:
Armadillo. One of three spirits who Al confides in during his journey. 
ANITA:
Armadillo. One of three spirits who Al confides in during his journey. 
ALEXA:
Armadillo. One of three spirits who Al confides in during his journey.
SYNOPSIS:
Al is a former child actor/entertainer whose career declined after an anonymous source uncovers some disturbing news about his life. Now living a life of lament and frugality with his mother, Karin, Al's time and luck begins to steadily run out as he attempts to rehabilitate his image and recreate a legacy for himself that he truly desires. When he is offered the opportunity to play Kanye West in a biopic, he is forced to understand the distinction between real life and the matrix by entering a world of emotional and absurd events as his method acting.
ARTIST STATEMENT:
In this play, I explore the disturbing nature of the pursuit of fame and the dark places that people will go to achieve notoriety. Today's world, or the Internet world, can make or break the career of an individual. It can propel to you fortune just as quickly as it can bury you. In other words, fame is fickle. Love is fickle. This play is about integrity and the delicacy of one's navigation through the world in order to have a worthy legacy that is not detrimental to one's character. In addition, it is about the distinction between the real world and the Internet world and the consequences that await those who do not take it seriously. 
Fast Food Takeover by Brynn Johnson Shrout
Directed by Christian Perez
CHARACTER BREAKDOWN:
3 Male, 2 Female. 3-5 Male or Female.
XANDER:
Male. Early 20's. Husky. Isn't always sure what to do, but once committed to something, goes at it full force. He doesn't like to see people hurt, but if others around him are ignoring it, he will attempt to ignore it until he has had enough. He doesn't care if something is a danger to him, as long as it brings about a positive change for the greater good.

MAGGIE:
Female. Early to mid 20's. Short, skinny. Tends to be a stickler for not questioning anything. Has been at McDonald's long enough to have most of her spirit crushed, although it begins to grow again when Xander arrives.

BOB:
Male. Mid 20's. Tall, with flailing limbs. He is willing to make quick friends, but is also a conspiracy nut. In this case, most of his suspicions about something bigger turn out to be true. He would give anything to uncover what's going on.

JERRY:
Male. Mid 30's. Muscular. Appears threatening most of the time, even when trying to be friendly. Trying to take over the world, because he thinks that it is disorderly. He is addicted to power in some sense.
Intercom:
Adult. Ageless. Has a professional, disconnected air. The type to just do their job. Real DMV devil-may-care attitude, but with an efficiency not much seen at the DMV

CHRISSY:
Female. Late 20's. Average. Doesn't have much going for her. Is ok at her job, but isn't always perfect. Small part. Is double cast as one of the cartoons.

CARTOONS:
All ages. The guards of the McDonald's, therefore are representative of the location.Take the demonic looking formsforms of Ronald McDonald, Hamburglar, Grimace, etc. They are from that uncanny valley of being too close to human, and yet not human enough. 4 people Max. They grow in numbers as other people disappear. 2-3 can be double cast as other characters (Chrissy, Refugees)

REFUGEES:
All ages. Customers who were trapped in the McDon ald's after the event. Scared witless, hungry, and desperate. 4 people. 1-2 double cast as Cartoons.
SYNOPSIS:
Six months after a catastrophic natural disaster, Xander, to help pay for his student loans, gets a job at the local McDonald's, which has turned into an industrial complex, housing employees & refugees alike. Xander discovers that the changes are due to Jerry, the sinister new general manager who waltzed in right after the disaster, making it impossible for anyone to leave without being punished, or, in extreme cases, disintegrated. When his coworker Bob gets disintegrated, Xander makes it his mission to find out what's really going on, and stop Jerry.

ARTIST STATEMENT:
In this play, I am attempting to explore and critique the effects of late stage capitalism/corporatism. Many corporations exploit employees' need for a job, giving them unreliable hours, and scheduling them in a conflicting way with other jobs, or commitments (such as school). Jobs with so called "flexible" hours half the time are not flexible about hours, forcing employees to just make it work, all while paying them such low wages as to make it near impossible to subsist on wages just at one job. I am interested in exploring what happens when employees fight back, but in a metaphorical context. I want to know how people react when hell is on their doorstep, when they get pushed too far, so to speak. I would also like to explore the motivation behind that, and how far is too far.
Goat Eggs / Soda Jerks by Harry Davis
Directed by Harry Davis
CHARACTER BREAKDOWN:
2 male, 1female
SEAN:
A crude but intelligent 18-year-old boy. Sean is quick witted, or so he would like to believe. He is sleazy, but endearing nonetheless. Self-interested and believes that if it results in sex and/or laughter, it's worth it, even if it means hurting the feelings of his best friend.
JUSTIN:
Sean's best friend. 18 years old. Justin is a dimwitted, anxious teenager who is too shy to ask for extra ketchup at McDonald's because of his fear of authority. He desperately wants romantic companionship but is too timid to go out and get it himself.  His greatest power is his ability to evoke pathos. He seems uncomfortable in his own body.
HELEN:
Justin's date. 18 years old. Helen has just gotten out of a relationship and is desperate to feel desired. She is a bit ditzy, but  She suffers from low self esteem and depression, and wishes she was as sexy and intellectual as her peers. She has just gotten out of a relationship and has decided to go on a date to try to bounce back.
SYNOPSIS:
Justin, a hopeless romantic and Sean, his cynical best-friend, have just graduated High School and are trying to achieve the impossible: getting Justin a girl. What exactly "getting" a girl means is where the trouble begins, when Justin's tinder date Helen comes over to the house Justin is sitting. Is it love or sex? Is it getting her in your bed, or getting her to say her vows? Does Helen want to be "gotten" at all? Both boys try to achieve their goals, until all boils over and they have to decide if it is worth being friends with someone who can make you so miserable.
My Roll, My Role by Michael Lin
Directed by Danielle "Billie" Stouter
CHARACTER BREAKDOWN:
3 male, 1 female.
FAY, or ABOMINATION:
Male in his early 20s. A wretch of a human being who only exists for existence's sake, and can't seem to find much other reason. Think of a roommate who skipped a week of class to watch the newest season of all the worst animes, but never grew out of it. Full of regret and self-hatred, but doesn't really know how to deal with it. Preferably an Asian American character. Also, preferably someone who can play drama casually and genuinely, nothing of the Shakespearean "TO BE OR NOT TO BE?" sort. Rather, one who can role-play, and makes "speaking pretentiously while role-playing" sound realistic.
GUS, or the Dungeon Master, DM:
Male in his 20s. Sharp looking. A very easy-going and thoughtful person. Already has superb adulting skills but still is very childish in his own ways. Think of the best older brother one could ever ask for. Preferably an Asian American character. The more accents, voices, and sound effects one can make with one's body, the better. This actor will also inevitably portray more than 4~5 characters in (the collective) imagination. 
KAT, or WITCH:
Female in her 20s. An honor student, or supposedly an honor student. It's not her choice, but the situation was thrust upon her and she worked with it well. Taught to kill creativity in exchange for rational, efficient thought, yet she never gave up on having fun. Playing D&D is probably one of the few things she can still look forward to in her life, and she's not about to let anyone ruin it. Think of a TA who teaches a really hard literature course that you met one day at a bar and turns out to be a very captivating conversationalist. Preferably someone who has a crisp accent and can talk fast.
BREN, or WEREWOLF:
Male in his 20s. A jovial loudmouth that uses cheeriness as a facade to his own inner turmoils. Sarcastic, and not afraid to joke about anything, and is perhaps right in that way. Think of someone who works at AS, goes to debate club and is also a politics and philosophy double major, but is also secretly an Edgelord. Preferably someone who doesn't mind experimenting with physicality, be the laughing stock, while keeping it all in, conceal-don't-feel-don't-let-them-know.
SYNOPSIS:
When Fay, a disheartened college student on the verge of graduation, falls into the torrent that is facing reality, the rejection from his family and school leaves him crippled beyond seeming repair. Now he's stuck in a fantasy limbo that he has created for himself. His older brother Gus, along with his friends, will have to draw their swords, polish their armor and prepare their spells, in order to dive into the fantasy world of Dungeons and Dragons in order to reach the lost soul. This short play aims to plunge the audience into an adventure in supposed real life, filled with metaphors and slayings of (literal) inner demons.
ARTIST STATEMENT:
I'm in a long-term love/hate relationship with pretentiousness. I adore playing tabletop games, specially Role-playing games because they allow one to leave the intolerable suffering that is real life for just a few moments. However, they can also trap one from engaging with reality. It is easy to lose hope when real life is so terrible in comparison, and there's nothing one can do about it, given how powerless and worthless one is in reality. When I lost hope, it was my brother that granted me the tools, and imbued me with the determination to fight on—In the grand scheme of things, that's the story I'd like to tell, where one's role is determined by one's own rolls. 
Bad Blood by Jazmine Bang
Directed by Nicole Zahner
 
CHARACTER BREAKDOWN:
3 Female, 2 Male
FAYE:
17. Mexican and Chinese. Bubbly and positive (most of the time). Enjoys cleaning. Loves to sing. Insecure, but secure. She is secure of who she is, but becomes disheartened by how hard she needs to prove herself to others for being mixed.
ANNE:

Faye's Chinese mother.
CHUY:

Faye's Mexican father.
DOÑA THICHE:

Guardian of Purity. She keeps the races contained and pure, saving them from mixing with one another. Sassy woman. Emotional. Never wrong. Her job is very important to her, and strongly believes that everyone must listen to her because she is always right.
ERNESTO:

Doña Thiche's assistant. Tends to her every need. He thinks that she can be very mean sometimes, but he still loves her. Good hearted, but does as he is told.
SYNOPSIS:
Born with a curse because her parents disregarded Doña Thiche's warning of mixing their races together, Faye must now go through life trying to prove her identity as a biracial person to each of her people. She must endure all of the rejection brought her way until her 18th birthday arrives, in order to break the spell. With her parents by her side Faye is able to find strength in knowing who she is and where she comes from, but Doña Thiche doesn't plan on making this road easy for her. She will try everything in her power to show Anne and Chuy that their precious baby was a mistake, and that mixed blood cannot survive out here.
ARTIST STATEMENT:
My play takes the struggles every mixed person faces, and externalizes them by using elements of absurdity, magic, and fun to tell a unique story. I want the conflict to continue bubbling bigger and bigger towards the direction I'm taking it, and make this journey of finding identity and acceptance a fun one to continue working and writing on for me, my director, actors, and audience.
The UCSB New Works Lab Production Team:
Producing Director:                             Vickie Scott
Artistic Director:                                   Frances Ya-Chu Cowhig
Acting/Directing Mentor:                      Daniel Stein
Publicity Mentor:                                  Una Mladenovic
Production Stage Manager:                 Johnathan Garza       
Scenic Designers:                               Tommy Dang, Amanda Hughes, Allison McSwain
Costume Designers:                            Luis Cornejo, Cierra Costello, Cynthia Marin
Lighting Designers:                              Mitchell Jakubka, Allison McSwain, Dylan Wills
Reserve rooms from anywhere you have an internet connection. Don't see the room you're looking for? Scroll to the right!
Please only reserve one hour per day per project.
If you no longer need a reservation, please delete it so it can be used by your colleagues.
Leave your contact information in the event of an emergency.
Looking to book a room further out than a week or on a re-occuring basis? Email dherrera@theaterdance.ucsb.edu.
Thank you to everyone who applied and participated this quarter. We will recruit for crew positions at the start of Fall Quarter.
POSITIONS AVAILABLE (DEPENDS ON THE PRODUCTION)
Light Board Operator
Sound Board Operator
Fly Crew
Deck/Props Crew
Followspot Operator
Wardrobe/Makeup Crew
HOW TO APPLY FOR RUN OR WARDROBE CREW:
Review the show calendars and course requirements to find a production that fits your schedule.
Take the application quiz for that production (via Gauchospace).
We will schedule an appointment via email to give you your add code.
IMPORTANT NOTES:
All crew positions are first-come, first-served. We will respond to applications in the order they are completed.
All events listed on the calendars are required. It is not possible to partially participate in a production.
There are no opportunities to make up for an unexcused absence or lateness.
CALENDARS: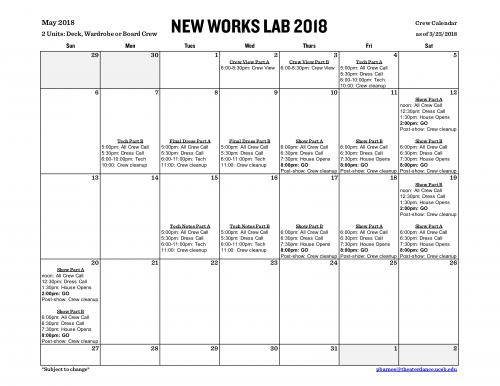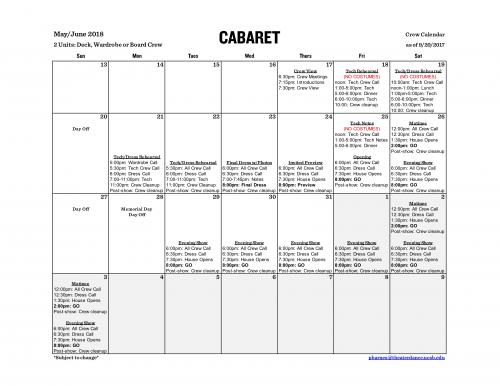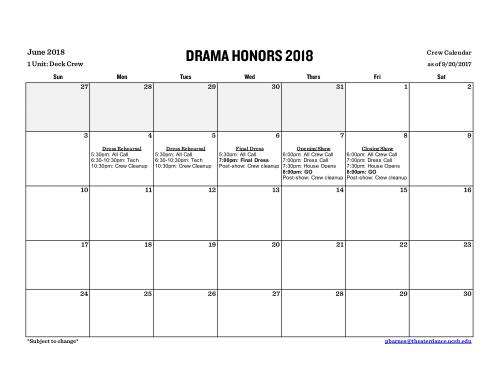 COURSE REQUIREMENTS:
Full Course Requirements (.pdf)
CONTACTS:
Want to be more involved with the Department? Want to see shows for free? Volunteer to be an usher for one of our shows!
WHAT: As an usher for the department's productions, you will be asked to hand out programs before the show, direct audience members to facilities during intermission, and organize the venue after the performance.
WHEN: Ushers should arrive 45 minutes PRIOR to curtain at the VENUE of the performance and check in with the house manager for instructions and a brief training session.
WEAR: Please arrive dressed tastefully in ALL BLACK.
WHY: For ushering, students may see the performance at no charge. It is possible (though not likely) that ushers will be asked to attend another performance if seating is very limited.
HOW: Use the buttons below to to sign up! You will be asked to enter your email address so that we can send you a reminder. Be advised that sign ups are on a first come, first served basis.
SIGN - UPS
Email Sean at sposh@ucsb.edu with your UMail address and the subject "Please add me to the Mailing List." The Mailing List will have the latest information regarding department events such as auditions, run/wardrobe crew, and special events.
Props/Furniture Rental Guidelines
Props and furniture are available for rental to the following:
Students currently enrolled in a class within the department
Recognized UCSB student organizations with a faculty advisor
Declared Majors/Minors within the department
Others as determined by the Technical Director
Rentals are available by appointment only. A $50 deposit check is required for all rentals.
Prop Shop Rental Hours:
Tuesdays 10:00-11:30am
Fridays 10:00-11:30am
Props/Furniture Rental Guidelines