Scipts and links for upcoming auditions 
The scripts for Fall One Acts can be found on
GauchoSpace
. Please note that the scripts cannot be downloaded nor printed.  Please do not share these script with anyone.  You can also find the monologues that you will need to choose from for your audition. Please feel free to print the monologues
Fall One-Acts
PERFORMANCES:          November 1st-4th
                                          Studio Theater (TD-W 1101)
GENERAL                        Tuesday, October 2nd
AUDITIONS:                    6pm-8pm
                                        Studio Theater (TD-E 1101)
CALLBACKS:                  Wednesday, October 3rd
                                        6pm – 11pm
                                        Studio Theater (TD-E 1101)
1ST REHEARSAL:         Thursday, October 4th
REHEARSALS:
The directors will schedule rehearsals after casting is complete.  Rehearsals are typically held weekday evenings between the hours of 6 and 10pm.  Some weekends may be required as well.
SCRIPTS:
All Fall One Act scripts are now available on GauchoSpace.
AUDITION REQUIREMENTS:
Any full time UCSB student is welcome and encouraged to audition.  The audition sign-up list is posted in the Production Office (TD-W 1600).
AUDITION PREPARATION:
Please go to GauchoSpace, choose one monologue, and have it prepared for the audition. 
CALLBACK INFORMATION:
Callback inforomation will be posted in the production office and sides for callbacks will be available in the Production Office by 10am the morning after general auditions.  
Picking Up the Scent
by Yussef El Guindi
Directed by Riya Sahasrabudhe
Synopsis: 
Hisham and Nisrin, a newly married couple, navigate a relationship through letters to each other.  Hisham, an archeologist, is working at a dig site in a war zone overseas while Nisrin is studying abroad in London. Hisham makes discoveries about their present through unearthing items of the past as Nisrin finds it increasingly difficult to reach him in his remote as well as dangerous location. 
Character Breakdown:
HISHAM:  Male, early to mid twenties.  Passionate, romantic, and energetic sometimes to the point of inattentiveness to those around him.  He is curious, strong-willed, and willing to do whatever it takes for what he believes in.  Of Middle Eastern descent.  Husband to Nisrin.  
NISRIN:  Female, early to mid twenties.  Attentive, observant, and gentle yet always comfortable voicing her opinions.  She is a Master's student in London studying poetry.  Of Middle Eastern descent. Wife to Hisham.  
ANNABEL / WOMAN FROM THE PAST:  Female, early twenties.  Soft spoken, nostalgic, youthful energy.  She is a saleswoman and comes back at the end of the play as a woman from the time in which Hisham is unearthing artifacts.  
The Ballad of 423 and 424
by Nicholas C. Pappas
Directed by Sefan James
Synopsis: 
Ellen has just moved into her new apartment, becoming world famous author (and serious recluse) Roderick's new neighbor. Ellen is a bright ray of sunshine, a new and exciting presence in the building… Which disrupts Roderick's routine to no end, much to his dismay. As both grapple not only with each other, but with their own inhibitions and sense of isolation, will they be able to reach out to each other and hold on, or will they slam their doors in each other's face?
Character Breakdown:
RODERICK: 26- 31. Precise, measured, reclusive in nature. Neophobic and resistant to change. Intense introvert, verging on agoraphobic and social ineptitude, although secretly he longs to be free from these chains. A talented and famous writer. Akin to Amethyst.
ELLEN: 26-31. Bright, patient, compassionate. An open door, always reaching out, trying to make things better, even if it hurts her. A mender, healer and a nurse. Strong and confidant. Akin to Rose quartz.
Come Rain or Come Shine
by Jeni Mahoney
Directed by Billie Stouter
Synopsis: 
As Luke returns from his first year of college with his male 'friend', his mother prepares to shower them both with love for their big announcement.  But when Luke reveals something different than expected, his mother is left wondering if she really can support his life choices.
Character Breakdown:
MOM: 40's, liberal, mother, hippie who wears comfortable clothes, caring, concerned, strong-willed,
believes herself to be modern and accepting/open-minded, idealistic, loves her son deeply
LUKE: her son - 20's , shy, young, impeccably neat, closeted, conservative, independent, friendly,
patriot, sticks to his ideas and values, minorly rebellious, thoughtful
CHRIS: Luke's friend – 20's, impeccably dressed and neat, conservative, very sociable and well mannered,
supportive, friendly, peacemaker, thoughtful, good-mannered
I Didn't Want a Mastadon
by Halley Feiffer
Directed by Katherine Hamilton
Synopsis: 
After experiencing a terrible betrayal, two recovering alcoholics try to find the next step in their relationship. Henry, who caused the rift, attempts to make it up to his girlfriend Dani, only to find her as guarded and hostile as ever, and the road to forgiveness unclear.
Character Breakdown:
HENRY: Male in his 30's. Timid and soft spoken, he does not often stick up for himself and avoids confrontation. He is goofy and loveable in his quirkiness, very attentive and sometimes annoyingly sweet. A recovering alcoholic. Any build.
DANI: Female in her 30's. Attractive but messily put together. A smoker and recovering alcoholic, she stays busy doing local community service work. She is naturally compassionate and feeling, but does her best to put on a hard exterior. Sarcastic, sharp, and headstrong. Any build.
Black Flag
by Idris Goodwin
Directed by Nicole Zahner
Synopsis: 
Two new roommates, Sydney from Georgia, and Deja from Detroit, are more than excited to start their college experience. However, Sydney de-rails their experience when she decorates her room with her symbol of Southern pride… a confederate flag. How will this symbol to which the two women ascribe incredibly different meanings affect their relationship?  
Character Breakdown:
DEJA: Black Female in her late teens. From Detroit and has an accent. Attending college in New York City. Roommates with SYDNEY. Romantically interested in HARRY. She is taking a writing class and has a knack for it. She stands firmly in her beliefs but tries not to make waves. She wants the people in her life to get along. 
SYDNEY: White Female in her late teens. From Georgia and has an accent. Attending college in New York City. She has a lot of Southern pride. She loves her mamma. She is learning what flaunting a controversial symbol means. Roommates with DEJA. She wants to be friends with DEJA but is having a difficult time because of the way she was raised. 
HARRY: White Male in his late teens. From Northern California and has no accent. Attending college in New York City. Romantically interested in DEJA. He feels the confederate flag is racist and is not afraid to express his opinions. Quick to make judgements. 
Reserve rooms from anywhere you have an internet connection. Don't see the room you're looking for? Scroll to the right!
Please only reserve one hour per day per project.
If you no longer need a reservation, please delete it so it can be used by your colleagues.
Leave your contact information in the event of an emergency.
Looking to book a room further out than a week or on a re-occuring basis? Email dherrera@theaterdance.ucsb.edu.
Fall Crew Calendars are now available to review. Information and applications will be announced via our MAILING LIST
POSITIONS AVAILABLE (DEPENDS ON THE PRODUCTION)
Light Board Operator
Sound Board Operator
Fly Crew
Deck/Props Crew
Followspot Operator
Wardrobe/Makeup Crew
HOW TO APPLY FOR RUN OR WARDROBE CREW:
Review the show calendars and course requirements to find a production that fits your schedule.
Take the application quiz for that production (via Gauchospace).
We will schedule an appointment via email to give you your add code.
IMPORTANT NOTES:
All crew positions are first-come, first-served. We will respond to applications in the order they are completed.
All events listed on the calendars are required. It is not possible to partially participate in a production.
There are no opportunities to make up for an unexcused absence or lateness.
CALENDARS: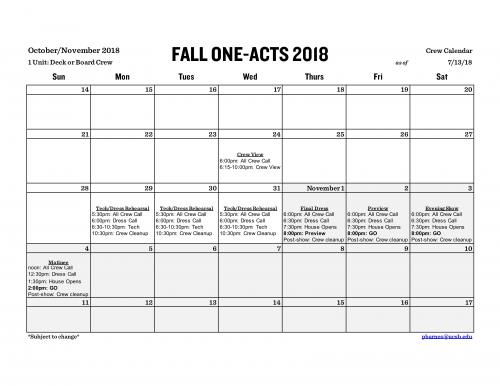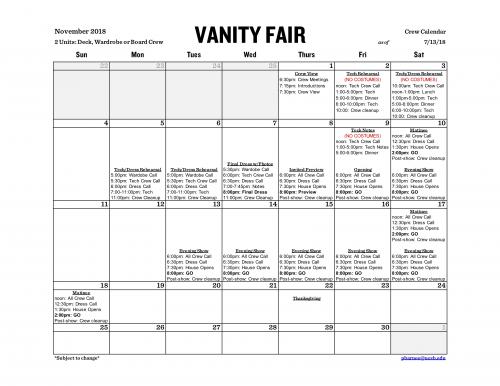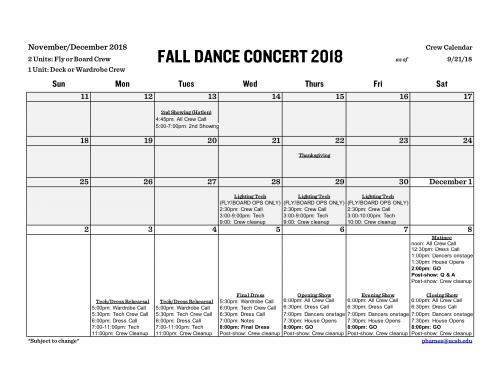 COURSE REQUIREMENTS:
Full Course Requirements (.pdf)
CONTACTS:
Want to be more involved with the Department? Want to see shows for free? Volunteer to be an usher for one of our shows!
WHAT: As an usher for the department's productions, you will be asked to hand out programs before the show, direct audience members to facilities during intermission, and organize the venue after the performance.
WHEN: Ushers should arrive 45 minutes PRIOR to curtain at the VENUE of the performance and check in with the house manager for instructions and a brief training session.
WEAR: Please arrive dressed tastefully in ALL BLACK.
WHY: For ushering, students may see the performance at no charge. It is possible (though not likely) that ushers will be asked to attend another performance if seating is very limited.
HOW: Use the buttons below to to sign up! You will be asked to enter your email address so that we can send you a reminder. Be advised that sign ups are on a first come, first served basis.
SIGN - UPS
Email Sean at sposh@ucsb.edu with your UMail address and the subject "Please add me to the Mailing List." The Mailing List will have the latest information regarding department events such as auditions, run/wardrobe crew, and special events.
Props/Furniture Rental Guidelines
Props and furniture are available for rental to the following:
Students currently enrolled in a class within the department
Recognized UCSB student organizations with a faculty advisor
Declared Majors/Minors within the department
Others as determined by the Technical Director
Rentals are available by appointment only. A $50 deposit check is required for all rentals.
Prop Shop Rental Hours:
Tuesdays 10:00-11:30am
Fridays 10:00-11:30am
Props/Furniture Rental Guidelines