Scipts and links for upcoming auditions 
Scripts for all Spring shows (
Caucasian Chalk Circle
and all
New Works Lab
plays) can be found on
GauchoSpace
.  Please note that these scripts cannot be downloaded nor printed.  Please do not share these scripts with anyone.  Thank you.
Caucasian Chalk Circle
Performance Dates:
May 25th - June 4th, 2017
Hatlen Theater
GENERAL AUDITIONS:
Sunday March 5th, 2017
2pm-10pm
TD-W 1507 & TD-W 1703
Sunday March 12th, 2017
2pm – 10pm 
TD – W 1507
Note: Call back information (protocols as well as specific location information) will be posted in the Production Office window soon after the completion of general auditions. 
Typically 20-25 hours per week until tech rehearsals begin. This play will rehearse Monday – Friday between the hours of 6-11pm until tech week. There will be some Friday afternoon rehearsals and occasional Saturdays. There are additional hours for tech and dress rehearsals leading to performances including a Saturday. 
CREDIT:
3 units of THTR 49 and/or 149 will be given to cast members.
AUDITION REQUIREMENTS: 
Any full time UCSB student is welcome and encouraged to audition.  The audition sign-up list is posted inside the Production Office. Please sign up for ONE of the audition time-slots and arrive 10 minutes prior to your appointment to fill out paperwork outside of the audition room. Please be prepared to stay longer than your scheduled time-slot should your audition run long, or the process be behind schedule.
You will be signing up for ONE 7 minute time slot where you will complete the requirements for BOTH Caucasian Chalk Circle and New Works Lab. 
Although it is understood that BFA students will be auditioning for BOTH Caucasian Chalk Circle AND the New Works Lab, if you are a Non-BFA student, there will be a space on your audition documentation for you to note the specific show for which you are auditioning. 
Audition Information 
Brecht's final masterpiece, The Caucasian Chalk Circle, is set in historical times in the Caucasian Mountains, to the south of Russia and the north-east of Turkey. In a revolution that overthrows a tyrannical governor, a palace kitchen-maid, Grusha, saves the Governor's baby from death; she travels through the mountains with the child, protects him from all manner of danger, makes exceptional sacrifices for him and becomes so closely bonded to him that she considers herself to be his mother. When the old Government returns to power, the Governor's wife claims the child back. A judge Azdak, who is deeply corrupt but humane in his attitude toward those who are less fortunate in life, eventually decides who the real mother is in one of the tensest and most climactic scenes in modern theatre.
Roles: 
The play requires a cast of between 20 and 24 actors, evenly divided between male and female. All actors will be part of the ensemble and will be involved in the majority of the action of the play. Casting will be color and ethnicity blind. Major roles include:
The Singer: the narrator of the play who will either speak or sing the role. Male, though female may be possible
Grusha Vashnadze: the kitchen-maid. This is a long role that central to the entire first part of the action. She is a proletarian, a fighter, a woman capable of great devotion and considerable bravery. 20-22 years old.  
Azdak: the corrupt judge. One of the greatest comic roles in modern theatre, Azdak has frequently drawn comparison to Falstaff. He is alcoholic and degenerate, but extraordinarily intelligent, seeing through the world's corruption with a devastating eye. 30 years upward.
The Governor's Wife: a woman concerned solely with herself, fashions and power. Nevertheless, when she appears after the Revolution has calmed down, she proves to be a formidable enemy to Grusha. 25 years upward.
Simon Shashava: Grusha's fiancé, who fights in the revolutionary wars, and whose love for Grusha when he returns is sorely tested. 20 years upward.
There are, in total, about 48 roles in the play; in addition to those Brecht also lists "soldiers, servants, peasants, beggars, merchants, nobles and architects". There will be more than enough work to go round for everyone!
Audition Preparation: 
Please prepare a 2-minute monologue from European Literature from the 1900s through the 1950s. You may use any monologue from one of the following playwrights: 
Although this does not need to be memorized, it should be thoroughly prepared. 
There are several songs in the play. You do not need to have a trained voice but you will, in addition to delivering a monologue, be asked to audition musically in TD-W 1703 with the composer Patrick Lindley. You will NOT need to prepare any songs. If you can play a musical instrument, please bring it with you to the audition. 
New Works Lab
Performance Dates:
May 11th - 21st, 2017
Performing Arts Theater
GENERAL AUDITIONS:
Sunday March 5th, 2017
2pm-10pm
TD-W 1507
Sunday March 12th, 2017
2pm – 10pm
Note: Call back information (protocols as well as specific location information) will be posted in the Production Office window soon after the completion of general auditions. 
All actors will be required to meet weekly with the entire Lab company on Tuesdays from 6-10pm. Most other rehearsals will take place Monday, Wednesday – Friday from 6-10pm except for technical rehearsals.  
CREDIT:
2 units of THTR 49 or THTR 149 will be given to cast members.
AUDITION REQUIREMENTS: 
The Couch by Andalusia Kear
Directed by Tyler X Koontz 
This Contemporary drama deals with the reality of young relationships today. When newlyweds Jay and Wendy move into their new apartment, the two begin to questions the solidity of their relationship, and if they are what is best for each other. Through the play they weight the price of love, health, happiness, and what they're worth. 
Wendy – Female late 20s/early 30s 
Luke – Male late 20s/early 30s 
Gang Sines by Malique Guinn 
Directed by Rebecca Wear 
In a small town, there exists three athletes who possess different skills but share one common goal: win the world competition in St. Louis. With their school short of funding for the trip, the crew has to come up with a lucrative process in order to travel and not only better their lives, but save their school which is on the brink of being shut down. Nonetheless, the differing habits of the athletes outside of the classroom can either help them take five steps forward or ten steps back… or worse. 
Carle – Male. Witty and corny with his diction; overly proper at unnecessary times; short and stalky; he is at the forefront of the mathletes team. Ethnicity requirements: Preferably black or another minority 
Lincoln – Male. A bit on the shy side; average height and body size; he serves as an important asset to the team even though he can be sluggish and his work ethic might be questionable at times. Ethnicity Requirements: Black, Asian or Latino
Seven – Male. Functions as the intersection between the street world and the academic world; a wild card, but useful. Ethnicity requirements: Preferably black or another minority 
The Pastor's Hands by Miriam Dance 
Directed by Sian Harden 
A story of a girl who begins to question the church that she is growing up in. She is surrounded by a brainwashed congregation who put their faith in a man who calls himself the apostle of God. Rose has a secret to tell her mother, who has immersed herself in service to this church out of gratitude for the pastor's "good deeds." 
Mom – Early 40s. Very brainwashed and in denial. She believes in every work the pastor says and tries to teach her daughter to do the same. Afraid of being abandoned. 
Lily – 12 years old. Brave but a little timid. Seeks the undivided attention of her mother. 
Pastor Gary – Late 40s. Very smooth with his words and can get anyone to believe and obey what he says. He truly believed that he is chosen by God to be a leader and he abuses his position and power. 
Congregation 1/Man – Late 20s. Represents the Men of the cult. Tries to appear strong, but is broken. Plays 'Man' in the flashback scenes. 
Congregation 2 – Female. Late 20s. Lives in the church compound and represents the single women of the church who are broken and taken advantage of. 
Congregation 3 – Teen. Represents the youth of the cult. Zealous and naïve and brainwashed. 
Audition Preparation: 
Please prepare a 1 - 2-minute contemporary monologue. 
Although this does not need to be memorized, it should be thoroughly prepared. 
Now you don't have to come to the production office to reserve a space! Reserve rooms from anywhere you have an internet connection. Don't see the room you're looking for? Scroll to the right!
Please only reserve one hour per day per project.
If you no longer need a reservation, please delete it so it can be used by your colleagues.
Leave your contact information in the event of an emergency.
Looking to book a room further out than a week or on a re-occuring basis? Email dherrera@theaterdance.ucsb.edu.
Recruitment for Spring Dance 2017 is now open
We are recruiting now for our Spring Dance Concert, which will take place at the beginning of Spring Quarter. Once Spring Quarter begins, there will be one last recruitment for the remaining Spring Quarter productions.
HOW TO APPLY FOR RUN OR WARDROBE CREW:
Review the show calendars and course requirements to find production that fits your schedule.
Take the application quiz for that production (via Gauchospace).
We will schedule an appointment via email to give you your add code.
IMPORTANT NOTES:
All crew positions are first-come, first-served. We will respond to applications in the order they are completed.
Once you are enrolled in Crew, further information on your production will be sent to you directly via email.
CALENDARS: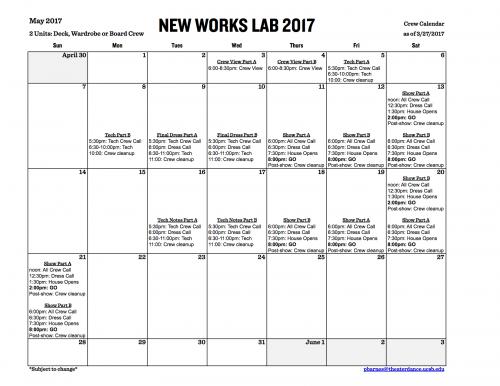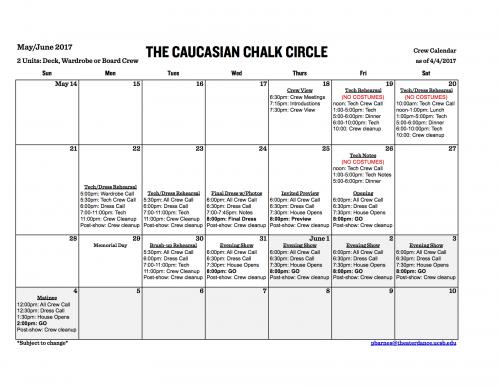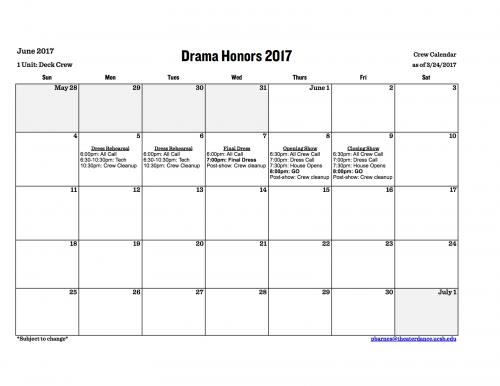 Upcoming crew calendars will be posted as soon as they're ready.
COURSE REQUIREMENTS:
Full Course Requirements (.pdf)
CONTACTS:
Want to be more involved with the Department? Want to see shows for free? Volunteer to be an usher for one of our shows!
WHAT: As an usher for the department's productions, you will be asked to hand out programs before the show, direct audience members to facilities during intermission, and organize the venue after the performance.
WHEN: Ushers should arrive 45 minutes PRIOR to curtain at the VENUE of the performance and check in with the house manager for instructions and a brief training session.
WEAR: Please arrive dressed tastefully in ALL BLACK.
WHY: For ushering, students may see the performance at no charge. It is possible (though not likely) that ushers will be asked to attend another performance if seating is very limited.
HOW: Use the buttons below to to sign up! You will be asked to enter your email address so that we can send you a reminder. Be advised that sign ups are on a first come, first served basis.
SIGN - UPS
Email Brian at bharwell@theaterdance.ucsb.edu with your UMail address and the subject "Please add me to the Mailing List." The Mailing List will have the latest information regarding department events such as auditions, run/wardrobe crew, and special events.