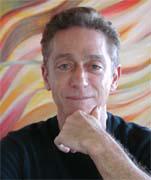 Bio
:
Studio Professor & Artistic Director of Santa Barbara Dance Theater
D.I.P., Interlochen Arts Academy; The Juilliard School
Christopher Pilafian (Choreographer, Educator, Dance Artist, Visual Artist), has danced on stage, television and in film with choreographers Alvin Ailey, Judith Jamison, Charles Moulton, Louis Falco, Matthew Diamond, Lynn Taylor-Corbett, Pearl Lang, Elizabeth Keene, Kazuko Hirabayashi, Kathryn Posin and many others. In New York, after attending The Juilliard School, where he was awarded both the Doris Humphrey Scholarship and the Louis Horst Fellowship, Mr. Pilafian became a founding member, principal dancer and Associate Artistic Director of Jennifer Muller/The Works, touring throughout Europe, The Middle East, North, Central and South America from 1974 to 1989. He has created over 40 dance works including commissions for Princeton University, Dance Kaleidoscope, Jennifer Muller/The Works, Repertory-West Dance Company, Santa Barbara Dance Theatre, Interplay, San Diego Dance Theater and soloists Nancy Colahan and Danah Bella. His works have been premiered in venues as diverse as The Joyce Theatre, New York City; Villeneuve-les-Avignon, France; Indiana Repertory Theatre, Indianapolis; New Performance Gallery, San Francisco; The Luckman Fine Arts Complex, Los Angeles; The Alex Theater, Glendale; Ohio State University and The California Center for the Arts, Escondido. 
In 1990 Mr. Pilafian joined the faculty of the Division of Dance at UC Santa Barbara where his work is regularly performed in the repertory of the program's two resident dance companies. Five works have appeared at the American College Dance Festival: Dance for an Unknown Occasion, In the Ellasphere, Pop Rondo (Honorable Mention) Heebiejeebie (Gala Performance) and What's Cool. Mr. Pilafian served as Artistic Director and choreographer of Points of Departure, an evening-length collaborative work presented by Santa Barbara Dance Alliance at the Lobero Theatre, produced by SBDA Executive Director Lisa Thomas. He has served as panelist for the California Arts Council, SUMMERDANCE, Santa Barbara and Santa Barbara Dance Alliance. Mr. Pilafian's Artifact, was performed by Jennifer Muller/The Works in May 2000 at the Joyce Theatre in New York City. In Fall 2001 he collaborated with dramatist Catherine Cole on the dance theater piece, Five Foot Feat, performed at Santa Barbara's Center Stage Theatre to critical and popular acclaim, revived in 2002 at UCSB's Hatlen Theatre, presented at the Association of Performing Arts Presenters in New York City, January, 2003 and on tour internationally in 2004. Mr. Pilafian's work Thin Skins, based on music by UCSB composer Joel Feigin, was premiered by Santa Barbara Dance Theatre at UCSB's Hatlen Theatre in 2002 and the Lobero Theatre in downtown Santa Barbara in 2004. Some of its Parts, constituting half of an evening commissioned by and for Jean Isaacs' San Diego Dance Theater under the rubric The Pilafian Project/ Atlantic Man, premiered in April 2003 at the California Center for the Arts, Escondido. In April 2005, his Andante Tranquillo, created for an all male cast, premiered at UCSB's Hatlen Theatre. Also a visual artist, Mr. Pilafian has exhibited his work at the Faulkner Gallery in Penumbrae, a one-person show (2003) and at SoHo Gallery & Restaurant in a two-person show, Dancing on the Wall (2005). 
Students of Mr. Pilafian's have gone on to full scholarships at major universities including NYU's Tisch School of the Arts, and have been selected to join successful dance companies, including Momix, Sarah Pearson Dance Company, Cleo Parker Robinson, Jennifer Muller/The Works, John Malashock Dance, Nicholas Leichter Dance Company, Jean Isaacs' San Diego Dance Theater and others. In 1999 he was nominated for a UCSB Distinguished Teaching Award.