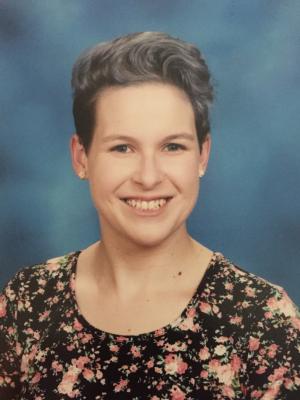 Bio
:
Grace Kimball (she/per) is a second-year Ph.D. student in the Department of Theater, Dance, and Performance Studies. She holds her master's degree in English with a focus in literature from California State University, Northridge, which she received with distinction. She also has a bachelor's degree in English from Mount Holyoke College, which she obtained cum laude and with a department honor for her thesis.
Grace's current research interests include sixteenth and seventeenth-century early modern English performatives, religions, and politics, as well as affect and historiography. Some of her most recent work consists of a book review for Boston College's Religion and the Arts, a conference presentation on early modern English perspectives on Islamic performatives at the 2021 CUNY Graduate Conference, and a book review for UCLA's Comitatus: A Journal of Medieval and Renaissance Studies. She is also looking forward to virtually presenting at PAMLA this November on Catholic perceptions of early modern bellringing in the sixteenth century. Her academic coursework for this school year will also delve into these interests.
Grace has an English teaching license for secondary education in three states, has four years of middle and high school teaching experience, and will be working on her fifth year as an educator as a Teaching Assistant in the department. This year, she will also be a convenor for the Interdisciplinary Humanities Center (IHC) funded Research Focus Group "What Is a Shakespeare?: Shakespeare and Global Media," a fellow with both the IHC Foundations in the Humanities Prison Correspondence Program and the IHC Public Humanities Program, a member of the Graduate Scholars Program, and a member of the CITRAL Community of Practice Teaching Group on Course Design for Equity. Grace also hopes to put her recent knowledge from her participation in Yale University's "A Practical Approach to Directing" certificate course this past summer (made possible thanks to a generous grant from the UCSB Individualized Professional Skills Program) to good use by continuing to develop her work as an artist through directing and playwriting this school year.