Event Date:
Friday, September 3, 2021 - 5:00pm

to

Saturday, September 4, 2021 - 5:00pm
Saturday, September 4, 2021 - 1:00pm
a NAKED SHAKES production
by William Shakespeare              directed by Irwin Appel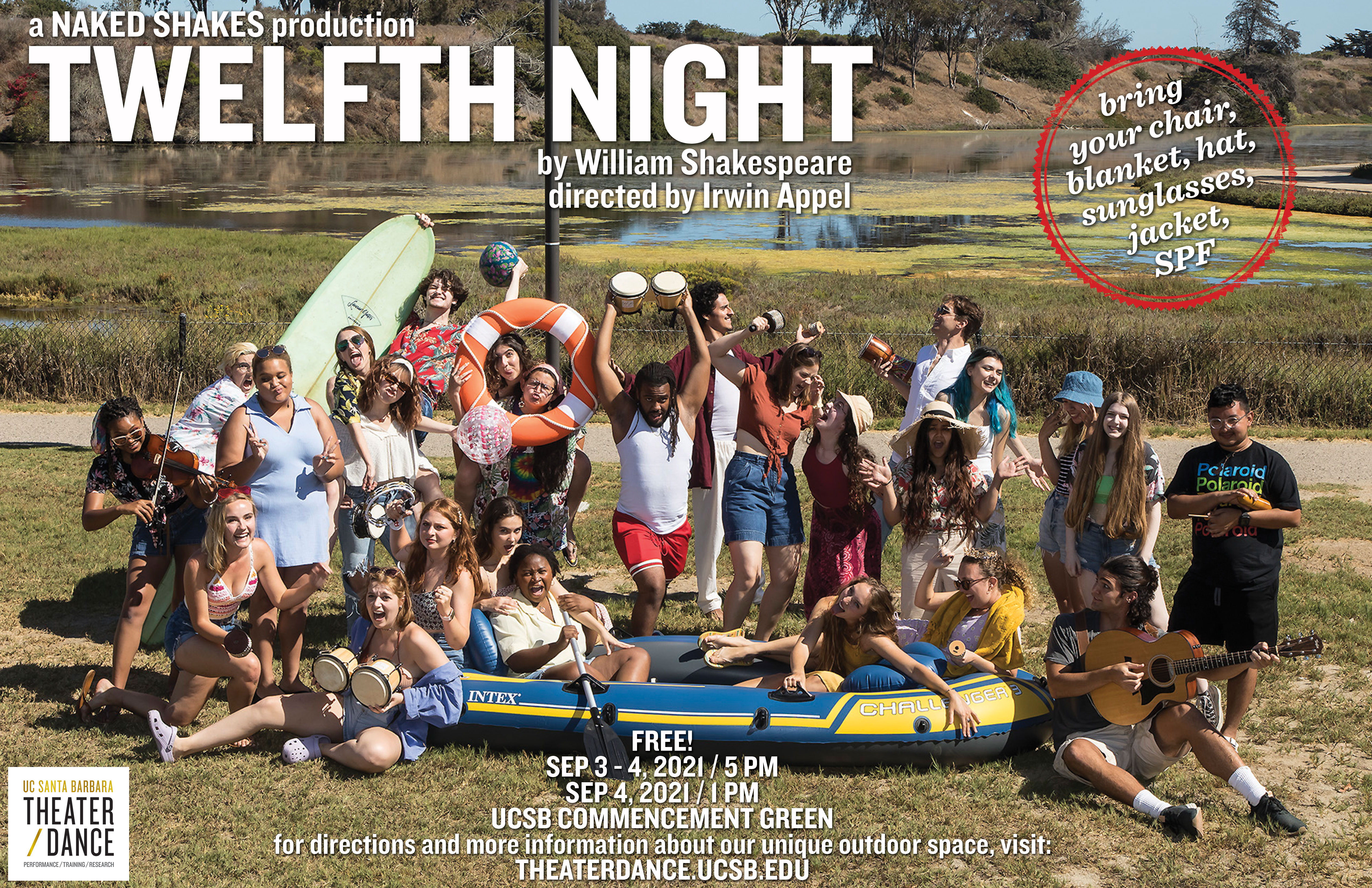 About the play
A delightfully comic tale of mistaken identities, Twelfth Night revolves around the physical likeness between Sebastian and his twin sister, Viola, each of whom, when separated after a shipwreck, believes the other to be dead. Staged outside at UCSB Commencement Green, in front of the lagoon - Twelfth Night takes on a new life carried on by students from the NAKED SHAKES summer class.
About the playwright
William Shakespeare (bapt. 26 April 1564 – 23 April 1616) was an English playwright, poet, and actor, widely regarded as the greatest writer in the English language and the world's greatest dramatist. He is often called England's national poet and the "Bard of Avon" (or simply "the Bard"). His extant works, including collaborations, consist of some 39 plays, 154 sonnets, three long narrative poems, and a few other verses, some of uncertain authorship. His plays have been translated into every major living language and are performed more often than those of any other playwright. They also continue to be studied and reinterpreted.
Shakespeare was born and raised in Stratford-upon-Avon, Warwickshire. At the age of 18, he married Anne Hathaway, with whom he had three children: Susanna and twins Hamnet and Judith. Sometime between 1585 and 1592, he began a successful career in London as an actor, writer, and part-owner of a playing company called the Lord Chamberlain's Men, later known as the King's Men. At age 49 (around 1613), he appears to have retired to Stratford, where he died three years later. Few records of Shakespeare's private life survive; this has stimulated considerable speculation about such matters as his physical appearance, his sexuality, his religious beliefs, and whether the works attributed to him were written by others.
Shakespeare produced most of his known works between 1589 and 1613. His early plays were primarily comedies and histories and are regarded as some of the best work produced in these genres. He then wrote mainly tragedies until 1608, among them Hamlet, Romeo and Juliet, Othello, King Lear, and Macbeth, all considered to be among the finest works in the English language. In the last phase of his life, he wrote tragicomedies (also known as romances) and collaborated with other playwrights.
Many of Shakespeare's plays were published in editions of varying quality and accuracy in his lifetime. However, in 1623, two fellow actors and friends of Shakespeare's, John Heminges and Henry Condell, published a more definitive text known as the First Folio, a posthumous collected edition of Shakespeare's dramatic works that included all but two of his plays. The volume was prefaced with a poem by Ben Jonson, in which Jonson presciently hailed Shakespeare in a now-famous quote as "not of an age, but for all time".
About the director
Irwin Appel (Director) is Professor of Theater and Director of the BFA Actor Training Program at UCSB.  He is also a professional director, Equity actor and composer/sound designer, and has performed with Shakespeare Santa Cruz, Shakespeare Festival/LA, the New York, Oregon, Utah, and Colorado Shakespeare Festivals, The Acting Company, Theatre For a New Audience, Hartford Stage, Indiana Repertory Theatre, and other prominent regional theaters.  Acting roles include: Prospero in The Tempest, Shylock in The Merchant of Venice, Bottom in A Midsummer Night's Dream, Falstaff in Merry Wives of Windsor, Dogberry in Much Ado About Nothing, Kent in King Lear, Macbeth in Kabuki Macbeth, , Matt in Talley's Folly and the Emperor in a world premiere of Emperor's New Clothes.   
Since arriving in Santa Barbara, he played the title role in Richard III, Stage Manager in Our Town, DeVere inThe Beard of Avon, Frank in Molly Sweeney, Duke Senior and Duke Frederick in As You Like It, and won Santa Barbara Independent Awards for his portrayals of Oscar Wilde in Gross Indecency: The Three Trials of Oscar Wilde and the title role in Theater Artists Group's Timon of Athens.  Most recently, at the Colorado New Play Summit at the Denver Center of the Performing Arts, he played Aunt Chuck inAppoggiatura by James Still and directed by Department Chair Risa Brainin, a role he originally played in the LAUNCH PAD production at UCSB. 
He is also artistic director of NAKED SHAKES, producing award-winning Shakespearean productions at UCSB and traveling to downtown Santa Barbara and Los Angeles since 2006. Directing credits at many theaters include: Equivocation, Macbeth, A Streetcar Named Desire, The Merchant of Venice, Anowa, Hamlet (SB Indy Award), Measure for Measure, Romeo and Juliet, Rabbit Hole, Twelfth Night, The Winter's Tale (SB Indy Award), Seagull, The Tempest, Angels in America, Three Sisters, Comedy of Errors, Pentecost, A View from the Bridge (SB Indy Award), The Cherry Orchard, Speed-the-Plow, A Midsummer Night's Dream, The Crucible, The Countess, Madwoman of Chaillot, Sylvia, Much Ado About Nothing and the world premiere of Brown Baby (SB Indy Award for his sound design). He also directed twice for the National Theatre Conservatory at the Denver Center for the Performing Arts.  
He has also served as composer/sound designer for the Oregon and New Jersey Shakespeare Festivals, PCPA, Shakespeare Santa Cruz, Ensemble Theatre, Pan Asian Repertory, Indiana Repertory, and other regional and local theaters.  Most recently, he served as composer/sound designer for a co-production of Other Desert Cities at Arizona Theatre Company and Indiana Repertory Theatre. He is a graduate of Princeton University and the Juilliard School.
Read about Professor Appel's groundbreaking Shakespeare course with Associate Professor of English James Kearney here.
Performance checklist
Fill out COVID-19 screening survey
Bring your own chair or a blanket
Bring a hat, sunglasses, SPF cream
Bring a jacket in case it gets cold at the lagoon
Please remember:
NO ALCOHOL
NO PETS
SNACKS AND DRINKS WELCOME 
PLEASE STAY 6 FEET APART FROM OTHERS 
MASKS ON PLEASE
About NAKED SHAKES
NAKED SHAKES is now in its fifteenth season at UCSB, and its mission since 2006 has been to present energetic, exciting, raw, vibrant Shakespeare using the power of the actors and the language. The critically acclaimed, Santa Barbara Independent Award-winning NAKED SHAKES has performed at UCSB and transported productions to Taliesin West and the Southwest Shakespeare Company in Arizona, the Shakespeare Center of Los Angeles, and Center Stage in downtown Santa Barbara. Past productions include: The Winter's Tale, Hamlet, Much Ado About Nothing, A Midsummer Night's Dream, The Tempest, Twelfth Night, Romeo and Juliet, The Merchant of Venice, Measure for Measure and the 10th-anniversary epic two-play event, The Death of Kings, which garnered six Santa Barbara Independent and seven BroadwayWorld awards for adaptation, direction, design, and performance. The Death of Kings: Seize the Crown, a condensed version of the two original plays, premiered in Summer 2017 at the Prague Shakespeare Company in Prague, Czech Republic and again in 2019 at Taliesin West.
NAKED SHAKES believes in the transformation of the actor and the space, along with the imaginative ability of the audience. Each play is presented clearly and directly so that the audience inhabits the imaginative world of the play through Shakespeare's language. The barren physical theater space is very important to the NAKED SHAKES concept; it takes on the identity of whatever locale or particular piece of poetic language is described, and yet always reminds the audience they are in a theater. When Prospero in The Tempest describes "the great Globe itself," he is not only referring to the entire Earth, but also the "Globe" Theater – Shakespeare's theater. That duality is what NAKED SHAKES is all about.
2020 was the first year NAKED SHAKES presented a production online rather than in person. Although this presented many challenges, our view was that out of adversity comes opportunity, and NAKED SHAKES was excited to be part of the beginnings of a new art form. However, this performance of NAKED SHAKES marks the first in-person perfromance in the last 18 months in the Department of Theater and Dance. The NAKED SHAKES principles remain the same: we hope to provide a powerful, absorbing and dynamic presentation of Shakespeare's plays based on the passions and skills of the actors and words.
Synopsis
Viola is shipwrecked on the coast of Illyria and she comes ashore with the help of a Captain. She has lost contact with her twin brother, Sebastian, whom she believes to be drowned, and with the aid of the Captain, she disguises herself as a young man under the name Cesario and enters the service of Duke Orsino. Duke Orsino has convinced himself that he is in love with Olivia, who is mourning the recent death of her brother. She refuses to see entertainments, be in the company of men, or accept love or marriage proposals from anyone, the Duke included, until seven years have passed. Duke Orsino then uses 'Cesario' as an intermediary to profess his passionate love before Olivia. Olivia, however, falls in love with 'Cesario', setting her at odds with her professed duty. In the meantime, Viola has fallen in love with Duke Orsino, creating a love triangle: Viola loves Duke Orsino, Duke Orsino loves Olivia, and Olivia loves Viola disguised as Cesario.
In the comic subplot, several characters conspire to make Olivia's pompous steward, Malvolio, believe that Olivia has fallen for him. This involves Olivia's riotous uncle, Sir Toby Belch; another would-be suitor, a silly squire named Sir Andrew Aguecheek; her servants Maria and Fabian; and her witty fool, Feste. Sir Toby and Sir Andrew engage themselves in drinking and revelry, thus disturbing the peace of Olivia's household until late into the night, prompting Malvolio to chastise them. Sir Toby famously retorts, "Dost thou think, because thou art virtuous, there shall be no more cakes and ale?" (Act II, Scene III).
Sir Toby, Sir Andrew, and Maria plan revenge on Malvolio. They convince Malvolio that Olivia is secretly in love with him by planting a love letter, written by Maria in Olivia's handwriting. It asks Malvolio to wear yellow stockings cross-gartered—a colour and fashion that Olivia actually hates—to be rude to the rest of the servants, and to smile constantly in the presence of Olivia. Malvolio finds the letter and reacts in surprised delight. He starts acting out the contents of the letter to show Olivia his positive response. Olivia is shocked by the changes in Malvolio and agreeing that he seems mad, leaves him to be cared for by his tormentors. Pretending that Malvolio is insane, they lock him up in a dark chamber. Feste visits him to mock his insanity, both disguised as a priest and as himself.
Meanwhile, Viola's twin, Sebastian, has been rescued by Antonio, a sea captain who previously fought against Orsino, yet who accompanies Sebastian to Illyria, despite the danger, because of his admiration for Sebastian. Sebastian's appearance adds the confusion of mistaken identities to the comedy. Taking Sebastian for 'Cesario', Olivia asks him to marry her, and they are secretly married in a church. Finally, when 'Cesario' and Sebastian appear in the presence of both Olivia and Orsino, there is more wonder and confusion at their physical similarity. At this point, Viola reveals her identity and is reunited with her twin brother.
The play ends in a declaration of marriage between Duke Orsino and Viola, and it is learned that Sir Toby has married Maria. Malvolio swears revenge on his tormentors and stalks off, but Orsino sends Fabian to placate him.
Program
To download the Twelfth Night program, please click HERE.
To view the program online, please click on program image page below.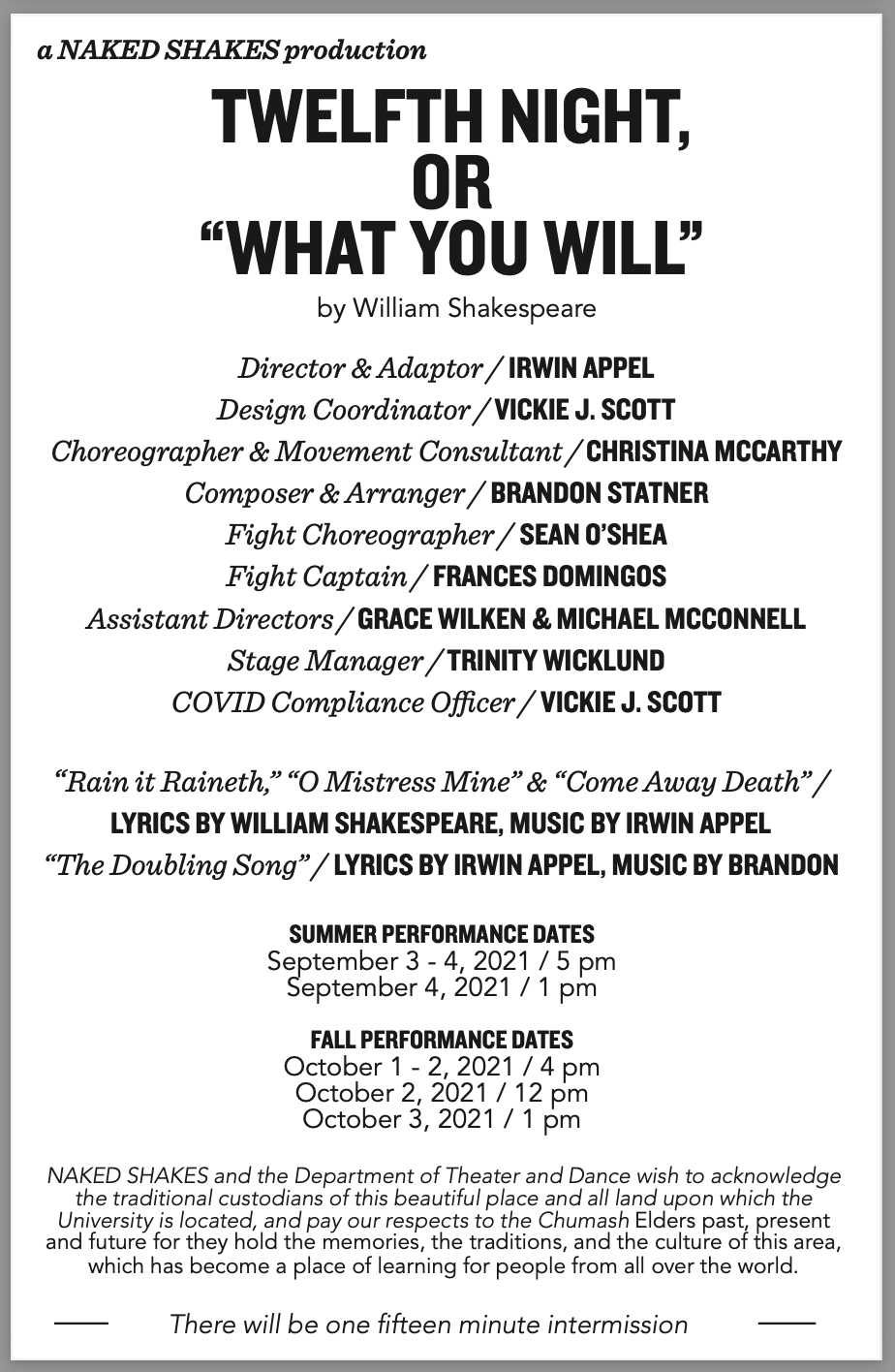 Media
Join the UCSB Department of Theater and Dance for this bright and lively show that is sure to be a joyous celebration of the return of live theater. 
- BroadwayWorld Preview Article
Gallery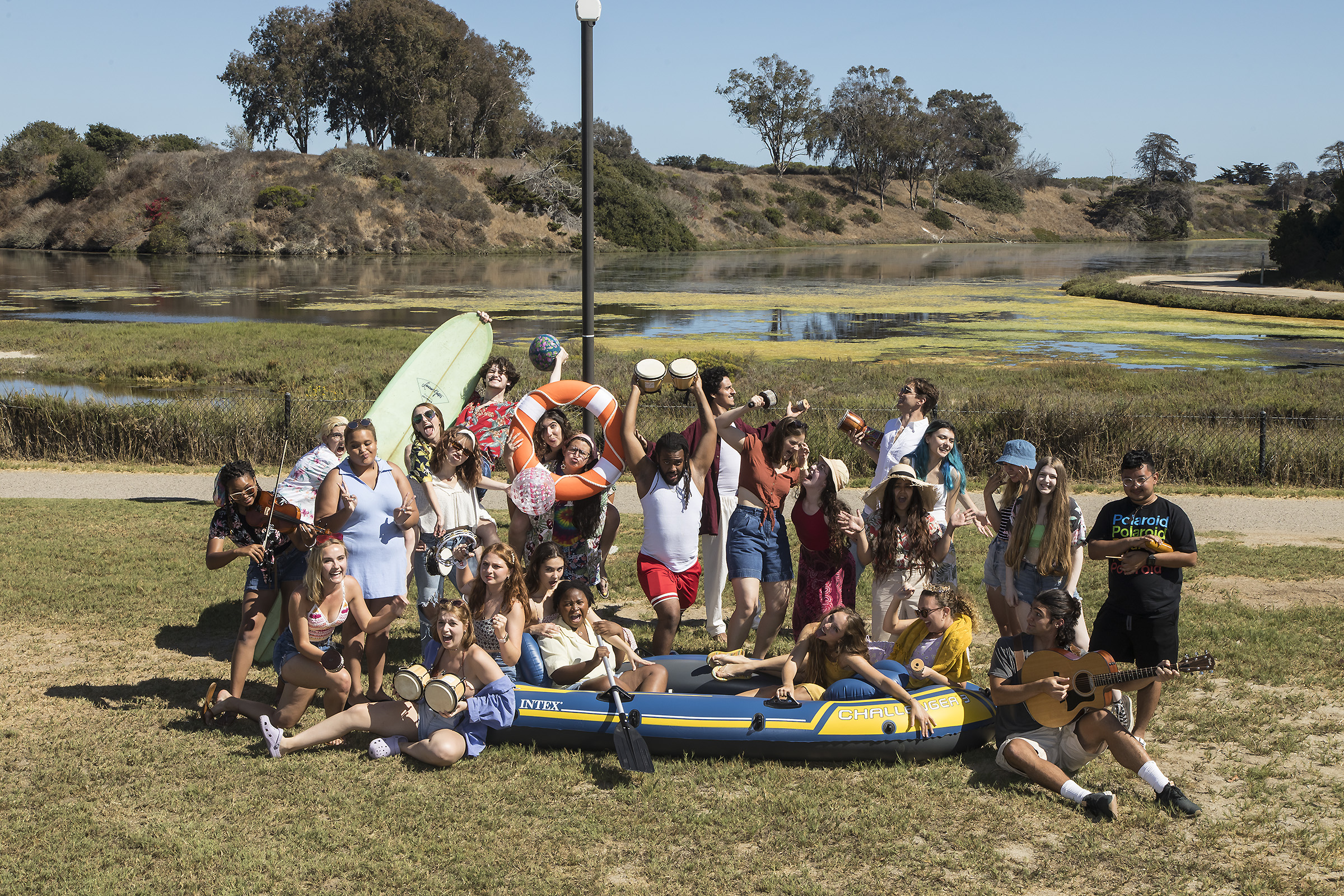 photo by David Bazemore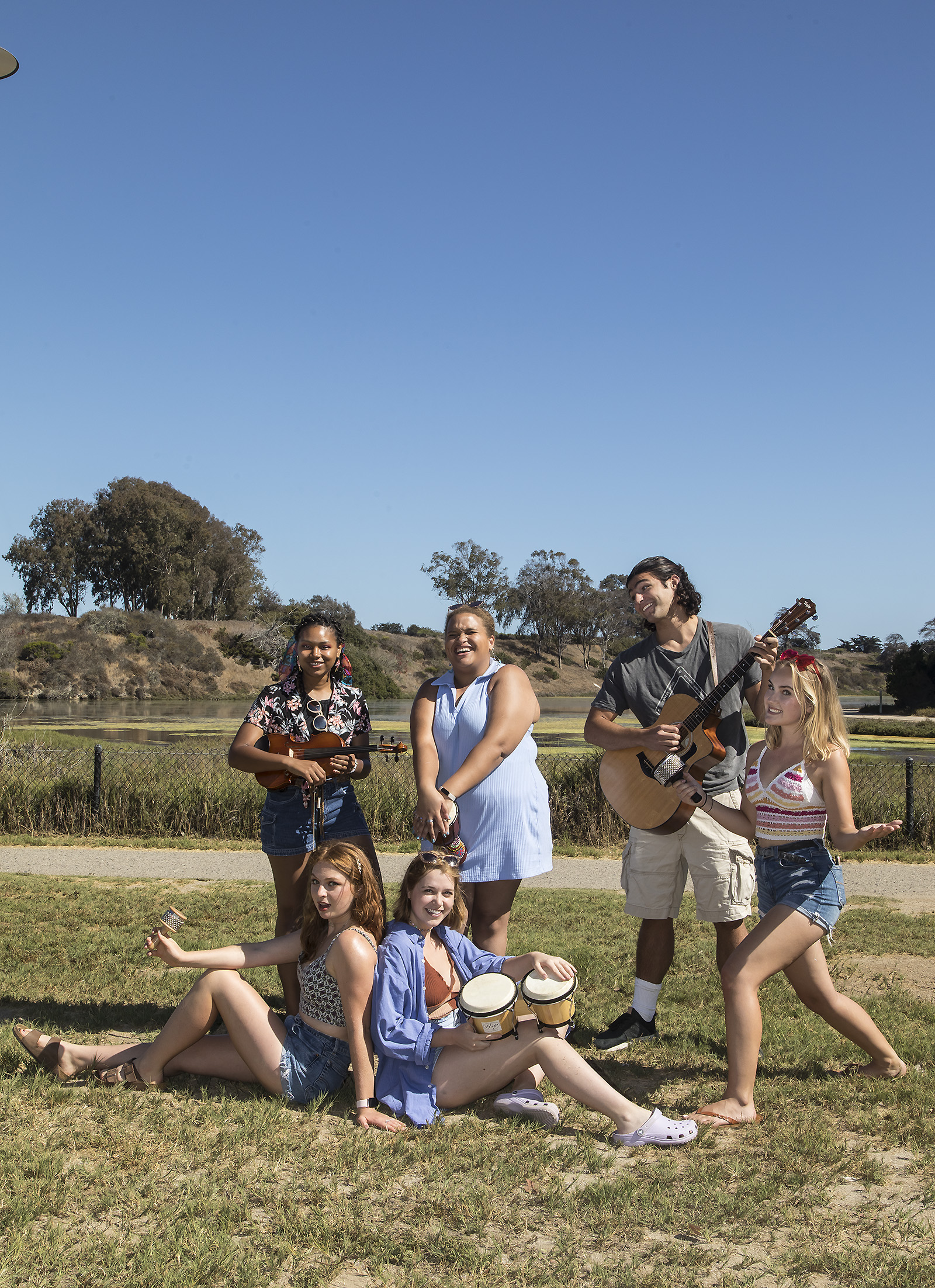 photo by David Bazemore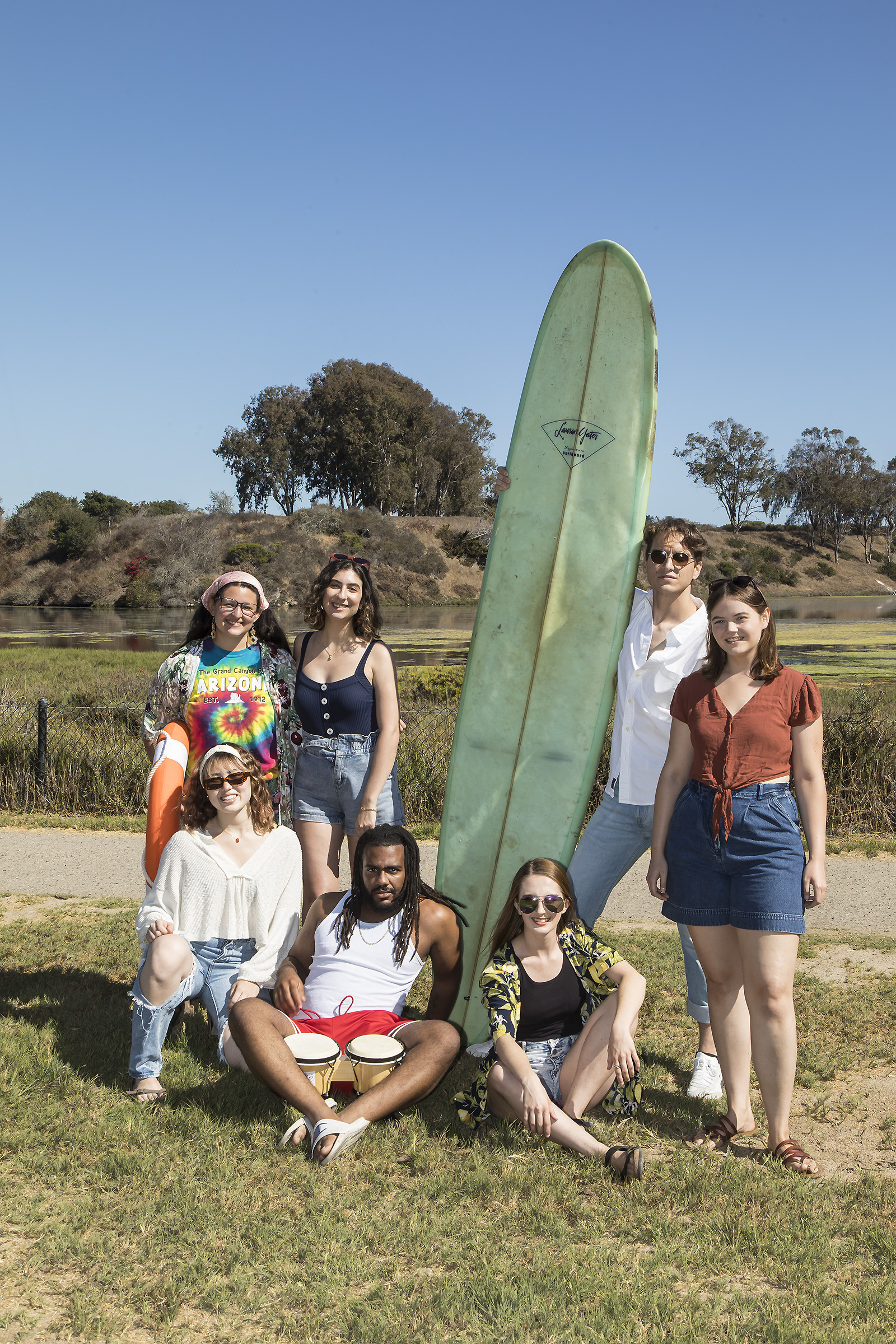 photo by David Bazemore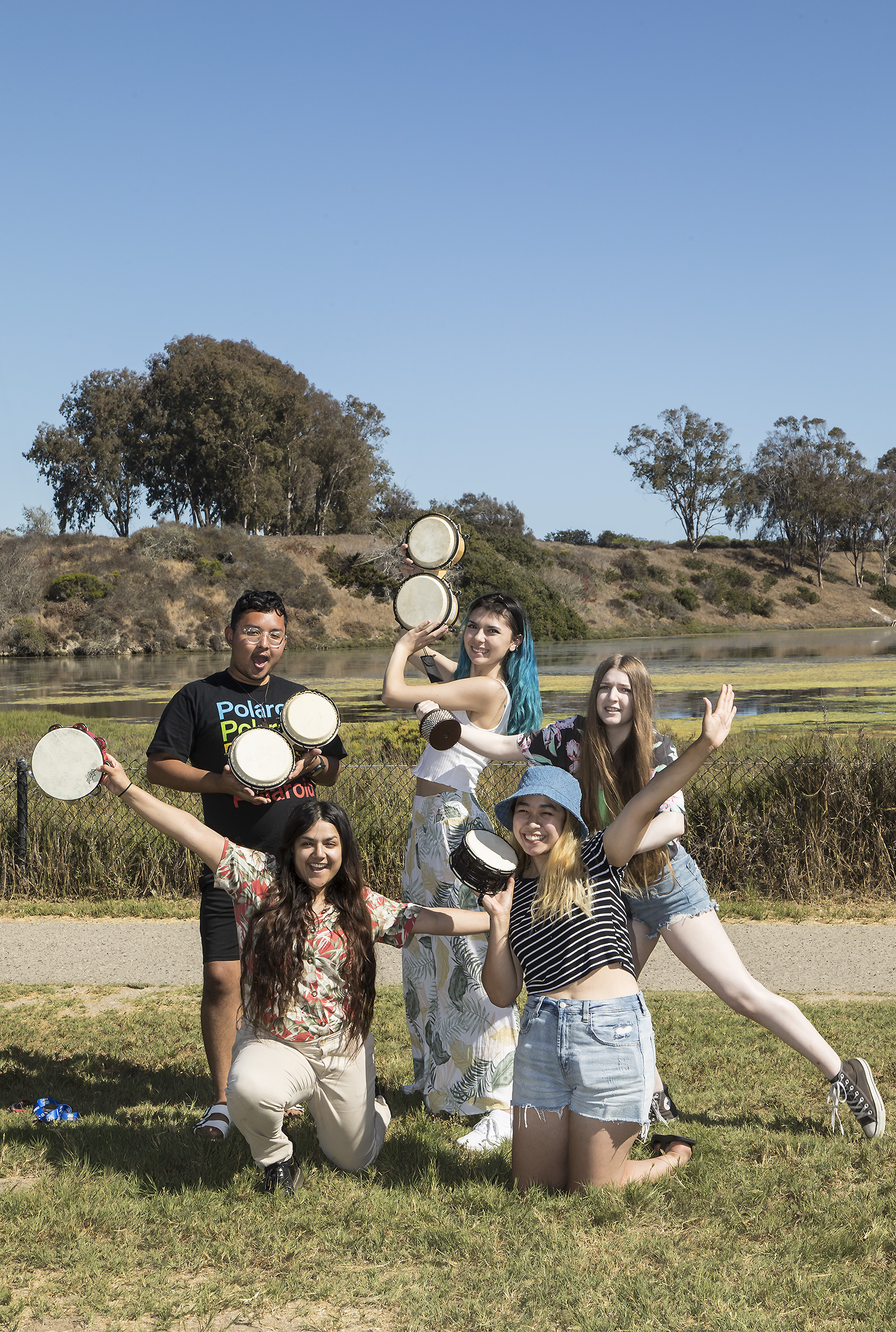 photo by David Bazemore
COVID-19
The UCSB Department of Theater and Dance is doing everything in our power to provide safe environment for our community. We are asking everyone to take COVID-19 screening survey, to wear masks, and to social distance. For more COVID-19 information on the university level, please click
HERE
.
WHAT WE NEED YOU TO DO: 
COVID COMPLIANCE SURVEY → the QR code for the survey is listed below. Please complete the survey before you arrive at the venue. If this isn't possible for any reason, the codes will also be present at the theater. Please ask a House Manager if you have any trouble with this.  

MASK UP → Although the performance is outside, to ensure everyone's safety we ask that you please keep your masks on when not eating or drinking. 

NO ALCOHOL → While food and drinks are welcome, we ask that you do not bring or consume any alcohol, or you may be asked to leave the show. 

NO PETS → Although the performance is outside, we ask that all pets stay at home. Any animals that are not service animals will need to be removed from the premises should you decide to bring them. 

SEATING → Because the show is outdoors by the lagoon, we ask that you bring your own blankets, cushions, chairs, or other seating of your choice. We will have blankets for sale at the venue as well. 
WHAT WE WILL DO TO ENSURE SAFETY: 
SOCIAL DISTANCING → in order to provide the most ventilated and socially distanced environment, the performance will take place outside and guests will be distanced by group.

DIGITAL PROGRAM → programs and cast information will be accessible via QR code to minimize interpersonal contact. If you do not have access to a phone, ask a House Manager for a physical copy.  

COVID PROTOCOLS → The policies listed above that we ask all of our patrons to follow help us to ensure the safety of everyone. 
Location
The performance is taking place outside, in front of the lagoon where usually Commencement takes place. Google maps directions are available HERE.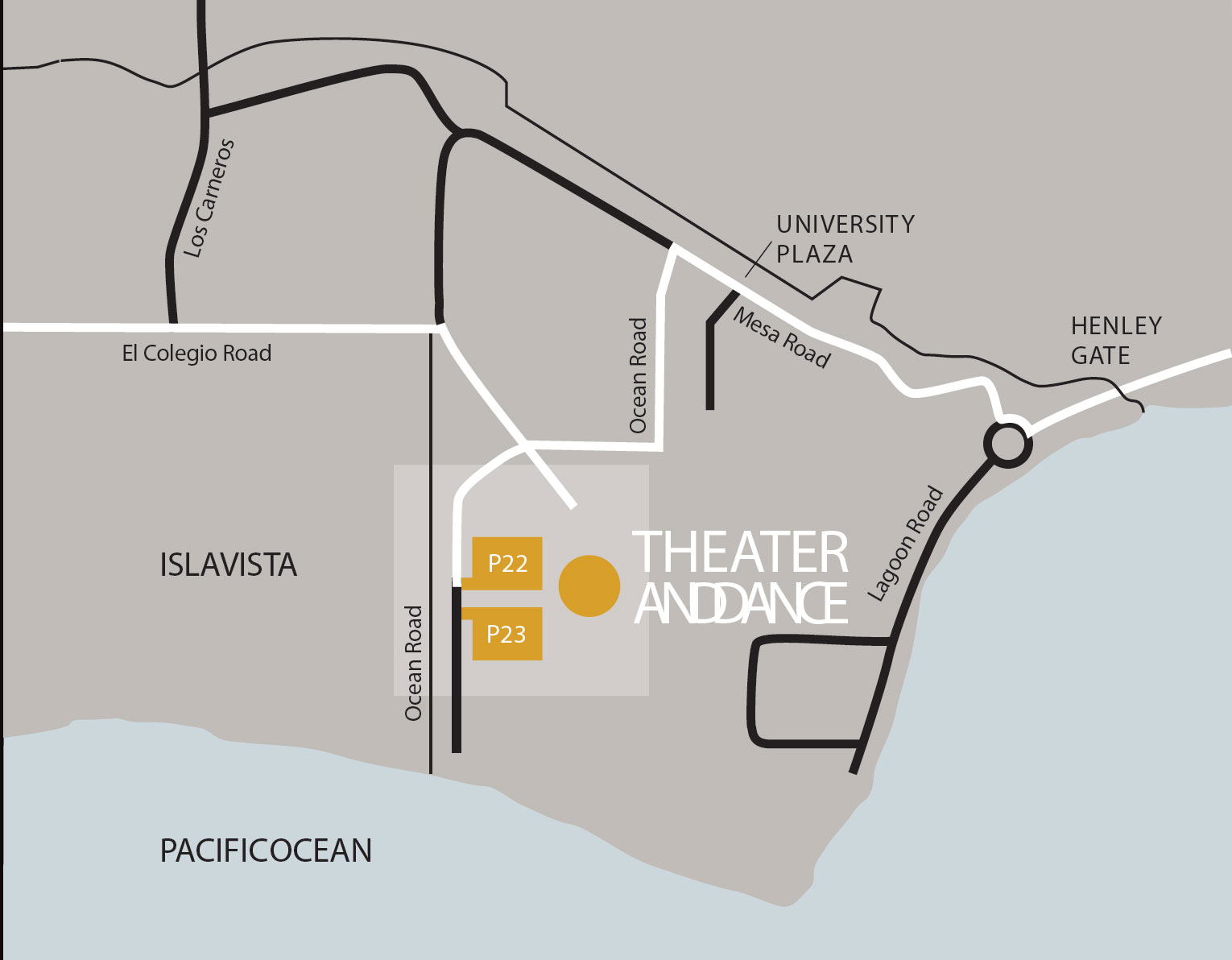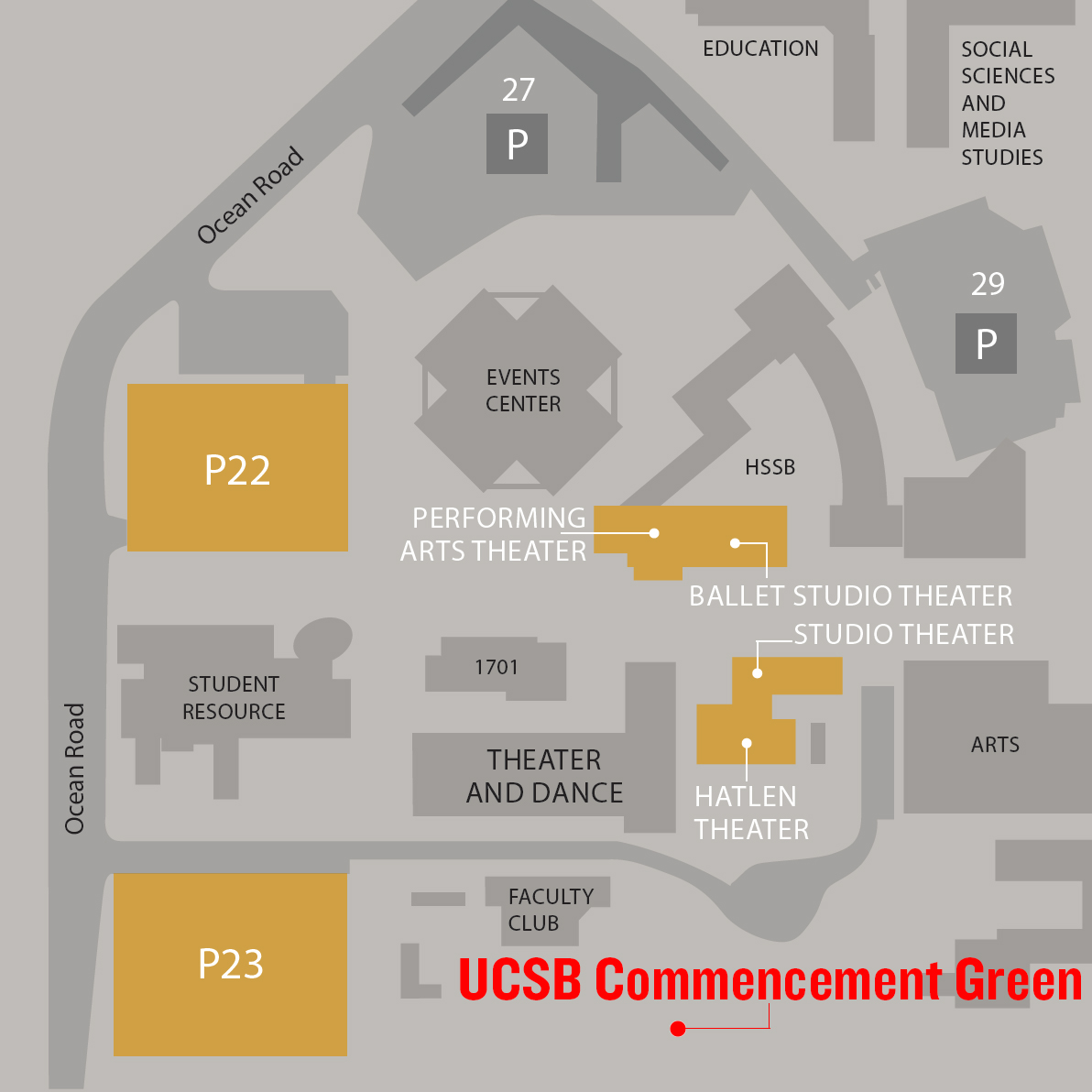 You can park at parking lots P22 or P23. All vehicles parked on campus must display a valid campus parking permit, or be parked at a paid-for meter. For more information about parking, please click HERE.
August 9, 2021 - 12:09pm