Event Date:
Thursday, February 27, 2020 - 8:00pm
Friday, February 28, 2020 - 7:00pm
Wednesday, March 4, 2020 - 8:00pm
Thursday, March 5, 2020 - 8:00pm
Friday, March 6, 2020 - 7:00pm
Saturday, March 7, 2020 - 1:00pm
Event Date Details:
FEB 27, 2020 / 8 PM
FEB 28, 2020 / 7 PM
MAR 4, 2020 / 8 PM
MAR 5, 2020 / 8 PM
MAR 6, 2020 / 7 PM
MAR 7, 2020 / 1 PM
PLEASE NOTE DIFFERENT CURTAIN TIMES
NO LATE SEATING
Event Price:
PRE-SALE
$13 - UCSB Faculty, Staff, Alumni & Students, Seniors, Children
$17 - General Audience
DAY OF
$15 - UCSB Faculty, Staff, Alumni & Students, Seniors, Children
$19 - General Audience
For more info on tickets and seating, click here.
adapted by David Ball     directed by Julie Fishell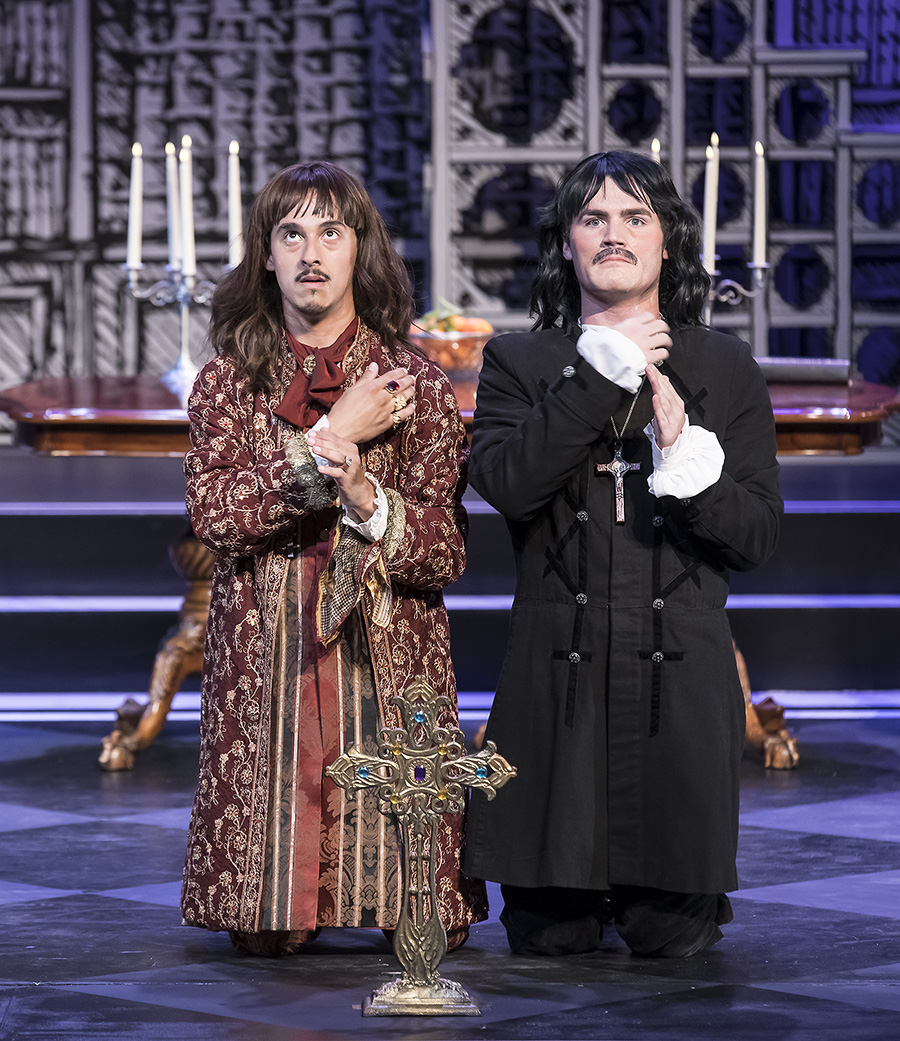 About the play
One of the greatest farces ever written, Tartuffe is a hilarious, satiric romp, exposing hypocrisy and greed. A timeless comedy that is perfect in a major election year!
Synopsis
If there is a simple message to Moliere's Tartuffe, it would be appearances can be deceiving. Tartuffe is a wanderer whom Orgon takes into his home. Tartuffe impresses Orgon with his devout religious and moral beliefs and behavior. As a result of his carefully constructed persona, Tartuffe becomes adored by both Orgon, and his mother, Madame Pernelle. They place so much faith in his words, that they ask Tartuffe for his advice before they make any decision, often at the expense of Orgon's family members.
This does not sit well with the rest of the family, who see Tartuffe for the phony he really is. Despite their pleadings, Orgon believes Tartuffe's word implicitly, to the point where he agrees to marry his already engaged daughter to Tartuffe. This is the last straw, and the family plans to entrap Tartuffe in the presence of Orgon so he can see the type of person Tartuffe really is. Since Tartuffe lusts after Orgon's wife, Elmire, she is at the center of their scheme.
The first attempt at entrapment fails as Orgon's son, Damis, misinterprets the situation and accuses Tartuffe of treachery. Tartuffe plays the victim and Orgon disinherits Damis, calling him ''traitor, you're a blight/on this house.'' The second attempt works better as Orgon hears Tartuffe attempt to seduce his wife. He finally sees Tartuffe for the scoundrel he really is, but unfortunately, Tartuffe has papers showing that Orgon signed the house over to him. Tartuffe evicts the family, but as they begin to leave, a messenger from the king arrives. He arrests Tartuffe for his nefarious actions against Orgon. The king also invalidates the paperwork that gives Tartuffe Orgon's home. This ending is pleasing not only for Orgon, but the audience as well.
About the playwright
Jean-Baptiste Poquelin (baptised 15 January 1622; died 17 February 1673), known by his stage name Molière, was a French playwright, actor and poet, widely regarded as one of the greatest writers in the French language and universal literature. His extant works include comedies, farces, tragicomedies, comédie-ballets and more. His plays have been translated into every major living language and are performed at the Comédie-Française more often than those of any other playwright today. His influence is such that the French language itself is often referred to as the "language of Molière".
Born into a prosperous family and having studied at the Collège de Clermont (now Lycée Louis-le-Grand), Molière was well suited to begin a life in the theatre. Thirteen years as an itinerant actor helped him polish his comic abilities while he began writing, combining Commedia dell'arte elements with the more refined French comedy.
Through the patronage of aristocrats including Philippe I, Duke of Orléans—the brother of Louis XIV—Molière procured a command performance before the King at the Louvre. Performing a classic play by Pierre Corneille and a farce of his own, The Doctor in Love, Molière was granted the use of salle du Petit-Bourbon near the Louvre, a spacious room appointed for theatrical performances. Later, he was granted the use of the theatre in the Palais-Royal. In both locations Molière found success among Parisians with plays such as The Affected Ladies, The School for Husbands and The School for Wives. This royal favour brought a royal pension to his troupe and the title Troupe du Roi ("The King's Troupe"). Molière continued as the official author of court entertainments.
Despite the adulation of the court and Parisians, Molière's satires attracted criticism from churchmen. For Tartuffe's impiety, the Catholic Church denounced this study of religious hypocrisy followed by the Parliament's ban, while Don Juan was withdrawn and never restaged by Molière. His hard work in so many theatrical capacities took its toll on his health and, by 1667, he was forced to take a break from the stage. In 1673, during a production of his final play, The Imaginary Invalid, Molière, who suffered from pulmonary tuberculosis, was seized by a coughing fit and a haemorrhage while playing the hypochondriac Argan. He finished the performance but collapsed again and died a few hours later.
About the director
Julie Fishell (she/hers) is a Lecturer in the UCSB Department of Theater and Dance where she teaches acting and directing. UCSB directing includes Cabaret and The Cherry Orchard and mentorship of the student directed One-Acts. Other directing includes Hedda Gabler, I Am My Own Wife, Dead Man Walking, Mad Forest, several productions for the NC Women's Prison Writing and Performance Project including Doing More Than Time, One Good Egg, A Midsummer Night's Dream, Antigone, Translations and the musicals The Cradle Will Rock, Mahagonny Songspiel, Brecht/Balanchine's The Seven Deadly Sins, Urinetown, Oliver!, The Music Man, and The Mystery of Edwin Drood.
As an actor, Julie has appeared Off-Broadway, Regionally, in National and International Tours, and was a long-time faculty member of the University of North Carolina at Chapel Hill and resident company member of PlayMakers Repertory Company. Stages include The Public Theatre (NYC), The Lark (NYC), Manhattan Class Company (NYC), Theatre for a New Audience (NYC), Chautauqua Theatre Company (NY), Hartford Stage (CT), The Kennedy Center (DC), Virginia Stage Company (VA), Prague Shakespeare Company (Czech Republic) and the Moscow Art Theatre (МХАТ, USSR). Fishell has appeared in numerous productions including the World Premiere production of Horton Foote's The Death of Papa with Matthew Broderick, Ellen Burstyn and Jean Stapleton; Vanya, Sonia, Masha and Spike, Private Lives, August: Osage County, God of Carnage, Who's Afraid of Virginia Woolf?, The Tempest (Prospero), Angels in America, Beckett's Happy Days, All My Sons, Death of a Salesman, Doubt, Othello, A Little Night Music and Assassins. She recently appeared in the UCSB LAUNCH PAD production of What Martha Did.
Education: University of Evansville, B.F.A.; The Juilliard Drama Division (Group XIX - Michel and Suria St. Denis Prize for Outstanding Artistic Achievement); Professional Actor Training Program, MFA (UNC-Chapel Hill). Professional affiliations: Actor's Equity Association; SAG/AFTRA; National Alliance of Acting Teachers. More information:
https://www.theaterdance.ucsb.edu/people/julie-fishell
Program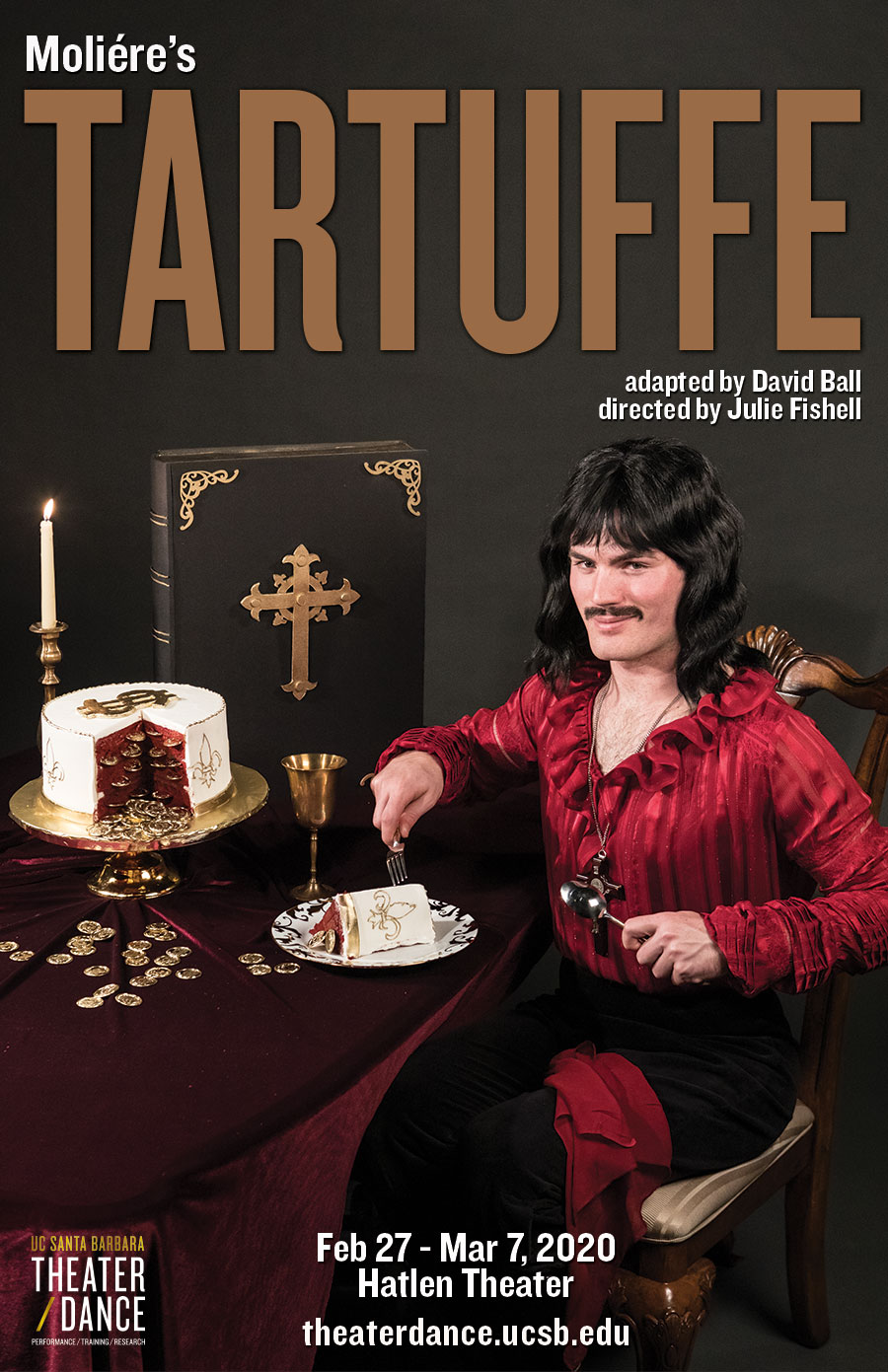 Press
Technically polished yet also overflowing with Lecoqian vigor, Ball's clever script promises to be an exciting point of departure for what is sure to be a memorable experience.
"Everyone involved in our production, from actors to props artisans to designers to technicians, continue to chuckle and sometimes belly laugh as we work on 'Tartuffe,'" said Julie, a lecturer in the theater and dance department.
The play examines ideas of hypocrisy and virtue, while confronting issues of authority and totalitarianism. The character Tartuffe tricked a wealthy homeowner, Orgon, into trusting him and believing his every word. Orgon's family recognizes Tartuffe's manipulating manner, and hilarity ensues as they attempt to convince Orgon otherwise.
Gallery
Production Photos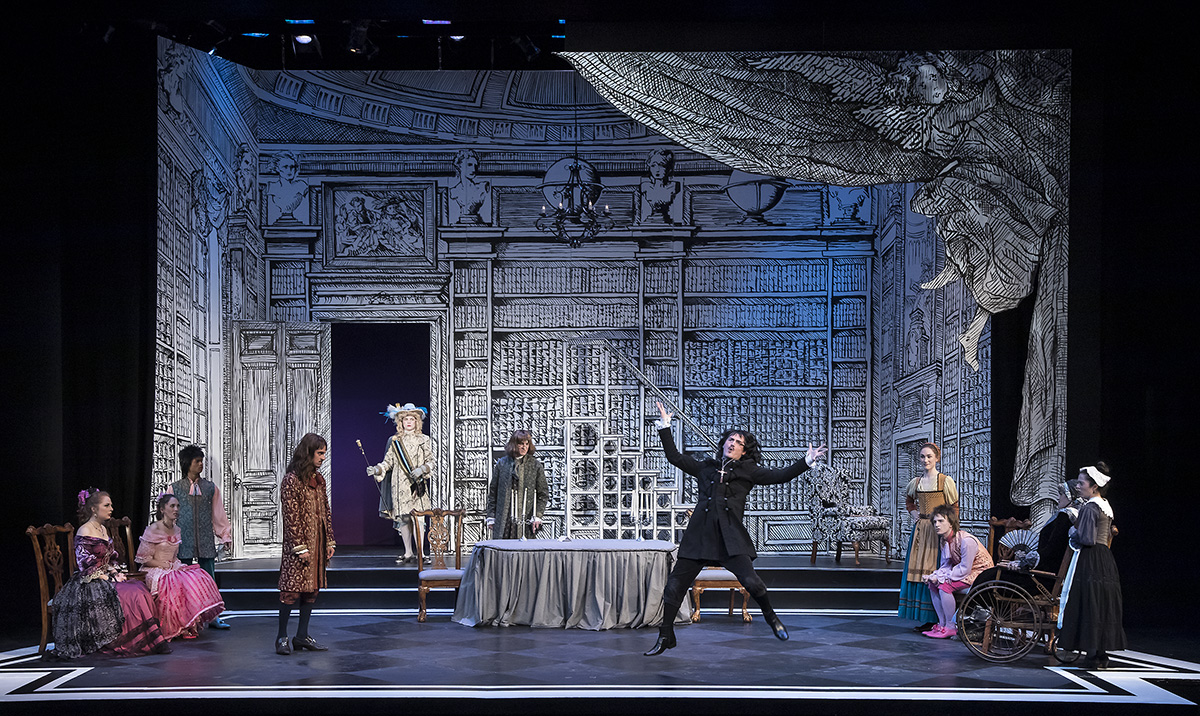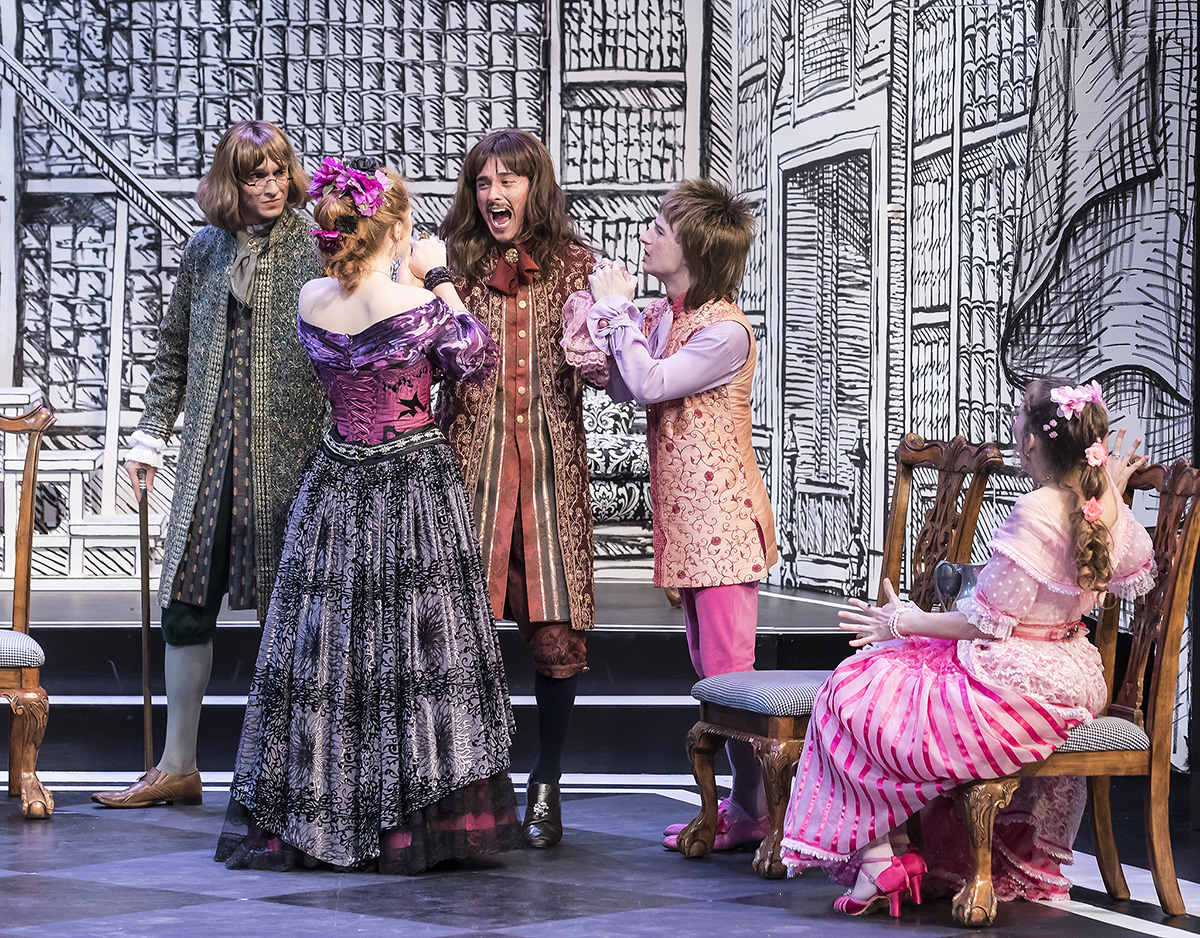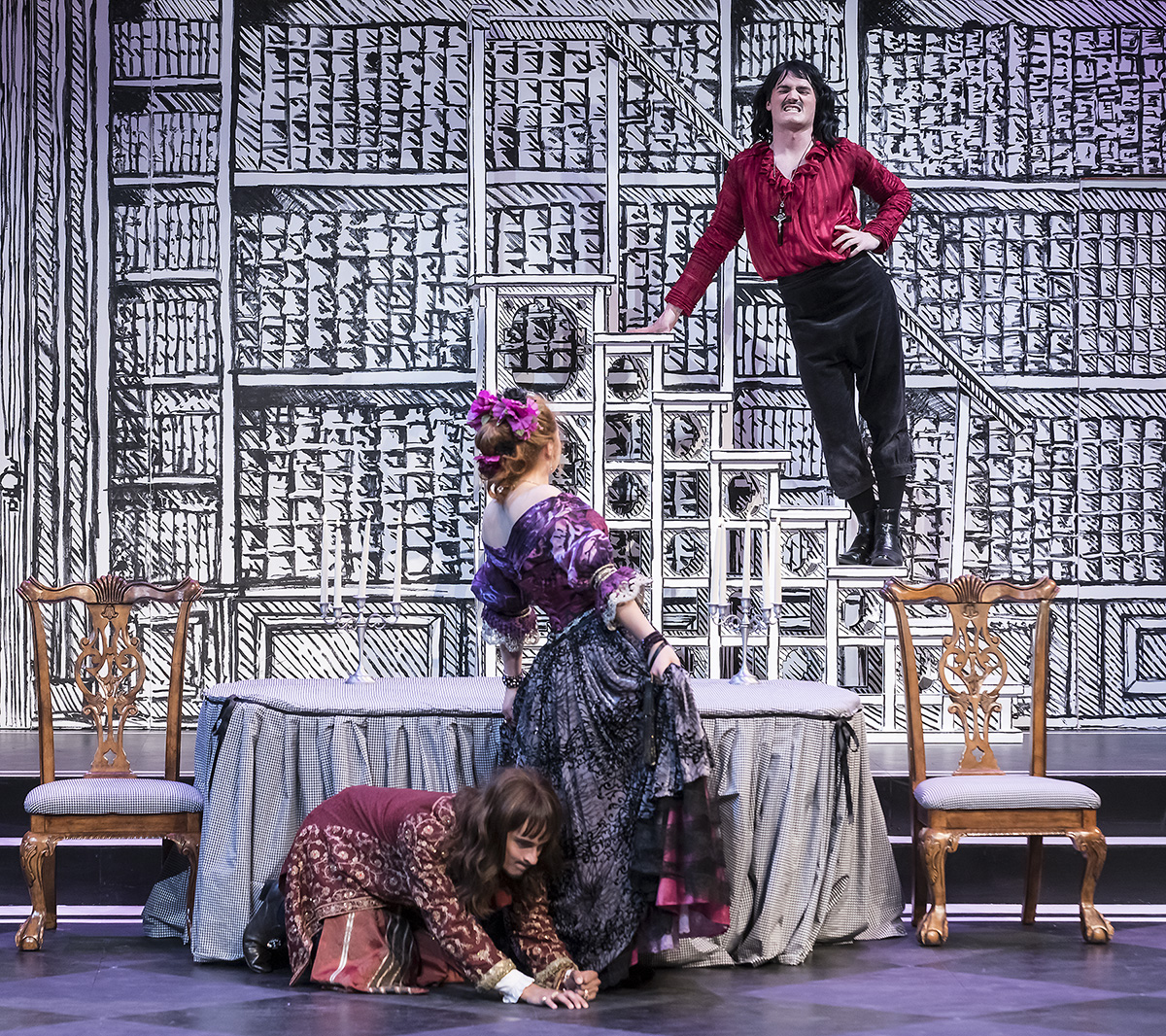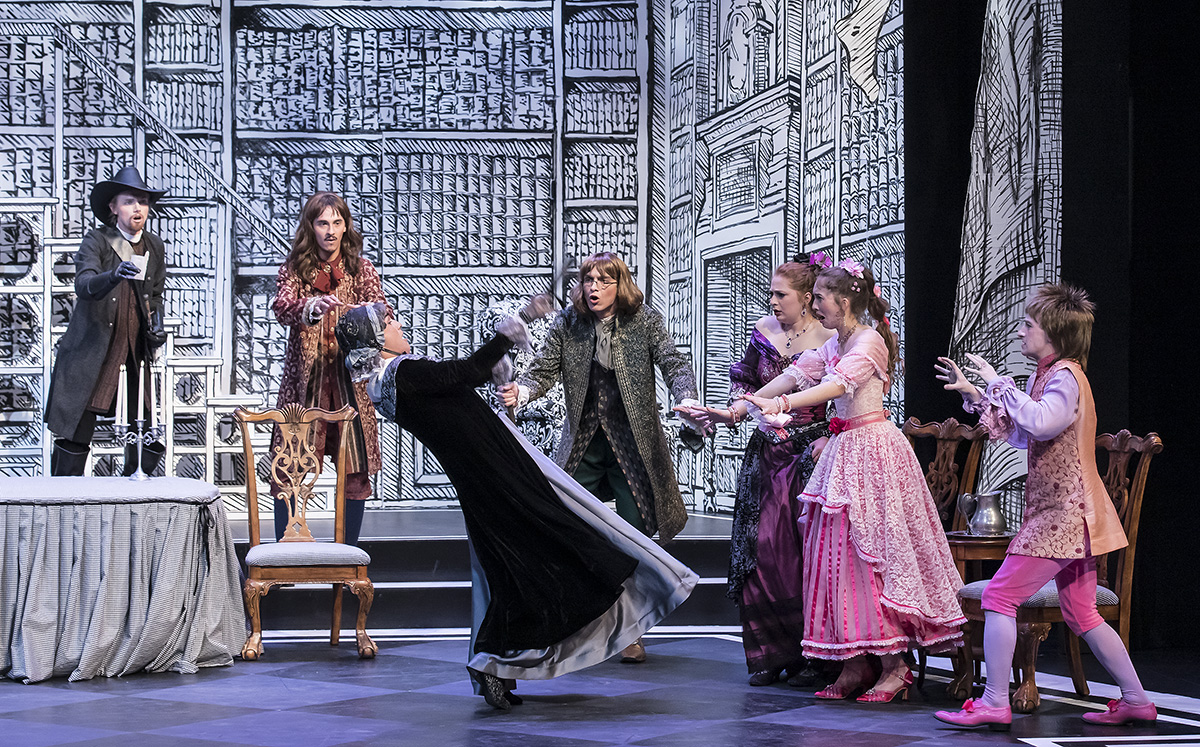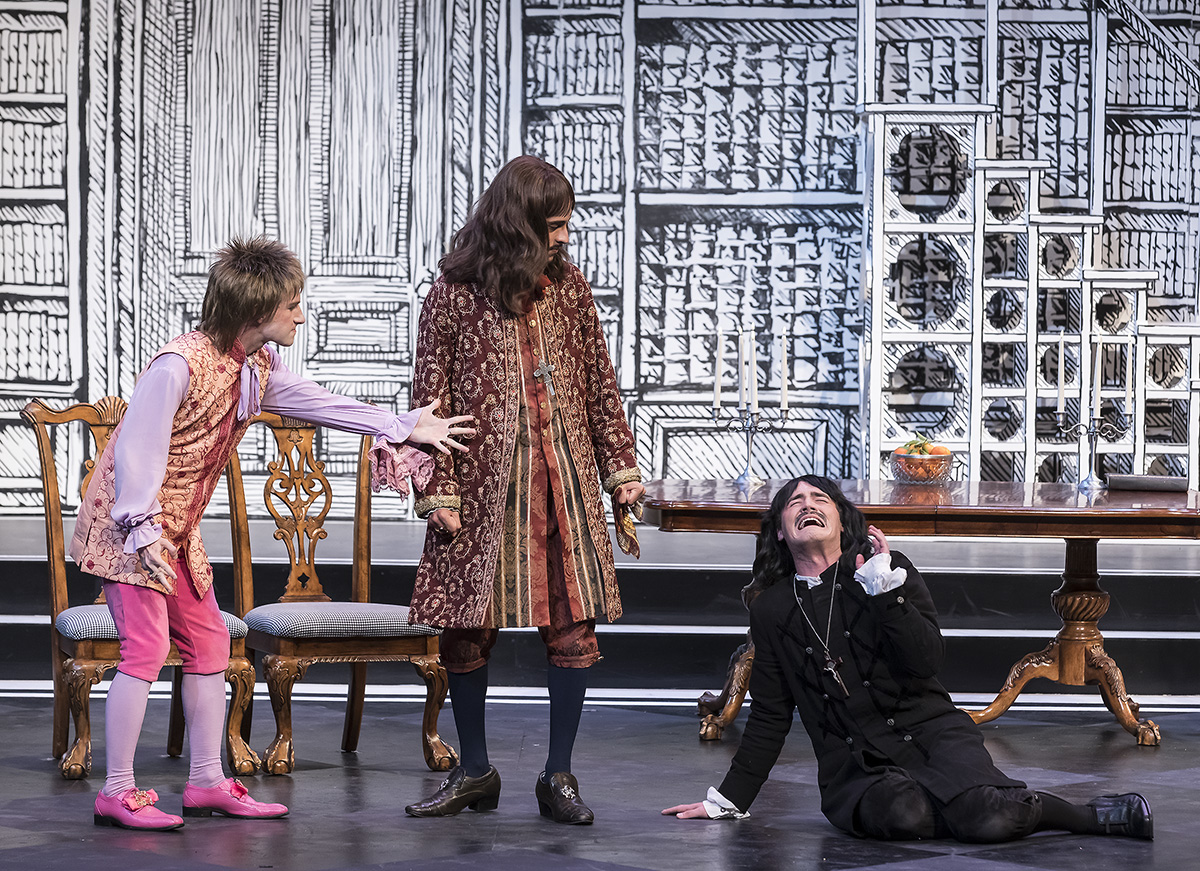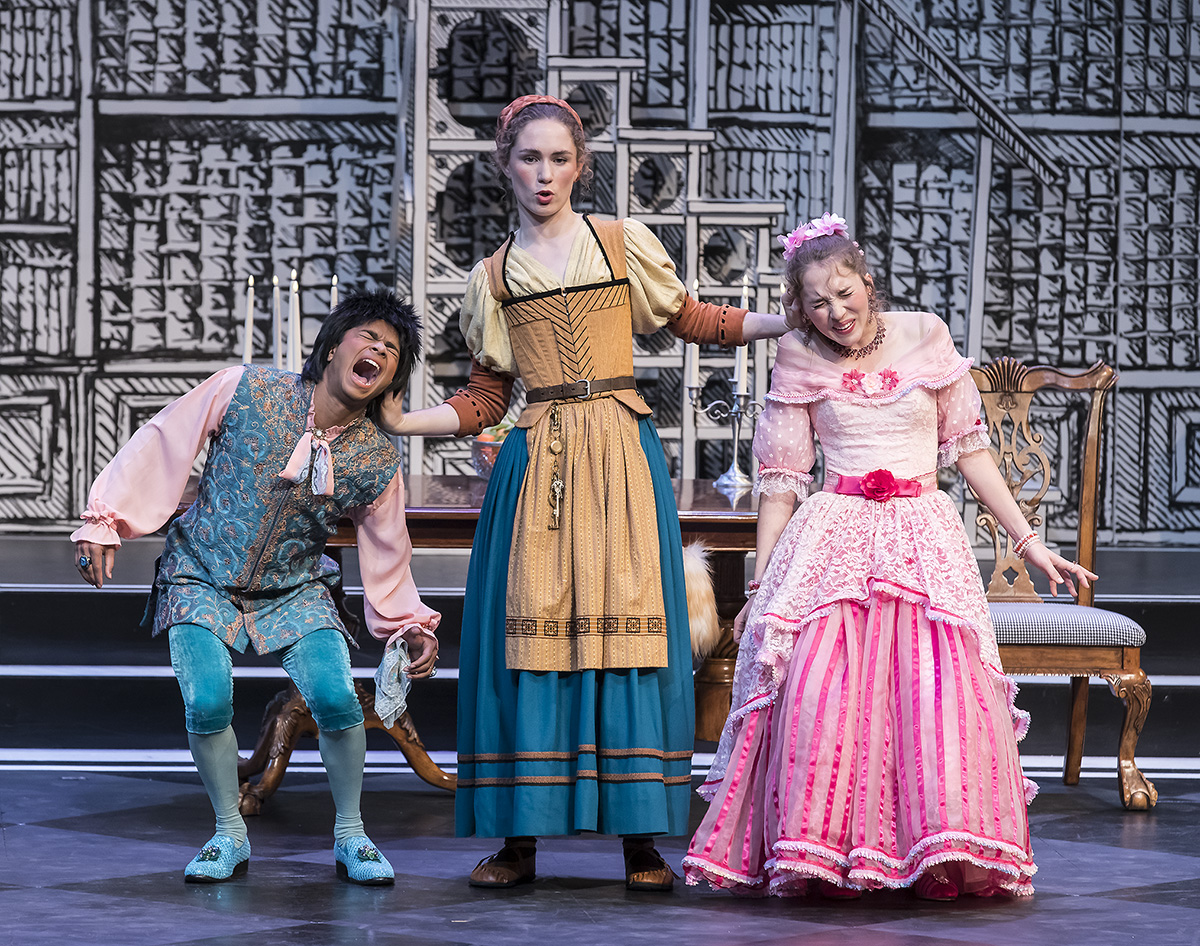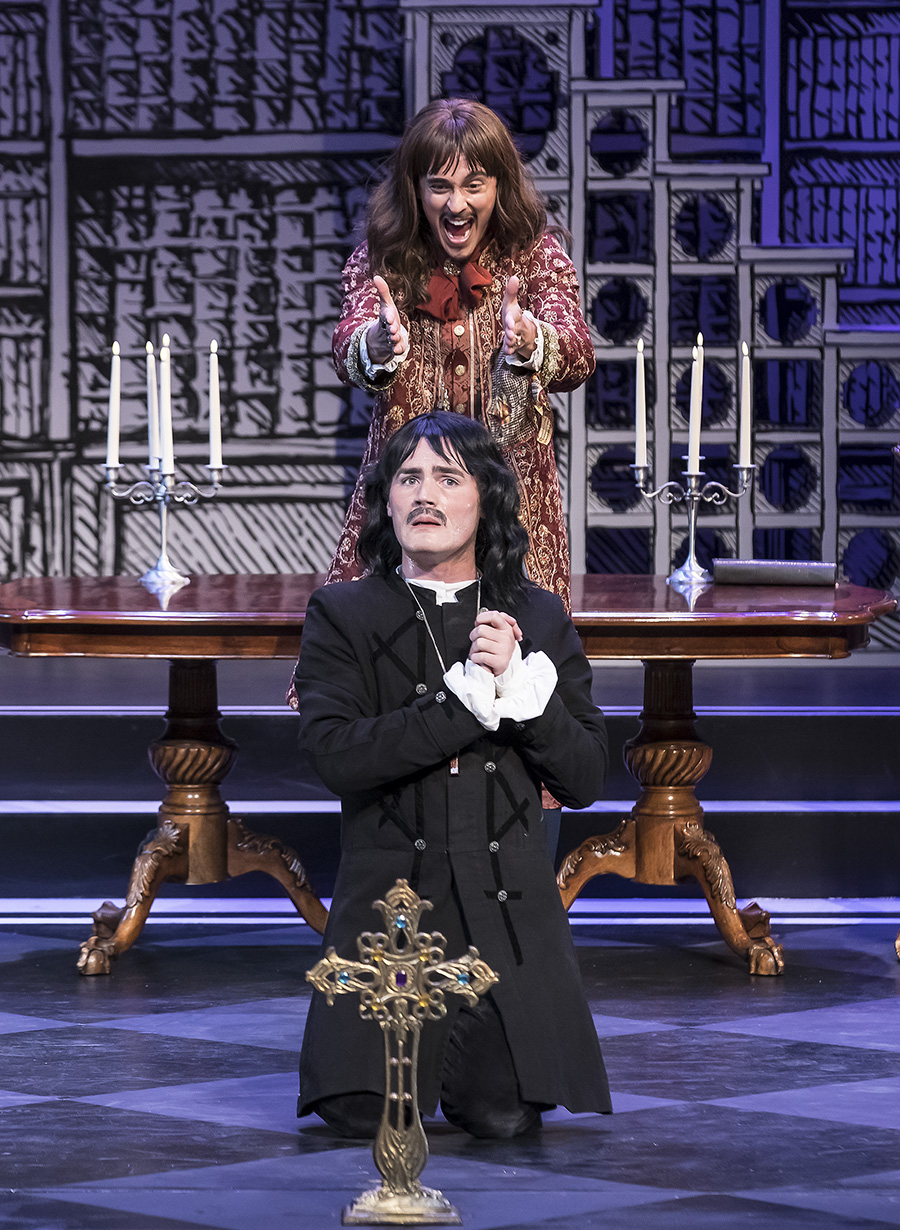 Publicity Photos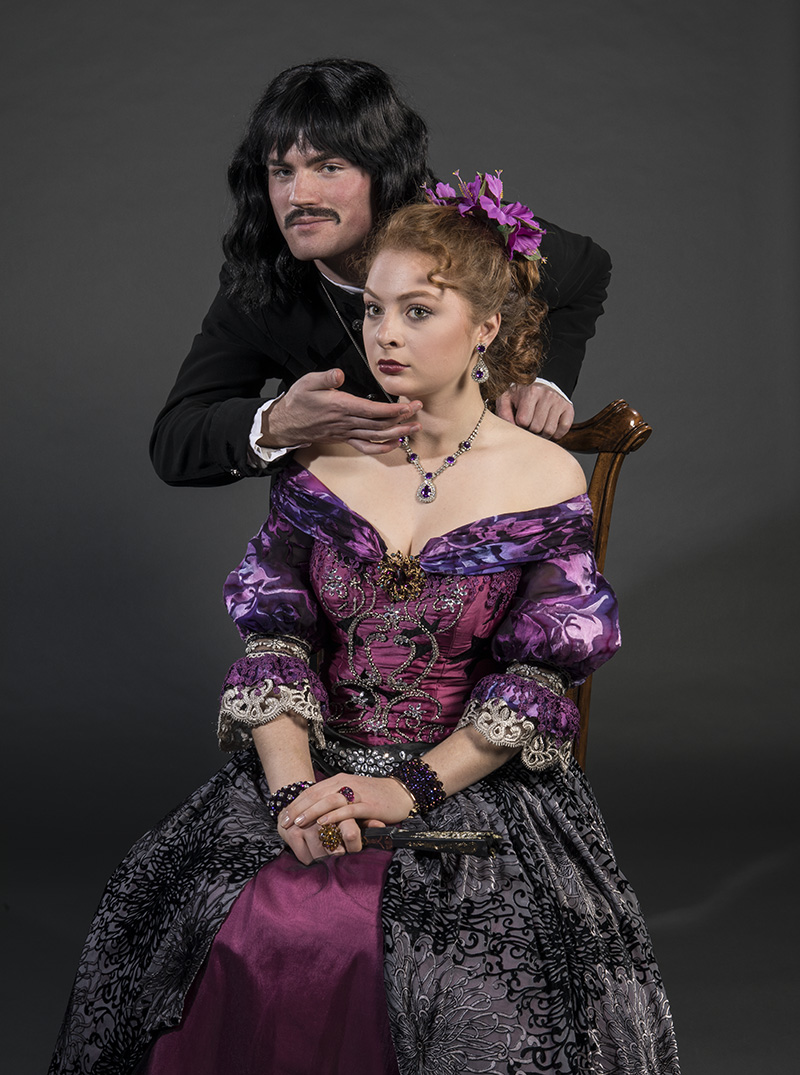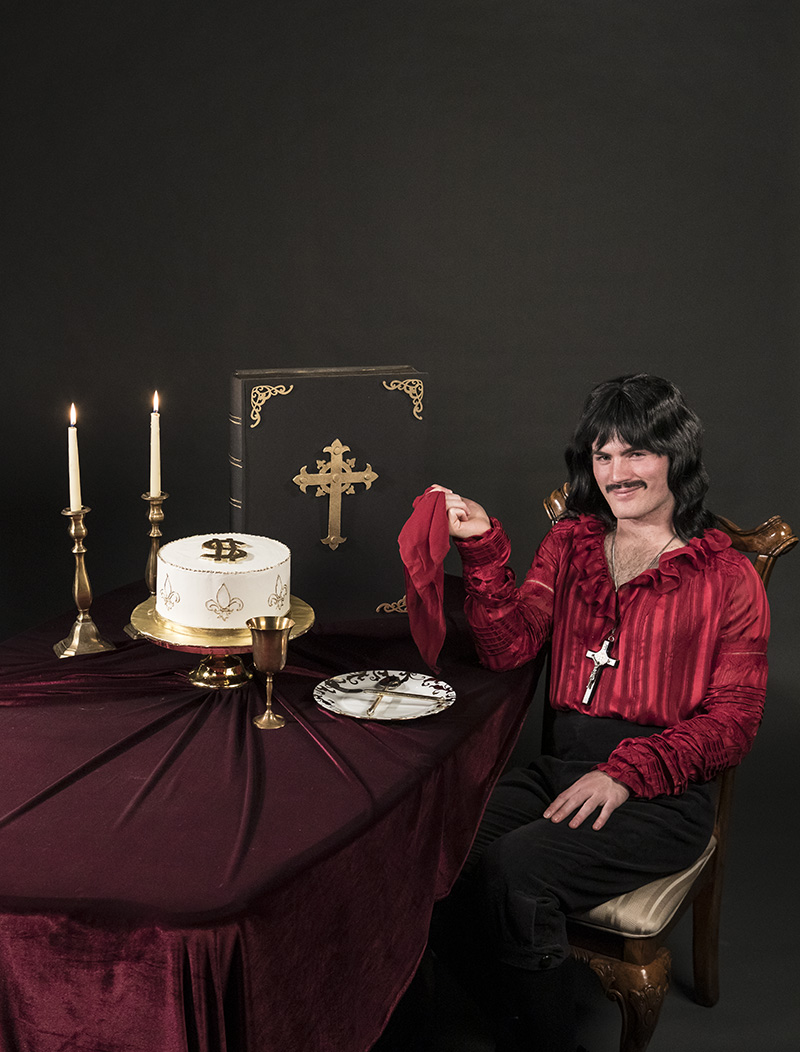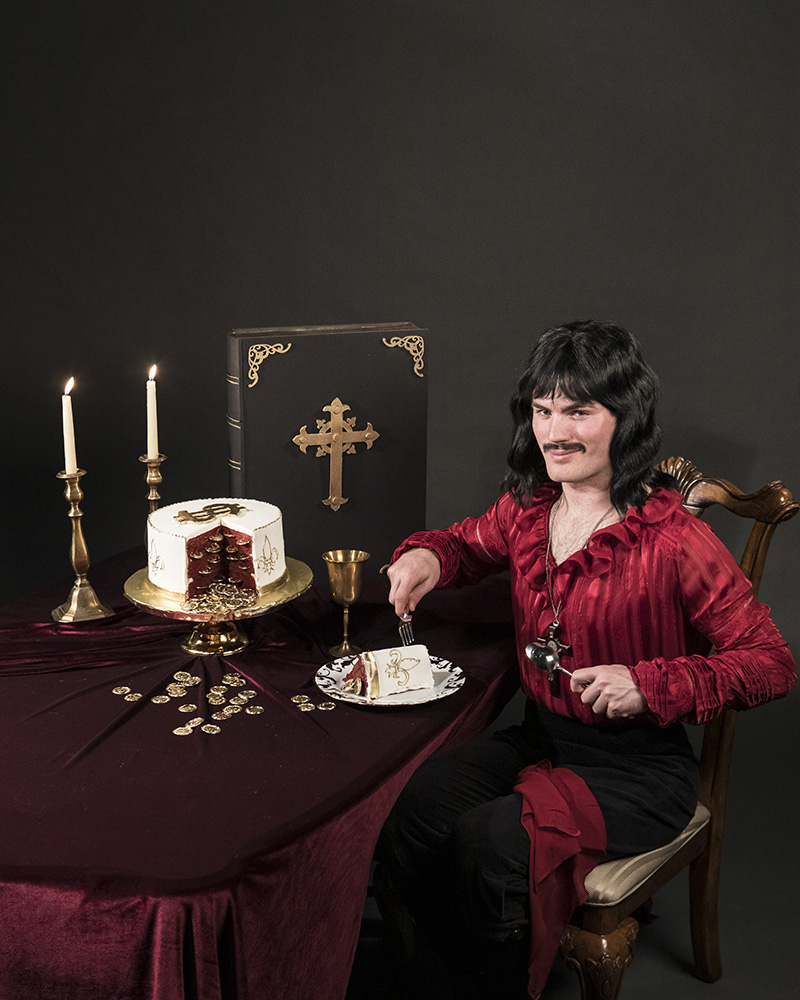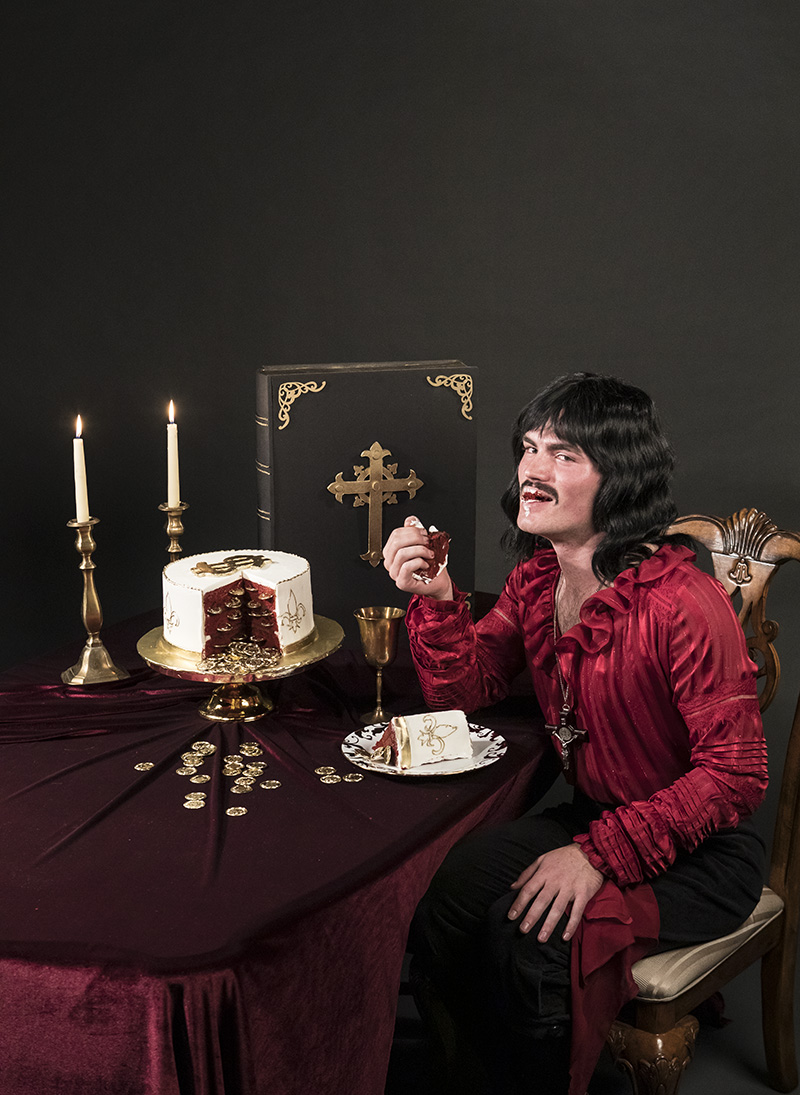 Photography by David Bazemore
August 16, 2019 - 5:16pm