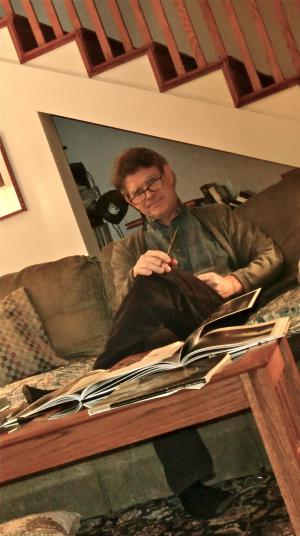 Office Location
:
Theater Dance West, Room 2513
Specialization
:
Theater history; American drama and theater; ancient theater; dramatic theory
Bio
:
D.F.A., Yale School of Drama
Teaches theater history, dramatic theory, dramaturgy, and dramatic literature, specializing in English and American, as well as ancient Greek drama and European modern. His THTR 1--Play Analysis is a foundational course for majors in the department. Among American topics his interests range from melodrama to avant-garde performance, from the classic or canonical to the utterly obscure and subversive. His study of Agnes Boulton and her marriage to Eugene O'Neill began with "A Wind Is Rising": The Correspondence of Agnes Boulton and Eugene O'Neill (2000) and came to a head with Another Part of a Long Story: Literary Traces of Eugene O'Neill and Agnes Boulton, which came out in 2010 from the University of Michigan Press. His new edition of Boulton's Part of a Long Story was published by McFarland in 2012. He wrote the first-ever critical edition of O'Neill's Long Day's Journey Into Night for Yale University Press in 2014, followed by an enhanced e-book--a multimedia edition--in 2016. The latter won the 2017 PROSE award in Literature. His critical edition of The Iceman Cometh  is forthcoming from Yale University Press. For six years he was the editor of the Eugene O'Neill Review, a biannual journal published by Pennsylvania State University Press. He is dramaturg of the current production of Long Day's Journey Into Night at the Geffen Playhouse in Los Angeles, and items from his O'Neill collection form an exhibit in the Geffen lobby. Previous books include: Henry Irving's "Waterloo" (winner of the 1993 Callaway Prize) and Writing Wrongs: The Work of Wallace Shawn (1998). He is the author of Collections of Nothing (University of Chicago Press)—part memoir, part essay on the practice of collecting—and is at work on another book on the aesthetics, morality, and pathology of collecting and collage. He is also fascinated by the portrayal of darkness and sixth sense on the 19th-century stage, encompassing performances of mesmerism, spiritualism, and science, as well as drama.
RECENT GRADUATE SEMINARS
Acting American; Teaching American; The Roots of Broadway; Greek Tragedy in Performance, Translation, and Adaptation; Dramatic Theory: The Iron Age to Frye and Beyond; Tragicomedy; Eugene O'Neill; Melodrama; Anton Chekhov; History of Avant-Garde Performance.
Courses
:
THTR 1--Play Analysis
THTR 180A--American Drama and Theater to 1940
THTR 180B--American Drama and Theater from 1940 to the Present
THTR 180C--American Drama and Theater Now
THTR 182A--Ancient Theater (Greek and Roman) 
THTR 182M--Modern European Drama (Ibsen, Chekhov, Strindberg, Dada and Surrealism)