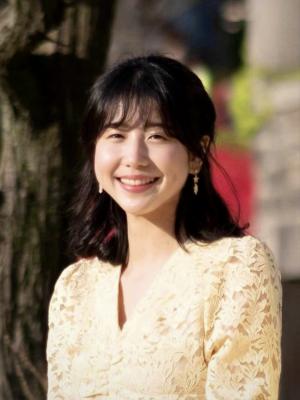 Bio
:
Eunwoo Yoo is a PhD candidate in the Department of Theater and Dance at the University of California, Santa Barbara, and is a recipient of the Fulbright Foreign Student Program scholarship. She holds a B.A. and an M.A. in English Language and Literature from Yonsei University, Seoul. Her research focuses on Renaissance dramatic literature and food studies, but her interdisciplinary research interests encompass empire studies, post-colonial studies, race and representation, gender and sexuality, corporeality, and performance studies.
Her MA thesis research project, Consuming Food and the Body: A Gastrocritical Study on Antony and Cleopatra, Queen Mab, and Great Expectations, investigates into texts of vastly different genres and eras through adopting food studies to explore the issues of power, desire, and agency. Through this project, she foregrounds food as a powerful lens through which to view texts and as an essential theme in literature. This thesis was awarded distinction by Yonsei University in 2018, for providing fresh insights by weaving together an unconventional combination of text using an innovative critical approach.
Eunwoo has presented her papers at the 16 th Hawaii International Conference on Arts and Humanities, in addition to a colloquium at the 8 th Institute for World Literature session organized and run by Harvard University, a four-week program providing training in world literature from a global perspective. She also participated in Summerschool Utrecht: Posthuman Ethics, Pain, and Endurance held at Utrecht University in the Netherlands in 2018.
Prior to coming to UCSB, Eunwoo worked as a qualified consultant of the official College English Tutoring Service (CETS) at Yonsei University, after attending the CRLA workshops and receiving a level 1 certificate. At UCSB, Eunwoo has served as the dramaturg for the Naked Shakes production Immortal Longings, a new adaptation of Shakespeare's Julius Caesar, Antony and Cleopatra, and George Bernard Shaw's Caesar and Cleopatra.