Event Date:
Thursday, March 9, 2023 - 7:30pm
Friday, March 10, 2023 - 7:30pm
Saturday, March 11, 2023 - 2:00pm
Event Date Details:
MAR 9 - 10*, 2023 | 7:30 PM
MAR 11, 2023 | 2:00 PM
*Join us Friday, March 10 at 7:00pm for a pre-show conversation with the choreographers!
Event Price:
PRE-SALE:
$13 Student/Faculty/Staff/Senior
$17 General Admission
DAY-OF:
$15 Student/Faculty/Staff/Senior
$19 General Admission
artistic director Delila Moseley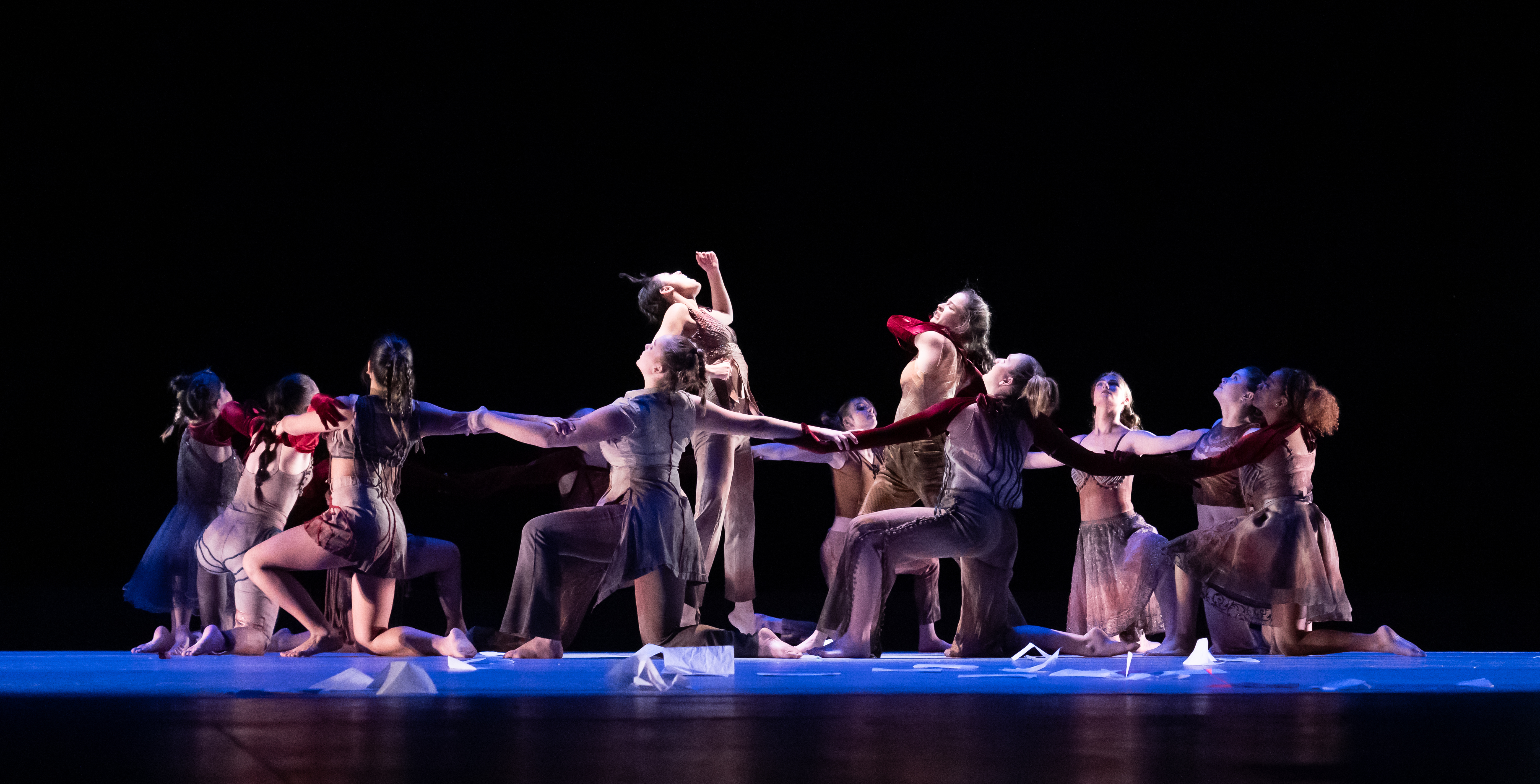 Above: "The Letter" Choreography by Christina McCarthy
All photos by Stephen Sherrill
About the Concert
The UCSB Dance Company offers its season opening concert, "Full Circle" on March 9-11, 2023, in the Hatlen Theater, UCSB. This is the company's first full concert in the Hatlen Theater, and is an opportunity for expansion and empowerment. "Full Circle" is an evening of all women choreographers, each with circular ties to the department over a fully rounded span of years. Human sensibility, seen through the lens of these female choreographers, promises to entice the senses and the mind, through prisms of intelligence, insight, and beauty. A company of sixteen female and non-binary dancers will realize the visions of the choreographers.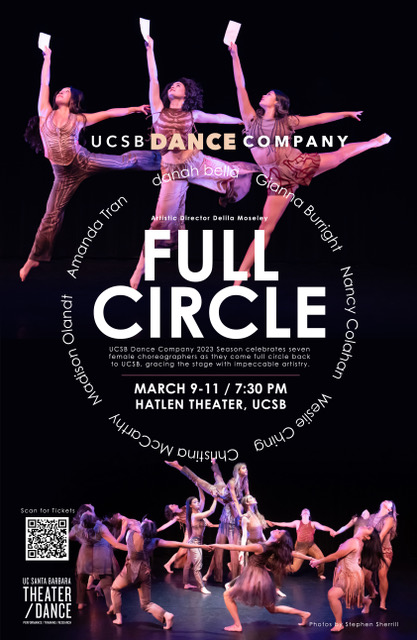 About the Choroeographers
danah bella is an acclaimed choreographer who has performed, presented work and been artist in residence at festivals and universities throughout the United States and abroad. She is the artistic director of d a n a h b e l l a DanceWorks, a modern dance company focused on reclaiming evocative movement as social practice, and a founding member of Colectivo Caliban, an artist collective that transgresses disciplinary borders through sound and movement.  danah is currently the Director of the BFA Dance program at the Peabody Institute of the Johns Hopkins University and the Artistic Director of the award-winning Peabody Dance Ensemble. She was named one of Baltimore Sun's 25 Women to Watch in 2018 and recently received the Maryland Dance Education Association's 2021 Higher Education Dance Educator of the Year Award. danah was awarded an MFA in performance from the Ohio State University and a BA in Dance and Asian American Studies from the University of California in Santa Barbara.
Gianna Burright is a California dance artist who holds a BFA in Dance and an MFA in Choreography from Trinity Laban. Most recently Gianna is a 2022 Jacob's Pillow Choreography Fellow, Bates Dance Festival Scholar and UCSB Guest Lecturer of Modern Dance Technique. She was also awarded the Dance Gallery Festival Residency to keep developing the piece created at Jacob's Pillow into an Evening Length work. Gianna has presented her work in fifteen different countries including locations such as Jacob's Pillow, The Bonnie Bird Theater, The Pace, Turner Contemporary Gallery, Waterloo East Theatre, STEPS and the International Edinburgh Fringe Festival, ZOO venues.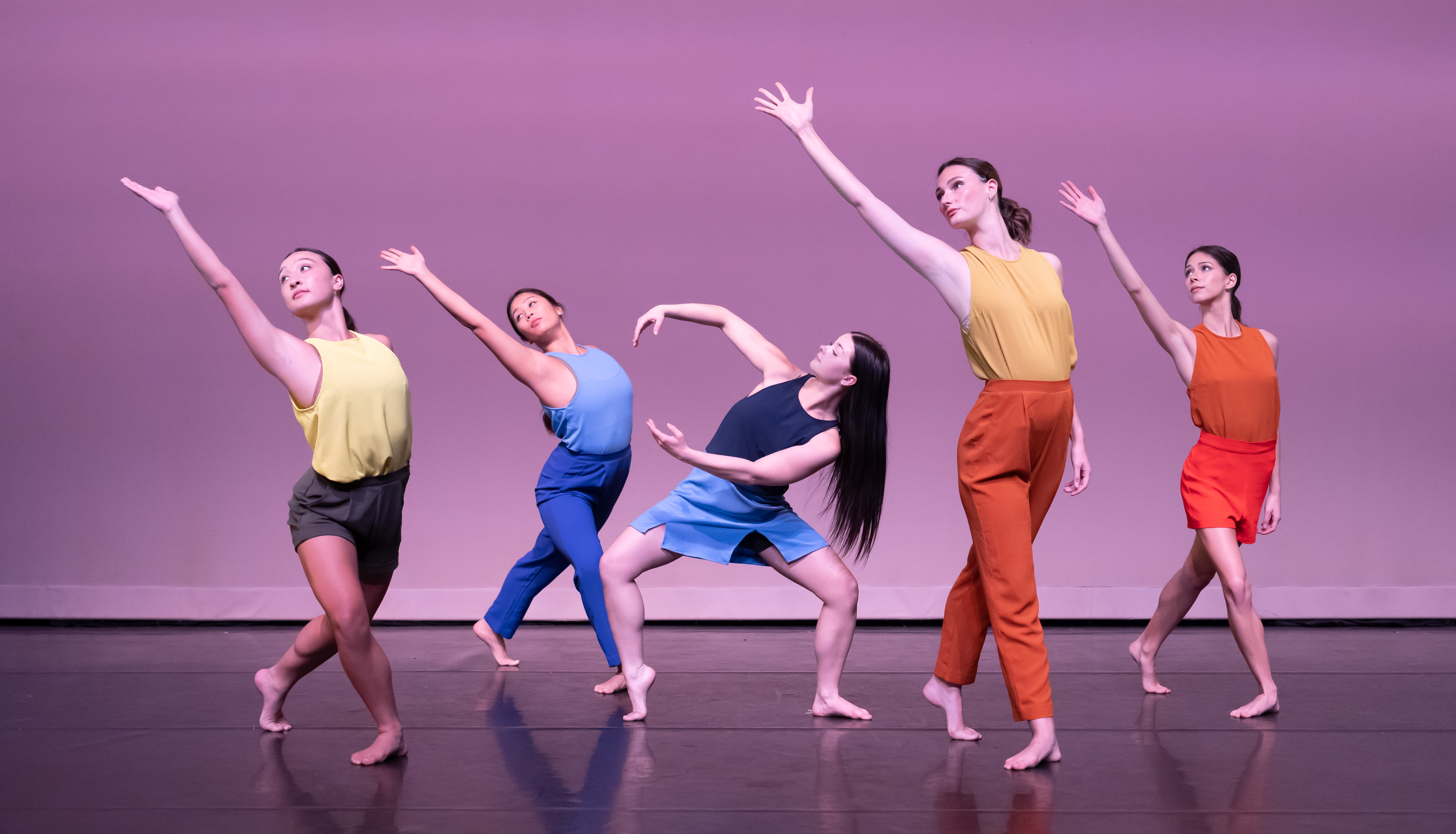 "The Entirety of Us" Choreography by Weslie Ching
Weslie Ching holds a BA in Dance from the University of California, Santa Barbara where she was a Regent's Scholar and recipient of the Chancellor's Undergraduate Research Award. She has been working as a Santa Barbara-based choreographer since 2014. Her work favors walking patterns layered with repetitions of quick, idiosyncratic gestures and abstract themes inspired by scientific principles. She is formalist – interested in creating work that stimulates via visual and energetic patterns rather than narrative or overt emotion. Weslie's work has been shown at venues such as the Museum of Contemporary Art Santa Barbara, ARC Pasadena, (LA), Ruth Page Center for the Arts (Chicago), Dixon Place (NYC), and ODC Theater (SF). In 2016 and 2019, she was the recipient of the Santa Barbara Independent "Indy" award for excellence in choreography.
"No Freedom Like A Dance" Choreography by Nancy Colahan
Nancy Colahan (Choreographer) danced professionally for 31 years, having performed in the choreography of major modern dance choreographers and companies, including Alvin Ailey Repertory Dance Theater, the Lar Lubovitch Dance Company, Baryshnikov's White Oak Dance Project, and American Repertory Dance Company. She has many guest artist appearances (Alvin Ailey American Dance Theater, Jose Limon Dance Company, Huston Grand Opera, the Royal Danish Ballet) and dance film credits to her name, encompassing performing venues suchrehab centers, prisons and block party events in NY City, to the Neolithic ruins on the island of Gozo, to the opera houses of the world. After 23 years of teaching modern dance as a  Senior Lecturer in the Department of Theater and Dance, Nancy retired from teaching in the Spring of 2022.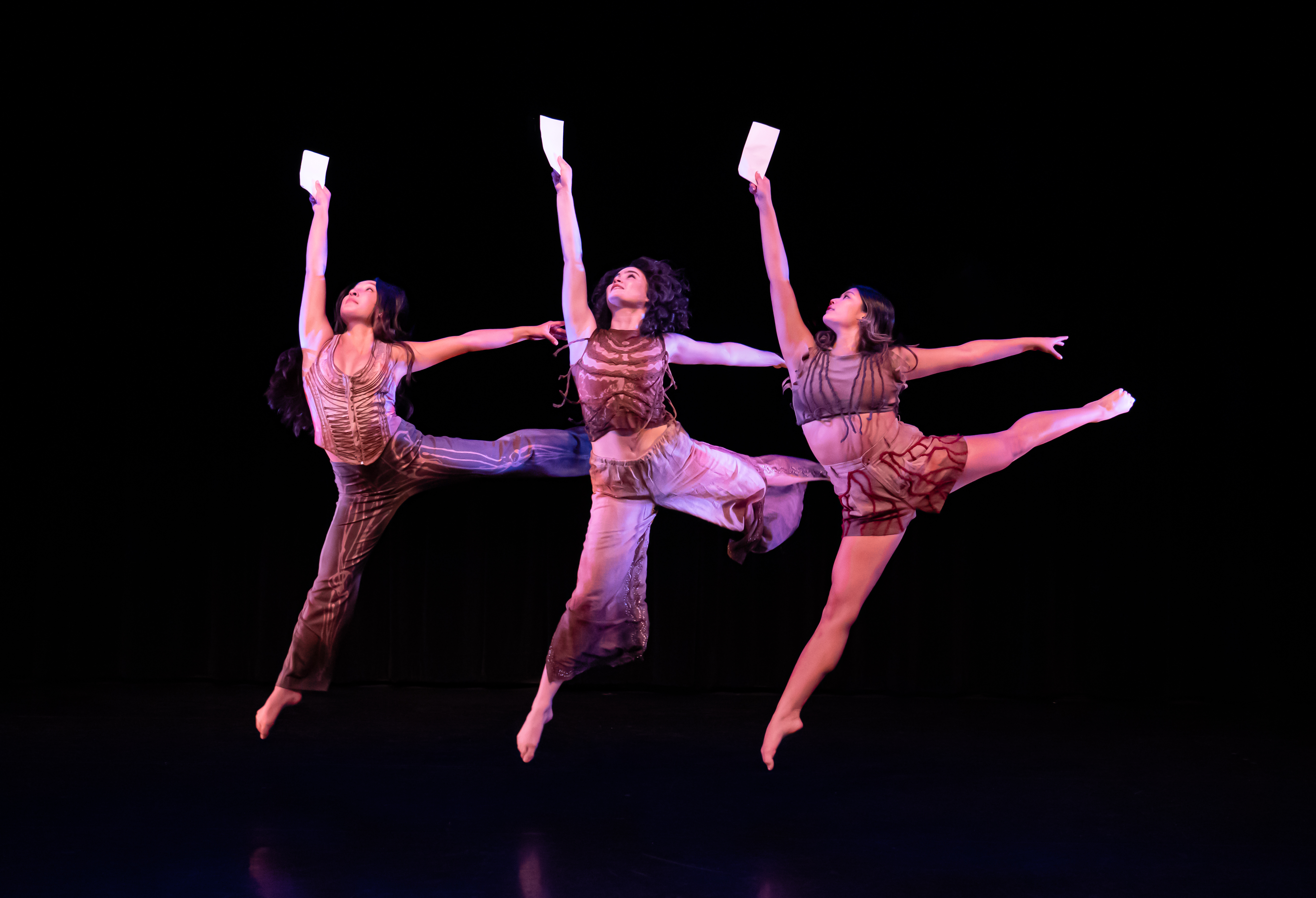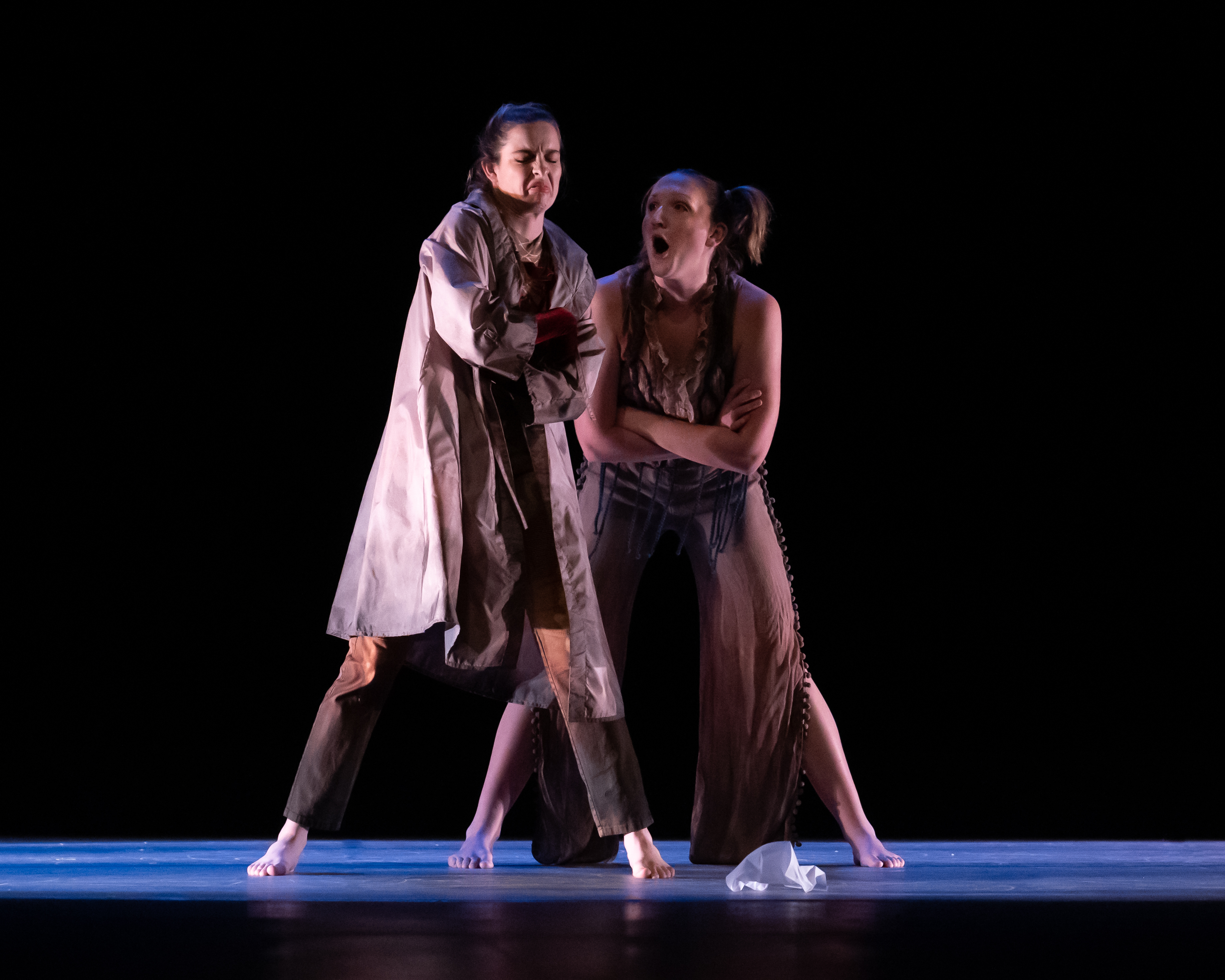 "The Letter" Choreography by Chiristina McCarthy
Christina McCarthy is a Lecturer SOE at UC Santa Barbara where she teaches contemporary dance technique, choreography, dance on film and puppet design. Ms. McCarthy often collaborates with her colleagues in theater as a dance/movement advisor for the plays staged at UCSB. She creates new concert dance works for the students in the dance department and her choreography has been part of the repertory for this dance company in past seasons. She has choreographed over forty musicals and her contemporary choreography often includes video projection, aerial dance and puppets. Recently she collaborated on a dance/puppet interpretation of the opera The Magic Flute with Dr. Isabel Bayrakdarian from the Department of Music at UCSB, performed at Lotte Lehmann Concert Hall in Santa Barbara in February 2022 and for New York City k-12 students in Manhattan in May 2022. Her sixteen foot tall dragon was featured in State Street Ballet's Sleeping Beauty in March 2022. This past summer, she choreographed Something Rotten for SBCC Theater Group. Her new projects for next year will include creating multiple large and small scale puppets for Westmont Theater's production of She Kills Monsters in fall 2022 and a new concert dance work in collaboration with the UCSB Percussion Ensemble in spring 2023.
Madison Olandt  is a choreographer and movement artist from Los Angeles, CA. She received her degree in both Dance and Psychology from UCLA. In her dance career, she's strived to dabble in as many different communities as possible, working with Diavolo, Jacob Jonas The Company, Google, Academy of Villains Contemporary, Kanye West, Katy Perry, Dallas Black Dance Theater, Whim W'Him Seattle Contemporary and performing on stages such as The Kennedy Center, Ahmanson Music Center, The Hollywood Bowl, The Wallis BH, The Staples Center, America's Got Talent, and World of Dance. As a director, some of her short dance films have been featured on Marquee TV Streaming Platform, San Francisco Dance Film Festival, as well as the Focus Art Film Festival at the Louvre in Paris. In her teachings, she incorporates modern, floorwork, improv, theater, and most importantly, a sense of play.
Gallery
October 28, 2022 - 3:09pm