Event Date:
Friday, September 23, 2022 - 7:30pm
Saturday, September 24, 2022 - 2:00pm
Saturday, September 24, 2022 - 7:30pm
Sunday, September 25, 2022 - 2:00pm
Wednesday, September 28, 2022 - 7:30pm
Thursday, September 29, 2022 - 7:30pm
Friday, September 30, 2022 - 7:30pm
Saturday, October 1, 2022 - 2:00pm
Saturday, October 1, 2022 - 7:30pm
Event Date Details:
Sept 23-24, 28-30, Oct 1 | 7:30pm
Sept 24, 25, Oct 1 | 2:00pm 
Event Price:
Pre-Sale:
$13 Student/Faculty/Staff/Senior
$17 General Admission
Day-Of:
$15 Student/Faculty/Staff/Senior
$19 General Admission
a NAKED SHAKES production
by William Shakespeare              directed by Irwin Appel

Straight off a sold-out Summer run, Naked Shakes' Romeo and Juliet returns to UCSB's Studio Theater September 23 - October 1, 2022! 
In a seemingly hopelessly divided country and world, Romeo and Juliet is a play for our time. The prologue warns us of the tragic ending and the demise of the "star-crossed lovers." It is only by the death of Romeo and Juliet, can the divisions in the community begin to heal. Is this play a warning and harbinger for our own society?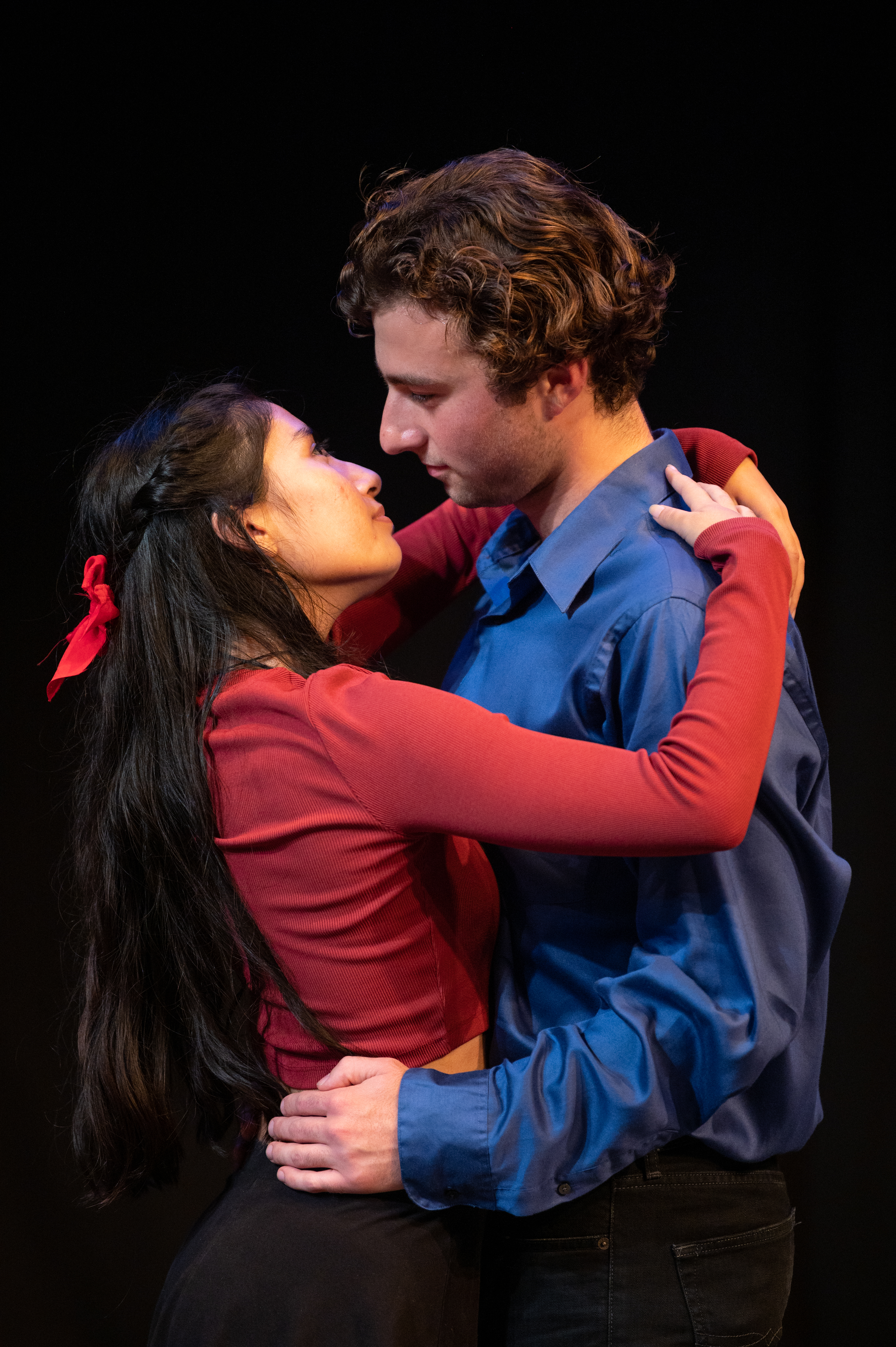 Audiences have been raving for the latest production from Irwin Appel and Naked Shakes. Take a look at this article published by the UCSB Current, previewing our Summer run of Romeo and Juliet. We are thrilled to bring back this production for a Fall Quarter run, and invite students, staff, faculty, and community members to join us as we dive back into this timeless, and deeply relatable world. 
Program
Click the image below to download the full production program.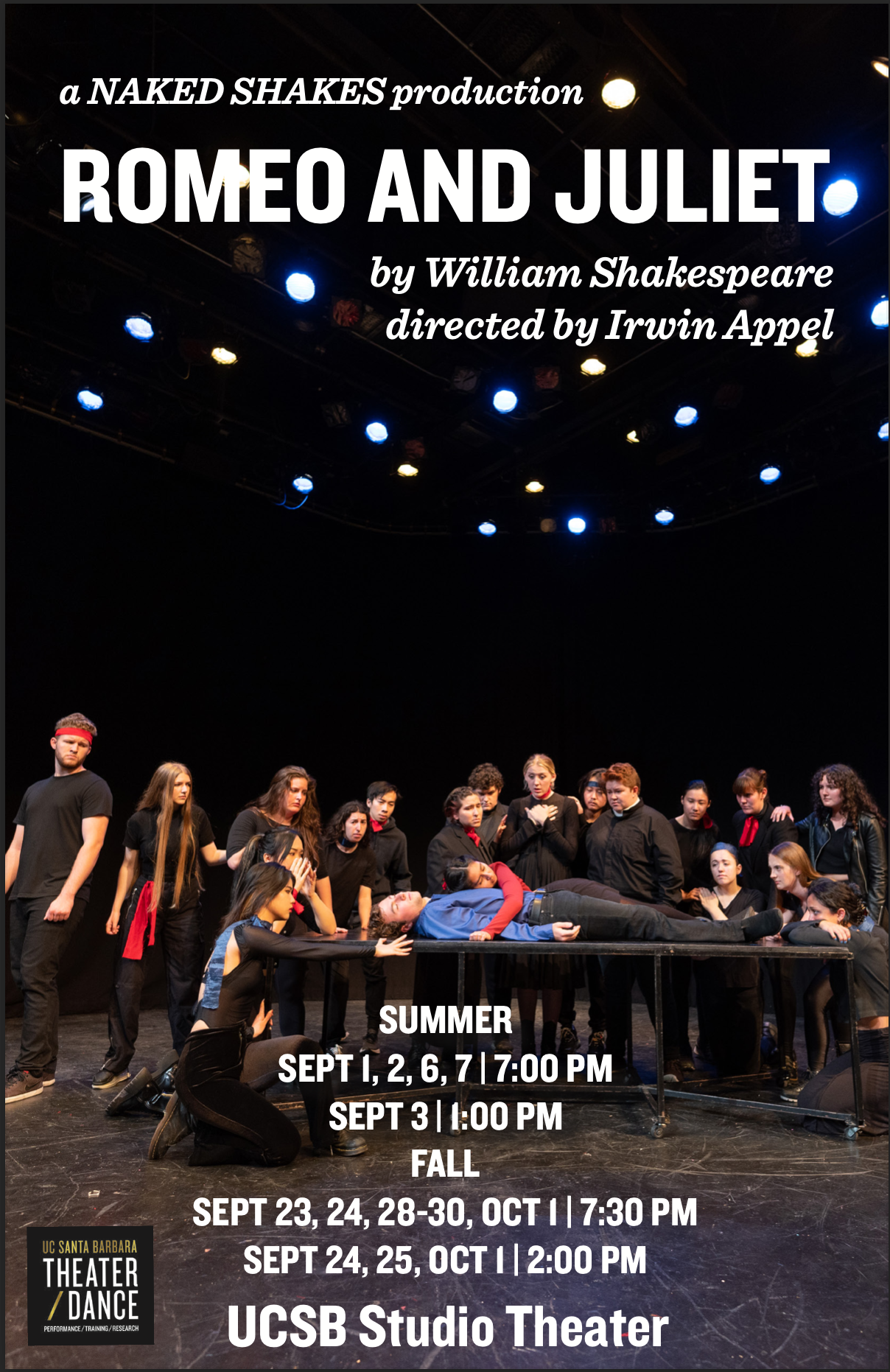 About the playwright
William Shakespeare (bapt. 26 April 1564 – 23 April 1616) was an English playwright, poet, and actor, widely regarded as the greatest writer in the English language and the world's greatest dramatist. He is often called England's national poet and the "Bard of Avon" (or simply "the Bard"). His extant works, including collaborations, consist of some 39 plays, 154 sonnets, three long narrative poems, and a few other verses, some of uncertain authorship. His plays have been translated into every major living language and are performed more often than those of any other playwright. They also continue to be studied and reinterpreted.
About the director
Irwin Appel (Director) is Professor of Theater and Director of the BFA Actor Training Program at UCSB.  He is also a professional director, Equity actor and composer/sound designer, and has performed with Shakespeare Santa Cruz, Shakespeare Festival/LA, the New York, Oregon, Utah, and Colorado Shakespeare Festivals, The Acting Company, Theatre For a New Audience, Hartford Stage, Indiana Repertory Theatre, and other prominent regional theaters.  Acting roles include: Prospero in The Tempest, Shylock in The Merchant of Venice, Bottom in A Midsummer Night's Dream, Falstaff in Merry Wives of Windsor, Dogberry in Much Ado About Nothing, Kent in King Lear, Macbeth in Kabuki Macbeth, , Matt in Talley's Folly and the Emperor in a world premiere of Emperor's New Clothes.   
Since arriving in Santa Barbara, he played the title role in Richard III, Stage Manager in Our Town, DeVere inThe Beard of Avon, Frank in Molly Sweeney, Duke Senior and Duke Frederick in As You Like It, and won Santa Barbara Independent Awards for his portrayals of Oscar Wilde in Gross Indecency: The Three Trials of Oscar Wilde and the title role in Theater Artists Group's Timon of Athens.  Most recently, at the Colorado New Play Summit at the Denver Center of the Performing Arts, he played Aunt Chuck inAppoggiatura by James Still and directed by Department Chair Risa Brainin, a role he originally played in the LAUNCH PAD production at UCSB. 
He is also artistic director of NAKED SHAKES, producing award-winning Shakespearean productions at UCSB and traveling to downtown Santa Barbara and Los Angeles since 2006. Directing credits at many theaters include: Equivocation, Macbeth, A Streetcar Named Desire, The Merchant of Venice, Anowa, Hamlet (SB Indy Award), Measure for Measure, Romeo and Juliet, Rabbit Hole, Twelfth Night, The Winter's Tale (SB Indy Award), Seagull, The Tempest, Angels in America, Three Sisters, Comedy of Errors, Pentecost, A View from the Bridge (SB Indy Award), The Cherry Orchard, Speed-the-Plow, A Midsummer Night's Dream, The Crucible, The Countess, Madwoman of Chaillot, Sylvia, Much Ado About Nothing and the world premiere of Brown Baby (SB Indy Award for his sound design). He also directed twice for the National Theatre Conservatory at the Denver Center for the Performing Arts.  
He has also served as composer/sound designer for the Oregon and New Jersey Shakespeare Festivals, PCPA, Shakespeare Santa Cruz, Ensemble Theatre, Pan Asian Repertory, Indiana Repertory, and other regional and local theaters.  Most recently, he served as composer/sound designer for a co-production of Other Desert Cities at Arizona Theatre Company and Indiana Repertory Theatre. He is a graduate of Princeton University and the Juilliard School.
Read about Professor Appel's groundbreaking Shakespeare course with Associate Professor of English James Kearney here.
About NAKED SHAKES
Since 2006, the mission of Naked Shakes has been to present energetic, exciting, raw, vibrant Shakespeare using the power of the actors and the language. The critically acclaimed, award-winning Naked Shakes has performed at UCSB and transported productions to Southwest Shakespeare Company at Taliesin West in Scottsdale, AZ, the Shakespeare Center of Los Angeles, Westmont College and Center Stage in downtown Santa Barbara. Past Naked Shakes productions include: 2021's outdoor production of Twelfth Night, the premiere of Immortal Longings, an adaptation of Shakespeare's Julius Caesar, Antony and Cleopatra and Shaw's Caesar and Cleopatra, the premiere of The Death of Kings, a two-part adaptation of Shakespeare's history plays, Hamlet, King Lear, A Midsummer Night's Dream, Macbeth, The Winter's Tale, Measure for Measure, The Merchant of Venice, and The Tempest.
Naked Shakes derives its rather provocative name from the principle that an actor in a bare theatrical space, along with meticulous attention to language, few technical elements and the collective imagination of the audience, can create what Prospero in The Tempest calls "rough magic," hopefully revealing the heart, meaning, driving force and a fresh re-interpretation of a Shakespearean play. With the inspiration and creative power of our choreographers and designers, Naked Shakes blends wild, actor-generated theatricality with razor sharp attention to language and imagery.  As an audience member, one may, at times, experience a veritable visual feast while also being able to close one's eyes and absorb the sound and text as if one were listening to a radio play or podcast. The barren physical theater space is very important to the Naked Shakes concept; it takes on the identity of whatever locale or particular piece of poetic language is described, and yet always reminds the audience they are in a theater.  When Prospero in The Tempest describes "the great Globe itself," he is not only referring to the entire Earth, but also the "Globe" Theater – Shakespeare's theater.  That duality is what Naked Shakes is all about. 
A note about casting: Naked Shakes believes strongly in giving young actors the opportunity to stretch themselves and play characters they might not normally get to play in the "real world."  Our Naked Shakes cast is comprised of students from two summer courses, THTR 144A and 144B, and has actors of all experience levels.  All that is necessary is a desire to study a great play and have an adventurous, exciting theatrical experience. Some of our actors are non-majors, and some are members of our prestigious Bachelor of Fine Arts (BFA) Actor Training Program, the only three-year actor training program in the entire UC system.  If you are interested in participating, or in learning more about Naked Shakes or the UCSB Department of Theater and Dance, please contact Irwin Appel at appel@theaterdance.ucsb.edu. 
Naked Shakes is a proud member of the Shakespeare Theatre Association (STA). STA was established to provide a forum for the artistic, managerial, educational leadership for theatres primarily involved with the production of the works of William Shakespeare; to discuss issues and methods of work, resources, and information; and to act as an advocate for Shakespearean productions and training. STA has over 115 member organizations located throughout the United States and all over the world.
NAKED SHAKES Production History
2022 - Romeo and Juliet, UCSB Studio Theater
2021 - Twelfth Night, UCSB Commencement Green

Our first outdoor production and return to in-person performance. Twelfth Night was performed against the beautiful backdrop of the UCSB lagoon and the Pacific Ocean.

2020 - Immortal Longings, In eight episodes, streamed live on Zoom

Adapted by Irwin Appel from Shakespeare's Julius Caesar, Antony and Cleopatra and George Bernard Shaw's Caesar and Cleopatra.

2019 - The Winter's Tale, UCSB Hatlen Theater
2018 - The Death of Kings: Seize the Crown

Southwest Shakespeare Company, Taliesin West, Scottsdale, AZ and Madison Performing Arts Center, Phoenix, AZ

2018 - Hamlet, UCSB Studio Theater and Porter Theater, Westmont College

Santa Barbara Independent and BroadwayWorld Awards for Acting

2017 - King Lear, UCSB Performing Arts Theater

Santa Barbara Independent Award for Acting

2016 - Much Ado About Nothing, UCSB Studio Theater

Santa Barbara Independent Award for Acting

2015 - 2017 - The Death of Kings, UCSB Hatlen Theater

European premiere at Prague Shakespeare Festival in Czech Republic in summer 2017
Adapted by Irwin Appel from Shakespeare's history plays.
Part One: I Come But For Mine Own, comprises Richard II, Henry IV, Parts 1 and  2, and Henry V.
Part Two: The White Rose and the Red, consists of Henry VI, Parts 1, 2 and 3, and Richard III.
Winner of seven Santa Barbara Independent awards and nine BroadwayWorld awards for outstanding achievement in Direction, Adaptation, Design, Original Music, and Performance. 

2014 - A Midsummer Night's Dream, UCSB Theater and Dance Movement Studio

Santa Barbara Independent Award for Direction

2013 - Macbeth, UCSB Hatlen Theater
2012 - The Merchant of Venice, UCSB Performing Arts Theater

Also presented at Center Stage, Santa Barbara, Oct 2012

2011 - Measure for Measure, UCSB Studio Theater

Also presented at the Shakespeare Center of Los Angeles, Oct 2011

2010 - Romeo and Juliet, UCSB Performing Arts Theater
2009 - Twelfth Night, UCSB Studio Theater,

Also presented at Center Stage, Santa Barbara, Oct 2009

2008 - The Winter's Tale, UCSB Performing Arts Theater

Also Presented at Center Stage, Santa Barbara by Lit Moon World Shakespeare Festival.
Santa Barbara Independent Award winner; named Best Theater Production in Santa Barbara 2008 by SB Independent

2007 - The Tempest, UCSB Studio Theater
2007 - A Midsummer Night's Dream, UCSB Studio Theater
July 29, 2022 - 11:27am