Event Date:
Thursday, January 13, 2022 - 7:30pm

to

Saturday, January 15, 2022 - 7:30pm
Sunday, January 16, 2022 - 2:00pm
Event Date Details:
JAN 13 - 15, 2022 / 7:30 pm
JAN 16, 2022 / 2 pm
Event Price:
General Pre-Sale $20
Student with ID Pre-Sale $15
General AT THE DOOR $25
Student with ID AT THE DOOR $18
Buy tickets HERE.
artistic director Brandon Whited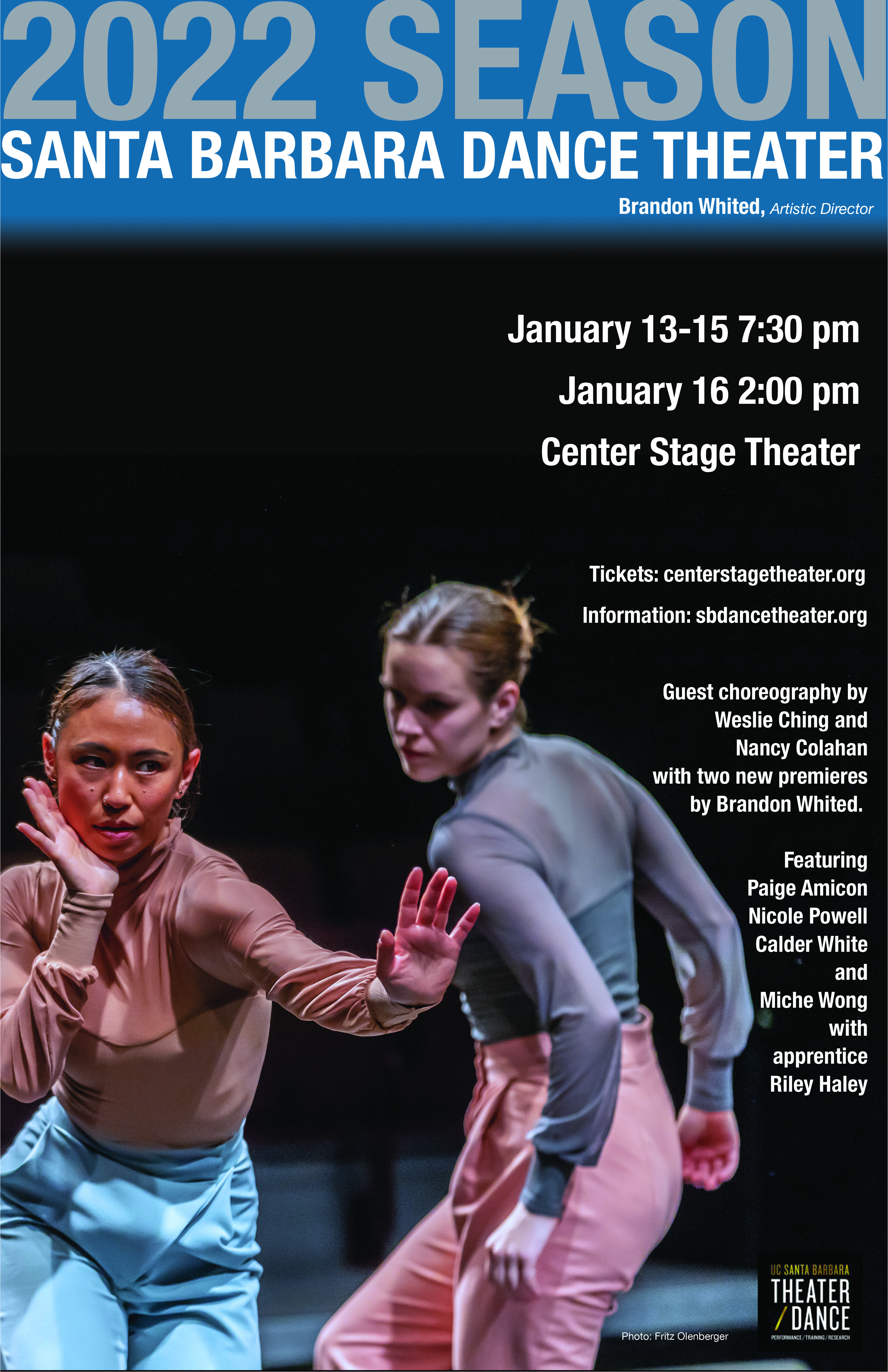 About the concert
Santa Barbara Dance Theater is back under the new Artistic Direction of Brandon Whited.  The 2022 Season marks SBDT's 45th Anniversary Season.
This performance will feature two new works by Prof. Whited, with Guest Choreography by Nancy Colahan (UCSB, Senior Lecturer), and Weslie Ching (UCSB Dance Alum).  Shifting the creative development model of the company more toward a project-based company Brandon is excited to bring in professional dancers from near and far to engage with the UCSB campus and greater Santa Barbara arts community.  SBDT performs January 13-16 at Center Stage Theater in downtown Santa Barbara.
Featured dancers:  Nicole Powell (Carpinteria, CA), Paige Amicon (Los Angeles, CA), Miche Wong (San Francisco, CA), and Calder White (Vancouver/Toronto), with apprentice-understudy Riley Haley (UCSB Dance class of 2024).
The concert program consists of two solos by Nancy Colahan—excerpts from Pandemic Suite­, created via zoom last year; a duet—I Don't Exist Anymore, by Weslie Ching.  Brandon Whited offers to Harbor—developed in winter of 2020 and completed this season, as well as a new quartet—ARENA, or 1 of 4 & 4 of 1. The concert features Lighting and Production Design by Michael Klaers.
Performances run January 13 – 16, 2022.  In accordance with Center Stage Theater policy, proof of vaccination is required to attend performances, and masking is mandatory for all audience members.  
Performance checklist
BRING THE PROOF OF VACCINATION AND ID OR NEGATIVE PCR TEST TAKEN IN THE LAST 72h OR SHOW THE GREEN BADGE 
BRING AND WEAR A MASK
COME EARLY FOR COVID COMPLIANCE CHECK (THERE IS NO LATE SEATING)
Program
Coming soon...
Media
Coming soon...
Gallery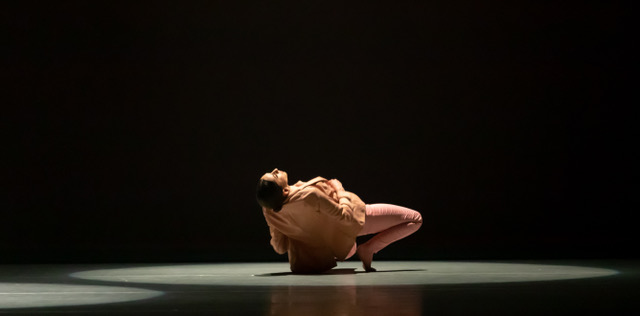 COVID-19 POLICIES
Proof of full vaccination or a negative COVID-19 test result must be presented for entry. Full vaccination means a final vaccine dose is administered at least 14 days prior to the event. Vaccine verification documentation will be required upon arrival, along with government-issued photo ID. Negative COVID-19 test results must be from a PCR test performed by a state-approved provider administered no more than 72 hours prior to the performance if you are not vaccinated (rapid or Antigen tests are not accepted as a proof for entry). This vaccine requirement also applies to university students, staff, and volunteers.
Proof of vaccination or negative COVID-19 PCR tests can be supplied upon arrival to the venue in several ways:
Physical vaccination card or negative COVID-19 PCR test paperwork and a photo ID.

Photo of your vaccination card or negative COVID-19 PCR test through your smartphone and a photo ID. (Guests younger than 18 may use a school photo ID.)

Digital COVID-19 Vaccine Record:  HTTPS://MYVACCINERECORD.CDPH.CA.GOV/.

Green UCSB COVID-19 Clearance Survey Badge.
Masks must be worn at all times in our indoor venues. Patrons must bring and wear their own face coverings that fully cover both the nose and mouth or use one provided by the department as available. Face shields and/or goggles with a mask are acceptable, but are not acceptable on their own. Masks are required at all times in the lobby, restrooms, and in the venues during performances.
Masks during outdoor performances is highly encouraged.
A note about our venues: All buildings on campus have been evaluated by UCSB Design, Facilities & Safety services in consultation with campus and outside experts, and ventilation meets standards defined by the California Department of Public Health and Cal/OSHA. Our Facilities Management colleagues have sought to maximize building ventilation and filtration levels wherever possible, consistent with best industry practices.
The department will continue to share safety updates by email, social media, and through our website as the 21-22 events continue. If you are feeling under the weather, please stay home and continue regular handwashing and hand sanitizing. Thanks for being a partner with the campus community to make our events accessible and safe.
CA Dept of Public Health Vaccination site: HTTPS://WWW.CDPH.CA.GOV/PROGRAMS/CID/DCDC/PAGES/COVID-19/COVID19VACCINES.ASPX
CA Dept of Public Health Testing site: HTTPS://WWW.CDPH.CA.GOV/PROGRAMS/CID/DCDC/PAGES/COVID-19/TESTING.ASPX
August 16, 2021 - 3:32pm