Event Date:
Thursday, November 18, 2021 - 7:00pm

to

Saturday, November 20, 2021 - 7:00pm
Friday, November 19, 2021 - 2:00pm
Saturday, November 20, 2021 - 1:00pm
Monday, November 22, 2021 - 7:00pm
Event Date Details:
NOV 18 - 20 & 22, 2021 / 7 pm
NOV 19, 2021 / 2 pm
NOV 20, 2021 / 1 pm
*Please be advised the show contains fog, loud noises, gunshots, and themes of suicide.
Event Price:
PRE-SALE
$13 - UCSB Faculty, Staff, Alumni & Students, Seniors, Children
$17 - General Audience
DAY OF
$15 - UCSB Faculty, Staff, Alumni & Students, Seniors, Children
$19 - General Audience
For more info on tickets and seating, click here.
by Anton Chekhov              new version by Libby Appel
directed by Risa Brainin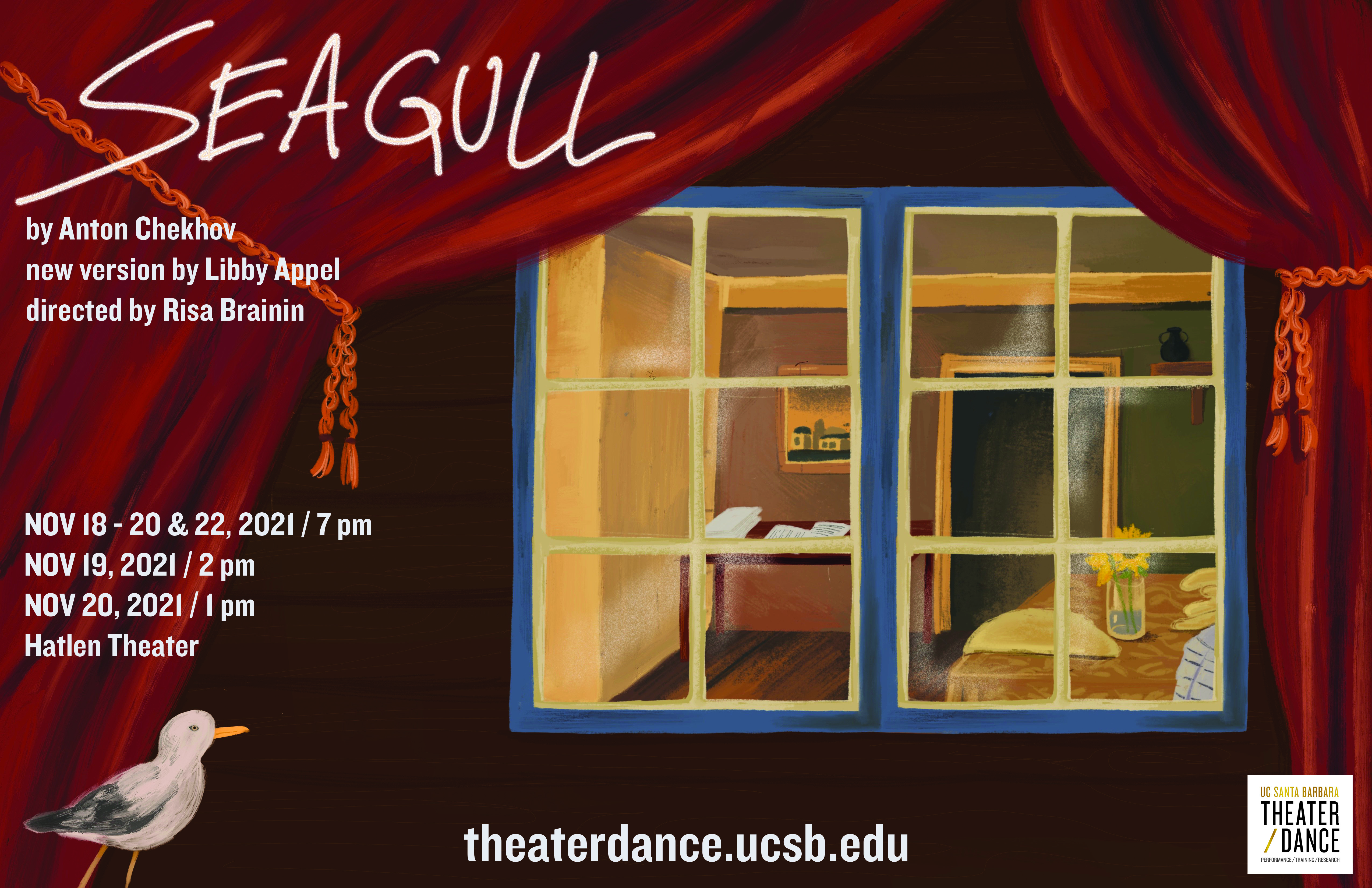 About the play
Seagull is Anton Chekhov's love letter to the theater. Set on a Russian country estate in 1896, an eccentric theatrical family and those who love them compete for the center of attention.Translated by Libby Appel, Seagull is a perfect reflection of life as it is…both comic and tragic at the very same time. 
About the playwright
Anton Pavlovich Chekhov (Russian: Антон Павлович Чехов; 29 January 1860 – 15 July 1904) was a Russian playwright and short-story writer who is considered to be among the greatest writers of short fiction in history. His career as a playwright produced four classics, and his best short stories are held in high esteem by writers and critics. Along with Henrik Ibsen and August Strindberg, Chekhov is often referred to as one of the three seminal figures in the birth of early modernism in the theatre. Chekhov practiced as a medical doctor throughout most of his literary career: "Medicine is my lawful wife", he once said, "and literature is my mistress."
Chekhov renounced the theatre after the reception of The Seagull in 1896, but the play was revived to acclaim in 1898 by Konstantin Stanislavski's Moscow Art Theatre, which subsequently also produced Chekhov's Uncle Vanya and premiered his last two plays, Three Sisters and The Cherry Orchard. These four works present a challenge to the acting ensemble as well as to audiences, because in place of conventional action Chekhov offers a "theatre of mood" and a "submerged life in the text".
Special thanks to Allison Horsley for the literal Russian to English translation.
About the director
Risa Brainin is a freelance director and Founder/Artistic Director of the groundbreaking new play development program LAUNCH PAD at the University of California, Santa Barbara.
Brainin served as Artistic Director of Shakespeare Santa Cruz, Associate Artistic Director for both Kansas City Repertory Theatre and Indiana Repertory Theatre, and Resident Director at the Guthrie Theater. 
Other directorial credits include plays at American Players Theatre, Actors' Theatre of Louisville, Alabama Shakespeare Festival, Clarence Brown Theatre, Commonweal Theatre, Denver Center Theatre, Elements Theatre Collective, Ensemble Theatre, Great Lakes Theatre Festival, History Theatre, Idaho Shakespeare Festival, Illusion Theatre, Kansas City Actors' Theatre, Milwaukee Repertory Theatre, Mixed Blood, New Harmony Project, Pittsburgh Public Theater, Playmakers Repertory Company, Portland Stage Company, Red Bull Theatre, Seven Devils New Play Foundry, Repertory Theatre of St. Louis, Shakespeare Festival of St. Louis, Skylight Theatre, Syracuse Stage, Ten Thousand Things and TheatreSquared. She directed the premiere of Bob Stromberg's That Wonder Boy in Minneapolis and the United Solo Festival in NY (WINNER: United Solo Festival and Backstage Award, Best One Man Show and Best Direction - 2015) and Annie Torsiglieri's "A" Train also at the United Solo Festival in NY (WINNER: Best Production - 2017 and Best Encore - 2018). 
Since creating LAUNCH PAD in 2005, Brainin has developed and directed 20+ new works by distinguished writers including recent plays by Jami Brandli, Mia Chung, Yussef El Guindi, Anne Garcia-Romero, Idris Goodwin, Enid Graham, Arlene Hutton, Jenny Mercein, Joyce Carol Oates, James Still and Cheryl L. West. She pioneered, along with Annie Torsiglieri, the groundbreaking Festival Alone, Together performed on June 6, 2020. This collection of 39 new short plays and monologues written for Zoom by LAUNCH PAD alums is now published by Dramatic Publishing Company. LAUNCH PAD was featured in American Theatre magazine for its innovation and contribution to new play development.  
A graduate of the Carnegie-Mellon University Drama Program, Brainin has served on grant panels for the Theatre Communications Group and the National Endowment for the Arts. Ms. Brainin is past President of the Board of Trustees of the National Theatre Conference and was recently inducted into the
College of Fellows of the American Theatre
.
Performance Checklist
BRING THE PROOF OF VACCINATION AND ID OR NEGATIVE PCR TEST TAKEN IN THE LAST 72h OR SHOW THE GREEN BADGE 
BRING AND WEAR A MASK
COME EARLY FOR COVID COMPLIANCE CHECK (THERE IS NO LATE SEATING)
Program
To download the Seagull program, please click HERE.
To view the program online, please click on program image page below.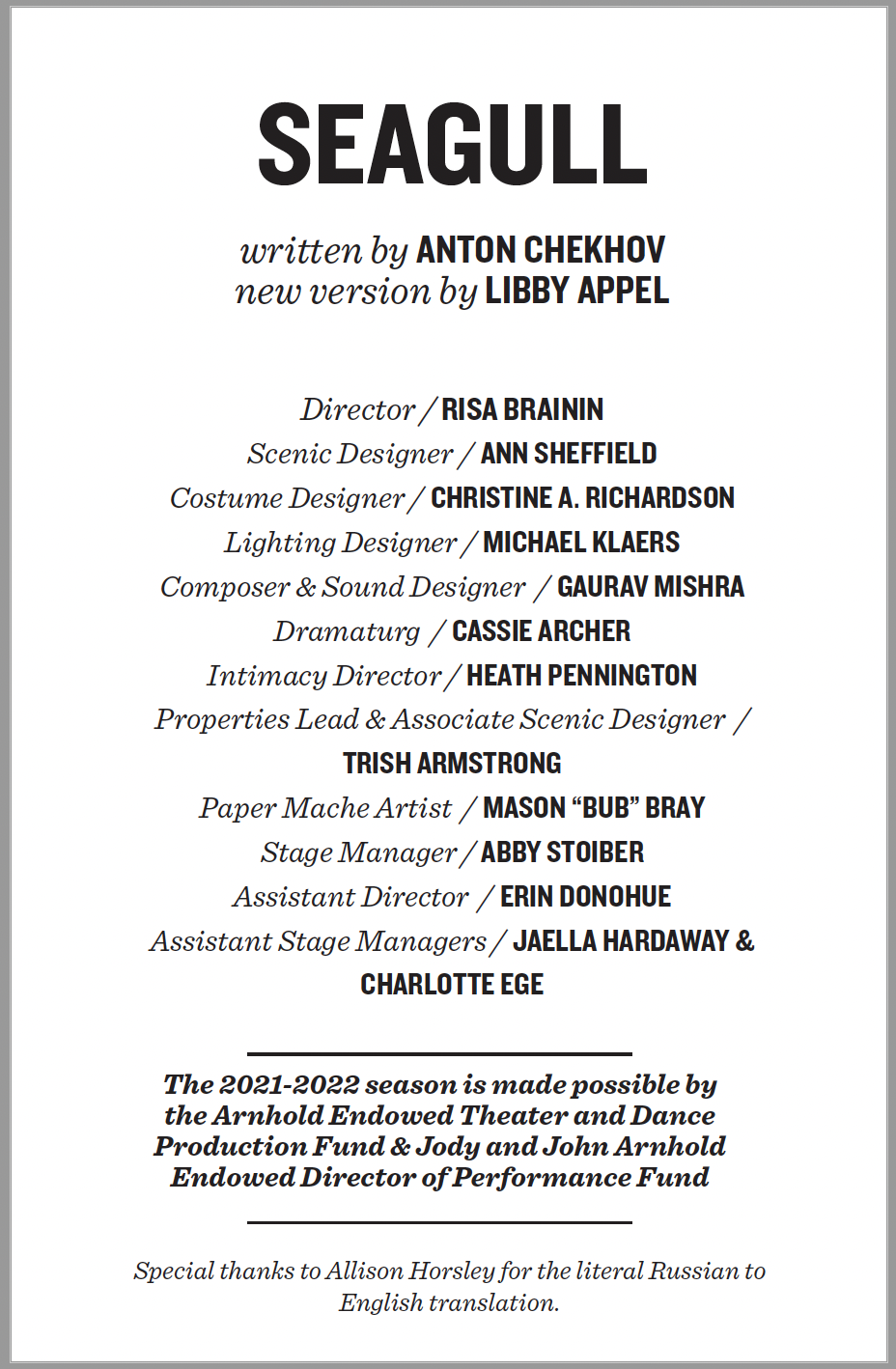 Media
To those who deeply love the theater, it's more than entertainment — it's a source of wisdom and inspiration, strength and comfort. The pandemic shutdown of our nation's playhouses made it clear that a void is created when our stages go dark.
The central characters of "Seagull" need no such reminder: For them, the theater is both a vital means of personal expression, and a way to give their lives structure and meaning. So it seems appropriate that, for its first show back in its main performance space, the Hatlen Theater, the UC Santa Barbara Department of Theater and Dance is presenting Chekhov's classic comedy-drama.
Gallery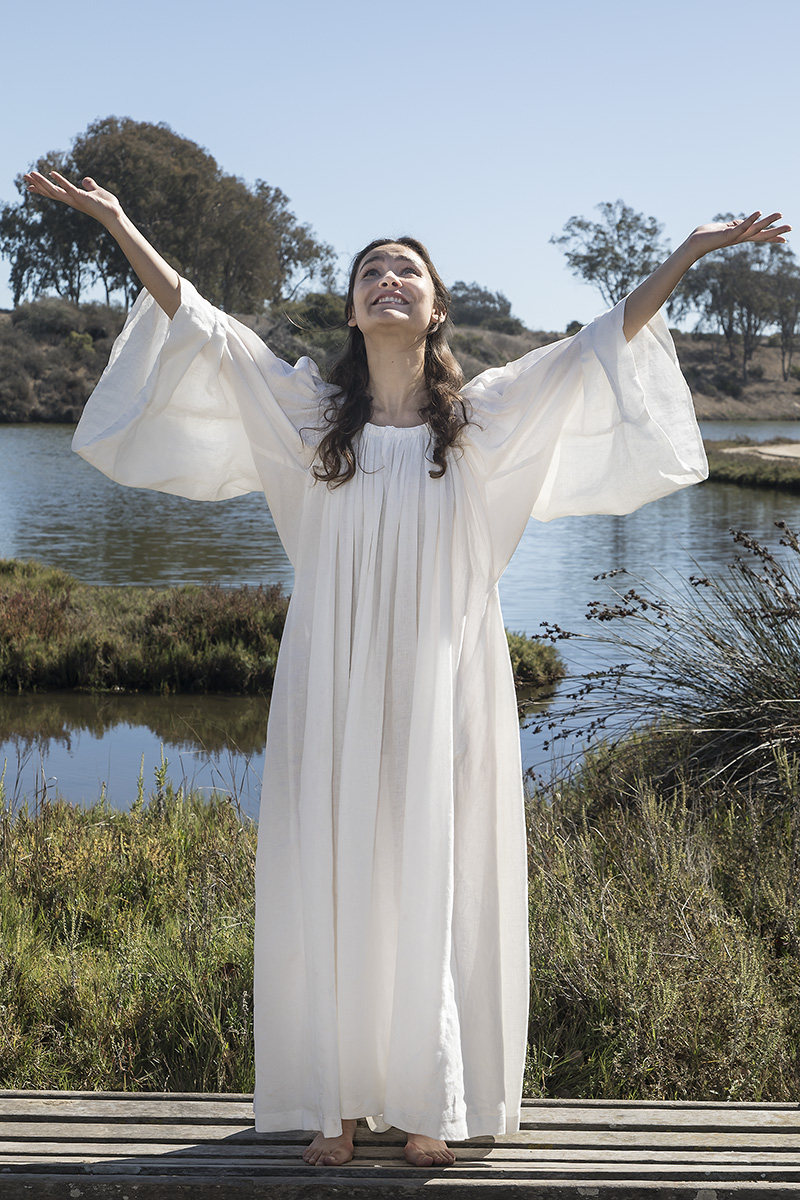 photo by David Bazemore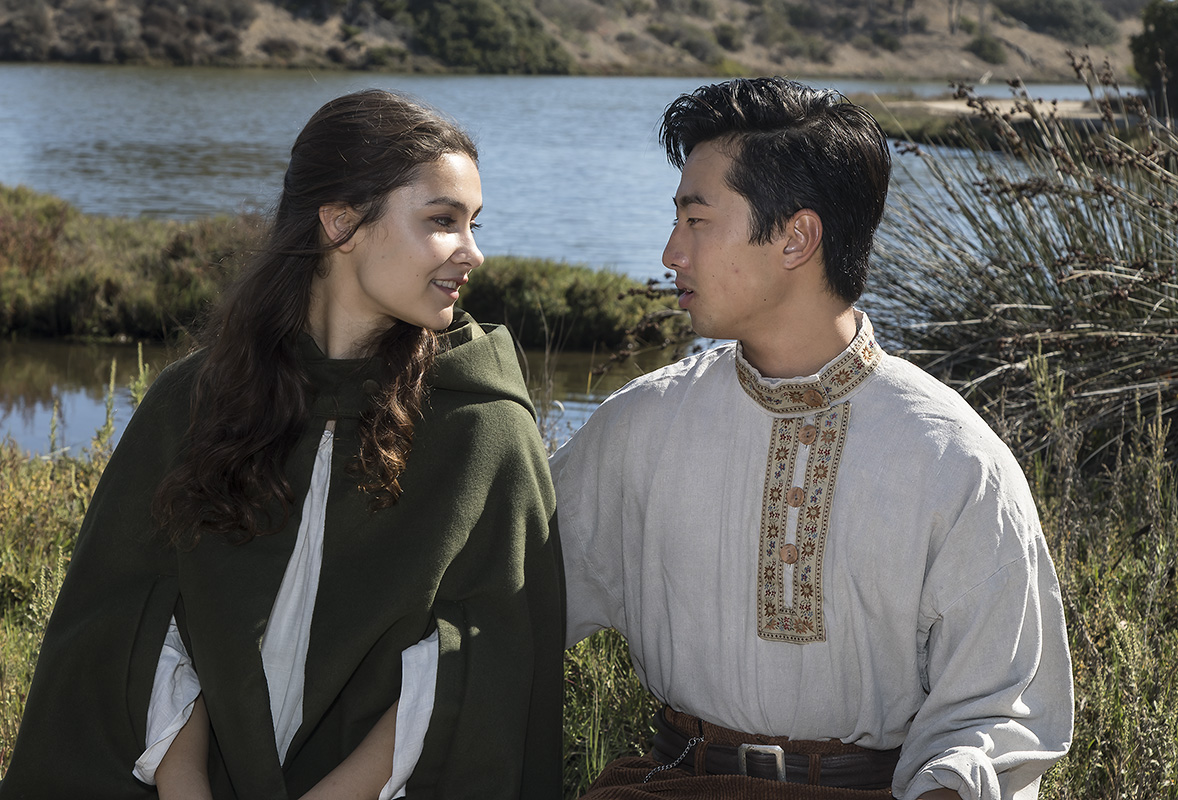 photo by David Bazemore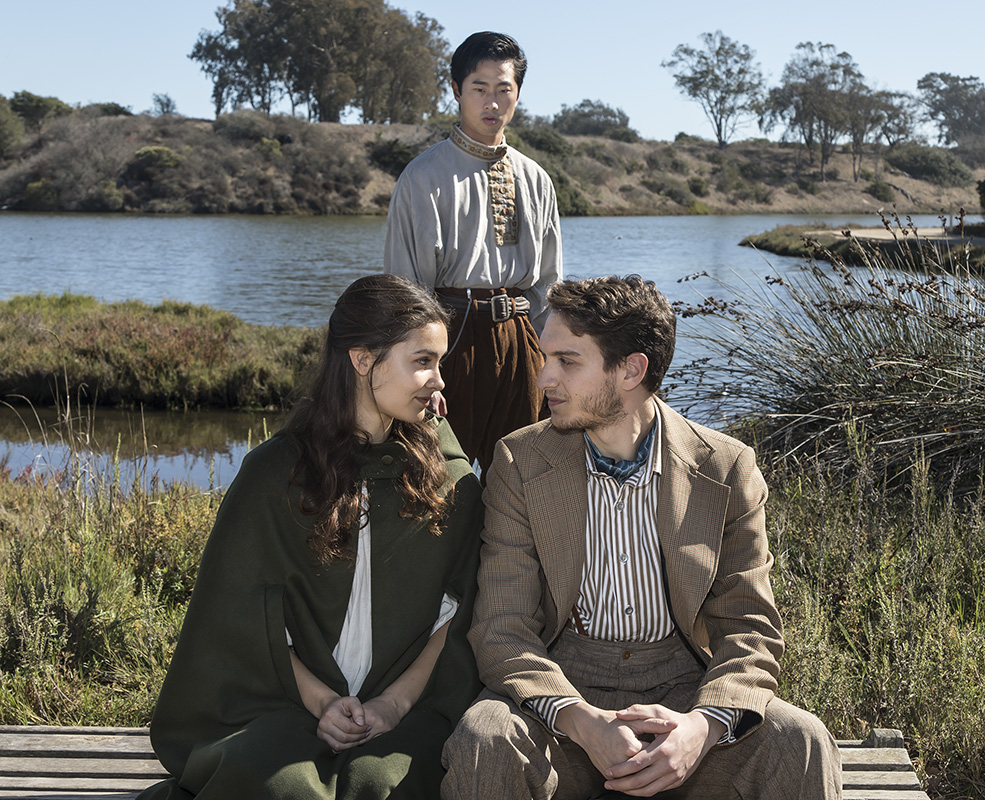 photo by David Bazemore
COVID-19 Policies
Proof of full vaccination or a negative COVID-19 test result must be presented for entry. Full vaccination means a final vaccine dose is administered at least 14 days prior to the event. Vaccine verification documentation will be required upon arrival, along with government-issued photo ID. Negative COVID-19 test results must be from a PCR test performed by a state-approved provider administered no more than 72 hours prior to the performance if you are not vaccinated (rapid or Antigen tests are not accepted as a proof for entry). This vaccine requirement also applies to university students, staff, and volunteers.
Proof of vaccination or negative COVID-19 PCR tests can be supplied upon arrival to the venue in several ways:
Physical vaccination card or negative COVID-19 PCR test paperwork and a photo ID.

Photo of your vaccination card or negative COVID-19 PCR test through your smartphone and a photo ID. (Guests younger than 18 may use a school photo ID.)

Digital COVID-19 Vaccine Record:  HTTPS://MYVACCINERECORD.CDPH.CA.GOV/.

Green UCSB COVID-19 Clearance Survey Badge.
Masks must be worn at all times in our indoor venues. Patrons must bring and wear their own face coverings that fully cover both the nose and mouth or use one provided by the department as available. Face shields and/or goggles with a mask are acceptable, but are not acceptable on their own. Masks are required at all times in the lobby, restrooms, and in the venues during performances.
Masks during outdoor performances is highly encouraged.
A note about our venues: All buildings on campus have been evaluated by UCSB Design, Facilities & Safety services in consultation with campus and outside experts, and ventilation meets standards defined by the California Department of Public Health and Cal/OSHA. Our Facilities Management colleagues have sought to maximize building ventilation and filtration levels wherever possible, consistent with best industry practices.
The department will continue to share safety updates by email, social media, and through our website as the 21-22 events continue. If you are feeling under the weather, please stay home and continue regular handwashing and hand sanitizing. Thanks for being a partner with the campus community to make our events accessible and safe.
CA Dept of Public Health Vaccination site: HTTPS://WWW.CDPH.CA.GOV/PROGRAMS/CID/DCDC/PAGES/COVID-19/COVID19VACCINES.ASPX
CA Dept of Public Health Testing site: HTTPS://WWW.CDPH.CA.GOV/PROGRAMS/CID/DCDC/PAGES/COVID-19/TESTING.ASPX
August 16, 2021 - 3:14pm