Event Date:
Saturday, November 6, 2021 - 1:00pm

to

Sunday, November 7, 2021 - 1:00pm
Saturday, November 6, 2021 - 7:00pm
Tuesday, November 9, 2021 - 7:00pm
Friday, November 12, 2021 - 7:00pm

to

Sunday, November 14, 2021 - 7:00pm
Saturday, November 13, 2021 - 1:00pm

to

Sunday, November 14, 2021 - 1:00pm
Event Date Details:
NOV 6 - 7, 2021 / 1 pm
NOV 6, 2021 / 7 pm
NOV 9, 2021 / 7 pm
NOV 12 - 14, 2021 / 7 pm*
NOV 13 - 14, 2021 / 1 pm
*NEW PERFORMANCE ADDED (NOV 14 at 7 pm)
Event Price:
PRE-SALE
$13 - UCSB Faculty, Staff, Alumni & Students, Seniors, Children
$17 - General Audience
DAY OF
$15 - UCSB Faculty, Staff, Alumni & Students, Seniors, Children
$19 - General Audience
For more info on tickets and seating, click here.
by Greg Allen              directed by Michael Bernard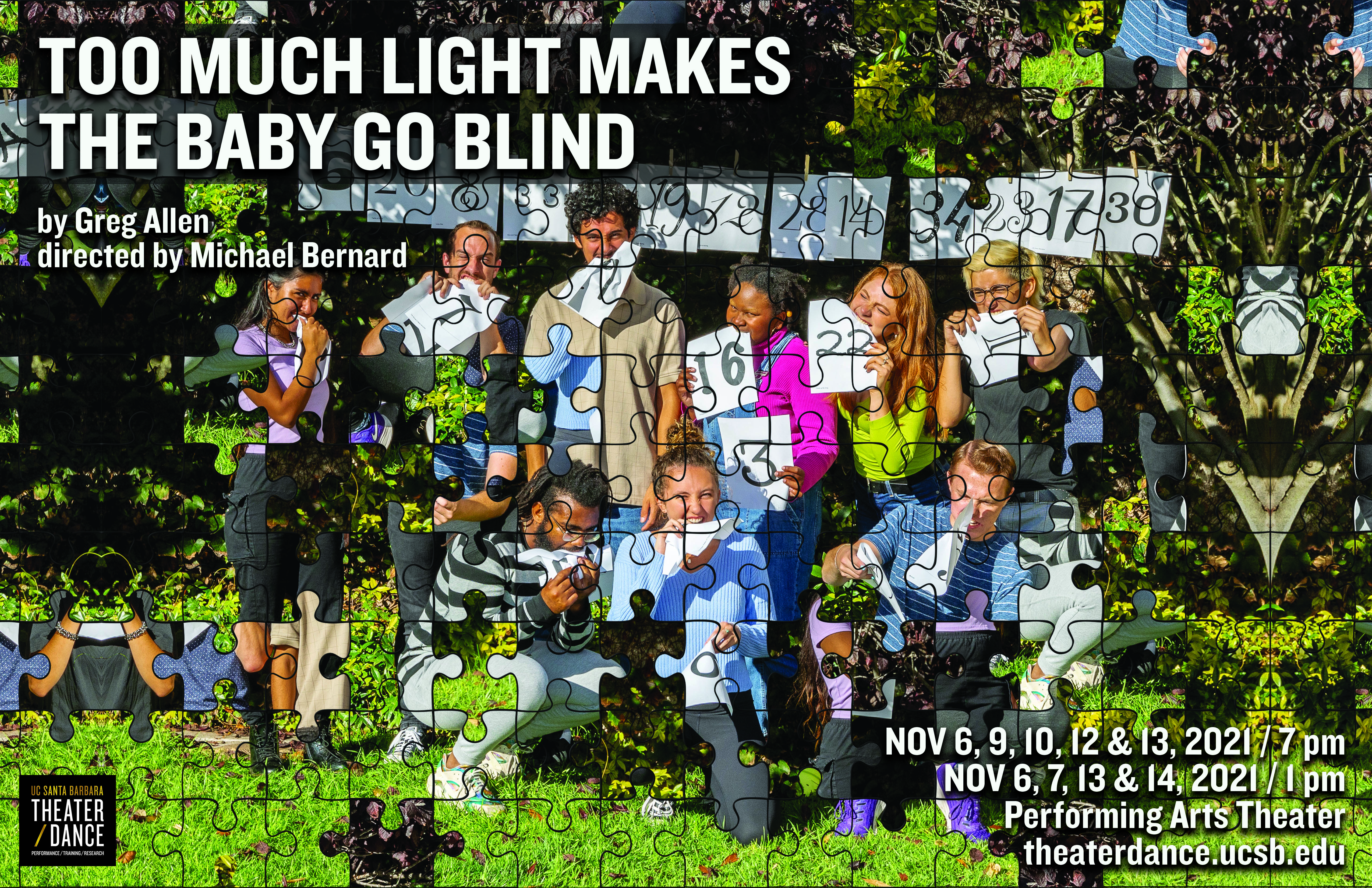 About the play
Too Much Light Makes The Baby Go Blind is an ensemble exploration in presenting 35 plays in 70 minutes. Each two-minute play is performed in random order with an interactive audience.
About the playwright
Greg Allen is the Founding Director of The Neo-Futurists and creator of Too Much Light Makes The Baby Go Blind (30 Plays in 60 Minutes), which has been running 50 weeks a year in Chicago since 1988 and in New York since 2004. He is also author of such plays as The Last Two Minutes of the Complete Works of Henrik Ibsen, The Strange and Terrible True Tale of Pinocchio (the Wooden Boy) As Told By Frankenstein's Monster (the Wretched Creature), Sleeping with the Prince of Darkness: The Imagined Pillow-Talk of FBI Agent John O'Neill, A Child's History of Bombing, H2O, and K., his award-winning adaptation of Kafka's The Trial. His collaboration The Complete Lost Works of Samuel Beckett As Found In An Envelope (partially burned) In A Dustbin In Paris Labeled "Never to be performed. Never. EVER! Or I'll Sue! I'LL SUE FROM THE GRAVE!!!" has had 12 sold-out award-winning international productions, and his legendary production of all 9 acts and 7 hours of Eugene O'Neill's Strange Interlude inspired hecklers and immediate standing ovations at the Goodman Theatre's 2009 O'Neill Festival. Mr. Allen teaches at the University of Chicago, DePaul University, Actors Theatre of Louisville, the National Theater Institute at the Eugene O'Neill Center, The Neo-Futurarium in Chicago, and in residencies all over the world.
About the director
Michael Bernard spent 10 years as the Associate Artistic Director of The 52nd Street Project, a nationally recognized theater company that creates original theater with kids from Hell's Kitchen New York City and theater professionals. Michael wrote, directed, and performed in many original plays at The Project.
He also directed Twelfth Night, A Midsummer's Nights Dream and As You Like It featuring teenagers and adult actors which toured to London and France. At UCB NYC Michael directed shows including The Chipperton Family Vocaltainers Shooby Dooby Dooby Hour which was an official selection of The HBO Comedy Festival in Aspen. In Santa Barbara he spent four years as the Artistic Director of Elements Theater Collective where he played King Charles/William Scott/Lady Davenant in Or, Richard Nixon in, Nixon's Nixon, and Sorn in Stupid F-ing Bird. He also directed In a Word and ran their annual Play in a Day theater festival.
He played Stephano in The Tempest, Gayev in The Cherry Orchard, and Cassius in Julius Caesar with the LitMoon Theater Company (toured to Albania, Armenia, Georgia and Macedonia for International Festivals). He played Francis Henshall in One Man Two Guvnors at SBCC and Howard in Death of a Salesman at the Ensemble Theatre Company. He is a company member of Immediate Theater an LA improv company dedicated to the creation improvised one act plays.
He wrote the script for the musical revue Baseball Swing at the Wallis Annenberg Center in Los Angeles and his play A-Li-En the Family was featured in "Sci-Fest," LA's first Science Fiction Theater Festival. He was then commissioned to adapt two Neil Gaiman stories The Case of Four and Twenty Blackbirds and The Secret of Innsmouth for the second and third "Sci-Fests." Michael co write the original web series Ashes to Ashes which was an official selection of The Hollyweb festival and can be seen at ASHESTOASHESTHESERIES.COM. He has also written for Disney, Nickelodeon, Henson Productions, Nick at Nite, DC Comics, Showtime, Spike TV, The Sundance Channel, Noggin, WE, MTV, VH1 and some commercials you probably fast forwarded past. Michael teaches in the Theater Programs at UCSB and SBCC, as well as for the Young Actors Conservatory and The Young Playwrights Festival at ETC, and at The Creative Arts Workshop.
Performance Checklist
BRING THE PROOF OF VACCINATION AND ID OR NEGATIVE PCR TEST TAKEN IN THE LAST 72h OR SHOW THE GREEN BADGE 
BRING AND WEAR A MASK
COME EARLY FOR COVID COMPLIANCE CHECK (THERE IS NO LATE SEATING)
Program
To download the Too Much Light Makes the Baby Go Blind program, please click HERE.
To view the program online, please click on program image page below.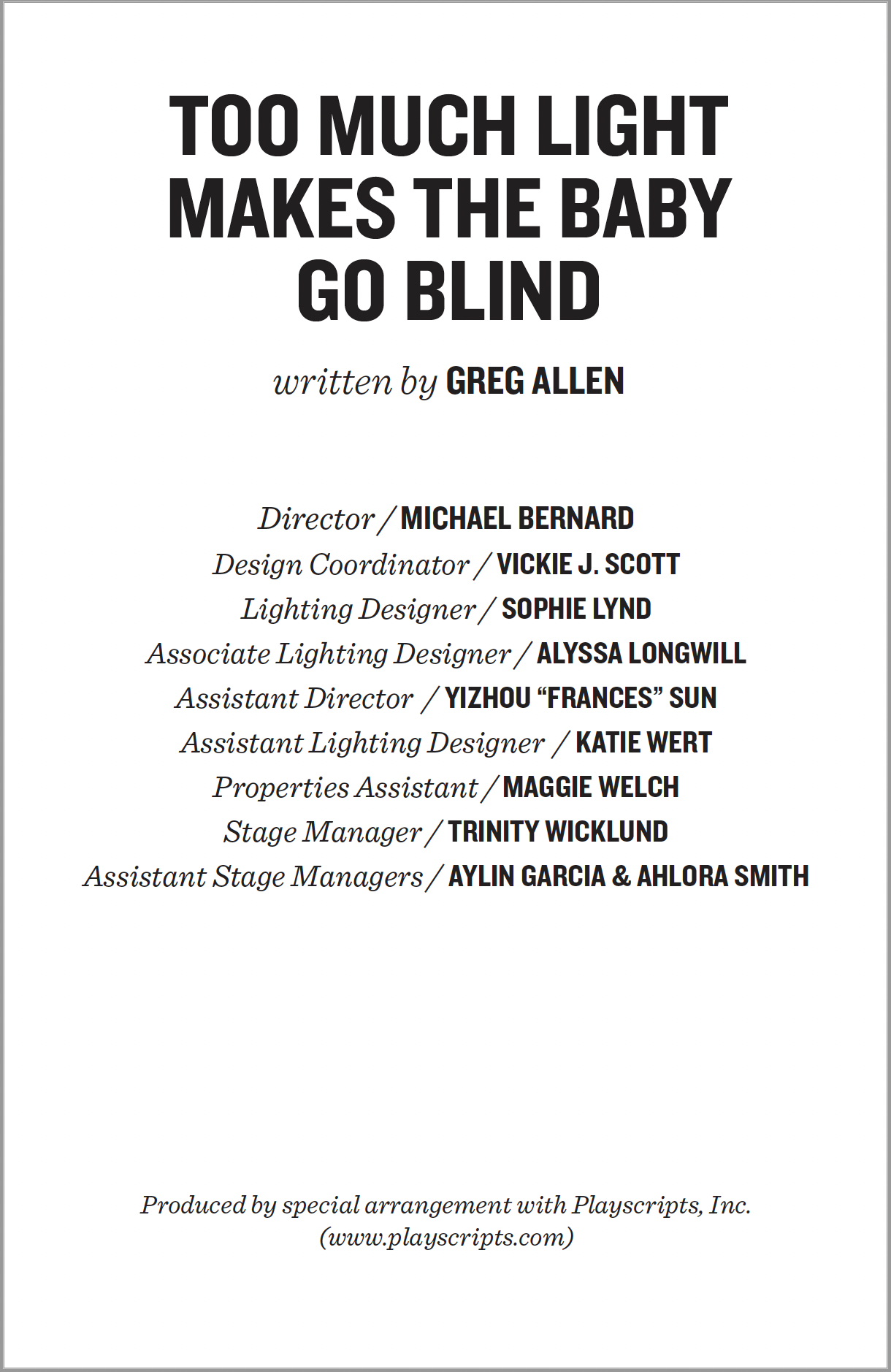 Media
"One of the main objectives for me while working on this play was finding ways to make the cast feel empowered and in control," so UCSB students in the cast can take ownership of the play in their own right, said Michael Bernard, the director of the show and a UCSB lecturer.
- Santa Barbara Newspress Preview Article
Gallery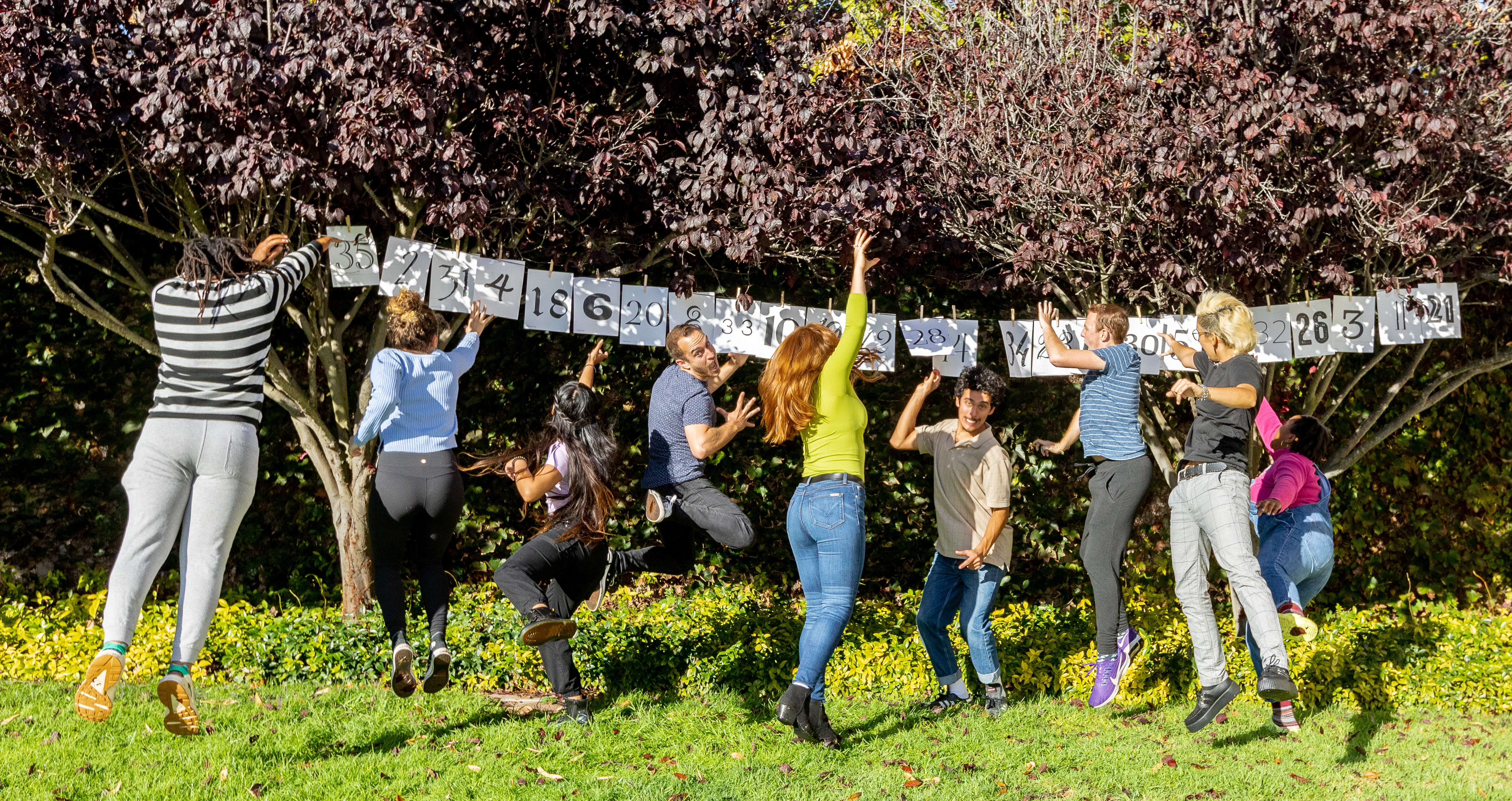 photo by Fritz Olenberger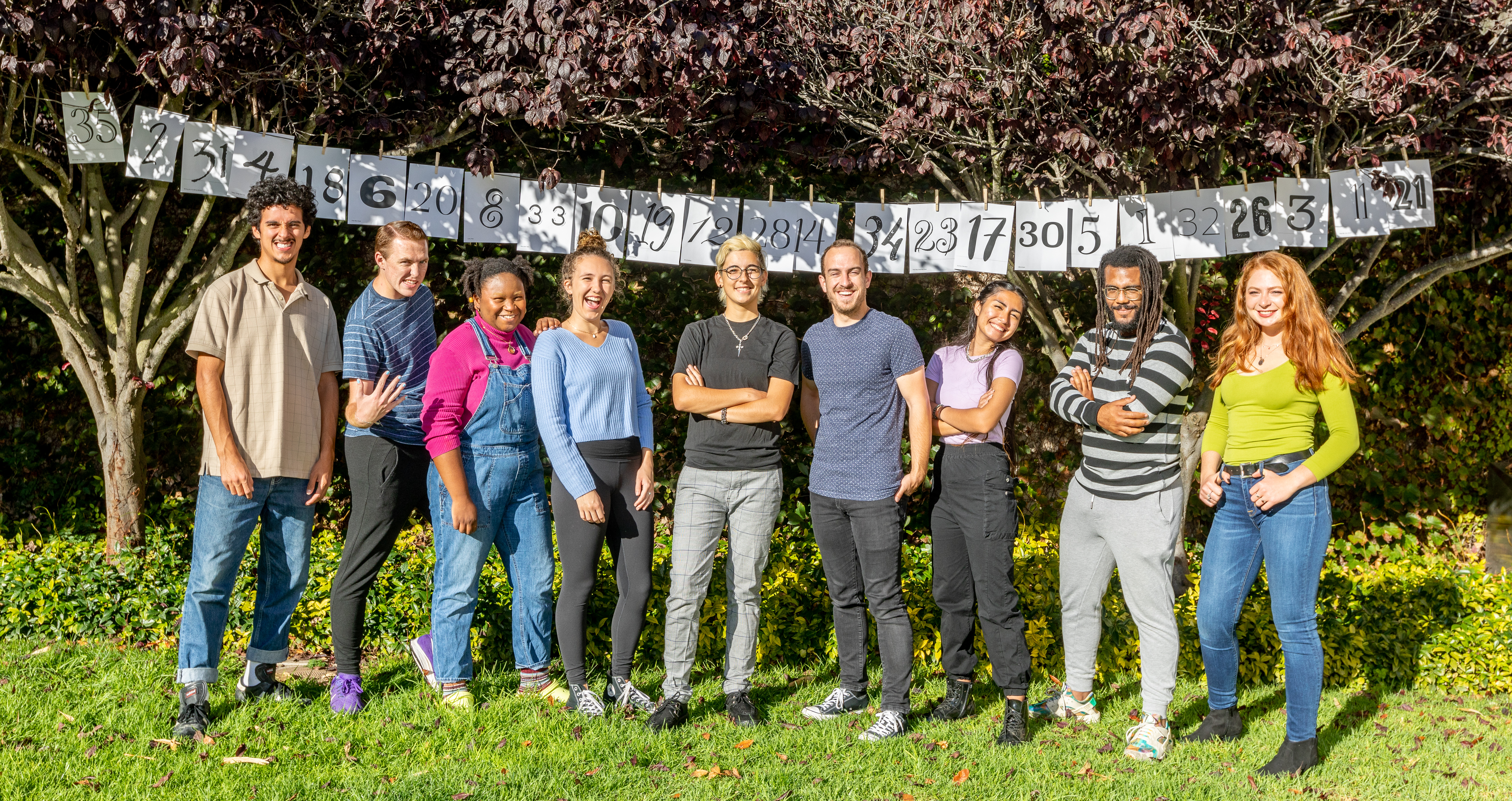 photo by Fritz Olenberger
COVID-19 Policies
Proof of full vaccination or a negative COVID-19 test result must be presented for entry. Full vaccination means a final vaccine dose is administered at least 14 days prior to the event. Vaccine verification documentation will be required upon arrival, along with government-issued photo ID. Negative COVID-19 test results must be from a PCR test performed by a state-approved provider administered no more than 72 hours prior to the performance if you are not vaccinated (rapid or Antigen tests are not accepted as a proof for entry). This vaccine requirement also applies to university students, staff, and volunteers.
Proof of vaccination or negative COVID-19 PCR tests can be supplied upon arrival to the venue in several ways:
Physical vaccination card or negative COVID-19 PCR test paperwork and a photo ID.

Photo of your vaccination card or negative COVID-19 PCR test through your smartphone and a photo ID. (Guests younger than 18 may use a school photo ID.)

Digital COVID-19 Vaccine Record:  HTTPS://MYVACCINERECORD.CDPH.CA.GOV/.

Green UCSB COVID-19 Clearance Survey Badge.
Masks must be worn at all times in our indoor venues. Patrons must bring and wear their own face coverings that fully cover both the nose and mouth or use one provided by the department as available. Face shields and/or goggles with a mask are acceptable, but are not acceptable on their own. Masks are required at all times in the lobby, restrooms, and in the venues during performances.
Masks during outdoor performances is highly encouraged.
A note about our venues: All buildings on campus have been evaluated by UCSB Design, Facilities & Safety services in consultation with campus and outside experts, and ventilation meets standards defined by the California Department of Public Health and Cal/OSHA. Our Facilities Management colleagues have sought to maximize building ventilation and filtration levels wherever possible, consistent with best industry practices.
The department will continue to share safety updates by email, social media, and through our website as the 21-22 events continue. If you are feeling under the weather, please stay home and continue regular handwashing and hand sanitizing. Thanks for being a partner with the campus community to make our events accessible and safe.
CA Dept of Public Health Vaccination site: HTTPS://WWW.CDPH.CA.GOV/PROGRAMS/CID/DCDC/PAGES/COVID-19/COVID19VACCINES.ASPX
CA Dept of Public Health Testing site: HTTPS://WWW.CDPH.CA.GOV/PROGRAMS/CID/DCDC/PAGES/COVID-19/TESTING.ASPX
August 16, 2021 - 3:02pm