Event Date:
Friday, June 4, 2021 - 7:00pm

to

Saturday, June 5, 2021 - 7:00pm
Event Location:
Zoom: http://tinyurl.com/calderonslifeisadream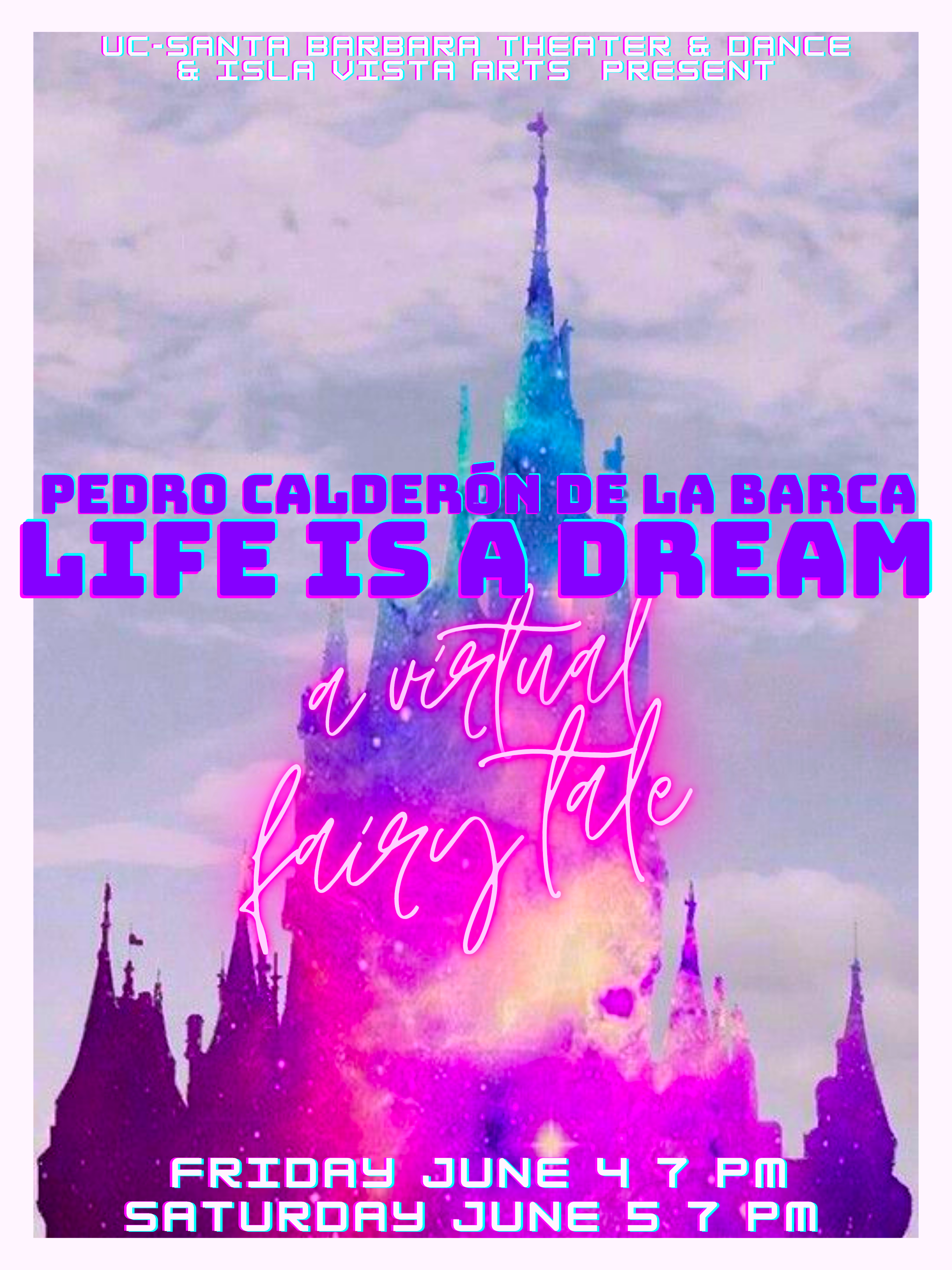 About the play
A prince is born in a faraway palace.
His horoscope reads that he will destroy his kingdom.
The king decides to hide him from the world.
And so the prince lives alone, locked away for twenty-five years.
Until, one day, a young woman and her servant
on a quest for revenge stumble across a tower in the mountains...
UCSB's Department of Theater and Dance & IV Arts proudly present Pedro Calderón de la Barca's Life is a Dream. This three-hundred year old Spanish Golden Age drama has been adapted from Nilo Cruz's contemporary text for the digital stage. Join us for this surreal, swashbuckling fable that asks us all: is our fate written in our own ink, or in the stars?
About the playwright
Like many of his contemporaries, Pedro Calderón de la Barca (1600-1681) was a prolific playwright; he is thought to have written more than 200 plays, of which about 100 survive. Educated at a Jesuit preparatory school, he entered a poetry competition and came to the attention of one of the judges, Lope de Vega, the most notable playwright of the era. Calderón's plays were popular both at court and in the public theaters; with the death of Lope in 1635, Calderón become the most important playwright in Spain. He was knighted by Philip IV and became the principal court playwright in 1636, the year that La vida es sueno (Life is a Dream) was produced. Throughout his career, Calderón also wrote autos sacramentales, plays celebrating the sacrament of the Holy Eucharist and akin to English morality and cycle plays. Following the death of his mistress, Calderón entered the priesthood, but because the church objected to his playwriting, he wrote autos exclusively thereafter; his were so popular that for almost forty years the only autos performed in Madrid were by Calderón.
About the director
Jo Palazuelos-Krukowski is a PhD candidate in theatre at UC-Santa Barbara. She has put stories on stage with the Royal Shakespeare Company, the Moth, the Oregon Shakespeare Festival, and Seoul Shakespeare Company.
Director's Note
In the 1920s, theatre artists were presented with a new powerhouse of communications technology. Cheaper than opera tickets and flooding living rooms with the turn of a dial, radio brought theatre home to us. Performers who were long-accustomed to proscenium arches, applauding live audiences, and expanses of stage to build a universe upon were tasked with transmitting their living, breathing stories over the airwaves. In 2020, artists suddenly found themselves with a comparable challenge: constructing dramatic universes over Zoom. Throughout the past year, we've come to appreciate the bleary wonders of Zoom performance as an ordered series of living paintings on a digital screen. Zoom is like any other medium – a technological extension of ourselves. It has its limitations but also its unique strengths. A cross between radio, film, and live theatre, online performance is intimate, visual, and personal. There is a magic to be found for performers on Zoom: we share a screen and a space with the familiar faces that populate your life.
Few tales are as well-suited to our pandemic moment as Pedro Calderón de la Barca's Spanish Golden Age classic La vida es sueño. Life is a Dream tells the tale of a star-crossed young man imprisoned in a tower, a woman in disguise seeking revenge, and a sundry crew of court members trying to save the nation and themselves. Nilo Cruz's adaptation abounds with the delicate flourishes, subtle humor and existential interrogations of the originary seventeenth century text. Calderon's themes can be found in cultural touchstones that shape us today: Oedipus Rex, Hamlet, Star Wars, The Matrix. Should we indulge or overcome our impulses? Is our phenomenological experience real, or an illusion?  Are we in control of our own destiny? After three hundred years, Calderón' story still reminds us that our fate is in our own hands.
Program
To download the La vida es sueño program, please click HERE.
To view the program online, please click on program image page below.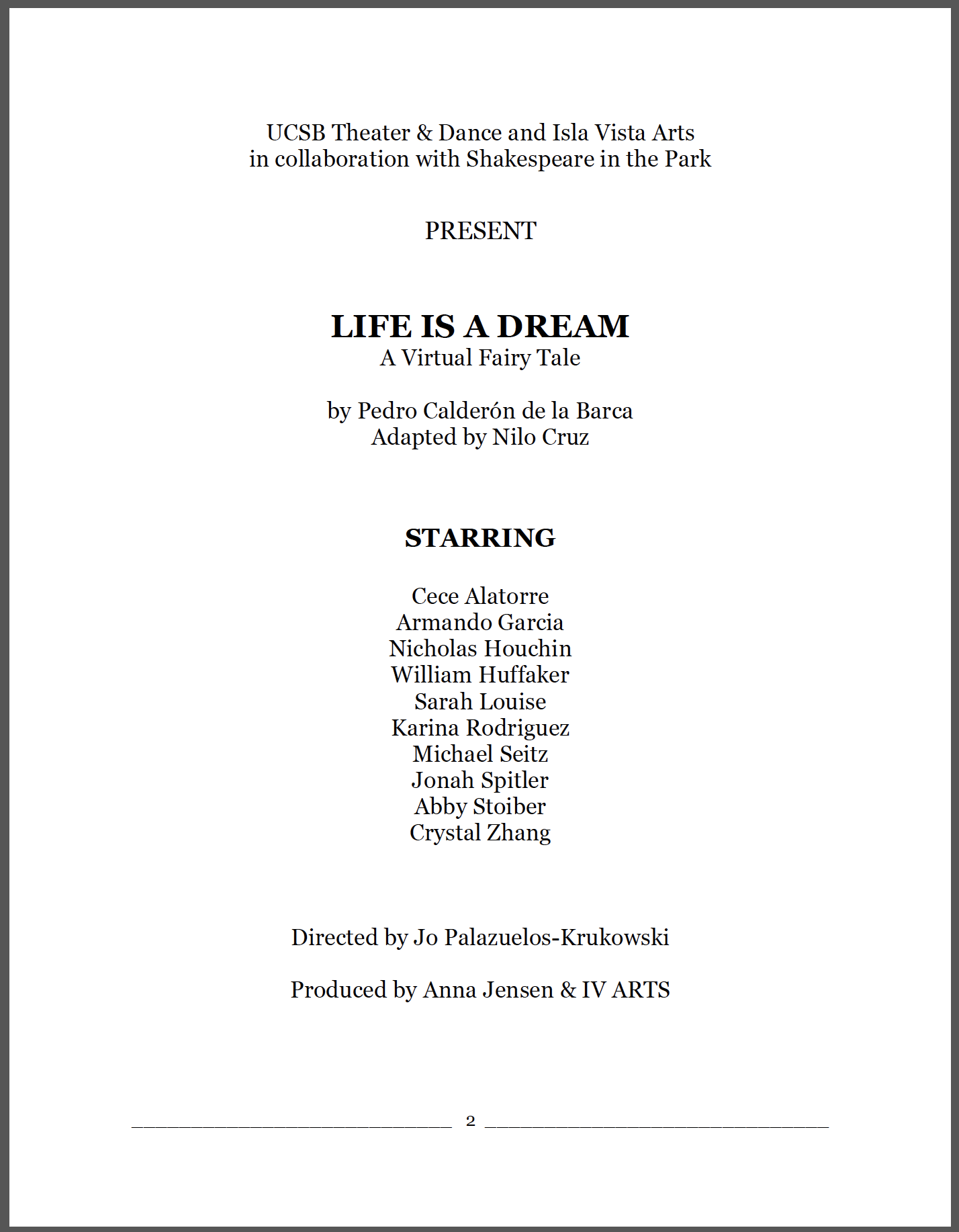 May 10, 2021 - 5:33pm