Event Date:
Friday, February 26, 2021 - 7:00pm

to

Saturday, February 27, 2021 - 7:00pm
Saturday, February 27, 2021 - 1:00pm

to

Sunday, February 28, 2021 - 1:00pm
Event Location:
Zoom: https://bit.ly/3mDmxSk
conceived, written and originally performed by Anna Deavere Smith     directed by Risa Brainin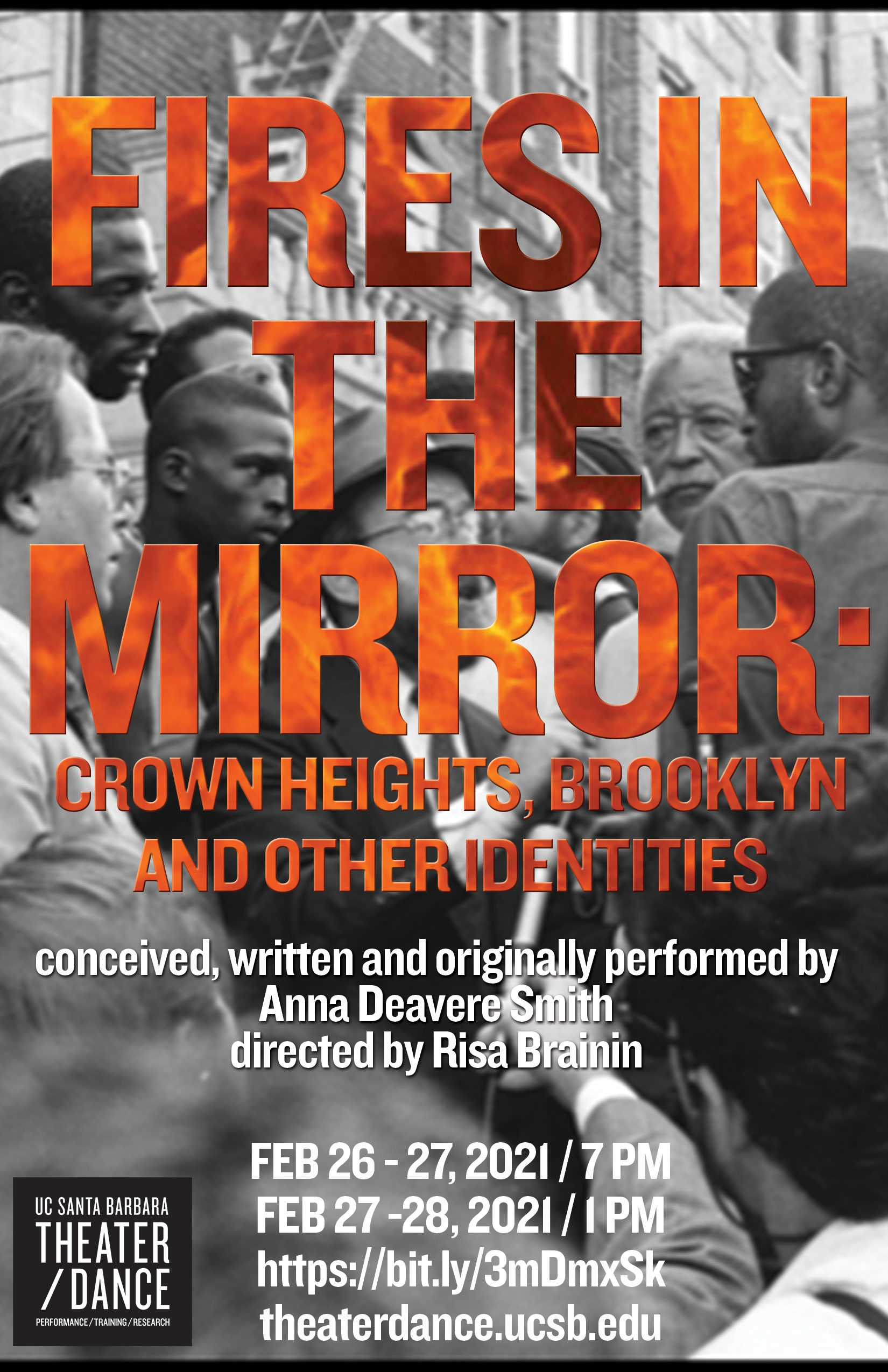 About the Play
There are three sides to every story: yours, mine and the truth. Following the deaths of a Black American boy and a young Orthodox Jewish scholar in the summer of 1991, underlying racial tensions in the nestled community of Crown Heights, Brooklyn erupted into civil outbreak. Fires in the Mirror was Anna Deavere Smith's groundbreaking response. Birthed from a series of interviews with over fifty members of the Jewish and Black communities, the Drama Desk award-winning work translated their voices verbatim, and in the process revolutionized the genre of documentary theatre. (Original Copy)
About the Playwright
Playwright, actor, and educator Anna Deavere Smith uses her singular brand of theatre to explore issues of community, character, and diversity in America. The MacArthur Foundation honored Smith with the "Genius" Fellowship for creating "a new form of theatre — a blend of theatrical art, social commentary, journalism, and intimate reverie."
Best known for crafting more than 15 one-woman shows drawn from hundreds of interviews, Smith turns these conversations into scripts and transforms herself onstage into an astonishing number of characters. In her speaking events, Smith discusses the many "complex identities of America," and interweaves her discussions with portrayals of people she has interviewed to illustrate the diversity of emotions and points of view on controversial issues.
Her most recent play, Notes from the Field, looks at the School-to-Prison Pipeline and injustice and inequality in low-income communities. Winner of an Obie Award and the 2017 Nortel Award for Outstanding Solo Show, Notes from the Field was named one of the Top 10 Plays of the year by Time magazine. The film adaptation of Notes from the Field is available through HBO, while the paperback adaptation, Notes from the Field, is a collection of students and teachers, counselors and congressmen, preachers and prisoners, discussing their direct and indirect experiences with the School-to-Prison Pipeline.
In 2012, Smith was awarded the National Humanities Medal, presented by President Obama and in 2015, she was named the Jefferson Lecturer, the nation's highest honor in the humanities. She also is the recipient of the prestigious Dorothy and Lillian Gish Prize, a Guggenheim Fellowship, and most recently, the 2017 Ridenhour Courage Prize and the George Polk Career Award for authentic journalism.
Smith's breakthrough plays, Fires in the Mirror, a runner-up for the Pulitzer Prize, and the Tony-nominated Twilight: Los Angeles, tackle issues of race and social inequality that have become touchstones of her work. Her portrayals of patients and medical professionals in Let Me Down Easy delivered a vivid look at healthcare in the United States. The show aired on PBS' Great Performances. 
Currently, Smith appears on ABC's hit series Black-ish and the ABC legal drama For the People. She is probably most recognizable as the hospital administrator on Showtime's Nurse Jackie and the National Security Advisor on NBC's The West Wing. Her films include The American President, Rachel Getting Married, and Philadelphia.
Smith is the founding director of the Institute on the Arts and Civic Dialogue, which was launched at Harvard University and is now housed at New York University, where she is a Professor at Tisch School of the Arts. Her books include Letters to a Young Artist and Talk to Me: Listening Between the Lines. 
She has been an Artist-in-Residence at MTV Networks, the Ford Foundation, and Grace Cathedral in San Francisco. Smith was appointed to Bloomberg Philanthropies' 2017 U.S. Mayors Challenge Committee, a nationwide competition urging innovative solutions for the toughest issues confronting U.S. cities. She holds honorary degrees from Yale, the University of Pennsylvania, and Julliard, among others.
About the Director
Risa Brainin is a freelance director and Founder/Artistic Director of the groundbreaking new play development program LAUNCH PAD at UCSB.
Brainin served as Artistic Director of Shakespeare Santa Cruz, Associate Artistic Director for both Kansas City Repertory Theatre and Indiana Repertory Theatre. From 1987-1997, she resided in Minneapolis and had a rich association with the Guthrie Theater, serving as Resident Director, Associate Company Director, and acting instructor in the company's outreach program.  Ms. Brainin directed for many other companies in the Twin Cities including Mixed Blood, Illusion Theatre, History Theatre, SteppingStone Theatre and the Cricket Theatre. Other directorial credits include plays at Denver Center Theatre Company, Syracuse Stage, Pittsburgh Public Theater, Playmakers Repertory Company, Kansas City Repertory Theatre, Alabama Shakespeare Festival, American Players Theatre, Actors' Theatre of Louisville, Milwaukee Repertory Theatre, Great Lakes Theatre Festival, Portland Stage Company, Actors' Theatre of Kansas City, New Harmony Project, Shakespeare Festival of St. Louis, Idaho Shakespeare Festival, Ensemble Theatre, Repertory Theatre of St. Louis, Clarence Brown Theatre, TheatreSquared, and the Red Bull Theatre.
She directed the premiere of Bob Stromberg's That Wonder Boy in Minneapolis and the United Solo Festival in NY (WINNER: United Solo Fesival and Backstage Award, Best One Man Show and Best Direction, 2015) and Annie Torsiglieri's "A" Train also at the United Solo Festival in NY (WINNER: Best Production, 2017; Best Encore, 2018). 
Since creating LAUNCH PAD in 2005, Brainin has developed and directed many new works by distinguished writers including Deborah Brevoort, Jami Brandli, Dan Castellaneta, Mia Chung, Yussef El Guindi, Anne Garcia-Romero, Idris Goodwin, Enid Graham, Declan Hughes, Arlene Hutton, Deb Lacusta, Barbara Lebow, Joyce Carol Oates, Sarah Ruhl,  Cheri Steinkellner, James Still, Alison Tatlock, John Walch, and Cheryl L. West, and Sheri Wilner. LAUNCH PAD was featured in American Theatre magazine for its innovation and contribution to new play development.
A graduate of the Carnegie-Mellon University Drama Program, Brainin served as President of the Board of Trustees of the National Theatre Conference and was recently inducted into the College of Fellows of the American Theatre for her distinguished contribution to theatre in the United States. 
www.risabrainin.com
 (Pronouns: she, her, hers)
Program
To download the Fires in the Mirror program, please click HERE.
To view the program online, please click on program image page below.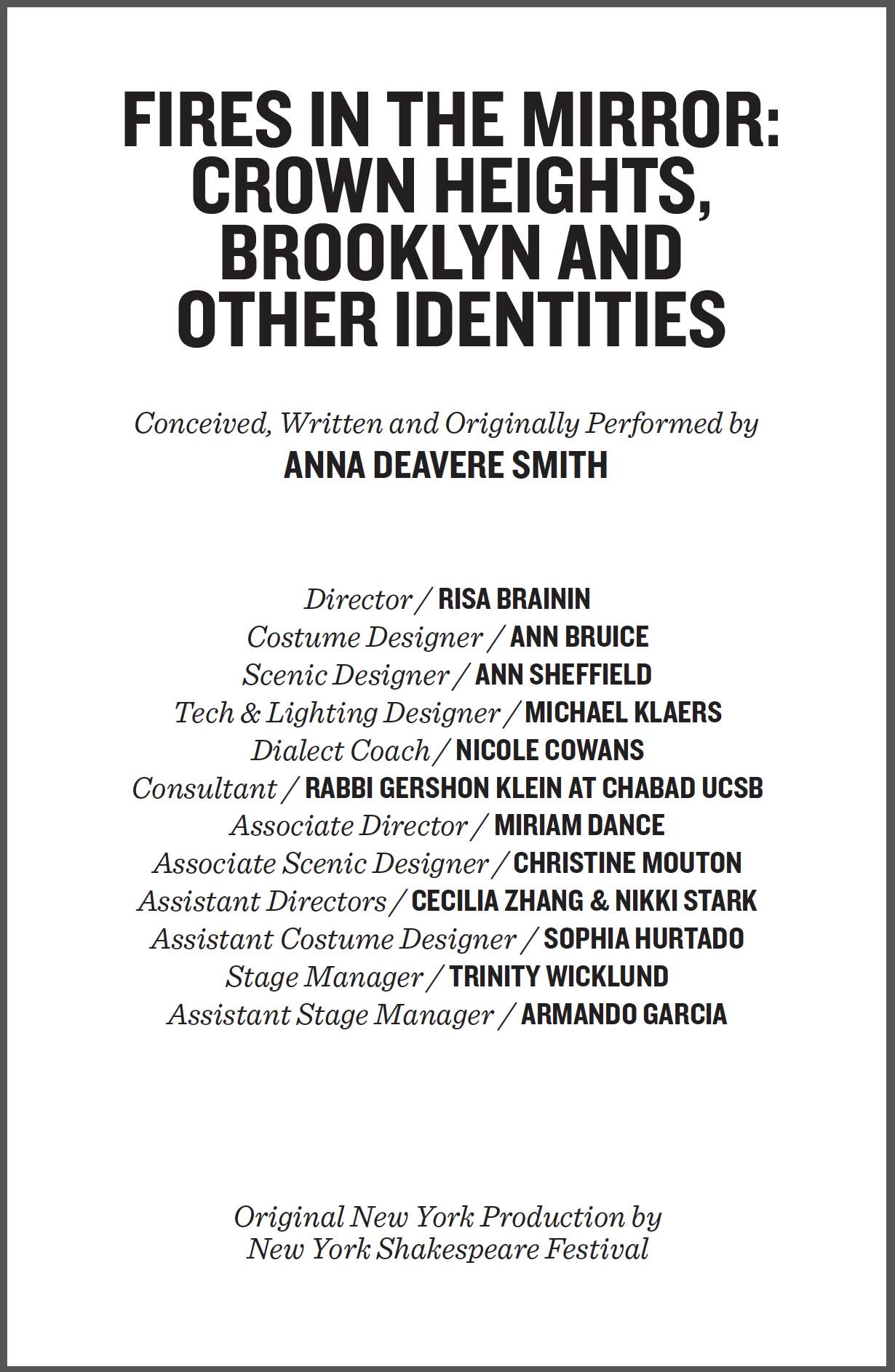 December 3, 2020 - 3:34pm