Event Date:
Thursday, March 4, 2021 - 6:00pm

to

Sunday, March 7, 2021 - 12:00pm
Event Date Details:
MAR 4, 2021 / 6 PM - Opening remarks and streaming of the show followed by Q&A
MAR 4 - 7, 2021 on demand
Event Location:
Opening Night - online
WATCH THE PLAY - online
by Chelsea Marcantel     directed by Kate Bergstrom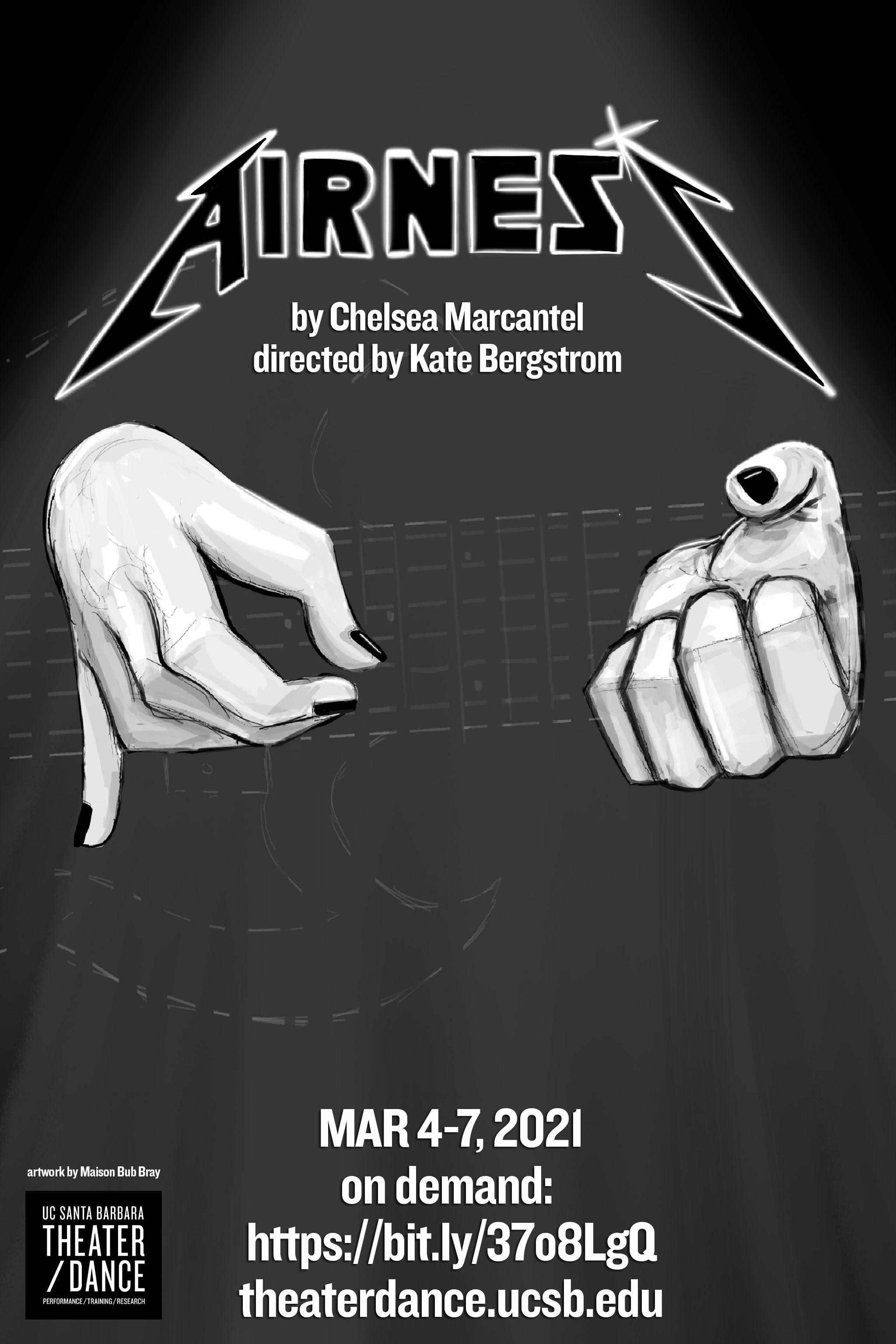 About the play
Written by Chelsea Marcantel, Airness is a wonderful comedy about the air guitar community, competition, completion, and finding the airness inside yourself. It is an exuberant reminder that everything we need to rock is already inside us.
About the playwright
Reared by Cajuns in southwest Louisiana, Chelsea has lived and made theatre among the peoples of the Midwest, Appalachia, the Mid-Atlantic, and now the West Coast. In 2016, she completed a Lila Acheson Wallace American Playwrights Fellowship at The Juilliard School. Her plays, which have been produced across the US and Canada, include Airness, Everything is Wonderful, Tiny Houses, Ladyish, Devour, and the online theatrical experience Citizen Detective.
Chelsea has been entrusted with teaching young minds at Virginia Intermont College and Emory & Henry College, and loved every minute of it.  As a writer, she is extremely interested in humans as small-group primates, and what happens when the rules and value systems of our chosen groups cease to serve us.  She reads a lot of books, watches a lot of documentaries, and listens to a lot of podcasts.  Chelsea is an enthusiastic member of The Writers Guild of America and The Dramatists Guild, and runs with a kick-ass group of activists called The Kilroys.
Current commissions:  Chicago Shakespeare Theatre, Geffen Playhouse, Cleveland Play House, Signature Theatre DC, as well as musical projects with Broadway producers Jeffrey Richards, Blue Spruce, and SBK Productions.
About the director
Kate Bergstrom, a west-midwest, queerdo/they/she human (non-binary femme presenting), is an intermedia artist who functionally considers them/herself a director, mostly for theatre, but also for video/immersive/film/tv narrative work. They/she is also a passionate supporter of great artists of all kinds- a dramaturg, creative producer, new play whisperer and audio making fiend. Now residing in NYC, their work has been seen regionally at Trinity Rep (A Christmas Carol), Marin Theatre Company (Noura by Heather Raffo), Cleveland Play House (Workshop Galilee 34 by Eleanor Burgess), LATC X We The Women (Fill Fill Fill Fill Fill Fill Fill by Steph Del Rosso), Opera San Diego (OSB), Music Academy of the West (The Shakespeare Salon), REDCAT (Wholed), LACMA and more. In NYC, she has directed work at Ars Nova (Hotbox), The Bushwick Starr (Workshop: On the Y-Axis), Rattlestick Theater (Workshop: Red Bike), New Dramatists (Workshop: Orange Balloon by Erin Courtney), JACK (h0t club FISHXSEAFOOD), Dixon Place (Anne Frank Live at the Plaza by Evan Horwitz) + Access Theatre (Workshop: These Walls). They are a proud member of SDC, New Georges Affiliated Artist, and member of the intermedia performance group, h0t club. They've whispered new plays everywhere from Playwrights Center to Curious Theatre Company (Denver) to Ojai Playwrights Conference.
Central Coast BroadwayWorld.com's 2016 Person to Watch + 2017 Best Director. Founding Artistic Director of On The Verge Summer Repertory Company in Santa Barbara  & Explosions From the Other Canon @ Brown.MFA, Brown/Trinity.
Kate is also critic at Rhode Island School of Design and co-teaches  "Performing the Internet" at NYU + The New School. They currently hold a guest lectureship appointment at UC Santa Barbara and UC Los Angeles and help develop strategic anti-racist action plans for a number of companies.
Her directorial work, described as "haunting, intimate and provocative"  by Brian Mertes, focuses on queering brittle gaze, making the impossible possible and supporting visionary playwrights and actors. Women in crisis, dark humor, audio terror, radical joy + rupturing the status quo are a few of the ingredients you may find in her concoctions. She is on the hunt to be together better.
Program
To download the Airness program, please click HERE.
To view the program online, please click on program image page below.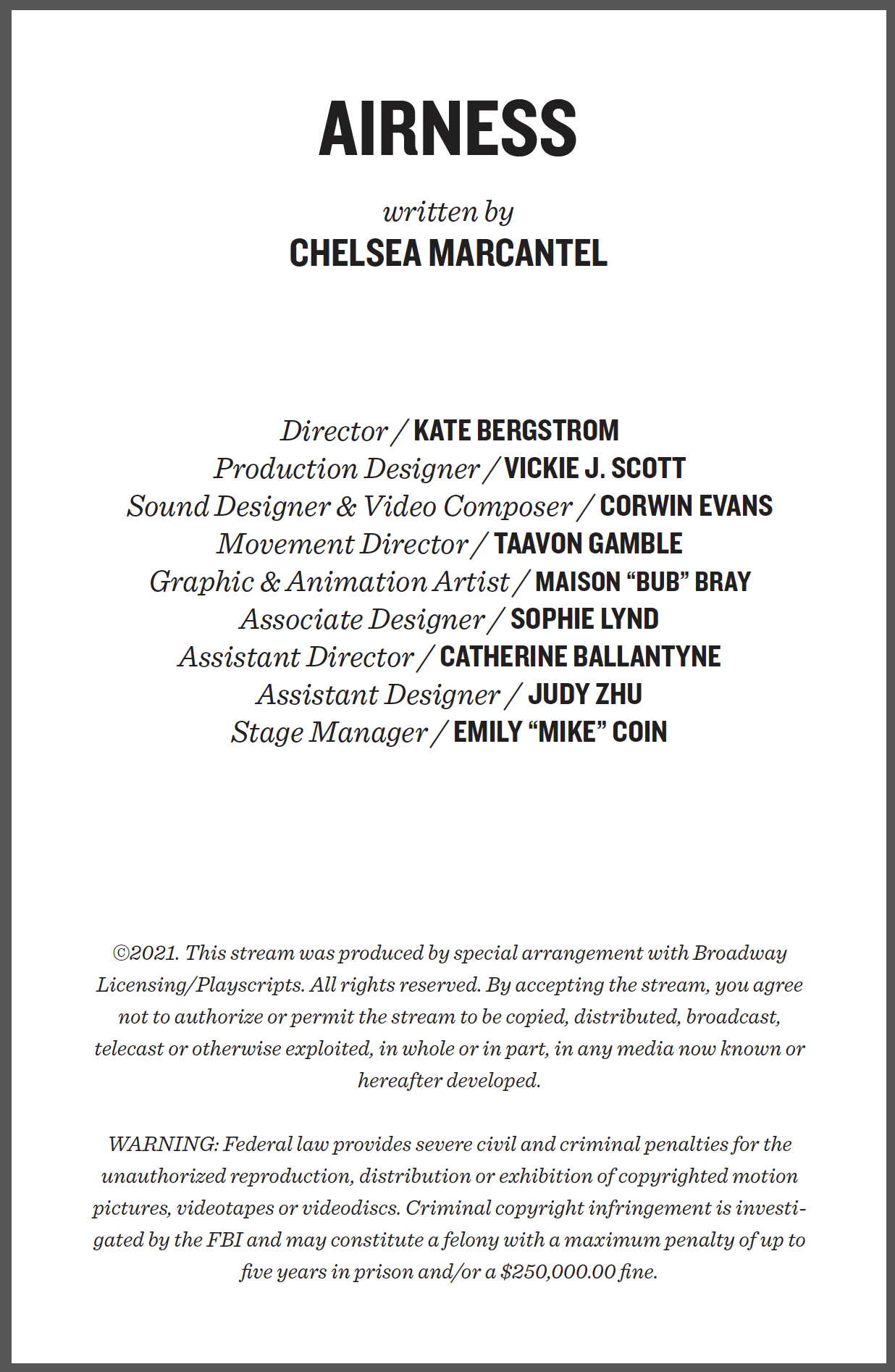 Gallery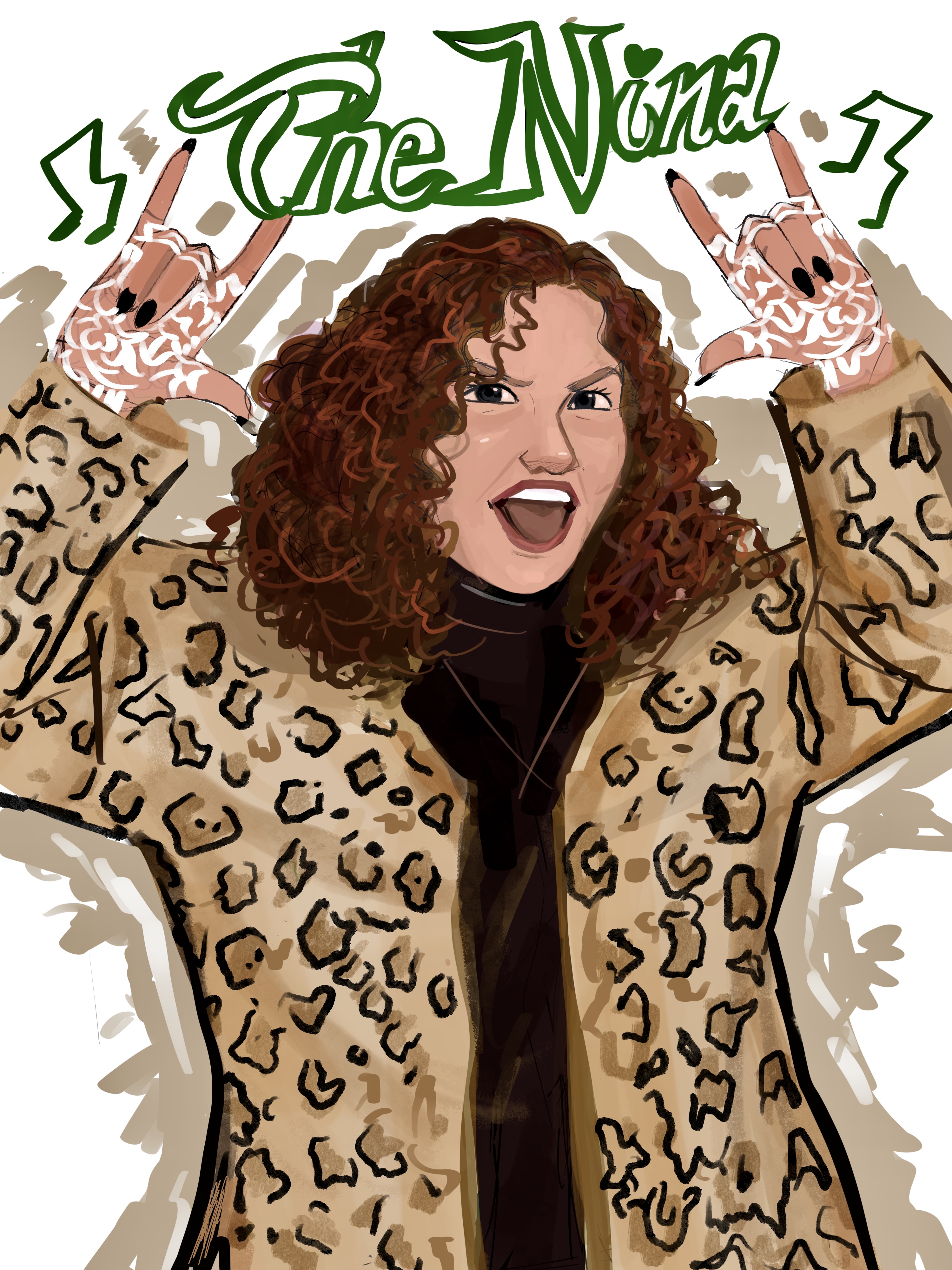 Nina "THE NINA" O'Neal discovers that there's more to air guitar than playing pretend. She works towards finding airness within herself.
artwork by Maison Bub Bray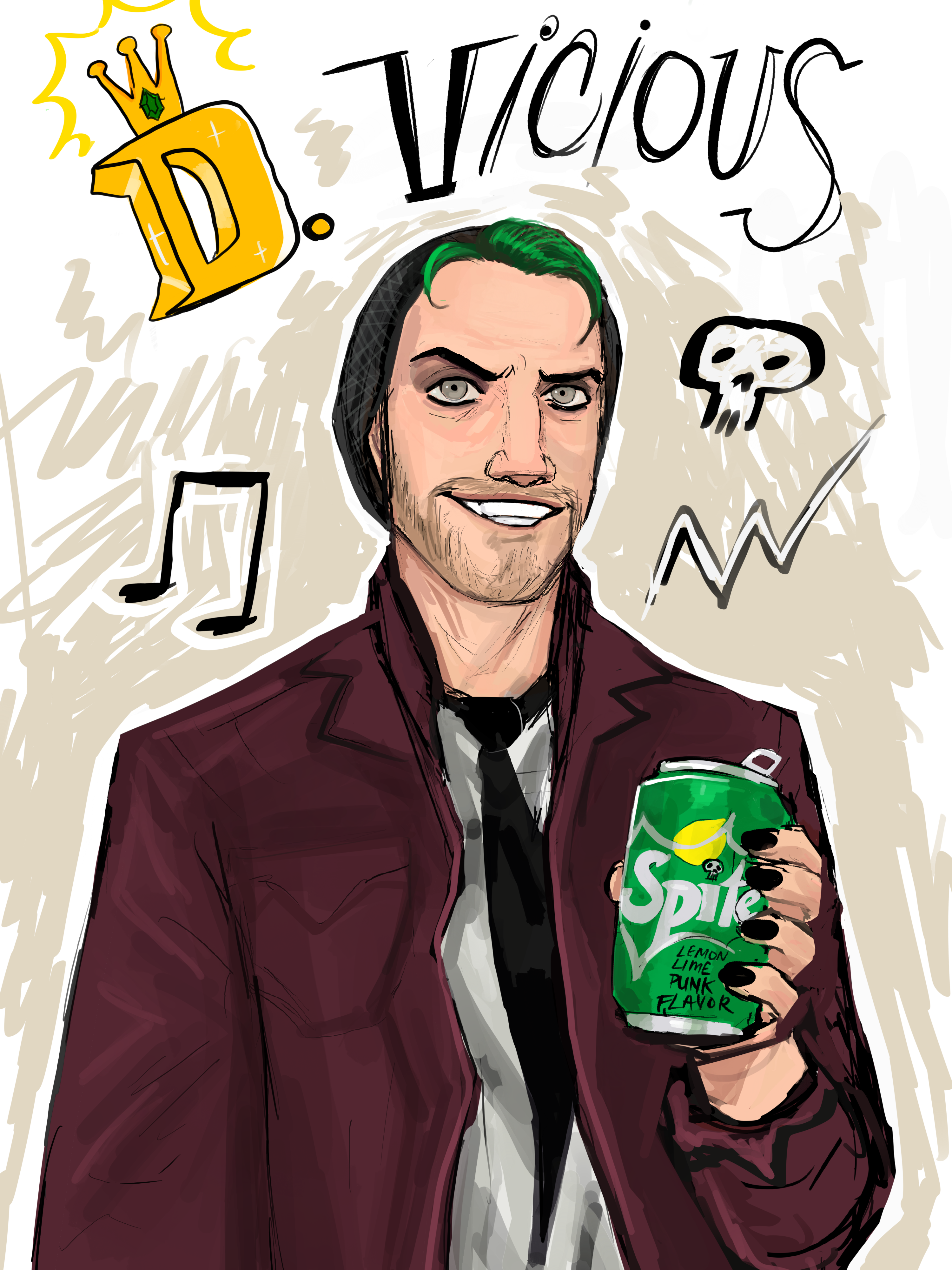 David "D VICIOUS" Cooper's charisma and stage presence will intrigue you!
artwork by Maison Bub Bray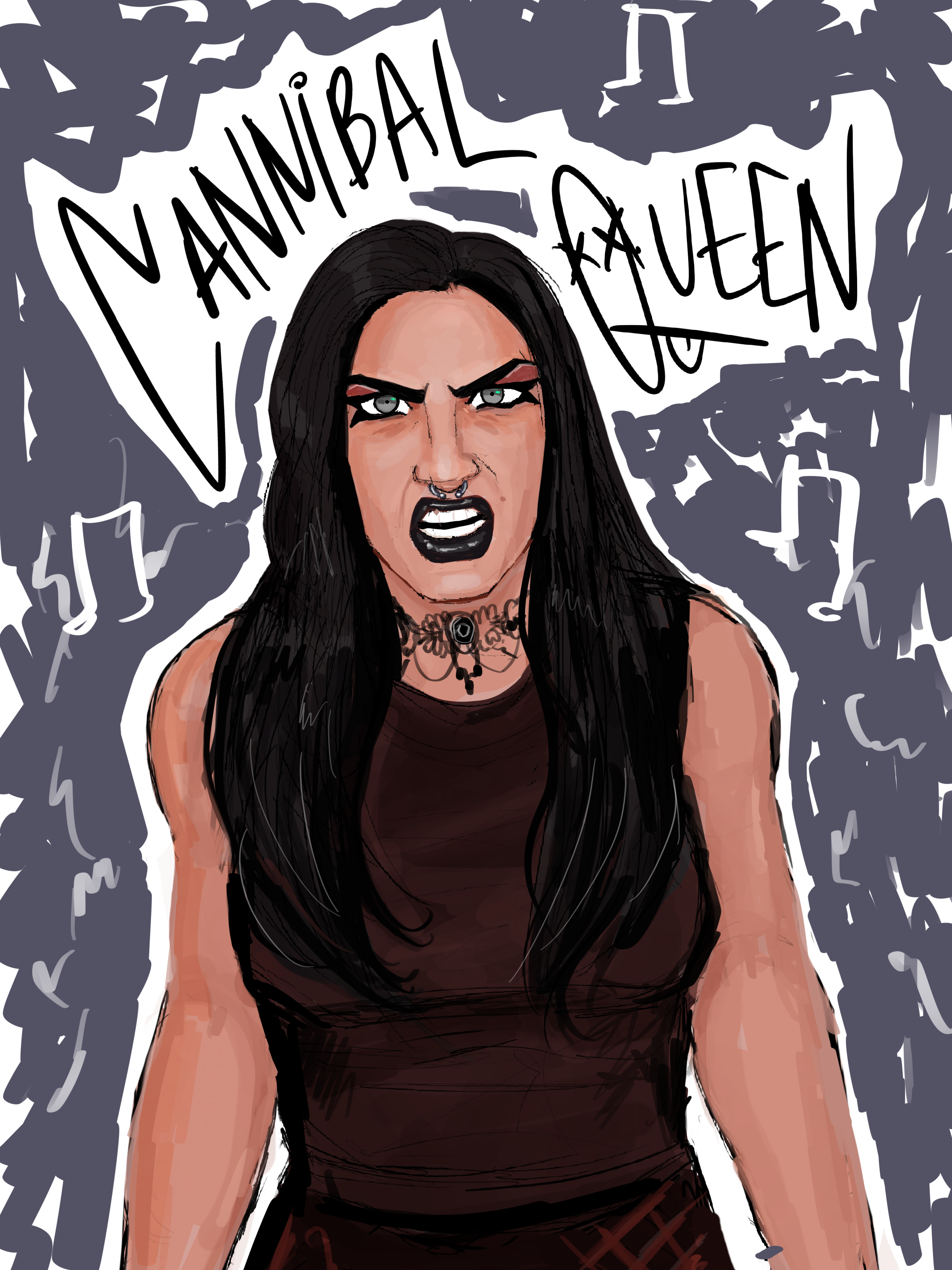 Astrid "CANNIBAL QUEEN" Anderson shows great technical ability which shines through in performances!
artwork by Maison Bub Bray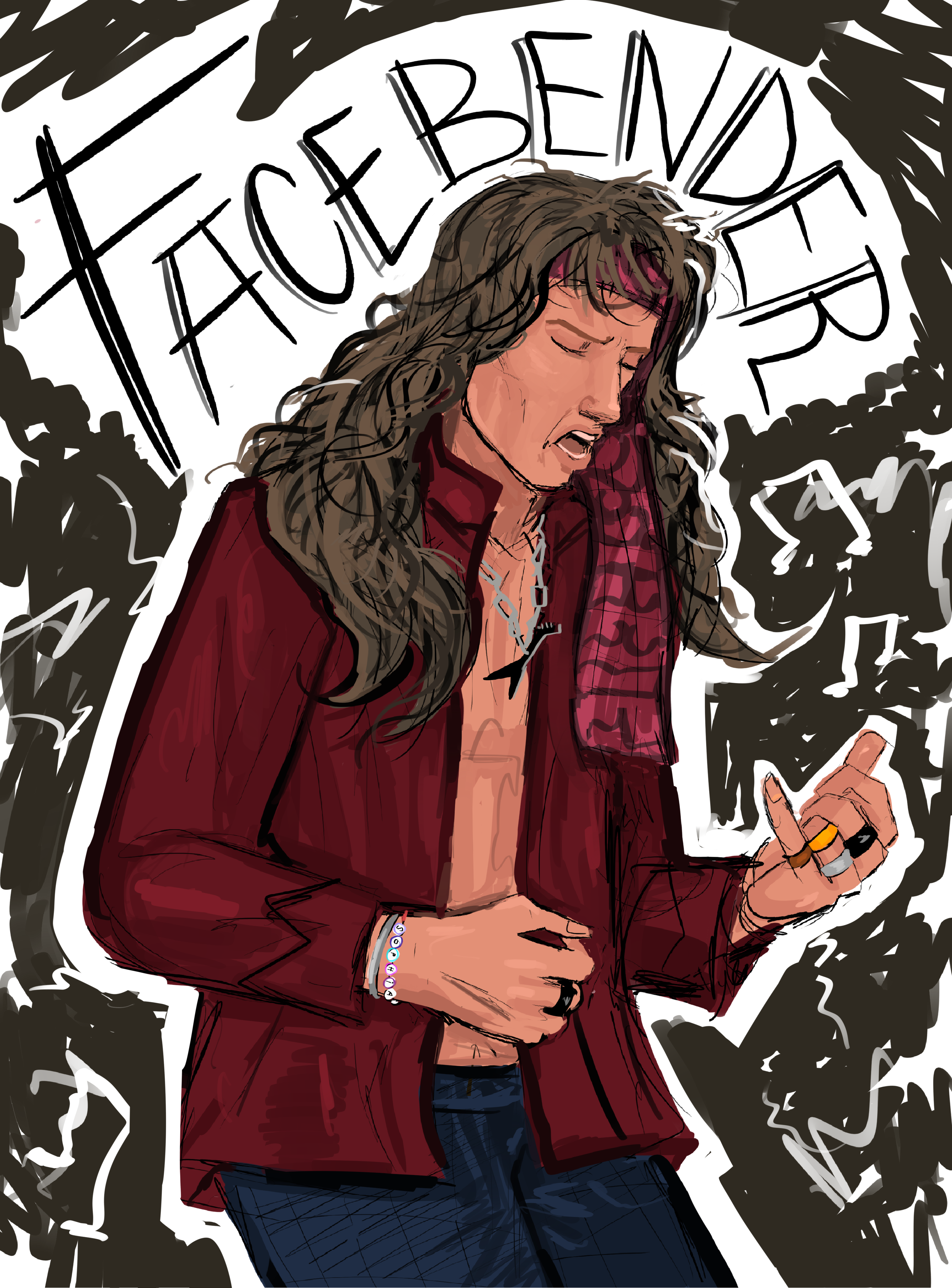 Mark "FACEBENDER" Lender is unparalleled in expressing emotions and connecting with the audiences.
artwork by Maison Bub Bray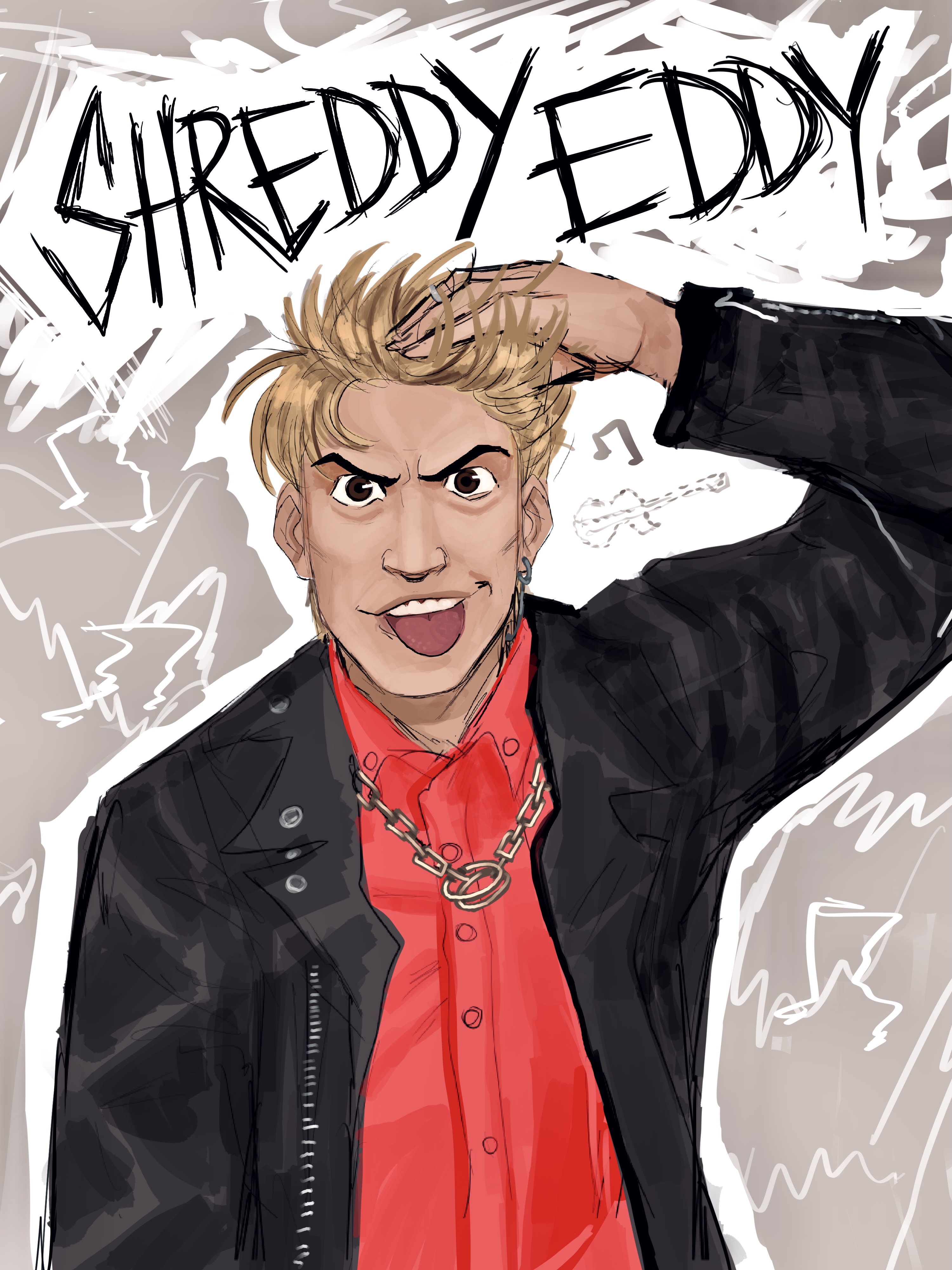 Ed "SHREDDY EDDY" Leary shows artistic merit throughout the show! You won't want to miss seeing his artistic quality.
artwork by Maison Bub Bray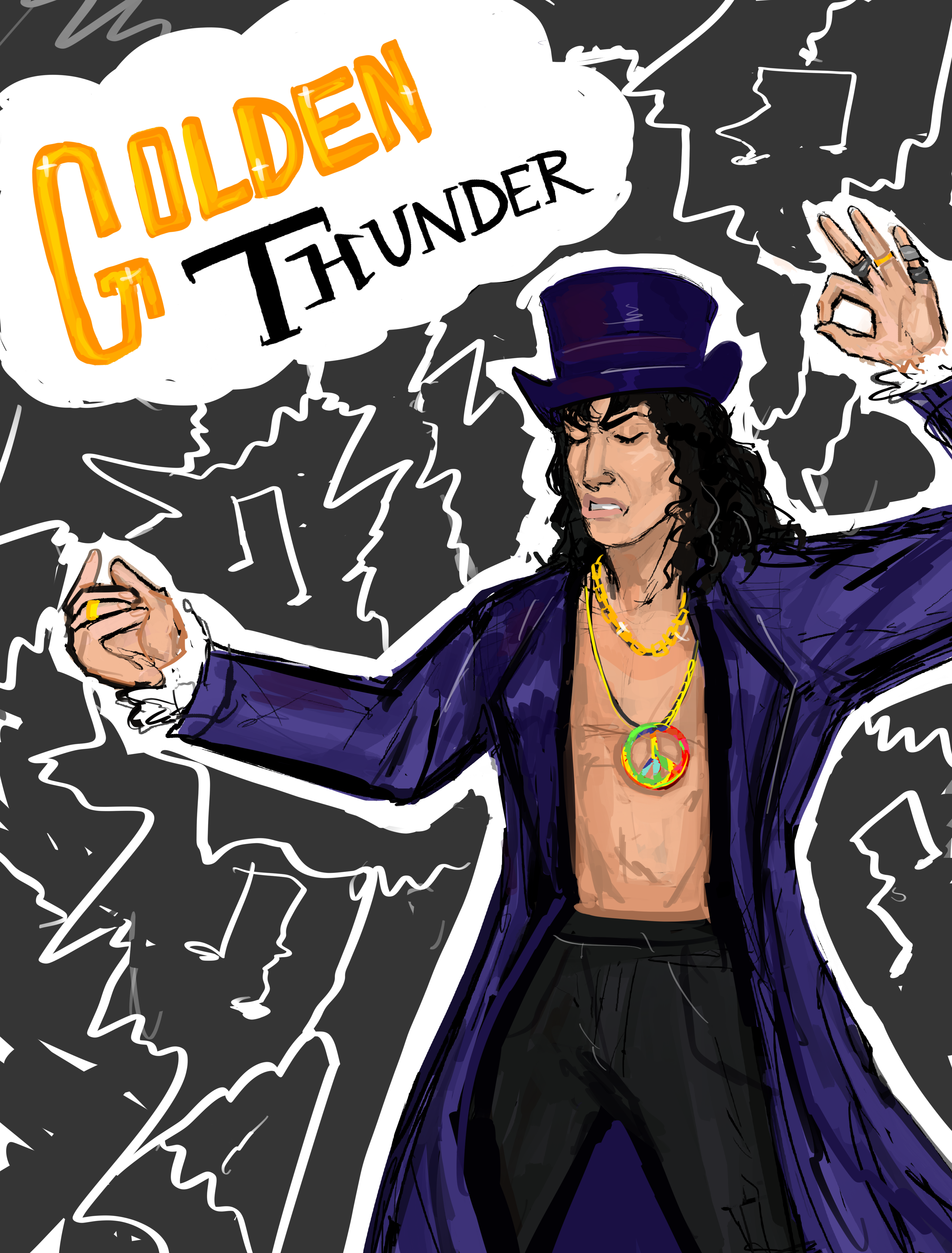 Gabe "GOLDEN THUNDER" Partridge has originality like no other! His unique taste will captivate the audience.
artwork by Maison Bub Bray
December 3, 2020 - 3:31pm