Event Date:
Friday, February 12, 2021 - 7:00pm

to

Saturday, February 13, 2021 - 7:00pm
Sunday, February 14, 2021 - 1:00pm
Event Location:
Zoom: https://ucsb.zoom.us/j/81440429470
plays by Ryan Bultrowicz, Russell Leigh Sharman, Idris Goodwin, E. M. Lewis, and directed by Iris Skeen, Shianne Dingemann, Jack Richman, Yizhou "Frances" Sun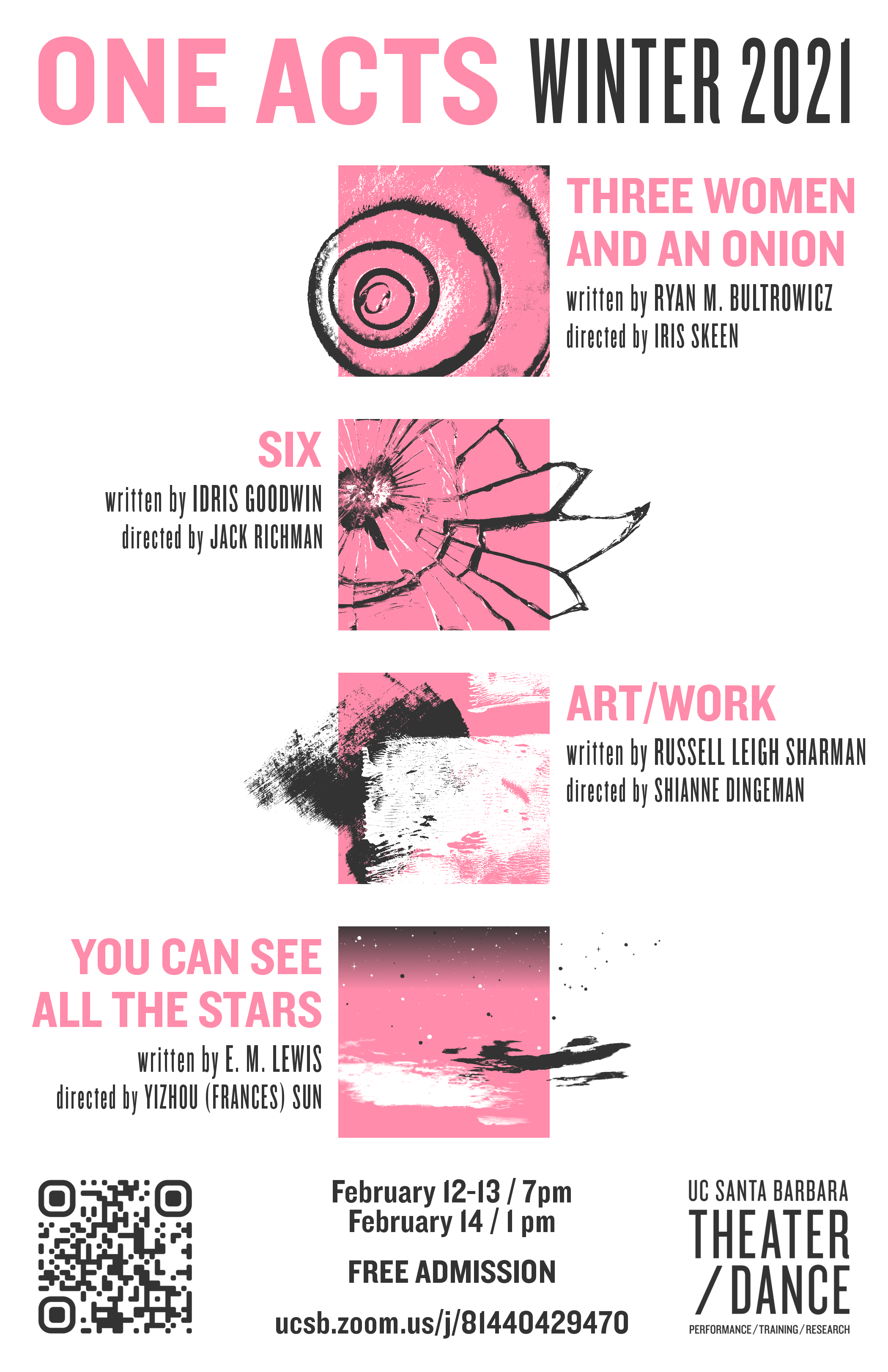 Three Women and an Onion
by Ryan Buktrowicz and directed by Iris Skeen
This play is about 3 roommates who keep finding an onion that has appeared out of thin air in their kitchen. They won't sleep until they find out how/why the onion keeps appearing. They investigate whether one of them is putting it out as a prank, if the onion is sentient or magical, and what the onion's intentions are while bickering and bonding. The onion that inexplicably multiplies, heals itself, and disappears is a fascinating character in the story. The play has the feeling of a laugh out loud absurdist detective comedy.
Art/Work
by Russell Leigh Sharman and directed by Shianne Dingemann
Art/Work by Russell Leigh Sharman is a play about what it is like to have a career as an artist, navigating through a world filled with criticism and still making a living. For John Hammond, it is a struggle to distinguish the difference between his work and his art when a customer buys his paintings out of their intended order. When he meets Eva Rogers, he starts to gain perspective by seeing how another young artist works and deals with the life of being an artist. Throughout the piece, the critic comes on stage in order to announce her critiques of the artists' works, proving to be a snobby elitist.
Six
by Idris Goodwin and directed by Jack Richman
A prostitute, a soldier, a business woman, an internet rapper, a programmer, and a philanthropist. From them, two invented fictional characters, and a ghost. Their lives have become intertangled, lately, and each finds that the ties that bind them together are becoming too tight for comfort.
You Can See All the Stars
by E. M. Lewis and directed by Yizhou "Frances" Sun
The play follows Ana Martin, a sweet girl believing in the magic world who grows to maturity in one of the most exciting, rich and varied, impetuous and unstable places -- the university. She was sexually violated by another college student. During her journey, she hides, struggles, and fights. She embraces courage and confidence even under extreme adversity with the support of her friends. This show is heartbreaking and timely.
Biographies
Iris Skeen is a fourth year in the Directing program at UCSB and pursuing a double minor in English and Education. Earlier this year you may have seen her in the UCSB Womxn's Ensemble Theatre Company's production One Night Stand, assistant directing Hookman, or directing for the Alone, Together festival, the 365 Days/365 Plays project and Hullabaloo for Center Stage Theater's #Enough project! Pronouns: she/her/hers
Shianne Dingeman is directing Art/Work, a one-act written by Russell Leigh Sharman. During the fall of 2020, Shianne directed four different pieces from Suzan-Lori Parks' 365 Days/365 Plays, and for UCSB's virtual event Alone, Together, she directed two plays written by Brian Otaño, I'm Not Coming Home and South Lake Tahoe, CA. Dingeman is a film and media studies major at UCSB and currently in the UCSB's Directing program. Her dream is to merge the two mediums of theater and film, capturing both the interpersonal facets of theater and the availability of film.
Jack Richman is a fourth year student in UCSB's Directing program. His prior work includes scenes selected from Suzan-Lori Parks' 365 Days/365 Plays and his contribution to the Alone, Together project. He aspires to work on the cutting edge of experimental theater. He would like to thank the UCSB Theater & Dance team for all their hard work in support of the directing students. Pronouns: he/him/his
Yizhou (Frances) Sun is a fourth year Theater major in the Directing program. She directed Quietus and Zoom Baby in the Alone, Together festival. She was the assistant director of the 2020 Summer LAUNCH PAD Reading Series. She recently directed selection from 365 Day/365 Plays written by Suran-Lori Parks. During this special time, Frances really appreciates that she has the opportunity to work with all the people she loves over zoom and knows we will get through with solidarity. 
Cole Remmen is the Directing/Tech TA for the UCSB Department of Theater/Dance. He is a PhD candidate in Theater Studies, researching the role of performance in the production and popularization of scientific knowledge. In his creative work, Cole is also a director, actor, playwright, and composer. He has written several plays and musicals, including the Star Trek musical parody Boldly Go!, which premiered at Caltech in 2016. He is currently writing a new musical based on Jules Verne's sci-fi classic From the Earth to the Moon. He has most recently assistant directed on UCSB's productions of Cabaret and A View from the Bridge and was dramaturg for Ensemble Theatre Company of Santa Barbara's The School for Lies.
December 3, 2020 - 3:25pm