Event Date:
Wednesday, December 9, 2020 - 12:00pm

to

Thursday, December 31, 2020 - 11:45pm
Event Date Details:
Video will be availble for viewing starting December 9th when the link will be posted.
The webinar talkback will be on December 11th at 6 pm on this link https://bit.ly/2EsRtnD.
Event Location:
Webinar Talkback: https://bit.ly/2EsRtnD
Under the direction of Brandon Whited
Featuring works by senior BFA Candidates:
Jayne Butler, Erick Martinez, and Andrew To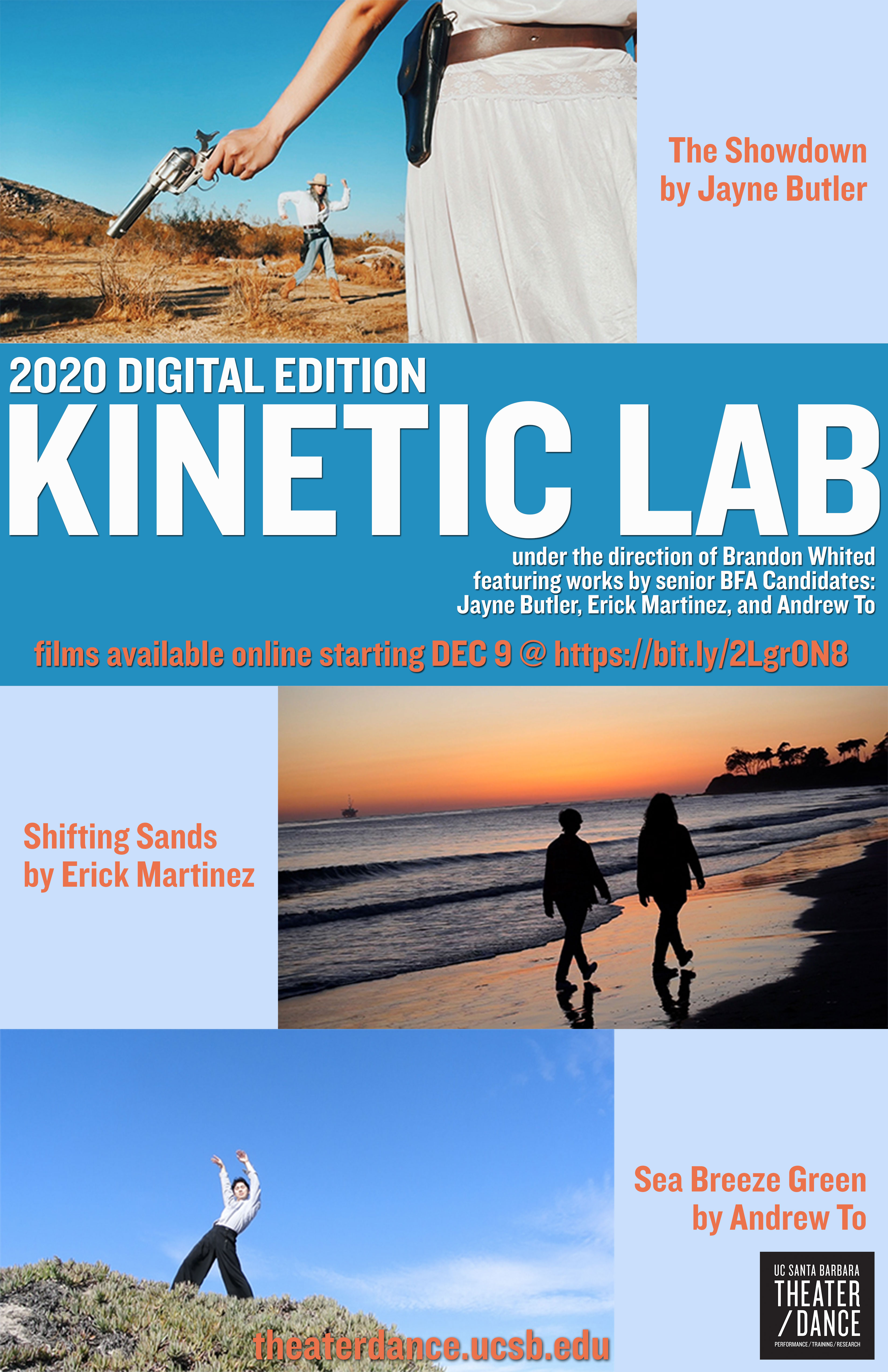 Kinetic Lab 2020: Digital Edition
Kinetic Lab is a course designed to continue to develop the choreographic voice, skills and artistry of our BFA Dance majors as they build toward work on their final BFA Capstone research project. A process-driven framework, Kinetic Lab's usual focus is on development of small group dances, collaboration with student lighting designers and work toward the production of those dances in a culminating performance.
Due to the health and safety constraints related to Covid-19 and related university-wide restrictions, Kinetic Lab 2020 will necessarily inhabit digital space and focus more on development of dance film/screen dance with a particular focus on choreographic technique and creative material that lends itself to digital platforms, as well as consideration of the choreographic sensibility already present in the creative process of digital film editing.
Drawing from their interests as artists and people, and to a great degree working as a response to our current eco-socio-political state, the student makers will delve into their individually tailored creative processes and build toward digital presentation of their films. The course will also culminate in a webinar discussion of the students' creative works and the processes they traveled to realize them.
Films will be available starting December 9th
Webinar Talkback: December 11th 6:00-7:30 pm PST
Discussion with the student choreographer-filmmakers,
Brandon Whited (Artistic Director/Assistant Professor, Dance), and
guest moderator Greg Siegel (Associate Professor, Film and Media Studies)
The Films + The Talkback
The Trailer
The Showdown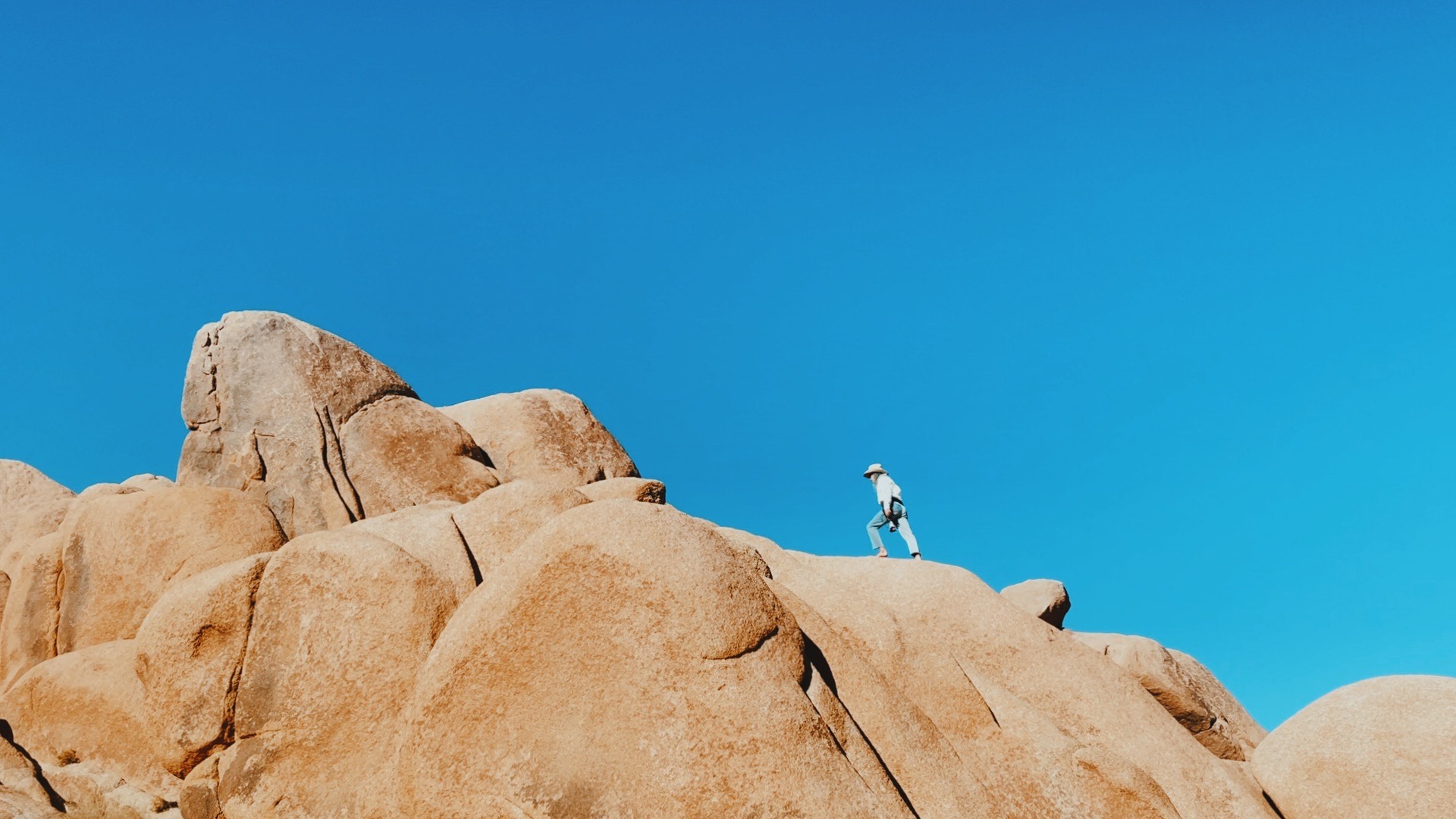 Elijah on Rocks
Artist's biography
Jayne Butler is a senior at UC Santa Barbara working towards a Bachelor of Fine Arts in Dance. She grew up just down the coast in Thousand Oaks, CA and has been pursuing dance for as long as she can remember. Jayne has had the honor of training with the Alvin Ailey American Dance Theater in New York City, the Joffrey Ballet School in Chicago, performing abroad in Germany and Austria, and more! She no longer dreams of being a ballerina in a pretty pink tutu, but instead is passionate about combining dance with other art forms and exploring a career in Dance Film. 
A note from the artist:
My inspiration for The Showdown comes from a few different things. At the start of this project I saw a series of beautiful film photos that a friend took out in the desert and I was immediately inspired. I realized that in this era of Covid-19 I needed to work around the obstacle of keeping my dancers distanced from each other, and a wild western showdown seemed like an exciting twist on being six feet apart. Also, the cowboy aesthetic in current pop-culture trends has influenced the way I express myself through fashion (yes, college kids do wear cowboy hats un-ironically). I knew that carrying a theme I already enjoy into my dance project would keep my work relevant and fun.
Shifting Sands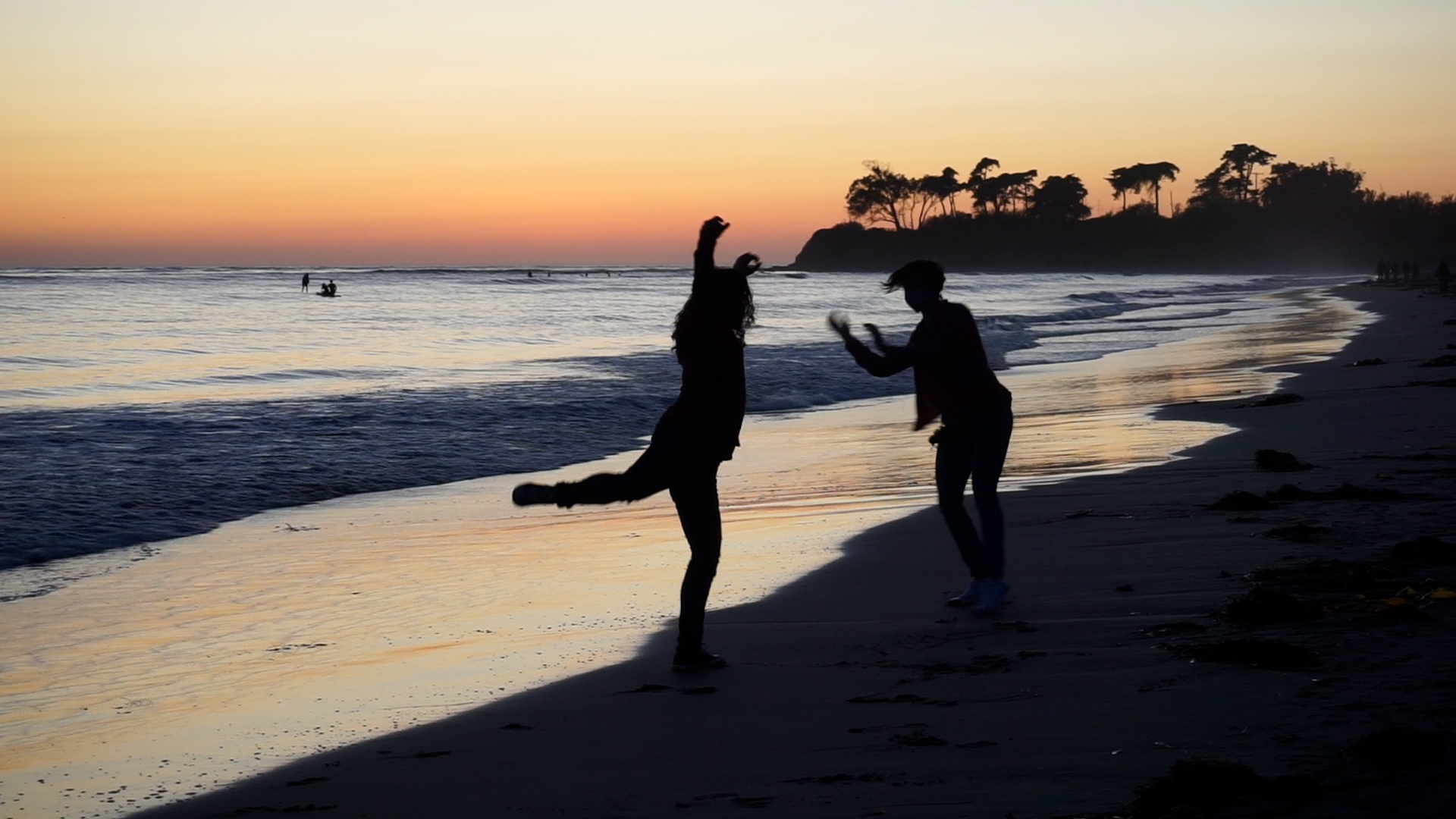 Erick and Joyceline at sunset
Artist's biography
Erick Martinez, from Santa Ana, is a third year at UCSB, pursuing his BFA degree in dance. He has been training since his freshman year in high school with the help of his instructor Brenda Torres. He has attended summer and weekend intensives at UCI during his junior and senior year in high school. Through UCSB, he's worked with Peter Chang, Christina Sanchez, and some faculty members and students. He looks forward to performing more and continuing his study.
A note from the artist:
With the start of Covid-19 the world has changed in an flash right before my eyes. My every day hobbies and life has felt like it has ultimately been placed on hold. As a student living in the college town of Isla Vista I have noticed a significant shift in the overall emotional and physical energy in this small town. The streets feel more vacant making it feel lonely, yet that openness is expansive and freeing at the same time. I notice small surges of energy in different houses and locations as the town tries to keep the once lively and chaotic energy alive. When I reach my destination after walking the streets I stop and watch the waves crash while the moon and sun lay over the water, thinking about how I feel in the moment. Shifting Sands is my creative response to these current times – inspired by, and filmed within Isla Vista, CA.
Sea Breeze Green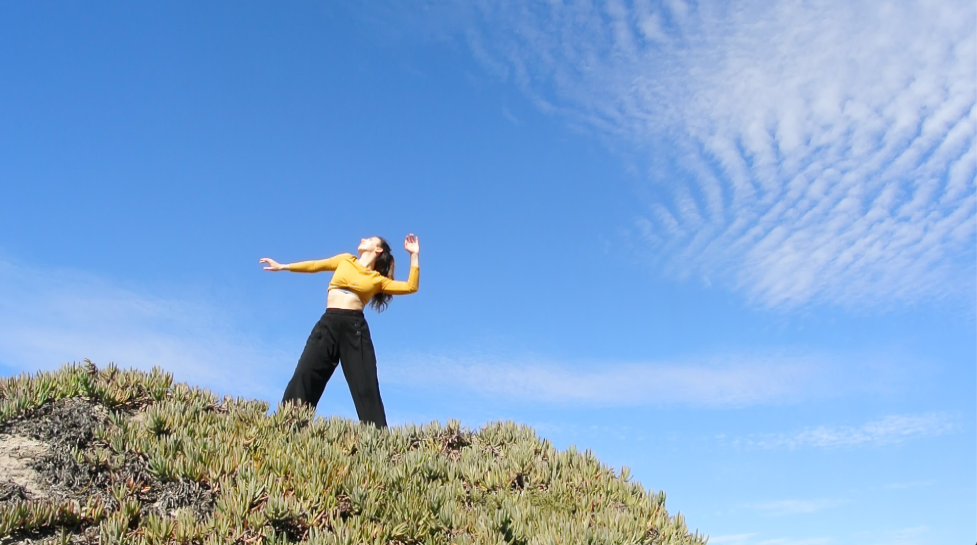 Sera on the bluffs
Artist's biography
Andrew To is a quietly passionate artist who researches, choreographs, dances, and imagines from an Queer-identifying Asian American perspective.  Andrew grew up dancing hip hop, B-boy, musical theatre, jazz, tap, and is now focused on training his Ballet and Modern Dance technique at UCSB as a Dance BFA student. He hopes that, after graduation, he finds success in his work and that he also finds joy every day.  His first dance film, Sea Breeze Green, is the product of an imagined personification of nature's oceans and plants.
A note from the artist:
Sea Breeze Green was inspired by nature and the connection we have to it. I was on a jog with my roommate and stumbled upon a cliff by our campus. The wind blew through my clothes and hair. My sweat was cooled and I felt amazing. The view was wondrous and the plants added a deep texture contrasting the backdrop of orange, pink, and yellow sunset that draped behind the horizon. Back at home, San Bernardino, something is always either on fire, or at risk to catch a flame. Contrasting the sweltering heat at home, Santa Barbara was like a cold glass of lemonade. That moment, viewing nature's beauty, was something I needed to capture. I hope that through this viewing, you are able to see the joy of what life can bring, the little moments we often forget to relish in, and the rich and inviting views this Earth has to offer.
Watch the Films
Sea Breeze Green by Andrew To
Choreographer & Director: Andrew To
Dancers: Sera Shahgholian & Andrew To
Music: "Dreams (remastered 2000)" by Fleetwood Mac
Videographer/Video Editor: Andrew To
Production Assistant: Alice Lousen & Sera Shahgholian 
Thank you to Sera Shahgholian for her contribution to the choreography, Christina McCarthy for Technical Support, and Brandon Whited for creative mentorship.
Shifting Sands by Erick Martinez
Choreographer & Director: Erick Martinez
Dancers: Joyceline Fekete & Erick Martinez
Music: "Lush" by Four Tet 
Videographer: Jayne Butler 
Video Editor: Erick Martinez 
Production Assistant: Alex Kmak
Special thanks to Brandon Whited, Christina McCarthy, and the UCSB Theater & Dance Faculty and Staff!
The Showdown by Jayne Butler
Choreographer & Director: Jayne Butler
Dancers: Elijah Hahn-Smith & Jenny Thach
Music: "I'm Gonna Be (500 Miles)" by The Proclaimers; 
"The Lemon of Pink I" by The Books
Music Editor: Rick Butler
Videographer/Video Editor: Jayne Butler, @FeetOnFire
Special Thanks to mentor Brandon Whited; Thank you Andrew To, Erick Martinez and Ezra Spencer for their support; Thank you Christina McCarthy, Daniel Herrera, Denise Umland, Devin Gee and Mark Williams.
Program
To download the 2020 Kinetic Lab: Digital Edition program, please click HERE.
To view the program online, please click on program image page below.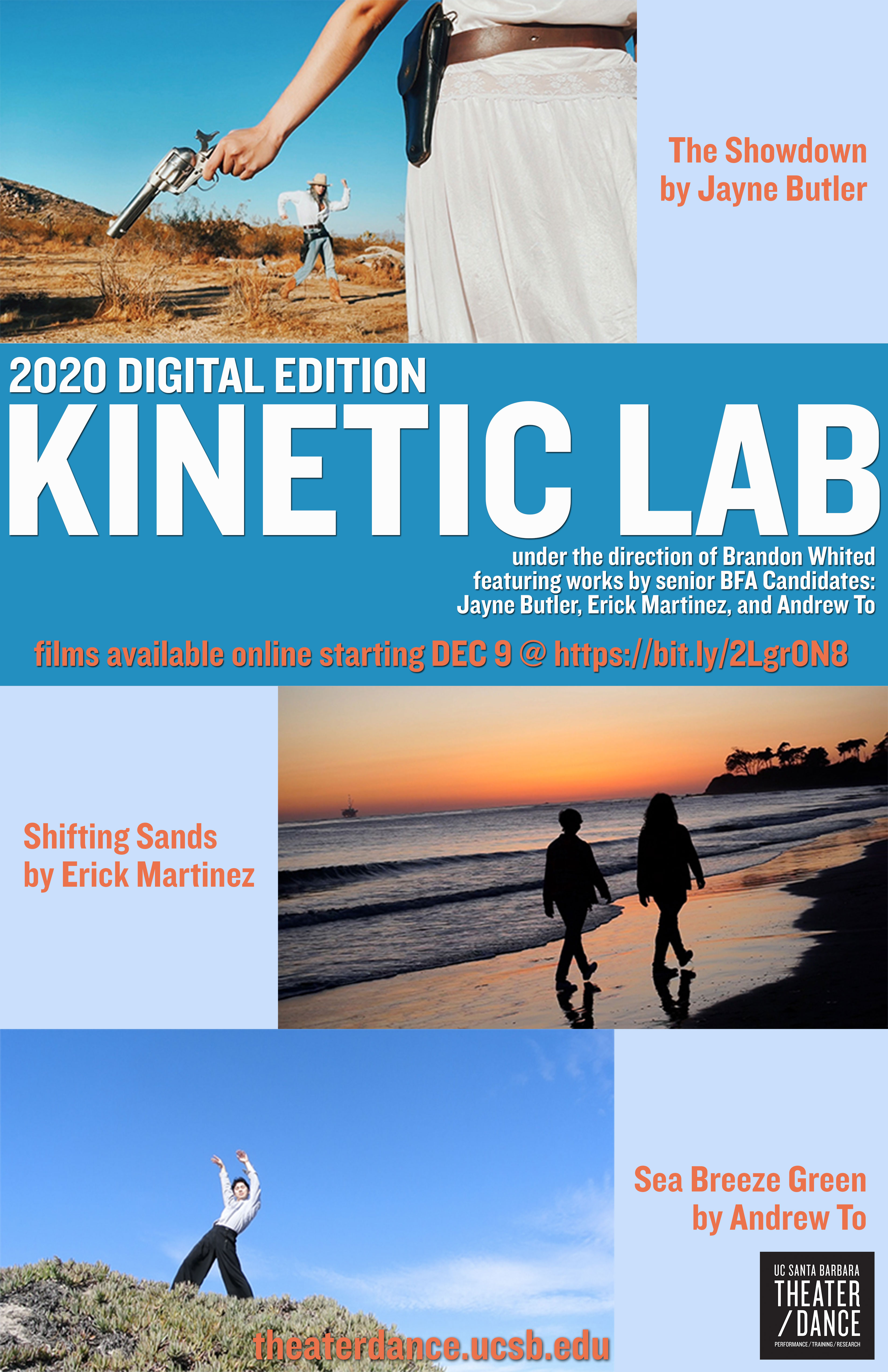 September 25, 2020 - 5:11pm