Event Date:
Friday, November 13, 2020 - 7:00pm

to

Saturday, November 14, 2020 - 7:00pm
Saturday, November 14, 2020 - 1:00pm
Event Location:
ZOOM: http://ucsb.zoom.us/j/83685049111
written by Suzan-Lori Parks and directed by UCSB directing students
About the Play
The plan was that no matter what I did, how busy I was, what other commitments I had, I would write a play a day, every single day for a year. It would be about being present and being committed to the artistic process every single day, regardless of the 'weather.' It became a daily meditation, a daily prayer celebrating the rich and strange process of a writing life.
-Suzan-Lori Parks
To learn more about the history of the project read this The New York Times article.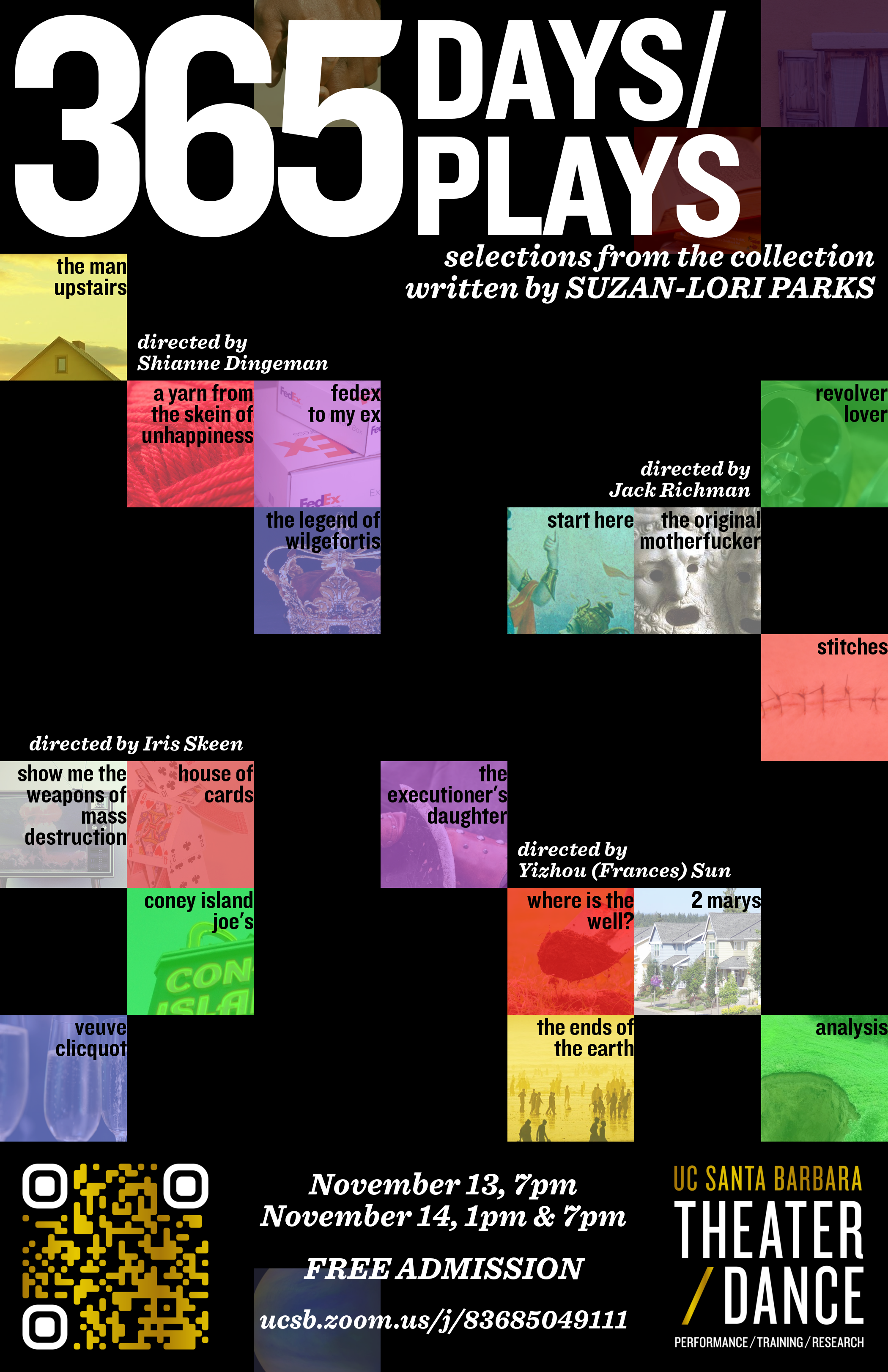 Playwright's Bio
Named among Time magazine's "100 Innovators for the Next Wave," Suzan-Lori Parks is one of the most acclaimed playwrights in American drama today. She is the first African-American woman to receive the Pulitzer Prize in Drama, is a MacArthur "Genius" Award recipient, and in 2015 was awarded the prestigious Gish Prize for Excellence in the Arts.  Other grants and awards include those from the National Endowment for the Arts, Rockefeller Foundation, Ford Foundation, New York State Council on the Arts and New York Foundation for the Arts. She is also a recipient of a Lila-Wallace Reader's Digest Award, a CalArts/Alpert Award in the Arts, and a Guggenheim Foundation Grant.  She is an alum of New Dramatists and of Mount Holyoke College.
Parks' project 365 Days/365 Plays (where she wrote a play a day for an entire year) was produced in over 700 theaters worldwide, creating one of the largest grassroots collaborations in theater history.
Her other plays include: Topdog/Underdog (2002 Pulitzer Prize winner); The Book of Grace; Unchain My Heart: The Ray Charles Musical; In the Blood (2000 Pulitzer Prize finalist); Venus (1996 OBIE Award); The Death of the Last Black Man in the Whole Entire World; Imperceptible Mutabilities in the Third Kingdom (1990 OBIE Award, Best New American Play); The America Play and Fucking A.  Her adaptation of The Gershwin's Porgy and Bess won the 2012 Tony Award for Best Revival of a Musical. Her newest plays, Father Comes Home From The Wars (Parts 1, 2 & 3)—set during the Civil War—was awarded the Horton Foote Prize, the Edward M. Kennedy Prize for Drama as well as being a 2015 Pulitzer Prize Finalist. Learn more HERE.
Directors' Bios
Shianne Dingeman is a film and media studies major at UCSB and currently in the theater department's directing program. Recently, Dingeman directed two plays by Brian Otaño, I'm Not Coming Home and South Lake Tahoe, CA for UCSB' Alone, Together. Her dream is to merge the two mediums of theater and film, capturing both the interpersonal facets of theater and the availability of film. 
Iris Skeen is a 4th year theater major in the directing track with a double minor in English and Education. Earlier this year you may have seen her in the UCSB Womxn's Ensemble Theatre Company's production One Night Stand, assistant directing Hookman, or directing 2084 and the Pandemic Romance Monologue for the Alone, Together festival! 
Frances (Yizhou) sun is an incoming fourth-year Theater major in the Directing program. She recently directed Quietus and Zoom Baby in the Alone, Together. During this special time, Frances really appreciates that she has the opportunity to work with all the people she loves and knows we will get through with solidarity. Pronouns: she/her/hers
Jack Richman is a fourth year theater major participating in UCSB's Directing program. His aspiration is to work on the frontiers of experimental theater. In the spring of 2020, he directed William Davies King's Les Mots Justes and Katie Bender's The Most Human Human for the Alone, Together festival. He would like to thank the actors, playwrights, and stage managers with whom he's collaborated, as well as his fellow directors for all their help and hard work in developing newfound ideas for remote theater. Pronouns: he/him/his
Media
On November 13, 2002, the incomparable Suzan-Lori Parks got an idea to write a play every day for a year. She began that very day, finishing one year later. The result is an extraordinary testament to artistic commitment. This collection of 365 impeccably crafted pieces, each with its own distinctive characters and dramatic power, is a complete work by an artist responding to her world, each and every day. Parks is one of the American theater's most wily and innovative writers, and her "stark but poetic language and fiercely idiosyncratic images transform her work into something haunting and marvelous.
- TIME
Suzan-Lori Parks is one of the most important dramatists America has produced.
- Tony Kushner
In 2007, the department participated in this wonderful national project with great success. We are excited to return to these insightful, unique and provocative plays by Suzan-Lori Parks 13 years later. Our student directors have chosen 20 short pieces from this dynamic collection which range from the absurd to the poignant and everything in between. We are proud to have the work of this brilliant artist on our virtual stages.
- Risa Brainin, Professor of Directing
Gallery
Coming Soon...
September 25, 2020 - 4:43pm