Event Date:
Wednesday, September 2, 2020 - 6:00pm

to

Thursday, September 3, 2020 - 6:00pm
Friday, September 4, 2020 - 12:00pm
Tuesday, September 8, 2020 - 6:00pm

to

Wednesday, September 9, 2020 - 6:00pm
Event Date Details:
Wed, 9/2 at 6 pm - Act I
Thu, 9/3 at 6 pm - Act II
Fri, 9/4 at 12 pm - Act I & II
Tue, 9/8 at 6 pm - Act I
Wed, 9/9 at 6 pm - Act II
LINK FOR VIEWING https://bit.ly/2YpuwZ9
Event Location:
Zoom - link for viewing https://bit.ly/2YpuwZ9
a NAKED SHAKES production
adapted from Shakespeare's Julius Caesar and Antony and Cleopatra and directed by Irwin Appel
"Give me my robe. Put on my crown. I have Immortal longings in me…." 
- Antony and Cleopatra, Act V, Scene 1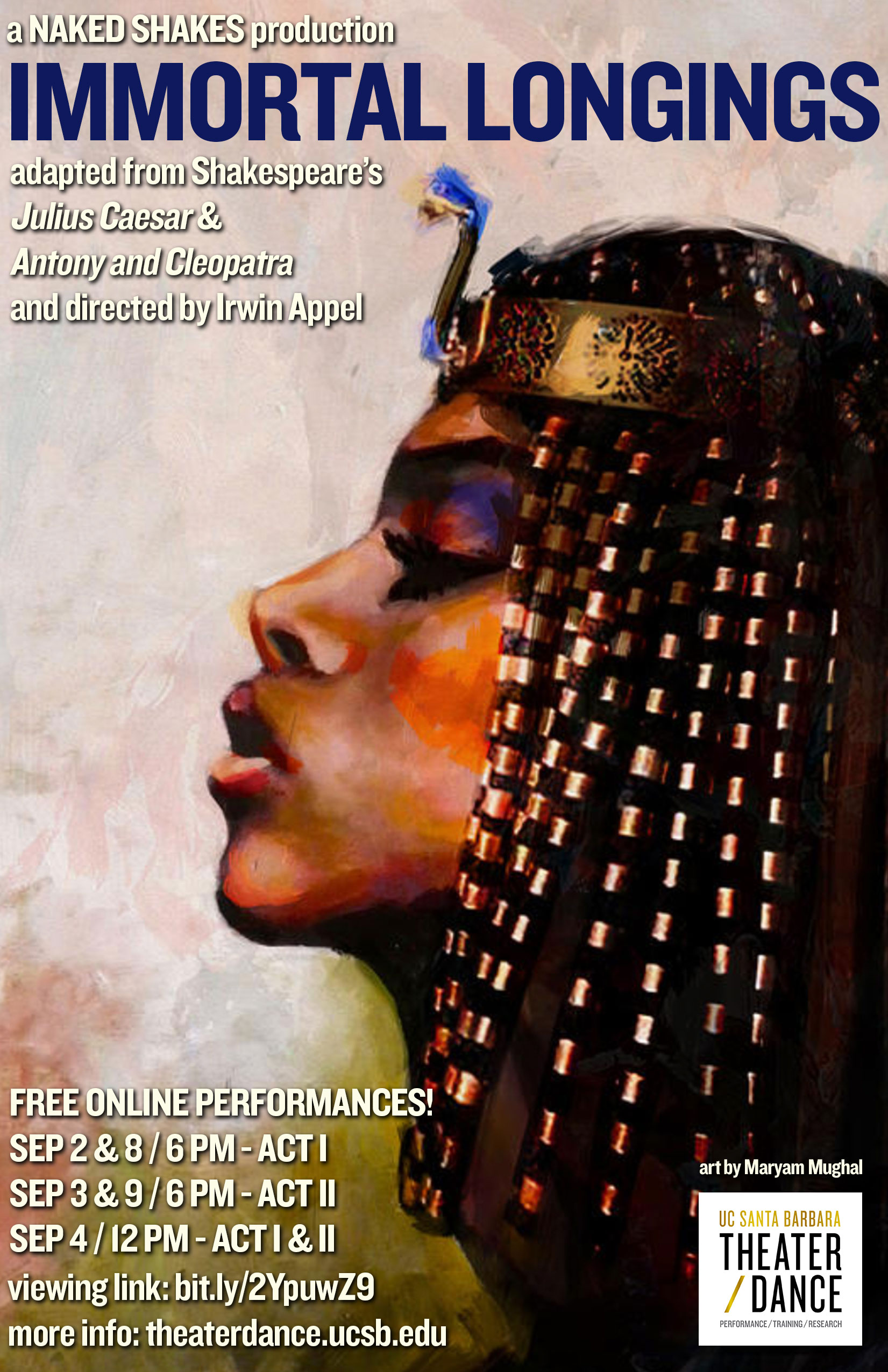 About the Play
For its 15 th anniversary, NAKED SHAKES presents Immortal Longings, a new adaptation by Irwin Appel that combines Shakespeare's Julius Caesar, Antony and Cleopatra and George Bernard Shaw's Caesar and Cleopatra into one dynamic and exciting play. This production will be presented on Zoom and broadcast to the world. Audiences have the choice of whether to watch in two parts or "binge" all at once as we follow the complete character journeys of Julius Caesar, Mark Antony, Octavius Caesar, Brutus, Cassius, and the great queen Cleopatra. Featuring a team of 24 faculty, alumni guest artists, graduate and undergraduate students, Immortal Longings is an epic event providing numerous opportunities for artists and scholars to work and thrive during this pandemic.
About the Director
Irwin Appel (Director) is Professor of Theater and Director of the BFA Actor Training Program at UCSB.  He is also a professional director, Equity actor and composer/sound designer, and has performed with Shakespeare Santa Cruz, Shakespeare Festival/LA, the New York, Oregon, Utah, and Colorado Shakespeare Festivals, The Acting Company, Theatre For a New Audience, Hartford Stage, Indiana Repertory Theatre, and other prominent regional theaters.  Acting roles include: Prospero in The Tempest, Shylock in The Merchant of Venice, Bottom in A Midsummer Night's Dream, Falstaff in Merry Wives of Windsor, Dogberry in Much Ado About Nothing, Kent in King Lear, Macbeth in Kabuki Macbeth, , Matt in Talley's Folly and the Emperor in a world premiere of Emperor's New Clothes.   
Since arriving in Santa Barbara, he played the title role in Richard III, Stage Manager in Our Town, DeVere inThe Beard of Avon, Frank in Molly Sweeney, Duke Senior and Duke Frederick in As You Like It, and won Santa Barbara Independent Awards for his portrayals of Oscar Wilde in Gross Indecency: The Three Trials of Oscar Wilde and the title role in Theater Artists Group's Timon of Athens.  Most recently, at the Colorado New Play Summit at the Denver Center of the Performing Arts, he played Aunt Chuck inAppoggiatura by James Still and directed by Department Chair Risa Brainin, a role he originally played in the LAUNCH PAD production at UCSB. 
He is also artistic director of NAKED SHAKES, producing award-winning Shakespearean productions at UCSB and traveling to downtown Santa Barbara and Los Angeles since 2006. Directing credits at many theaters include: Equivocation, Macbeth, A Streetcar Named Desire, The Merchant of Venice, Anowa, Hamlet (SB Indy Award), Measure for Measure, Romeo and Juliet, Rabbit Hole, Twelfth Night, The Winter's Tale (SB Indy Award), Seagull, The Tempest, Angels in America, Three Sisters, Comedy of Errors, Pentecost, A View from the Bridge (SB Indy Award), The Cherry Orchard, Speed-the-Plow, A Midsummer Night's Dream, The Crucible, The Countess, Madwoman of Chaillot, Sylvia, Much Ado About Nothing and the world premiere of Brown Baby (SB Indy Award for his sound design). He also directed twice for the National Theatre Conservatory at the Denver Center for the Performing Arts.  
He has also served as composer/sound designer for the Oregon and New Jersey Shakespeare Festivals, PCPA, Shakespeare Santa Cruz, Ensemble Theatre, Pan Asian Repertory, Indiana Repertory, and other regional and local theaters.  Most recently, he served as composer/sound designer for a co-production of Other Desert Cities at Arizona Theatre Company and Indiana Repertory Theatre. He is a graduate of Princeton University and the Juilliard School.
Read about Professor Appel's groundbreaking Shakespeare course with Associate Professor of English James Kearney here.
NAKED SHAKES
NAKED SHAKES is now in its fifteenth season at UCSB, and its mission since 2006 has been to present energetic, exciting, raw, vibrant Shakespeare using the power of the actors and the language. The critically acclaimed, Santa Barbara Independent Award-winning NAKED SHAKES has performed at UCSB and transported productions to Taliesin West and the Southwest Shakespeare Company in Arizona, the Shakespeare Center of Los Angeles, and Center Stage in downtown Santa Barbara. Past productions include: The Winter's Tale, Hamlet, Much Ado About Nothing, A Midsummer Night's Dream, The Tempest, Twelfth Night, Romeo and Juliet, The Merchant of Venice, Measure for Measure and the 10th-anniversary epic two-play event, The Death of Kings, which garnered six Santa Barbara Independent and seven BroadwayWorld awards for adaptation, direction, design, and performance. The Death of Kings: Seize the Crown, a condensed version of the two original plays, premiered in Summer 2017 at the Prague Shakespeare Company in Prague, Czech Republic and again in 2019 at Taliesin West.
NAKED SHAKES believes in the transformation of the actor and the space, along with the imaginative ability of the audience. Each play is presented clearly and directly so that the audience inhabits the imaginative world of the play through Shakespeare's language. The barren physical theater space is very important to the NAKED SHAKES concept; it takes on the identity of whatever locale or particular piece of poetic language is described, and yet always reminds the audience they are in a theater. When Prospero in The Tempest describes "the great Globe itself," he is not only referring to the entire Earth, but also the "Globe" Theater – Shakespeare's theater. That duality is what NAKED SHAKES is all about.
2020 marks the first year NAKED SHAKES will present a production online rather than in person. Although this presents many challenges, our view is that out of adversity comes opportunity, and NAKED SHAKES is excited to be part of the beginnings of a new art form. The Naked Shakes principles remain the same: we hope to provide a powerful, absorbing and dynamic presentation of Shakespeare's plays based on the passions and skills of the actors and words. We hope our audience will be transported and thrilled by the experience.
Director's Note
Out of adversity, comes opportunity…
We all know we are living in extremely challenging times. One story that I believe is underreported during this pandemic is the economic devastation to arts and educational institutions and to individual theater and dance artists/performers. There are so many brilliant performers, designers, directors, stage managers and technicians out of work with no prospects in sight. We feel it is essential to keep creating, keep connecting with our audiences and keep providing relevant and meaningful work for our students, alumni and faculty. NAKED SHAKES is especially thrilled to be able to give employment to two of our wonderful alumni, Jarred Webb, as Julius Caesar, and Danny Blanco as creative consultant and creator of our audio/visual slideshow collages between parts during the show. UCSB has been blessed to encounter so many remarkable young, talented human beings, and we want nothing more than for them to live creative lives and hopefully earn a living doing what they love.
Our own Department of Theater and Dance and notably our new play development program LAUNCH PAD, has created groundbreaking work on the Zoom platform, and NAKED SHAKES is continuing our department's mission to bring exciting theater to our community. But wait, is what we are doing actually theater? Film? Social media? Something else? Or a new hybrid form of all of the above and more? As we have rehearsed Immortal Longings, each one of us is isolated in our own environments, many of us challenged by constraining living spaces, distractions from family members or roommates, frustratingly intermittent internet, lack of resources, etc. But we are still doing what we always do: trying to make a play come to life. Trying to flesh out characters, moments and relationships. Trying to create an absorbing and entertaining production for our audiences. Trying to connect with one another through great works of art and the exploration of heightened language and imagery. And as we always feel doing theater, we cannot do it without you. Oh… and the show must go on.
We are also in the middle of the most important election season in our lifetimes. Before the pandemic, I had already decided that Julius Caesar would be the next NAKED SHAKES production. I felt it was an important play for our current election year, and it poses many questions about power, tyranny, empire, monarchy and what it means to live in a republic. Once the pandemic hit, and then with the deaths of George Floyd, Breona Taylor, Ahmaud Arbery and many others, including most recently Jacob Blake, Julius Caesar seemed even more relevant and necessary. At the same time, as with my adaptation of Shakespeare's history plays, The Death of Kings, I have had an idea over the past few years to combine Shakespeare's Julius Caesar and Antony and Cleopatra into one play, and thus, Immortal Longings was born. I also was intrigued by the story of Cleopatra's relationship with Julius Caesar that predated but is alluded to in both Shakespeare plays, and decided to explore parts of George Bernard Shaw's Caesar and Cleopatra to fill out the story. I knew I wanted to tie the plays together with narration, a device I used in The Death of Kings: Seize the Crown, and my brilliant mother, Libby Appel, Artistic Director Emerita of the Oregon Shakespeare Festival, gave me the idea to use the character of Enobarbus, Mark Antony's right hand man in Antony and Cleopatra, as our narrator. I have always felt that Enobarbus is one of the great Shakespearean characters that no one has heard of. Maybe I'm biased because I played Enobarbus at the Colorado Shakespeare Festival in 1985 and loved playing him so much. And that great production happened to be directed by… well… my mother.
Another reason for combining the plays is at the very core of NAKED SHAKES' mission: to provide more opportunities for actors. Julius Caesar has many great roles, but adding Antony and Cleopatra allows us to bring in Cleopatra, Enobarbus, and many others. Also, just as The Death of Kings allows us to explore the full character arcs of Prince Hal, Falstaff, Queen Margaret and Richard III, Immortal Longings reveals the full stories of Mark Antony, Octavius Caesar and the dawn of the Roman Empire.
I look forward to hearing your comments. Black Lives Matter.
Dramaturgs' Note
The question at the center of every play's production is: "Why this play and why now?" 
No matter your party ties, we can at least agree that we are living history as we make it in one of the most politically and socially divisive and fraught moments in America. In a time when global information is at our fingertips, it seems as if something is always happening every time we refresh our social media feeds. The pandemic has magnified the cracks of our systems and put the already marginalized at even more risk. It would be presentist to make clean parallels between Ancient Rome/Egypt and the US today, but the problems at the forefront of the play, and no doubt in Shakespeare's own time, have followed us through a lineage of their own. No wonder we keep doing these plays.
If one was being facetious, Julius Caesar and Antony and Cleopatra could be construed as a continuous story about a civilization's struggles encapsulated in the domestic foibles of these near-mythic figures who are, in truth, fallible and painfully human as the rest of us. The realization of that is central to something that still happens today: the power of socio-political unrest and the human-made systems that can enable someone to rise high enough and accrue so much influence as to dictate the fate of the majority with a word or a lift of their hand.
If you had that power, what would you do to keep it? What would you do to defeat it?
Immortal Longings is all about power, honor, ideals, trust, and love. Although written originally in Renaissance England and set in Ancient Rome/Egypt, the characters' struggle for dominance and the values they uphold are no different from the struggles we see today. Through a series of conspiracies and betrayals, we also reaffirm how difficult it is to trust and love another under such turmoils.
By combining Julius Caesar and Antony and Cleopatra, with interstitial moments from George Bernard Shaw's Caesar and Cleopatra, we gain a deeper understanding of the legacy one action can cause in the proverbial chess game of history played and in the players who make it. Caesar's assassination might have lasted several minutes but his death would reverberate in the characters' individual journeys, their subsequent betrayals, wars and power upheavals that would inevitably cause the fall of the Republic and the rise of an autocratic Empire as ruled by one man – for better or worse.
A necessary note on language regarding women and Cleopatra & the dynamics of gender with regards to the casting and the characters:
Cleopatra is both an interesting historical and cultural figure, whose portrayal often aligns with how the depictor and their respective society views femininity and women. Narratives that paint her as a sexually lecherous and exocitized Other were inherited from the views of her Roman contemporaries. Her ambition, charm, savvy, and influence were considered excessive, the antithesis of Roman virtue. The added fact that she was an Egyptian woman who claimed equal (if not more) power exacerbated her status not just as a threat to Rome as a nation state but to Roman masculinity and "proper" femininity as an identity. As such, the gendered and shaming language of promiscuity are reflective of this fear and derision, and it is important to highlight this in context of the characters' understanding, historical understanding, and our own understanding of women today.
Logistically, casting is narrowed to whoever is in the Naked Shakes class. While gender can be a determinant, the production approached casting with the mindset of which person in the class was best suited for each role. As such, students of all genders had the opportunity to be cast in roles that were normatively assigned as being cis men. While gender-blind casting can introduce new nuances and wrinkles as to how we view these characters and how they're played, it is important to note our intentions here as artists when we decided which person was going to play what character so we can approach our future discussions regarding gender and this production with clarity and frankness.
Synopsis
Two lovers embrace and cry as one is about to die; it is Antony in Cleopatra's arms. Cleopatra, once Julius Caesar's lover, is now in love with his ardent follower Antony. How come? Caesar has promised her that he will get her a beautiful present from Rome, her son Antony. Then where did Caesar go? We must go back in time.
As triumphant Julius Caesar returns to Rome after his battles with Pompey, he is celebrated and venerated by the citizens. Anxious that he will become a tyrant, Brutus is lured into Cassius and the other senators' conspiracy to eliminate Caesar. Dismissing all the warnings, Caesar heads to the senate-house and is assassinated. "Liberty! Freedom! Tyranny is dead!" But is it?
Brutus gives a public speech to justify the conspirators' deed of killing Caesar, which the citizens respond with affirmation. Then, when Antony speaks to these Romans, they are driven into a frenzy…… 
Fourteen years later: once young, valiant and reasonable Antony is now turned into a libertine, indulging himself in Egypt with Cleopatra and neglecting his duties. News comes from Rome that Antony's wife Fulvia, who was rebelling against Octavius Caesar, has died. Antony returns to Rome to make amends with Octavius – which he does by marrying Octavius's sister Octavia. Antony, Octavius, and Lepidus again stand hand in hand as the triumvirs, and together they agree to a peace with Pompey's son Sextus Pompeius. However, the peace does not last long. Antony's return to Cleopatra and his mistreatment of Octavia incenses Octavius and war is declared. How will the battle go? What will happen to Antony and Cleopatra? And to the Roman Republic?
Historical Context
Timeline
Why a Roman Play in Renaissance England?
Ancient Roman Republic was an important precedent in politics and history that had bearing on events and people in Renaissance England. England was a 'mixed-estate' rather than absolute monarchy. The monarch had to obtain the consent of Parliament in order to levy certain kinds of taxes and enact certain kinds of law. The English Parliament included the house of lords and the house of commons, similar to how the Roman Republic had the senate, consisting of aristocratic patricians, and the popular tribunate elected from common plebeians. Although the people of England accepted that they were subject to a monarch, they distinguished between a just ruler and a tyrant. They identified themselves as "free" in ways that they believed citizens of the Roman Republic had been, and others in Europe were not. 
Shakespeare's Roman plays Julius Caesar and Antony and Cleopatra explores the motives and consequences of political overthrow, the effects of charismatic individual leadership, and the obligations of virtuous citizenship which would have raised questions that his contemporaries were compelled to ask. To the people of Renaissance England, Rome was not some distant past that had no relation and resonances to them. Through what they perceived to be the history, political structure, social system, and values of "Rome," they engaged in building a sense of their own nation's history and identity.
Resonances to the Present Day
Knowing how much it mattered to Shakespare, what does this matter to us today? The productions of Julius Caesar in particular are often put up on the curb of social unrest. It was produced in 1770 at a theater in Philadelphia, PA as a way to criticize King George III. John Wilkes Booth played Mark Antony in a production of Caesar just months before assassinating Lincoln. In July 2017, a production of Caesar by The Public Theatre's "Shakespeare in the Park" series incited controversy from their portrayal of the character of Caesar as President Trump.
Looking into these productions we learn that it's not really about the rising figures—whether they be populares or demagogues—but rather the socio-political unrest in the background that supports a figure to rise that high. We can't really know what it means to be a Roman thousands of years ago, but we do know what it is like to live in an unstable period where we seem to be ruled by injustice and by people who are interested in their personal gain more than the rights and good of all. In that, we have a lot in common with the Romans.
Cultural Context
"One Hand Washes the Other"
Equal friendship, or amicus, in a highly stratified society was hard to encounter. The principle of patronage/clientelism, or manus manum lavat (translated to "one hand washes the other") formed the core of Roman socio-politics. The clients conferred prestige and votes while the patron offered protection and financial support. More interestingly, a patron could take his own patron, forming entrenched social units that encompassed all levels of Roman society. Gratitude and debt are not taken for granted or resented; they are just simply expected. In many of the relationships featured in this play, an undercurrent of such expectation, separate from the characters' own personal feelings and loyalties, drove their dynamics with each other.
Virtus, Dignitas, and Pietas
A Roman citizen couldn't hold office unless he served in the military. If responsibility to the state was tied with masculinity, then the ultimate value of a Roman as a man was in military prowess, or virtus. Glory in battle was a way to gain status, wealth, fame and political power (specifically consulship).  
With virtus comes dignitas. Loosely translated, it means dignity or honor. But it acted more as social currency, a public manifestation of internal and external worth. Great men weren't hidden; they had a duty to be public and be great for the public. To our ambitious upper class characters such as Brutus and Cassius, how people saw and regarded them are codependent with their inner sense of worth and morality. 
Pietas, or piety meant respect conferred to one's family and ancestors, the gods, and the law of the state. Showing auctoritas maiorum, "respect of the ancestors", tied dignitas with the family line. Brutus, for example, justifies his part in the conspiracy because that is what his king-killing ancestor would have done. This concept also adds significance in Caesar's choice of an heir. That he considered Brutus and Decius Brutus at all in his line of succession with Octavius was not a choice made lightheartedly. It showed his loyalty, trust, and even affection for these men he considered sons and worthy to uphold his dynasty.
Gods and Death
Rome had a healthy respect and fear for the gods, most of which they adopted from the Greek pantheon. Political activity could even be delayed until the people were assured of the gods' will by employing augurers who interpreted the movements of birds as omens. Caesar thought that relying on auspices was unproductive. Nevertheless, his ordeal with falling sickness, what we consider epilepsy today, might have promoted his superstition in the play because seizures were seen as a "sickness from the gods". 
Death was almost quotidian. Burials however were a religious duty not to be taken lightly. From the rich senator to the lowly slave, everyone had to be buried or cremated. Failure to complete these rites needed atonement. Otherwise, the deceased's family was funesta, "tainted with death", and was subject to the vengeance of the Dirae, the Furies. Romans prioritized their earthly concerns rather than any concept of the afterlife in their prayers. Caesar said it best: "Death is not a torment but a relief from suffering; it is the end of all human misfortune, beyond which there is no place for grief, or joy." To our characters, the only time they have is the time they have, and it was their duty to the state to make their death count.
Program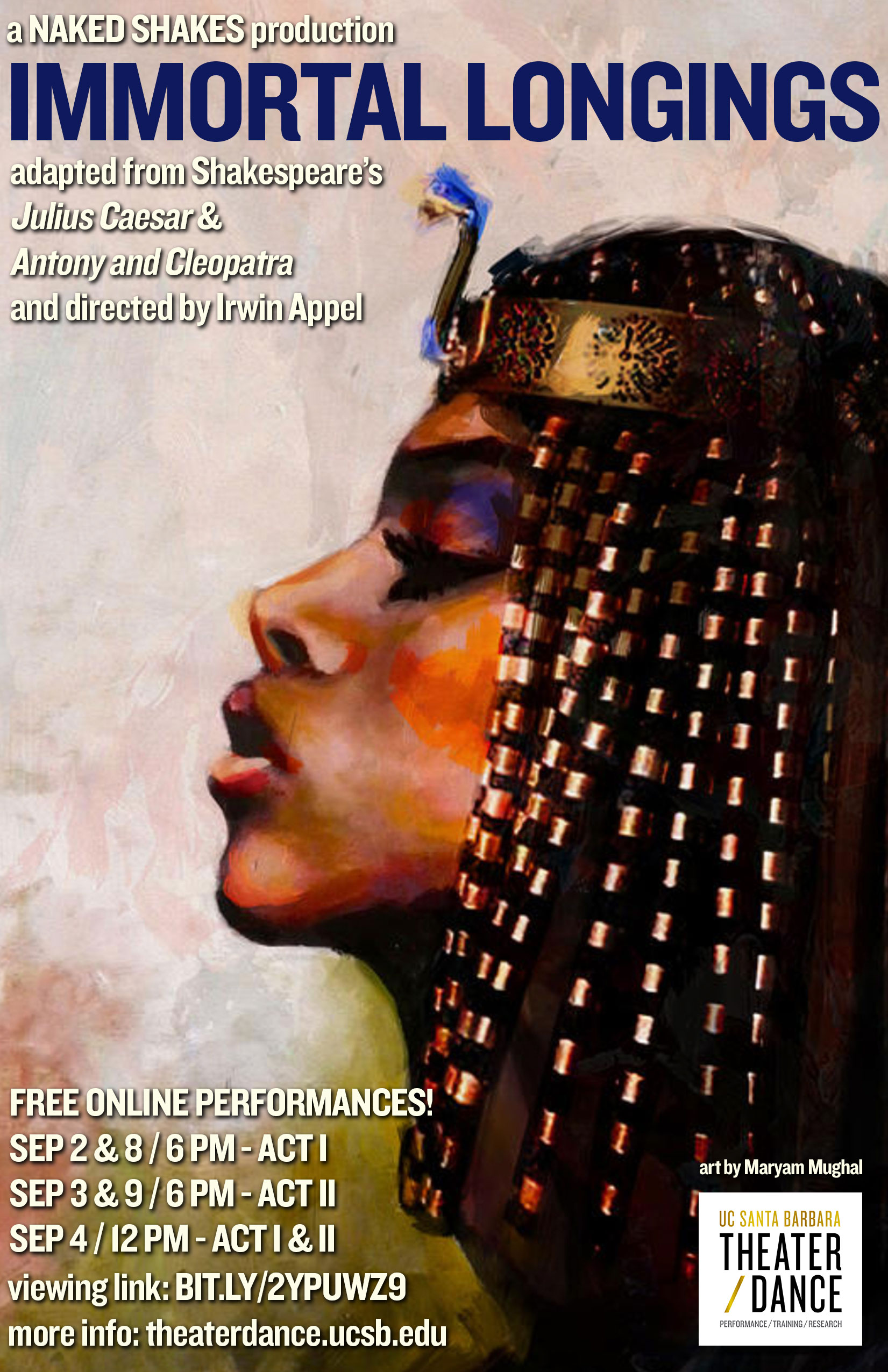 Media
TEATRIXSB interview by Maggie Yates and Anna Jensen (featuring actors Cyrus Roberts, Jarred Webb, Harry Davis, and Shekinah Bryant)
As with all Naked Shakes productions, Immortal Longings features a diverse cast, with students from the school's highly regarded theater BFA program appearing alongside students from other majors who chose the course in order to study Shakespeare in the best way possible — by appearing in one of the plays.
- Santa Barbara Independent Preview Article
In a bold response to the constraints imposed by the pandemic, this production expands the scope and ambition of the program's stripped-down, text-centered approach.
- Santa Barbara Independent Review Article
Gallery

photo by Jo Palazuelos-Krukowski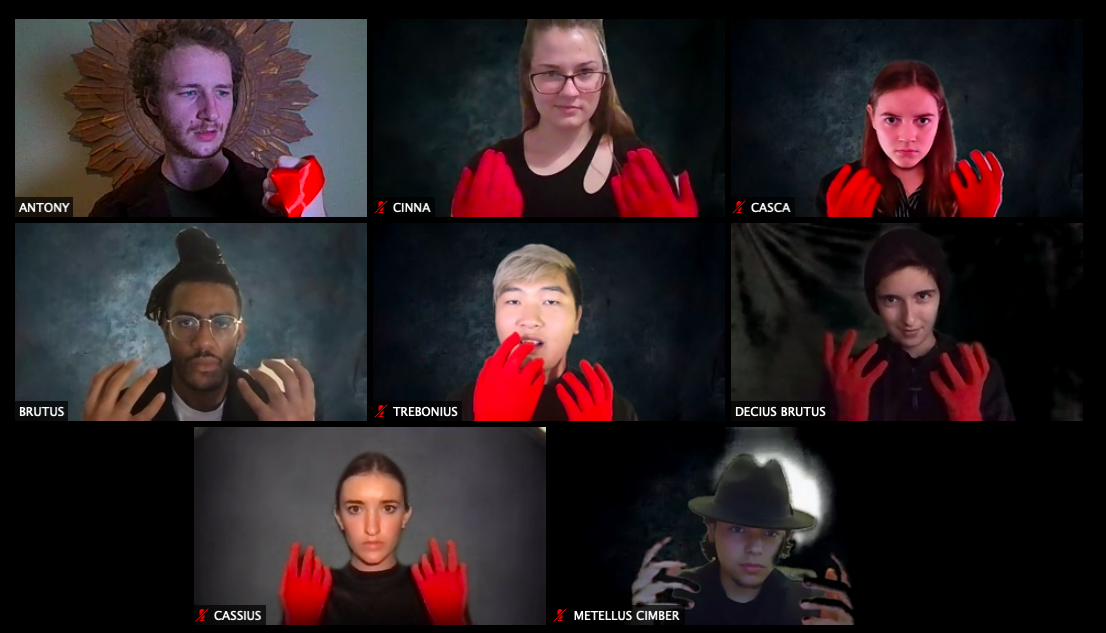 photo by Jo Palazuelos-Krukowski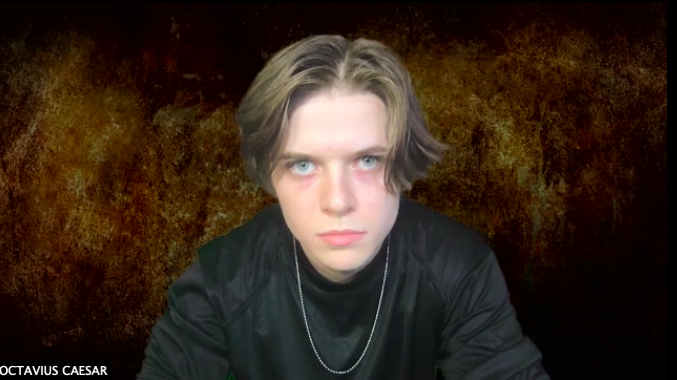 photo by Jo Palazuelos-Krukowski
photo by Jo Palazuelos-Krukowski
August 21, 2020 - 2:40pm