Event Date:
Saturday, June 6, 2020 -

11:00am

to

8:00pm
Event Date Details:
Saturday, June 6th, 2020
Chapter 1 11:00 am PST
Chapter 2 1:00pm PST
Chapter 3 4:00pm PST
Chapter 4 6:00pm PST
a LAUNCH PAD production of
a festival of monologues and short plays written for Zoom
festival directors / Risa Brainin & Annie Torsiglieri
written by
Linda Alper
Katie Bender
Jami Brandli
Leo Cabranes-Grant
Dan Castellaneta
Mia Chung 
Yussef El Guindi
Anne García-Romero
Idris Goodwin
Enid Graham
Arlene Hutton
Lila Rose Kaplan
Davies King
Deb Lacusta
Jenny Mercein
Brian Otaño
Lynn Rosen
Cheri Steinkellner
James Still
Alison Tatlock
Annie Torsiglieri 
John Walch
Cheryl L. West
Sheri Wilner
"Expect to be amused, provoked, soothed, and tickled by the mass of collective theatrical intelligence..."
~ Charles Donelan, the SB Independent
Created to provide vibrant opportunities for theater students during the "Stay at Home" order in California, 
Alone, Together
 is a celebration of innovation, ingenuity, and generosity. Inspired by the prompt "Alone, Together" and responding to an invitation to collaborate from Artistic Director Risa Brainin and Professor Annie Torsiglieri, 24 distinguished
LAUNCH PAD
alumni playwrights have written 39 short plays and monologues specifically created to be performed on Zoom. The festival is split into 4 chapters and you are welcome to see them in any combination that works for your schedule as each chapter is self-contained!
Bringing together UC Santa Barbara students, faculty, and professional guest artists, Alone, Together is a perfect celebration of LAUNCH PAD's 15-year anniversary as it continues its mission to provide students the opportunity to work with living playwrights on new plays. In these extraordinary times, LAUNCH PAD is doing its part to keep theater alive.
61 Actors
39 Plays
24 Playwrights
23 Directors
8 Artistic/Production/Administrative Staff
5 Stage Managers
4 Time Zones
3 Dramaturgs
3 Designers
2 Festival Directors
1 ZOOM!
Alone, Together
 scripts are n
ow available for licensing exclusively from Dramatic Publishing.
Chapter 1
11 am PST
Quietus
by Mia Chung
directed by Frances (Yizhou) Sun
King Zoom
by Katie Bender
directed by Julie Fishell
But Here I Am
by Lynn Rosen
directed by Sara Rademacher
Corona Chicken (part 1)
by Cheryl L. West
directed by Katherine Hamilton
Corona Chicken (part 2)
by Cheryl L. West
directed by Katherine Hamilton
Neither Here nor There
by Arlene Hutton
directed by Nicole Zahner
2084
by John Walch
directed by Iris Skeen
Here Comes the Sun
by Alison Tatlock
directed by Irwin Appel
Do Not Go, My Love
by Enid Graham
directed by Daniel Andres Blanco
Chapter 2
1 pm PST
First Date
written and directed by Annie Torsiglieri
Talk Tomorrow
by Idris Goodwin
directed by Nicole Zahner
Cha-Cha
by Yussef El Guindi
directed by Hala Baki
Rosebud
by Dan Castellaneta and Deb Lacusta
directed by Maria Zelaya Santillan
Dynamite Sales
by Dan Castellaneta and Deb Lacusta
directed by Daniel Stein
All the Cranes in the World
by Arlene Hutton
directed by Maria Zelaya Santillan
Mom's Kids
by James Still
directed by Michael Bernard
The Most Human Human
by Katie Bender
directed by Jack Richman
The Great Greats
written and directed by Cheri Steinkellner
The Art of Coping
by Idris Goodwin
directed by Sara Rademacher
Chapter 3
4 pm PST
LOL OL
by Sheri Wilner
directed by Stefan James
That Flower, That Flower
by Lynn Rosen
directed by Kate Bergstrom
Zoom Baby
by Leo Cabranes-Grant
directed by Frances (Yizhou) Sun
Les Mots Justes, or Hold Your Tongue
by William Davies King
directed by Jack Richman
Safety Net
by Cheryl L. West
directed by Riya Sahasrabudhe
The Shakespeare Section
by Lynn Rosen
directed by Daniel Andres Blanco
Whitman v the United States: Case 36 (via Zoom)
by James Still
directed by Selene Betancourt
The Safest Space
written and directed by Annie Torsiglieri
Auld Lang Syne
by Jenny Mercein
directed by Risa Brainin
Chapter 4 
6 pm PST
Pick Me Up
by Linda Alper
directed by Leo Cabranes-Grant
Pandemic Therapy
by Jami Brandli
directed by Billie Stouter Hassebrock
I'm Not Coming Home
by Brian Otaño
directed by Shianne Dingeman
South Lake Tahoe, California
by Brian Otaño
directed by Shianne Dingeman
Flight
by Alison Tatlock
directed by Sara Rademacher
Which Actually Isn't So New
by Mia Chung
directed by Kate Bergstrom
Pandemic Romance Monologue
by Lila Rose Kaplan
directed by Iris Skeen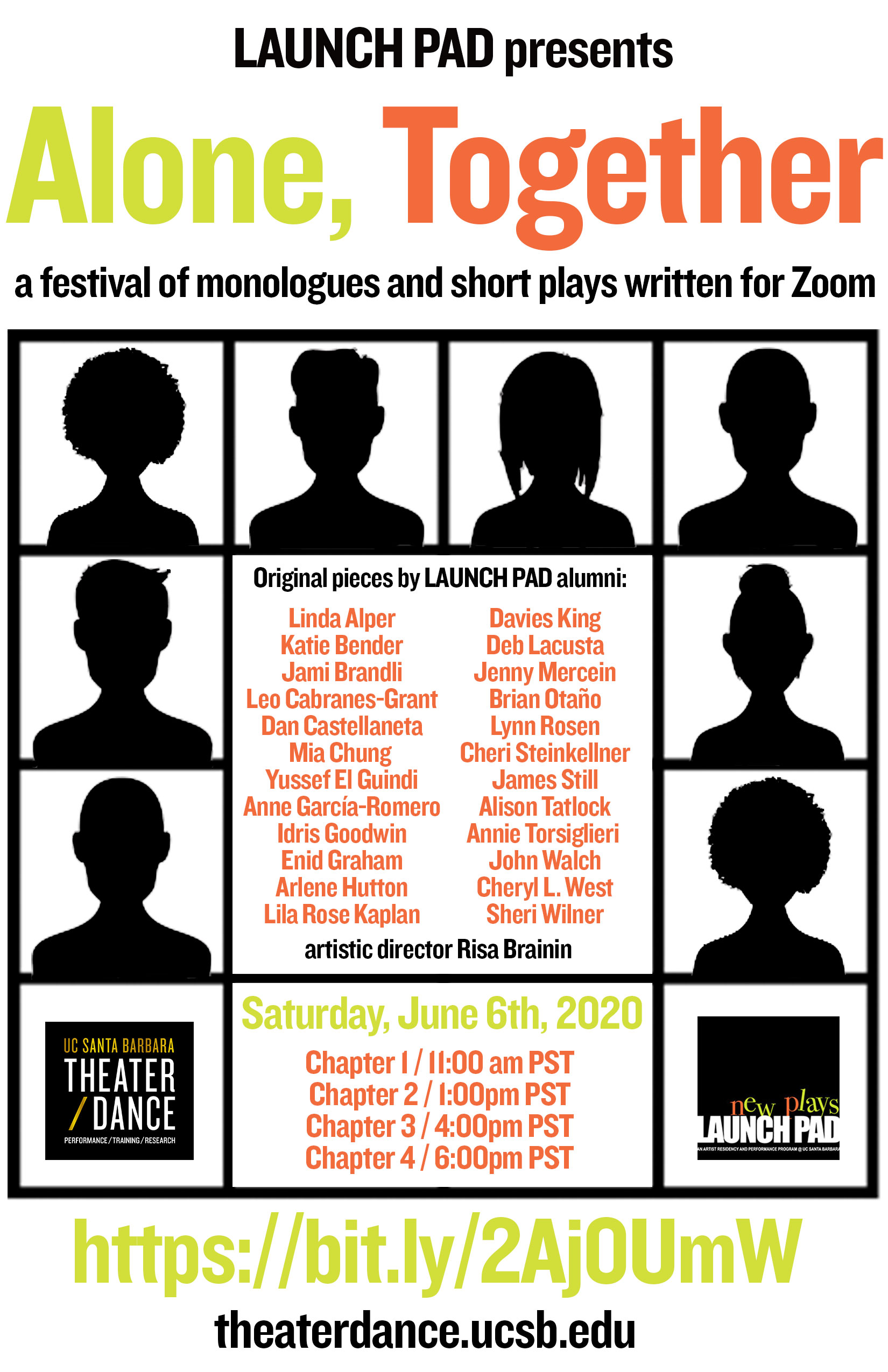 May 27, 2020 - 3:37pm