Event Date:
Saturday, February 15, 2020 - 1:00pm
Saturday, February 15, 2020 - 7:00pm
Tuesday, February 18, 2020 - 8:00pm

to

Thursday, February 20, 2020 - 8:00pm
Friday, February 21, 2020 - 7:00pm

to

Saturday, February 22, 2020 - 7:00pm
Saturday, February 22, 2020 - 1:00pm

to

Sunday, February 23, 2020 - 1:00pm
Event Date Details:
FEB 15, 2020 / 1 PM
FEB 15, 2020 / 7 PM
FEB 18 - 20, 2020 / 8 PM
FEB 21 - 22, 2020 / 7 PM
FEB 22 - 23, 2020 / 1 PM
PLEASE NOTE DIFFERENT CURTAIN TIMES
NO LATE SEATING
Hookman is a slasher comedy that contains strobe effects, scenes of violence, blood effects and discusses sexual assault.
Event Price:
PRE-SALE
$13 - UCSB Faculty, Staff, Alumni & Students, Seniors, Children
$17 - General Audience
DAY OF
$15 - UCSB Faculty, Staff, Alumni & Students, Seniors, Children
$19 - General Audience
For more info on tickets and seating, click here.
by Lauren Yee     directed by Michael Bernard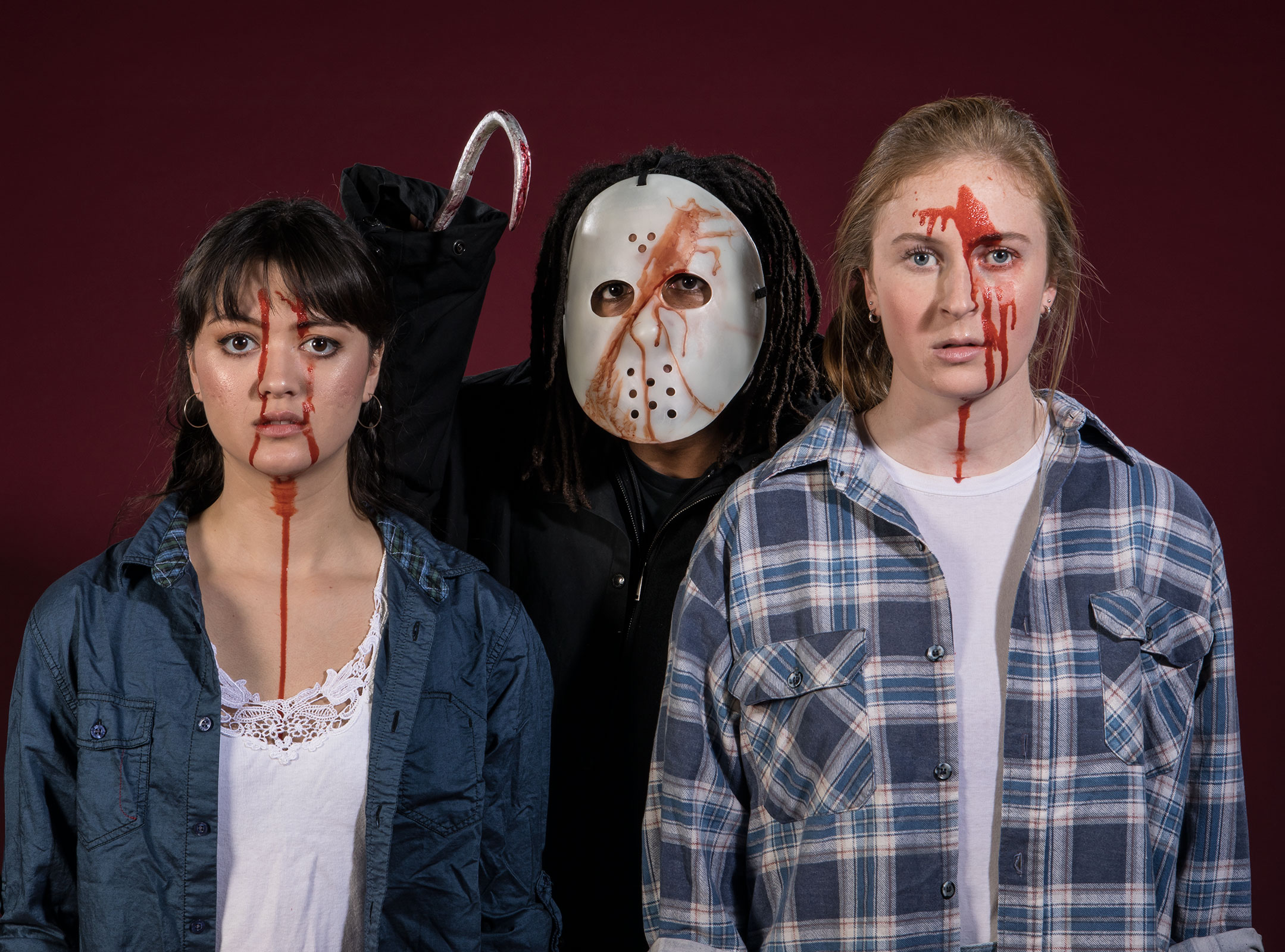 by David Bazemore
About the play
An early play by a rising contemporary playwright, Hookman has been described by some as a "slasher comedy." Sometimes mysterious, often hilarious, Hookman is a biting story of teen angst and loss.
About the playwright
Lauren Yee is a playwright born and raised in San Francisco. She currently lives in New York City.
Her Cambodian Rock Band, with music by Dengue Fever and others, premiered at South Coast Rep, with subsequent productions at Oregon Shakespeare Festival, La Jolla Playhouse, Victory Gardens, City Theatre, Merrimack Rep, Signature Theatre, Portland Center Stage, and Jungle Theatre. Her play The Great Leap has been produced at Denver Center, Seattle Rep, Atlantic Theatre, Guthrie Theatre, American Conservatory Theatre, Arts Club, InterAct Theatre, and Steppenwolf, with future productions at Long Wharf, Cygnet Theatre, and Asolo Rep/Miami New Drama.
Lauren Yee's play King of the Yees premiered at The Goodman Theatre and Center Theatre Group, followed by productions at ACT Theatre, Canada's National Arts Centre, and Baltimore Center Stage. Other plays include Ching Chong Chinaman (Pan Asian Rep, Mu Performing Arts), The Hatmaker's Wife (Playwrights Realm, Moxie, PlayPenn), Hookman (Encore, Company One), In a Word (Young Vic, SF Playhouse, Cleveland Public, Strawdog), Samsara (Victory Gardens), The Song of Summer (Trinity Rep, Mixed Blood), and The Tiger Among Us (Mu).
She is the winner of the Doris Duke Artist Award, the Steinberg Playwright Award, the Horton Foote Prize, the Kesselring Prize, the ATCA/Steinberg Award, American Academy of Arts and Letters literature award, and the Francesca Primus Prize. She has been a finalist for the Edward M. Kennedy Prize and the Susan Smith Blackburn Prize. Her plays were the #1 and #2 plays on the 2017 Kilroys List.
Lauren is a Residency 5 playwright at Signature Theatre, New Dramatists member (class of 2025), Ma-Yi Writers' Lab member, former Princeton University Hodder fellow, and Playwrights Realm alumni playwright. TV: Pachinko (Apple), Soundtrack (Netflix). Current commissions include Geffen Playhouse, La Jolla Playhouse, Portland Center Stage, Second Stage, South Coast Rep. BA: Yale. MFA: UCSD.
About the director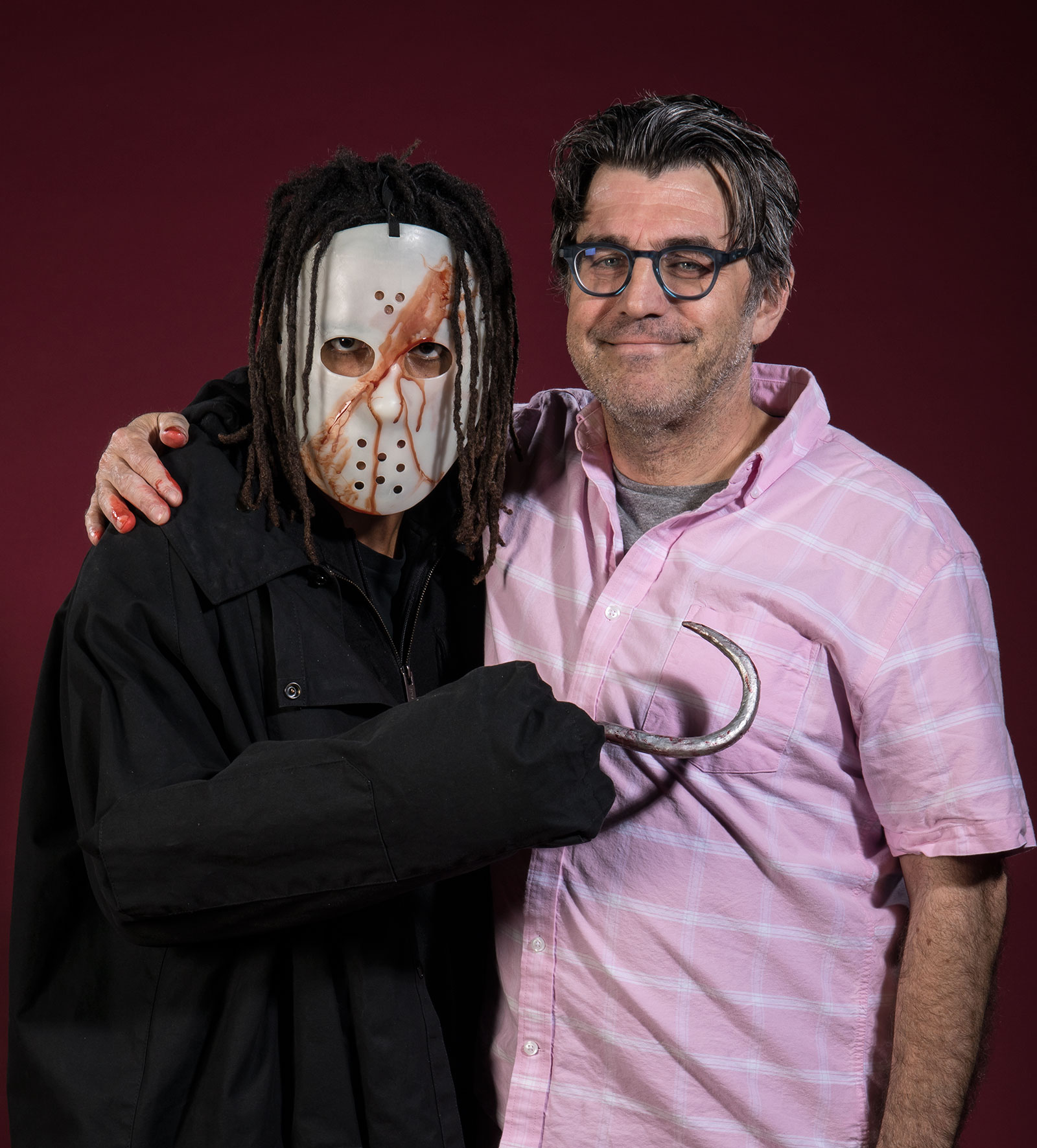 Michael Bernard spent 10 years as the Associate Artistic Director of The 52nd Street Project, a nationally recognized theater company that creates original theater with kids from Hell's Kitchen New York City and theater professionals. Michael wrote, directed, and performed in many original plays at The Project.
He also directed Twelfth Night, A Midsummer's Nights Dream and As You Like It featuring teenagers and adult actors which toured to London and France. At UCB NYC Michael directed shows including The Chipperton Family Vocaltainers Shooby Dooby Dooby Hour which was an official selection of The HBO Comedy Festival in Aspen. In Santa Barbara he spent four years as the Artistic Director of Elements Theater Collective where he played King Charles/William Scott/Lady Davenant in Or, Richard Nixon in, Nixon's Nixon, and Sorn in Stupid F-ing Bird. He also directed In a Word and ran their annual Play in a Day theater festival.
He played Stephano in The Tempest, Gayev in The Cherry Orchard, and Cassius in Julius Caesar with the LitMoon Theater Company (toured to Albania, Armenia, Georgia and Macedonia for International Festivals). He played Francis Henshall in One Man Two Guvnors at SBCC and Howard in Death of a Salesman at the Ensemble Theatre Company. He is a company member of Immediate Theater an LA improv company dedicated to the creation improvised one act plays.
He wrote the script for the musical revue Baseball Swing at the Wallis Annenberg Center in Los Angeles and his play A-Li-En the Family was featured in "Sci-Fest," LA's first Science Fiction Theater Festival. He was then commissioned to adapt two Neil Gaiman stories The Case of Four and Twenty Blackbirds and The Secret of Innsmouth for the second and third "Sci-Fests." Michael co write the original web series Ashes to Ashes which was an official selection of The Hollyweb festival and can be seen at ashestoashestheseries.com. He has also written for Disney, Nickelodeon, Henson Productions, Nick at Nite, DC Comics, Showtime, Spike TV, The Sundance Channel, Noggin, WE, MTV, VH1 and some commercials you probably fast forwarded past. Michael teaches in the Theater Programs at UCSB and SBCC, as well as for the Young Actors Conservatory and The Young Playwrights Festival at ETC, and at The Creative Arts Workshop.
Program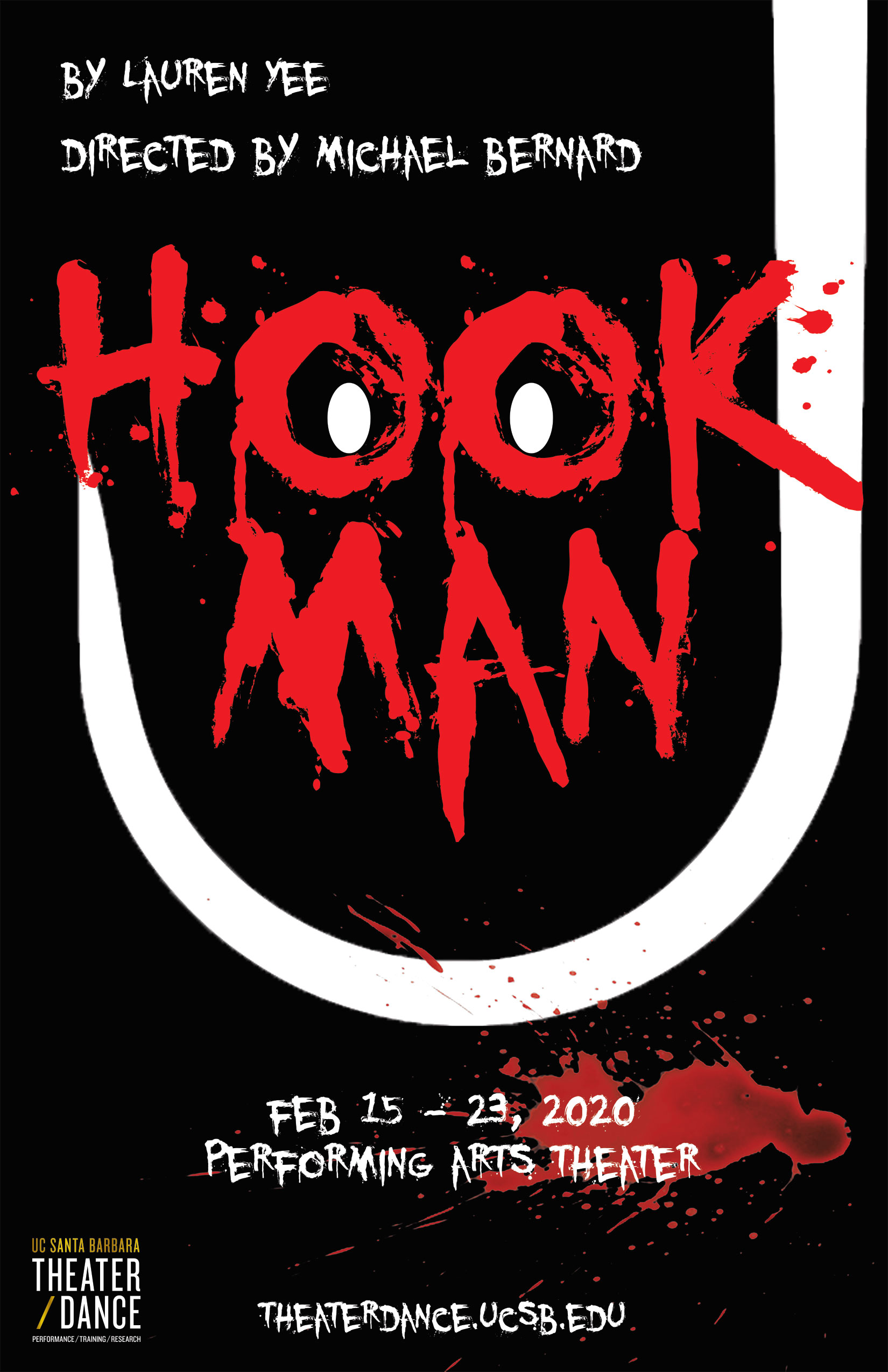 Press
The 75-minute show is a high-end gore with a progressive twist. Yee calls the play "existential slasher theater,"' which is reasonably descriptive, given she is probing the psyche of a college freshman named Lexi.
The director Michael Bernard said, "I'm very excited about the way the play mixes comedy and horror. It's full of surprises and is able to take on some pretty heavy issues in a way that is unexpected and refreshing. The tone can go from silly to serious before you even realize the shift has happened. That's pretty remarkable in a play that includes alienation and dealing with grief add to that the fact that there is a killer with a hook for a hand and some blood... I think it will make for a memorable evening.
Directed by Michael Bernard and starring a cast of talented young actors from the university's BFA program, Hookman dares to thread the string of a serial killer rumor with beads of contemporary college-student reality, as seen through the eyes of Lexi, a first-year student struggling with grief and loneliness at a campus far from her home. 
The Santa Barbara Independent Preview Article
Gallery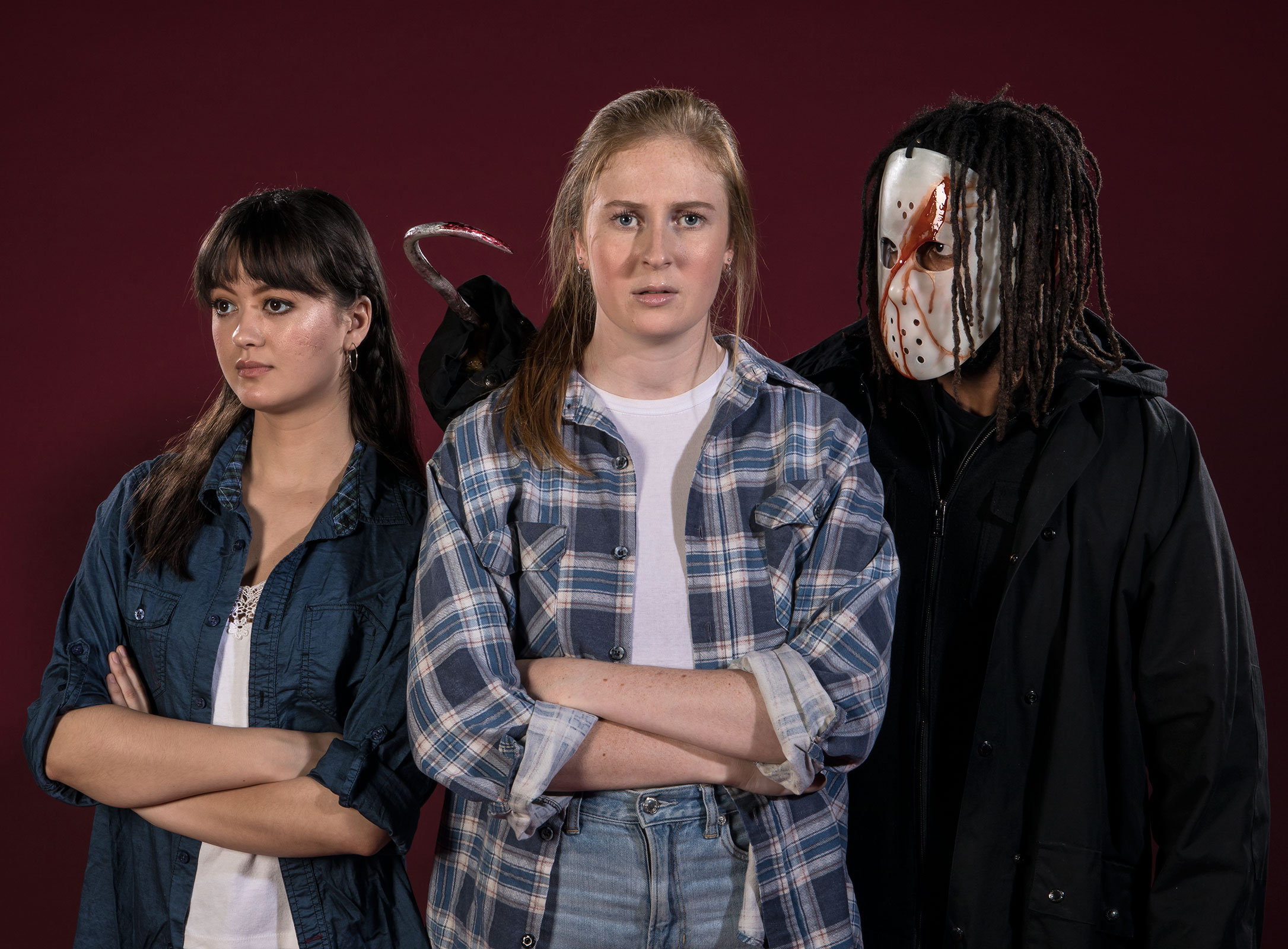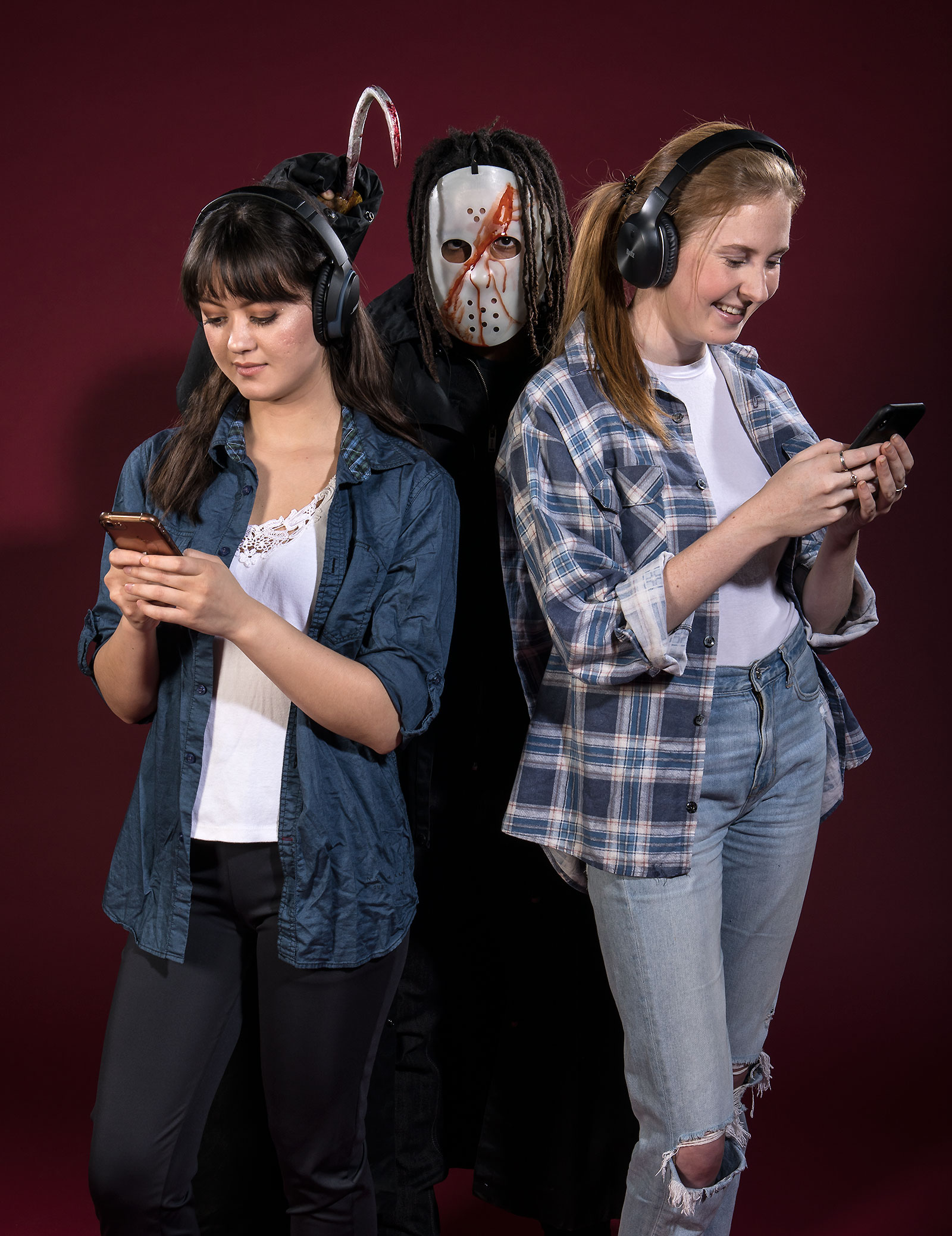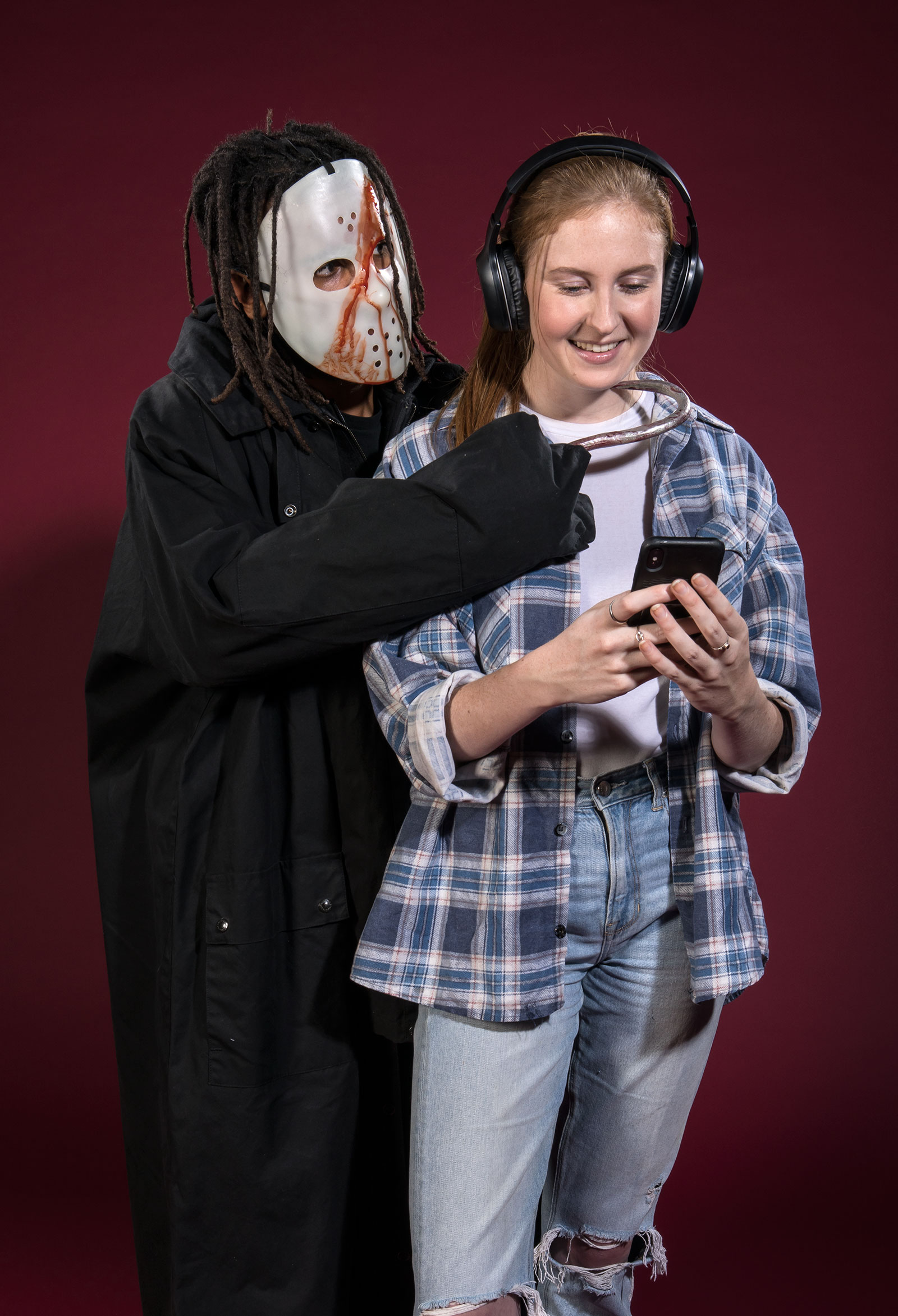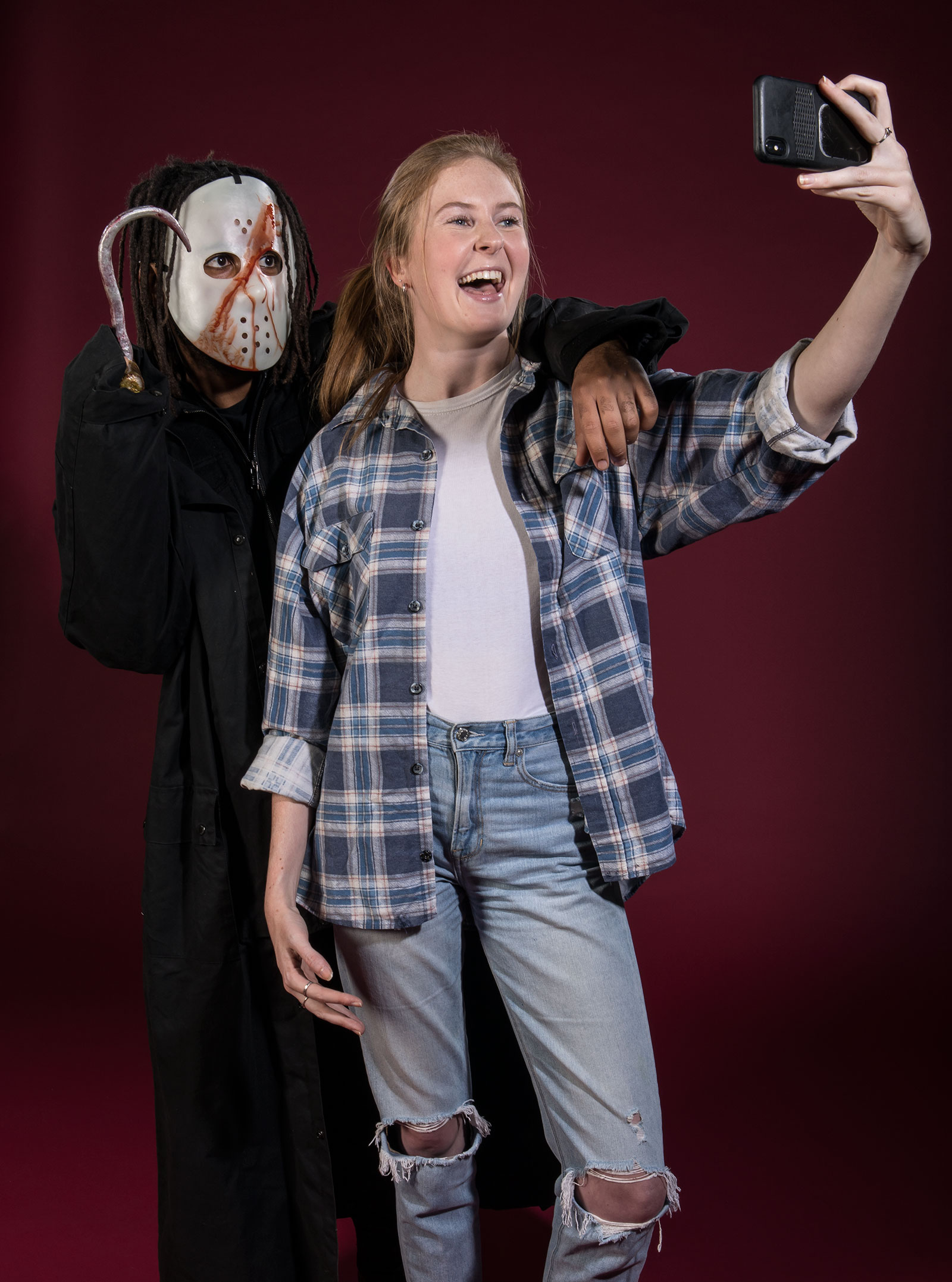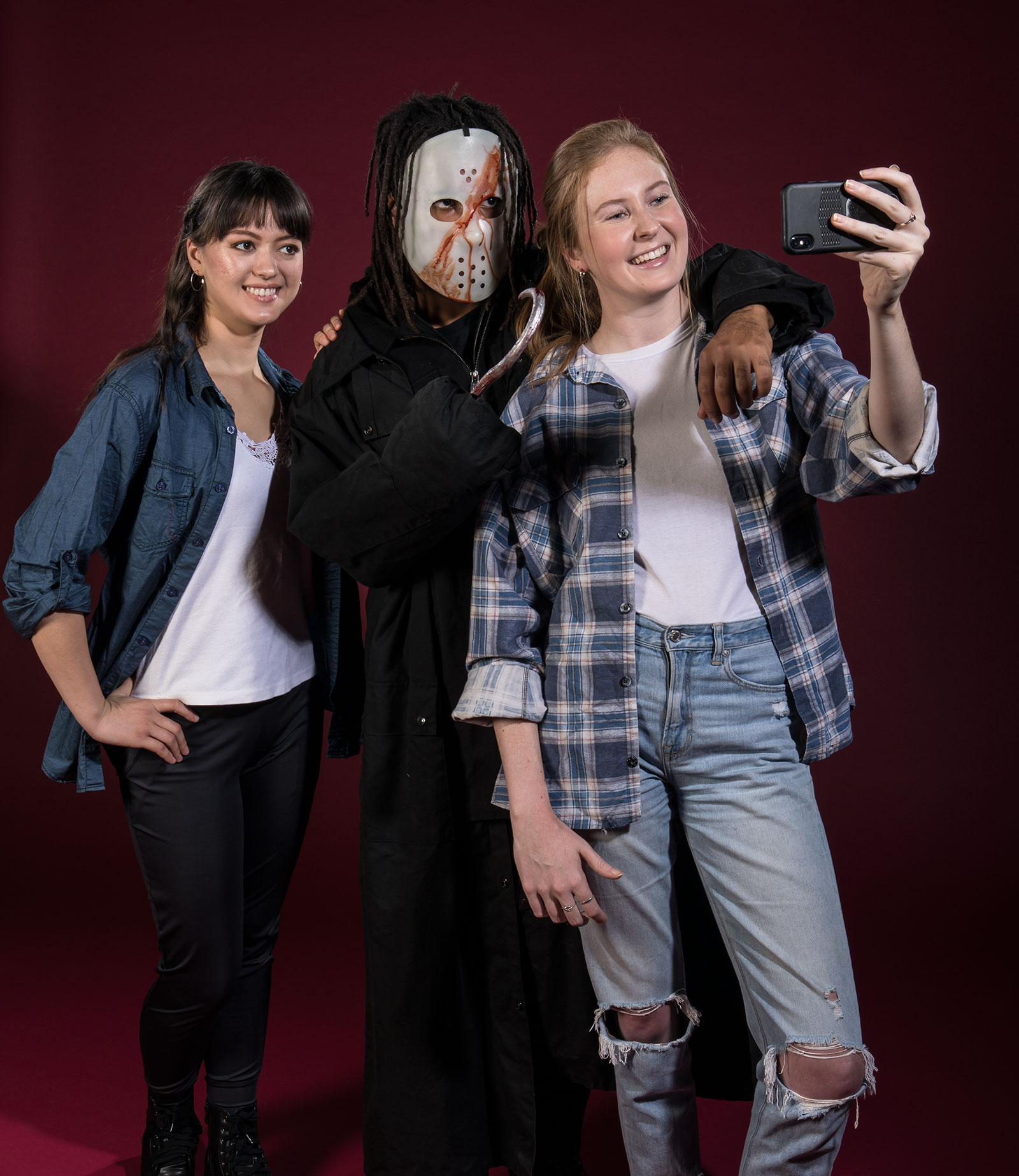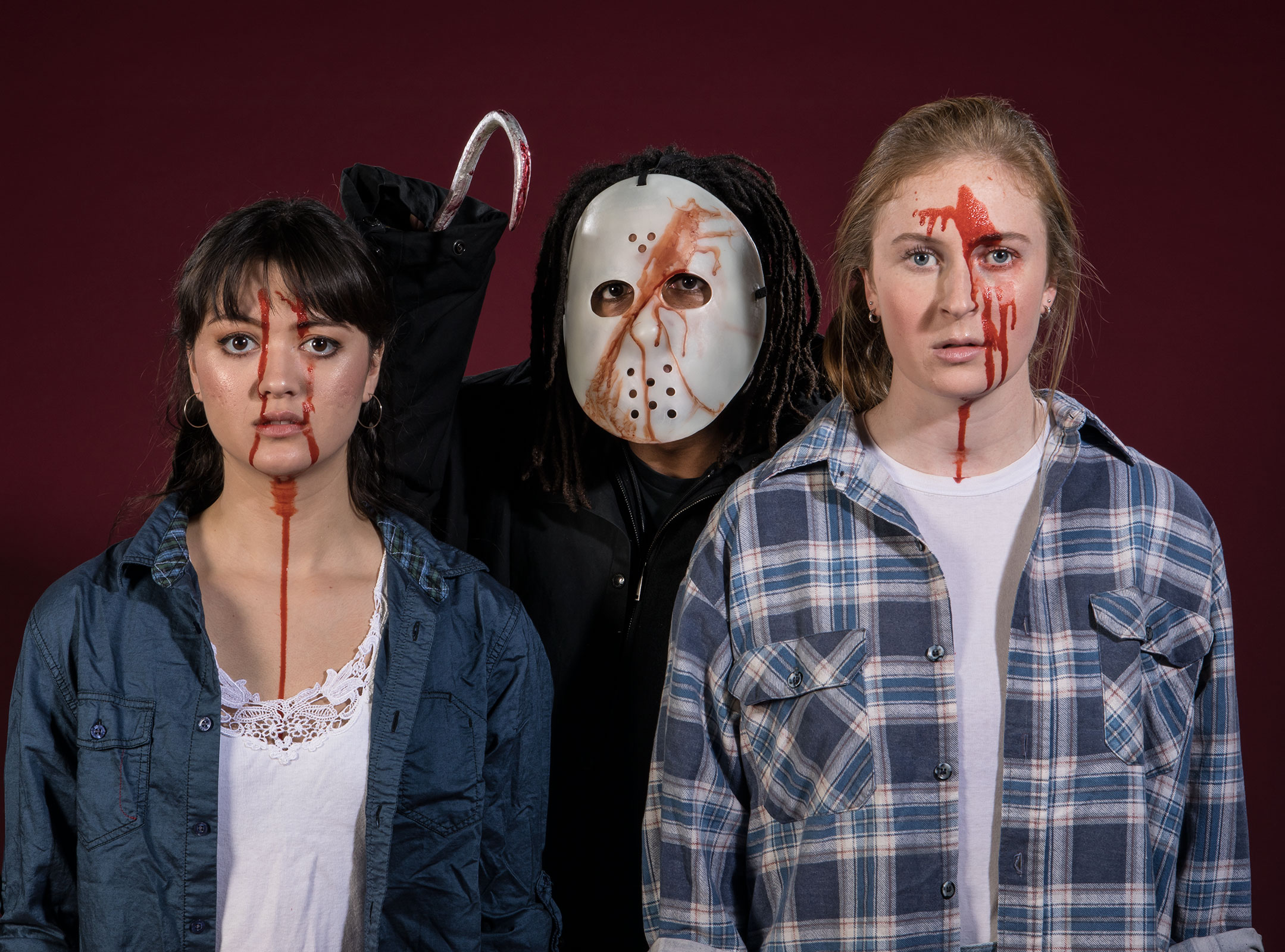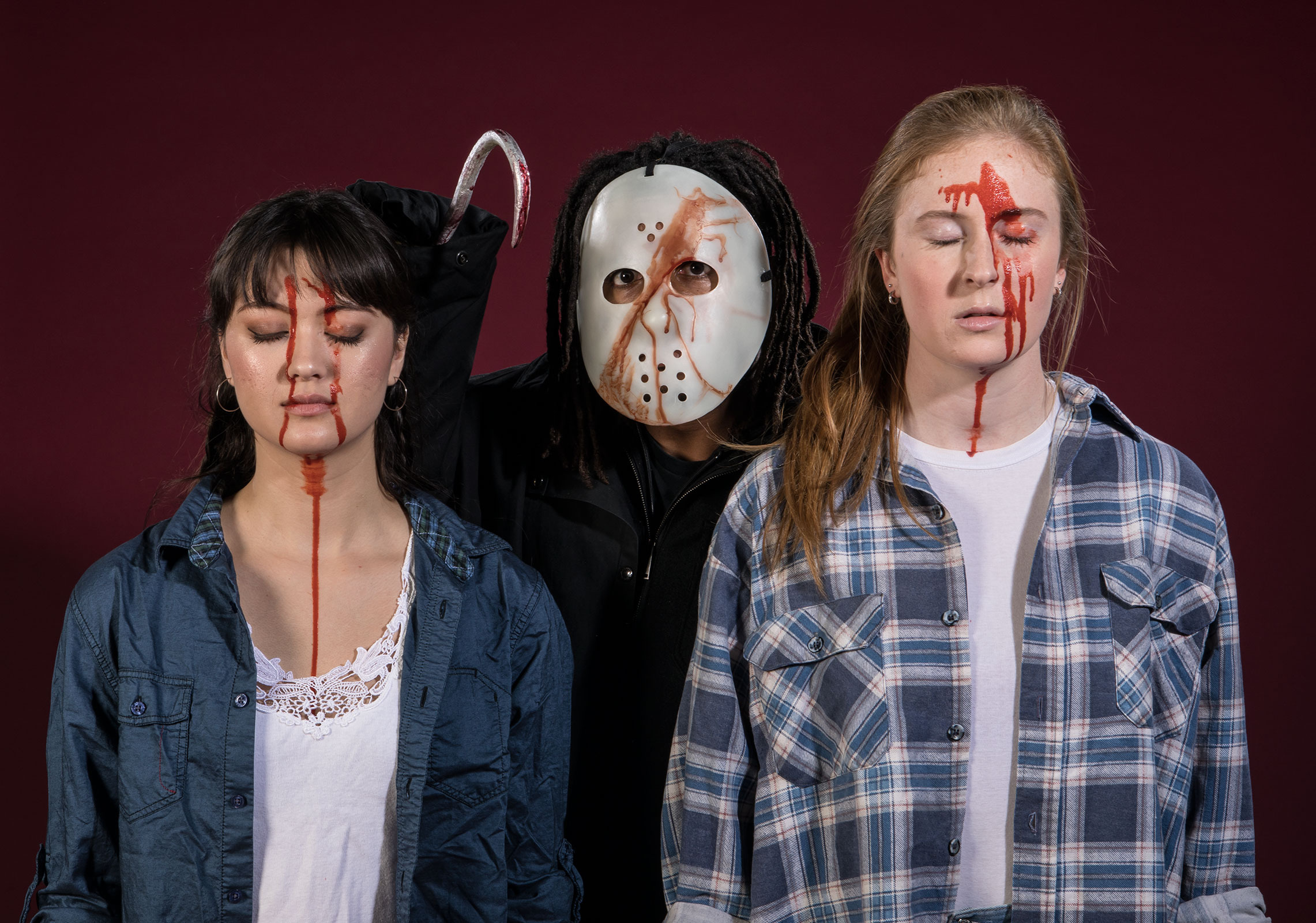 Photography by David Bazemore
August 16, 2019 - 5:09pm