Event Date:
Friday, October 18, 2019 - 7:00pm

to

Saturday, October 19, 2019 - 7:00pm
Saturday, October 19, 2019 - 1:00pm

to

Sunday, October 20, 2019 - 1:00pm
Event Date Details:
OCT 18 - 19, 2019 / 7 PM
OCT 19 - 20, 2019 / 1 PM
PLEASE NOTE DIFFERENT CURTAIN TIMES
NO LATE SEATING
Event Price:
PRE-SALE
$13 - UCSB Faculty, Staff, Alumni & Students, Seniors, Children
$17 - General Audience
DAY OF
$15 - UCSB Faculty, Staff, Alumni & Students, Seniors, Children
$19 - General Audience
For more info on tickets and seating, click here.
a NAKED SHAKES production
by William Shakespeare        directed and adapted by Irwin Appel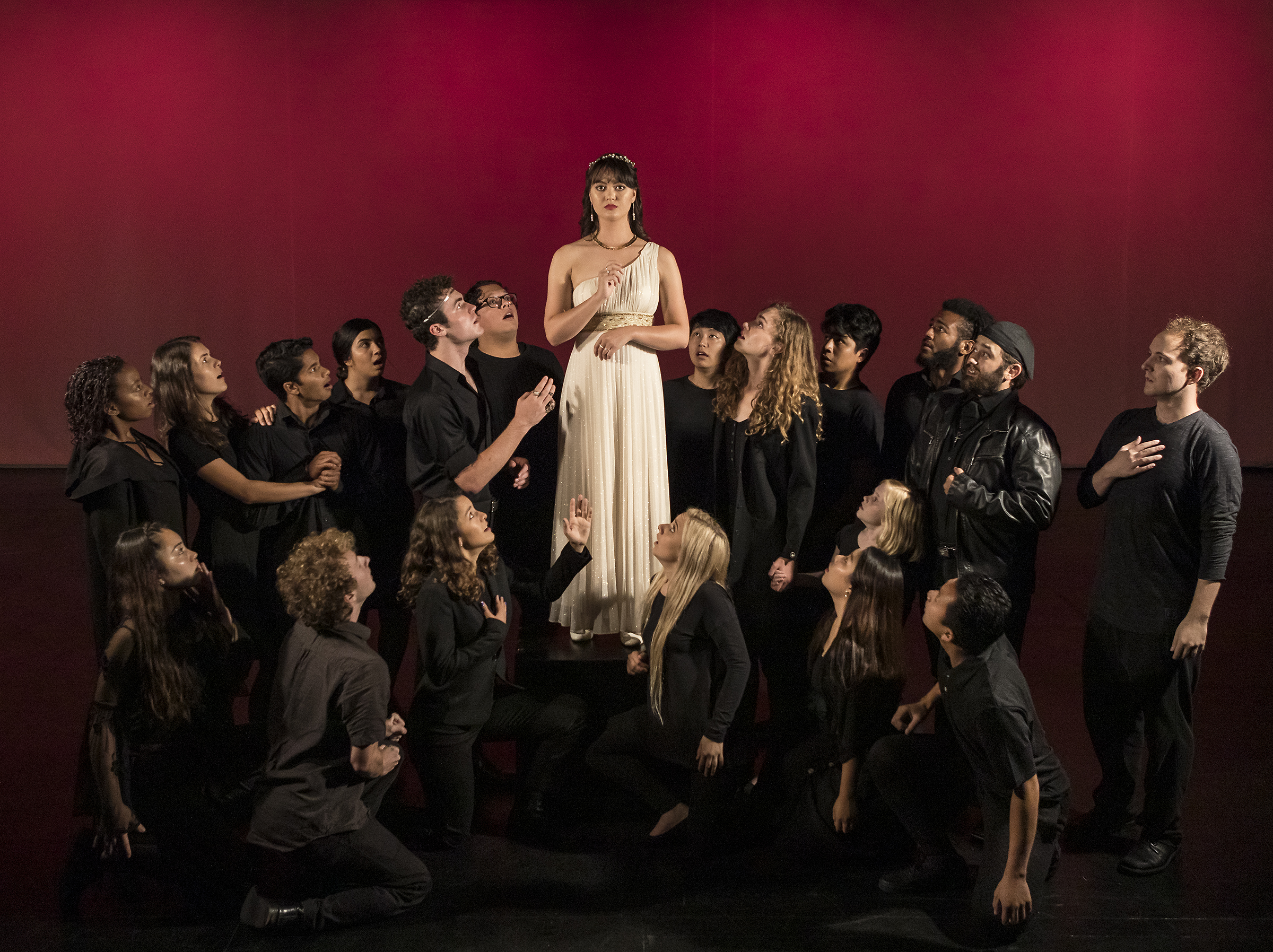 About the play
Part comedy, part tragedy, The Winter's Tale is an epic and mystical story of love, jealousy, loss and redemption. It surprises with twists and turns, ending finally with a miracle of joy and forgiveness.
About the playwright
About the director
Irwin Appel (Director) is Professor of Theater and Director of the BFA Actor Training Program at UCSB.  He is also a professional director, Equity actor and composer/sound designer, and has performed with Shakespeare Santa Cruz, Shakespeare Festival/LA, the New York, Oregon, Utah, and Colorado Shakespeare Festivals, The Acting Company, Theatre For a New Audience, Hartford Stage, Indiana Repertory Theatre, and other prominent regional theaters.  Acting roles include: Prospero in The Tempest, Shylock in The Merchant of Venice, Bottom in A Midsummer Night's Dream, Falstaff in Merry Wives of Windsor, Dogberry in Much Ado About Nothing, Kent in King Lear, Macbeth in Kabuki Macbeth, , Matt in Talley's Folly and the Emperor in a world premiere of Emperor's New Clothes.   
Since arriving in Santa Barbara, he played the title role in Richard III, Stage Manager in Our Town, DeVere inThe Beard of Avon, Frank in Molly Sweeney, Duke Senior and Duke Frederick in As You Like It, and won Santa Barbara Independent Awards for his portrayals of Oscar Wilde in Gross Indecency: The Three Trials of Oscar Wilde and the title role in Theater Artists Group's Timon of Athens.  Most recently, at the Colorado New Play Summit at the Denver Center of the Performing Arts, he played Aunt Chuck inAppoggiatura by James Still and directed by Department Chair Risa Brainin, a role he originally played in the LAUNCH PAD production at UCSB. 
He is also artistic director of Naked Shakes, producing award-winning Shakespearean productions at UCSB and traveling to downtown Santa Barbara and Los Angeles since 2006.  Directing credits at many theaters include: Equivocation, Macbeth, A Streetcar Named Desire, The Merchant of Venice, Anowa, Hamlet (SB Indy Award), Measure for Measure, Romeo and Juliet, Rabbit Hole, Twelfth Night, The Winter's Tale (SB Indy Award), Seagull, The Tempest, Angels in America, Three Sisters, Comedy of Errors, Pentecost, A View from the Bridge (SB Indy Award), The Cherry Orchard, Speed-the-Plow, A Midsummer Night's Dream, The Crucible, The Countess, Madwoman of Chaillot, Sylvia, Much Ado About Nothing and the world premiere of Brown Baby (SB Indy Award for his sound design). He also directed twice for the National Theatre Conservatory at the Denver Center for the Performing Arts.  
He has also served as composer/sound designer for the Oregon and New Jersey Shakespeare Festivals, PCPA, Shakespeare Santa Cruz, Ensemble Theatre, Pan Asian Repertory, Indiana Repertory, and other regional and local theaters.  Most recently, he served as composer/sound designer for a co-production of Other Desert Cities at Arizona Theatre Company and Indiana Repertory Theatre. He is a graduate of Princeton University and the Juilliard School.
Read about Professor Appel's groundbreaking Shakespeare course with Associate Professor of English James Kearney here.
Synopsis
There are two worlds in The Winter's Tale: Sicilia and Bohemia. Sicilia is stately, starchy, maybe a bit too formal. Hot passions brew underneath this ordered exterior, however, as we will soon witness. Bohemia is, well, like it sounds: kinda Bohemian. But more on that later. We begin in Sicilia at the palace of King Leontes, his wife Queen Hermione who is now pregnant, and their son, the young Prince Mamillius. For the past nine months, Leontes has been visited by his best friend since childhood, King Polixenes of Bohemia. Sometimes Leontes and Polixenes are actually referred to by their place names: Leontes is Sicilia and Polixenes is Bohemia. Polixenes regretfully reveals that he must leave to return to Bohemia and that he misses his own son, Prince Florizel. Leontes tries to convince him to stay but Polixenes says he absolutely must leave for home. Leontes asks Queen Hermione to intervene, and even after Polixenes' adamant refusals, she convinces him to stay. Leontes is pleased at first but then begins to believe that Polixenes and Hermione are carrying on a secret affair. Leontes' jealousy grows and he orders his trusty right hand man Camillo to murder Polixenes by poisoning him. Camillo cannot believe that Hermione is unfaithful, and he realizes he must not carry out Leontes' order to poison Polixenes. Camillo resolves to leave Sicilia rather than obey Leontes, and he chooses to tell Polixenes of Leontes' plot against him. Camillo and Polixenes decide to leave the country together immediately.
Leontes is enraged. He perceives Camillo's decision to "forsake the court" and go with Polixenes to Bohemia as the ultimate betrayal and proof of Hermione's guilt. He seizes his son, the prince Mamillius, whom he no longer believes is his real son, and he orders Hermione to prison. A noblewoman, Paulina, attempts to visit Hermione in jail, but is denied entry by the jailer. The jailer does allow the admittance of one of Hermione's gentlewomen, Emilia, and Emilia tells Paulina that Hermione has given birth to a baby girl! Paulina believes that the best way to cure Leontes of his jealous fits is to present to him his new baby daughter. Hopeful, she brings the baby to him, but then Leontes becomes more enraged and calls the baby a "bastard," believing Polixenes to be the real father. He first orders the baby killed, but then orders one of his advisors, Antigonus, who also happens to be Paulina's husband, to take the baby and leave it exposed on some distant shore. Antigonus reluctantly obeys.
Leontes puts Hermione on trial for her "crimes" of adultery and conspiracy. Also, in order to satisfy the people of his court, he sends to Delphos, home of the mighty Oracle, for confirmation of Hermione's guilt. In the very public trial, Hermione pleads for her "honor" not her life, and demands the Oracle be heard. The message from the Oracle is read, and Hermione is proclaimed to be innocent. However, Leontes refuses to believe the Oracle and orders the trial and sentencing to continue. A servant enters and tells Leontes and everyone that the young prince Mamillius has died, overwhelmed by the grief of his mother. Hermione faints and Leontes realizes how wrong he has been. Paulina comes in and announces that Queen Hermione is dead. Leontes is overwhelmed with grief and guilt. Paulina lambastes him for what he has done, and he vows once a day to visit Hermione's grave and do his penance for the rest of his life. Meanwhile, Antigonus has been visited in his sleep by a vision of the dead Hermione who tells him to leave the baby on the shores of Bohemia. Hermione names the baby "Perdita," or "the lost one," and Antigonus leaves the baby alone on the beach in the middle of a terrible storm. At this point, we have Shakespeare's most famous stage direction in all of his plays: "exit, pursued by a bear." After Antigonus is chased out, the stage is empty for a moment, while baby Perdita lies on the ground, exposed and alone. An old shepherd enters looking for his lost sheep and he discovers the baby on the shore. His son, known only in the play as the "Clown," comes in and tells his father that Antigonus was killed by the bear and that the ship he came on, along with its' mariner and crew, were lost in the storm. The old shepherd shows his son the baby and the basket of gold that is left with her. They vow to keep it a secret.
Now our little play gets weird and also a hckluva lot of fun. Welcome to Bohemia! A narrator called "Time" comes in to tell us that sixteen years have now passed by. Our friend the Shepherd, after striking it rich from the contents of baby Perdita's basket, is about to host the big sheep shearing feast. Perdita, now sixteen years old, accompanied by her friends Mopsa and Dorcas, sing and get ready for the feast. A young man named Florizel stands in the shadows, taking in every glorious note sung by this goddess who leads the trio. Florizel is King Polixenes' son, and he has fallen in love with Perdita, this "shepherd's daughter." Perdita is worried that if Florizel's father Polixenes finds out then all will be lost, since she feels there is no way she should ever be worthy of the royal prince. Florizel insists that their love will survive, and he affirms his undying commitment to Perdita. The feast begins and Polixenes and Camillo come in disguise – they have heard that Florizel is spening a lot of time with this "shepherd girl" and her newly rich father. After a rousing dance, Polixenes and Camillo reveal themselves to Perdita, Florizel and the shepherd and threaten to not only kill them, but also bar Florizel from succession to the throne if he continues to see Perdita. Florizel resolves to run away with Perdita, and Camillo sees this as an opportunity to return to Sicilia to reconcile with King Leontes, whom he dearly misses.
A new character is introduced: he is a rogue and con man named Autolycus, and meeting him on the street, Camillo pays him to change clothes with Florizel so that Florizel and Perdita can slip out of Bohemia undiscovered. Camillo also devises a plan for Florizel to present himself before King Leontes and bring his young "princess" Perdita, telling Leontes that he has his father's blessing, which is of course untrue. Camillo also decides to tell Polixenes of his son's flight so that Polixenes will follow to Sicilia and hopefully all can be reconciled. Florizel and Perdita arrive in Sicilia and present themselves to Leontes, but a messenger comes in and says Polixenes is on the way and very unhappy. All seems lost, but then all come together in a joyous meeting. In the meantime, Paulina convinces Leontes to vow to never remarry unless it be to someone "As like Hermione as is her picture." Paulina brings everyone to the gallery of her house to show them a statue of Hermione that has been sculpted for years and kept in secret. All throng to the statue and for the miracle that follows.
Program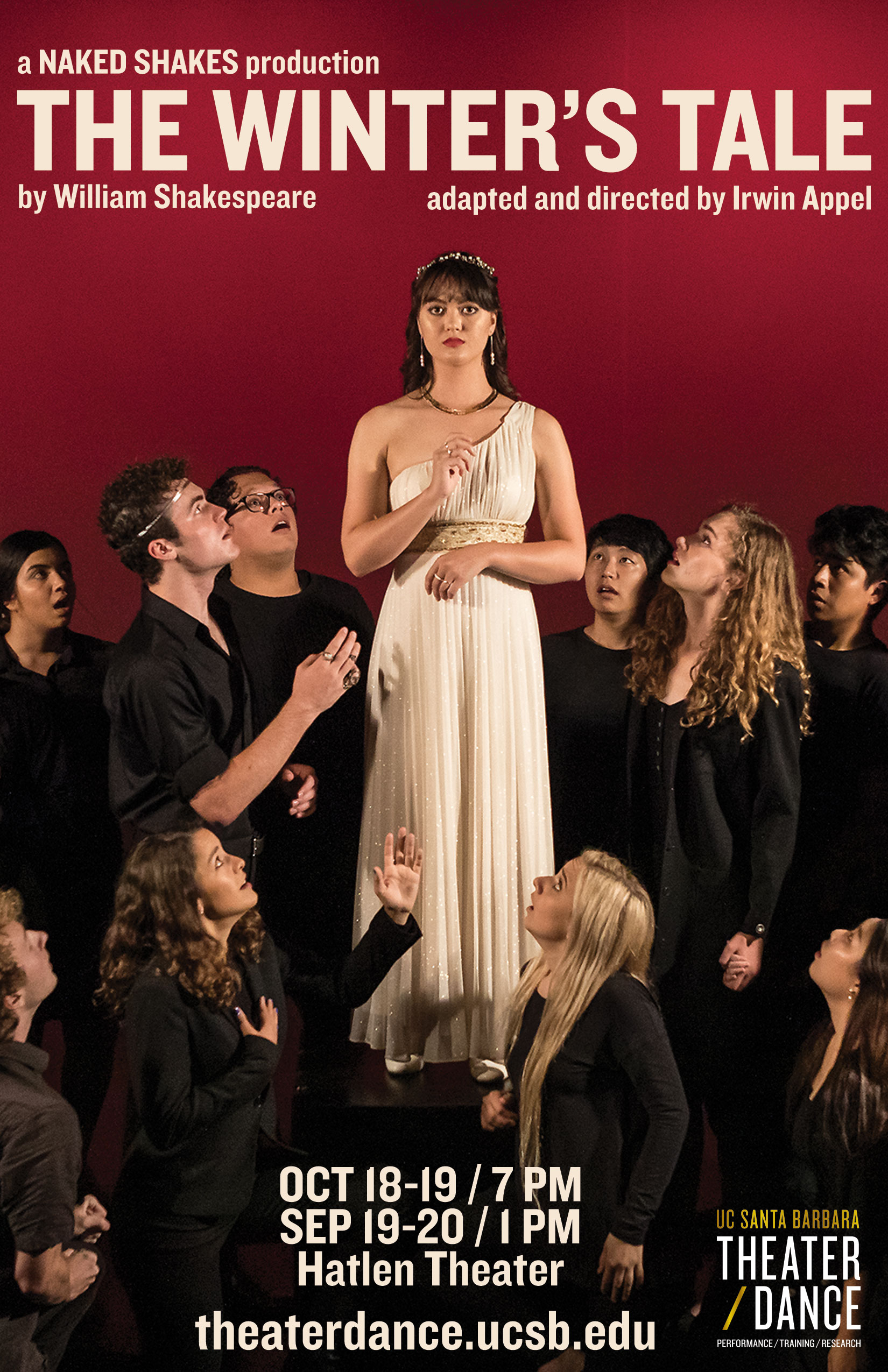 Press
One of the most striking things about the plays of William Shakespeare is the fact they often feel uncannily relevant. It's always easy to liken a prominent politician or celebrity to Hamlet or Lear, or to realize a high-profile dispute is revisiting the clash between justice and mercy he dramatized so often.
- Tom Jacobs, The Current
Gallery
photo by David Bazemore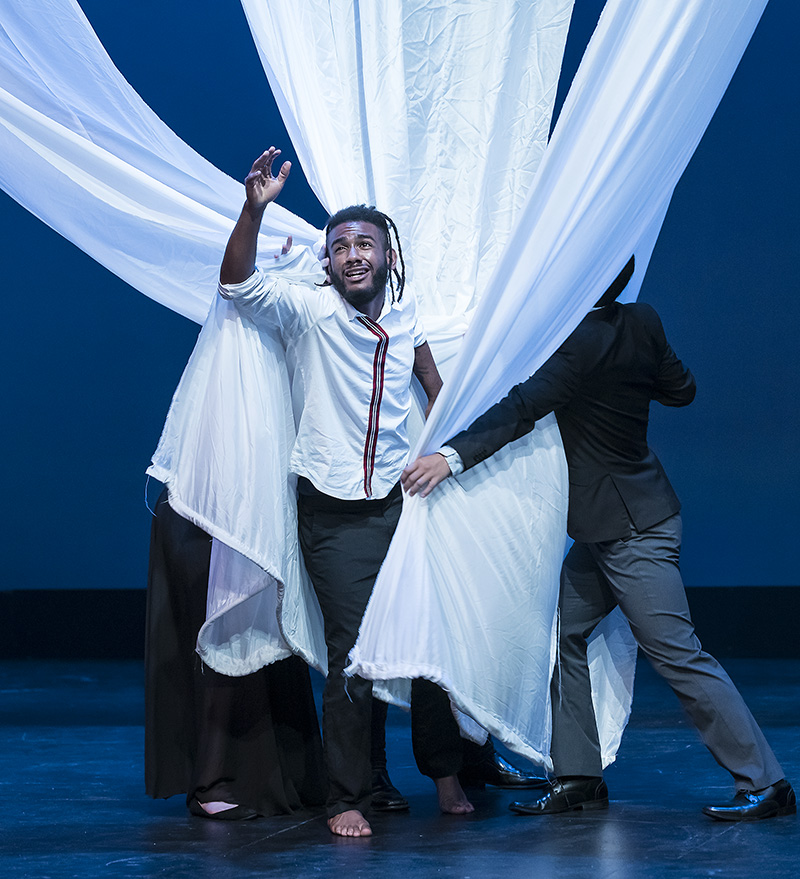 photo by David Bazemore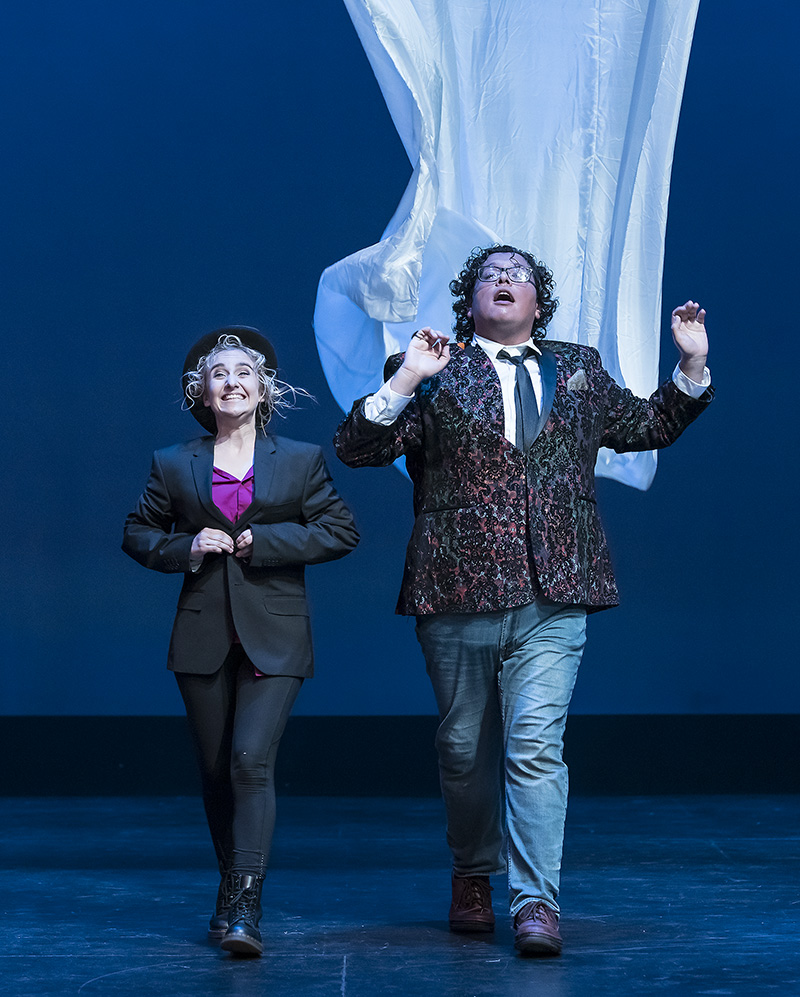 photo by David Bazemore
August 16, 2019 - 2:43pm