Event Date:
Wednesday, June 5, 2019 - 5:00pm

to

Thursday, June 6, 2019 - 5:00pm
Wednesday, June 5, 2019 - 8:00pm

to

Thursday, June 6, 2019 - 8:00pm
Event Price:
General Admission - $14
Seniors, Students, Children, UCSB Faculty/Staff/Alumni - $11
For more info on tickets and seating, click here.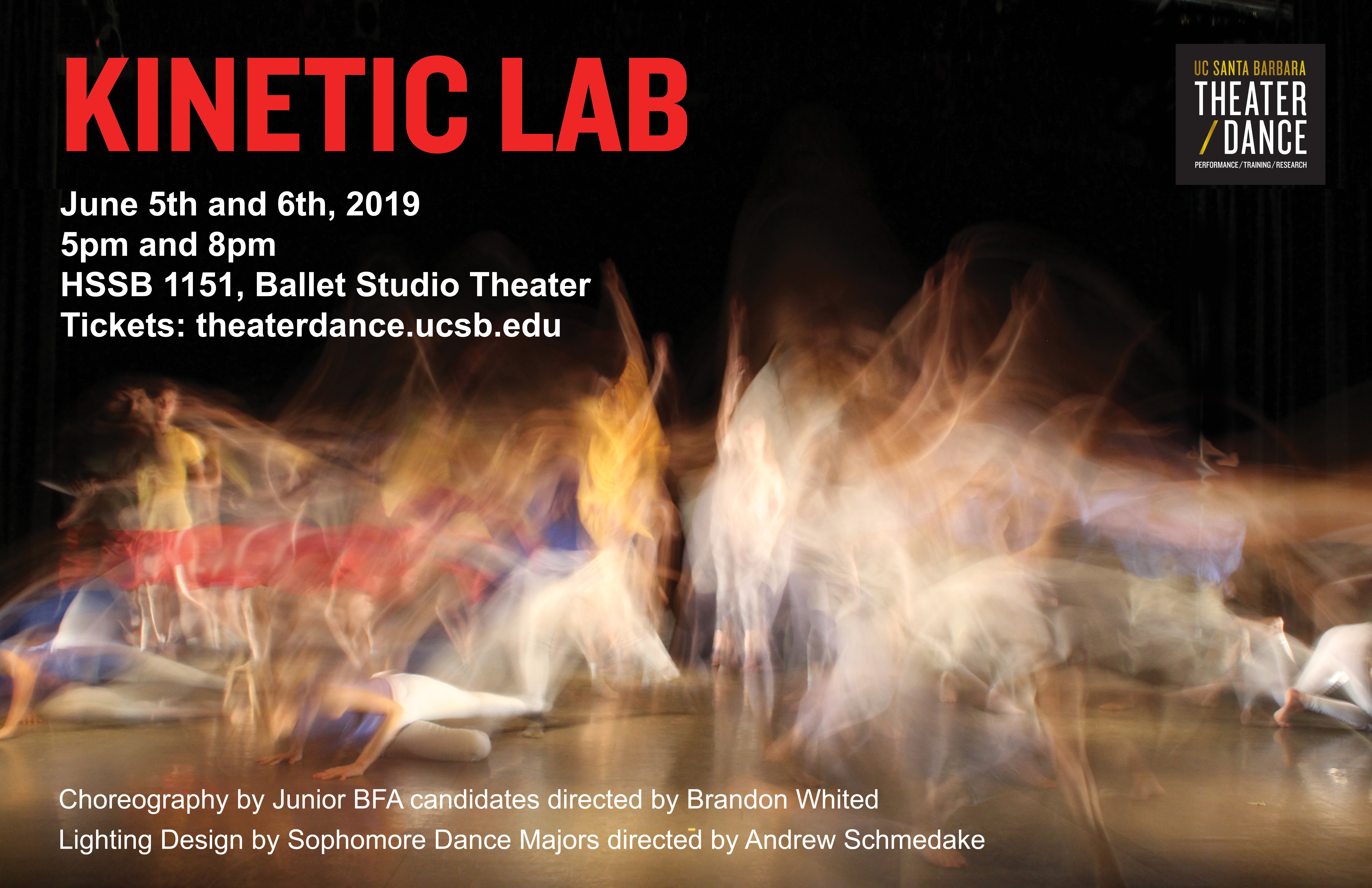 KINETIC LAB 2019 features new, process-focused works by Junior BFA candidates: Guillermo Castro, Lihong Chan, Lexi Cipriano, Wes Dameron, Joyceline Fekete, Morgan Geraghty, Lilian Gonzalez, Colson Lynn, Whitney Ross, Gina Schemenauer, and Mason Teichert.  Under the guidance of Concert Director/Choreographic Advisor Brandon Whited, these eleven budding choreographers tackled a range of concepts and creative structures within a variety of genres to offer a diverse and exciting evening of dance. 
KINETIC LAB serves as a creative laboratory for student-choreographers to delve deeply into the process of creation with the aim of practicing the foundational tools of dance composition, while discovering and honing an individualized creative voice.  Students are encouraged to see dance-making as an ongoing and evolving practice that, though developing a product to share with audiences, benefits from a dedicated focus on the process of making—this is where the learning resides.
Lighting Designs for the dances are created by members of the Sophomore Dance Majors under the direction of Lighting Director/Advisor Andrew Schmedake.  Jayne Butler, Camille Locke, Erick Martinez, EzraNolan Spencer, Andrew To and Sam Penaloza engaged one or more choreographers' processes to inflect their own creative vision for the work and employ the lighting design process and techniques learned in their 'intro to lighting design' course this quarter.
Join us on Wednesday June 5th and Thursday June 6th at 5:00 and 8:00pm (both evenings) in the Ballet Studio Theater – HSSB 1151.
May 30, 2019 - 3:31pm