Event Date:
Wednesday, August 1, 2018 - 8:00pm

to

Thursday, August 2, 2018 - 8:00pm
Event Price:
General Audience $14
UCSB Faculty / Staff / Alumni & Student, Senior, Child $11
For more info on tickets and seating, click here.
Summer Session A "Summer Dance Lab" a concert will feature new choreography by faculty member Valerie Huston and former Alvin Ailey dancer Christina Sanchez. Two New York based companies will be setting works on the students to be performed as well. Peter Cheng of Peter & Co.will be creating a new work and co-collaborators Sumi Clements and Taryn Vanderhoop of Summation dance will be re-creating an existing work. Concert dates are August 1st and 2nd at 8pm.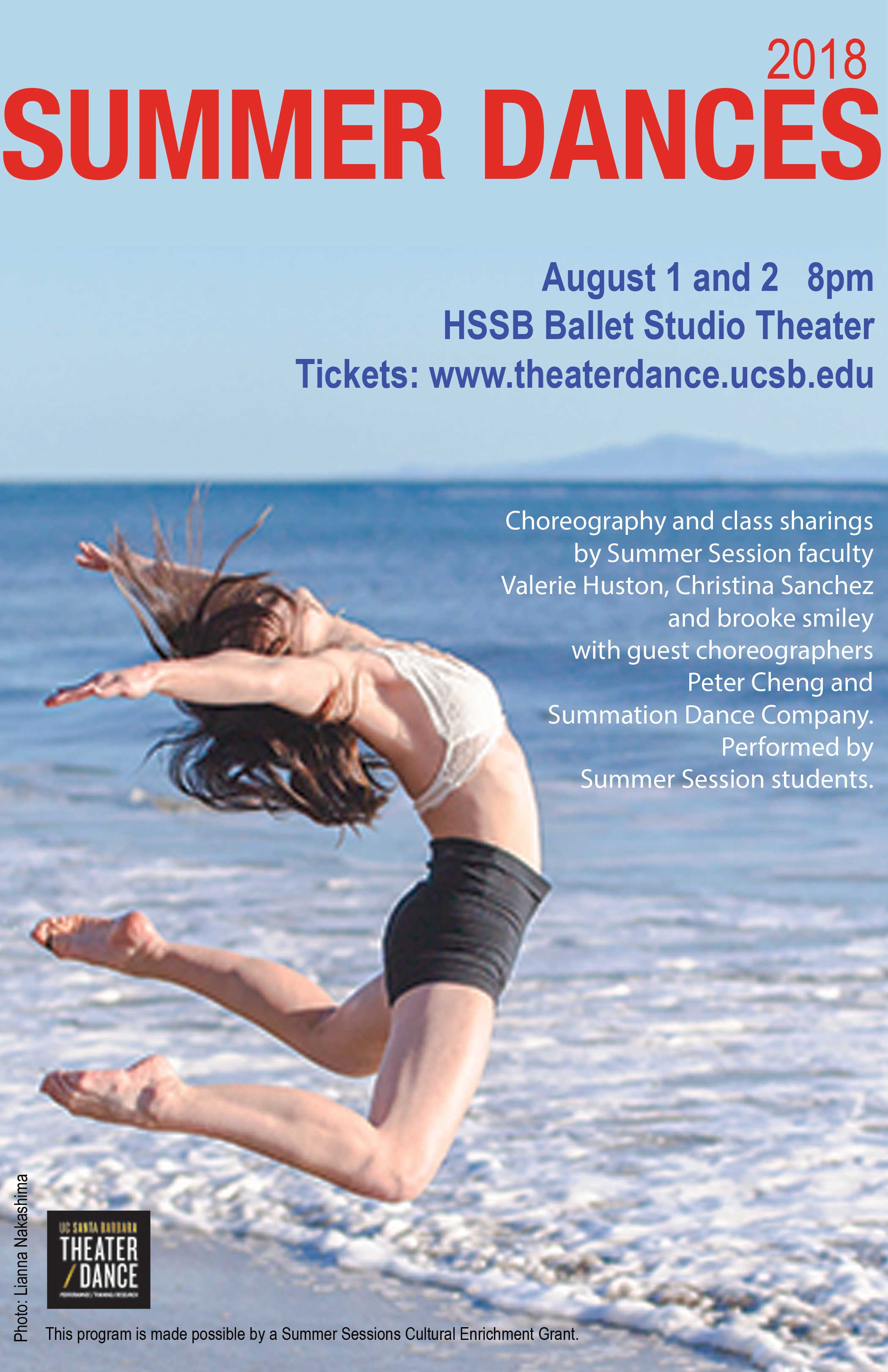 Originally from Fremont, CA, Peter Cheng graduated from UC Santa Barbara with a B.F.A. in Dance and a minor in Education and Applied Psychology. During his time he trained under the direction of Christopher Pilafian (Jennifer Muller/The Works), Nancy Colahan (Lar Lubovitch Dance Company), and Tonia Shimin (Sokolow Theatre/Dance Ensemble).
While at UCSB, Cheng performed in over twenty works including eight faculty-choreographed works, receiving the Matthew Alan Plaskett Scholarship, Patricia Sparrow Memorial Fund Scholarship, and Tonia Shimin Award for Excellence and Promise in the field of dance.
Peter continued his professional training in San Francisco, CA with Alonzo King LINES Ballet, ODC/Dance, San Francisco Conservatory of Dance, Post:Ballet, Liss Fain Dance, and has worked with choreographers KT Nelson, Brenda Way, Doug Letheren, Robert Dekkers, Lenora Lee, Amy Seiwert, Nancy Karp, and Alex Ketley.
In 2017, Cheng continued his creative practice in New York, Chicago, and Montréal with Sidra Bell Dance NY, Visceral Dance Chicago, and Springboard Danse Montréal. He has performed works by Nick Pupillo, Mónica Cervantes, Stijn Celis, Sharon Eyal, Caili Quan (BalletX), and konverjdans. 
Peter & Co. was launched in 2014 as a platform for Mr. Cheng's choreographic work after a six year hiatus from dance to recuperate and realign from end stage kidney failure.
Summation Dance Company, founded by Sumi Clements and Taryn Vander Hoop, is a New York City based modern dance company creating exciting, innovative, and highly physical work. Empowering each other on all decisions, Clements and Vander Hoop have distinct roles, but an equal partnership that is complimentary in aesthetic and vision. The mission of Summation is to find the beauty in struggle and the humor in the mundane. We value dance that moves the flesh; it bubbles from underneath, knots in the back, and rips away the layers leaving us raw and exposed. We offer up this work to affect, inspire and enliven.
In 2010, Clements and Vander Hoop graduated with their MFAs in Dance Performance and Choreography from NYU Tisch School of the Arts. Since the spring of 2010, Summation Dance has self-produced annual seasons at Brooklyn Academy of Music and Baryshnikov Arts Center, as well as produced three Dancing Literate Project performances, their annual dance education outreach festival at Judson Memorial Church. Through the Dancing Literate Project, Summation has commissioned Suzanne Beahrs (Suzanne Beahrs Dance), Sidra Bell Dance (Sidra Bell Dance New York), Claudia Anata Hubiak (The Anata Project), Peter Kyle (Peter Kyle Dance), and Kendra Portier (BandPortier) to perform, as well as Andrea Miller (Gallim Dance), Sydney Skybetter (skybetter & associates), and Taryn Vander Hoop (Summation Dance) to set repertory pieces on Summation's dancers.
The company has also performed in numerous festivals and venues in NYC such as: City Center, DUMBO Dance Festival, FAB Festival, FlicFest at the Irondale Center, Fridays at Noon Series at the 92nd St Y, RAW at Dance New Amsterdam, La MaMa Moves Festival, REVERB Festival at Baruch Performing Arts Center, Skirball Center, St. Mark's Church, and the World Dance Alliance Conference. Summation has received numerous commissions and residencies from venues and colleges across the country.
Clements' works are powerfully kinetic and emotional explorations of the human experience. Her work demands physicality as she pushes the limits of the body, often displaying the exhaustion and vulnerability of her dancers, while at the same time using small or eccentric gestures to communicate the essence of her idea.
Summation Dance strives to bridge the gap between the choreographer and the viewer, so that our art is no longer esoteric and understood only by the dance elite, but can be universally appreciated. We offer dance and arts education programs for children and young adults because we believe that fostering creativity and imagination is the key to a bright future. Our educational outreach program brings dance into the schools, offering performances, as well as movement and composition classes, to children who may not otherwise have exposure to the arts.
July 6, 2018 - 1:51pm