Event Date:
Saturday, November 4, 2017 - 8:00pm

to

Sunday, November 5, 2017 - 8:00pm
Friday, November 10, 2017 - 8:00pm
Tuesday, November 14, 2017 - 8:00pm

to

Wednesday, November 15, 2017 - 8:00pm
Sunday, November 19, 2017 - 8:00pm
Saturday, November 11, 2017 - 2:00pm
Saturday, November 18, 2017 - 2:00pm
Event Date Details:
CAST ONE:
Nov 4 & Nov 10 & Nov 14 / 8 PM
Nov 18 / 2 PM
CAST TWO:
Nov 5 & Nov 15 & Nov 19 / 8 PM
Nov 11 / 2 PM
Event Price: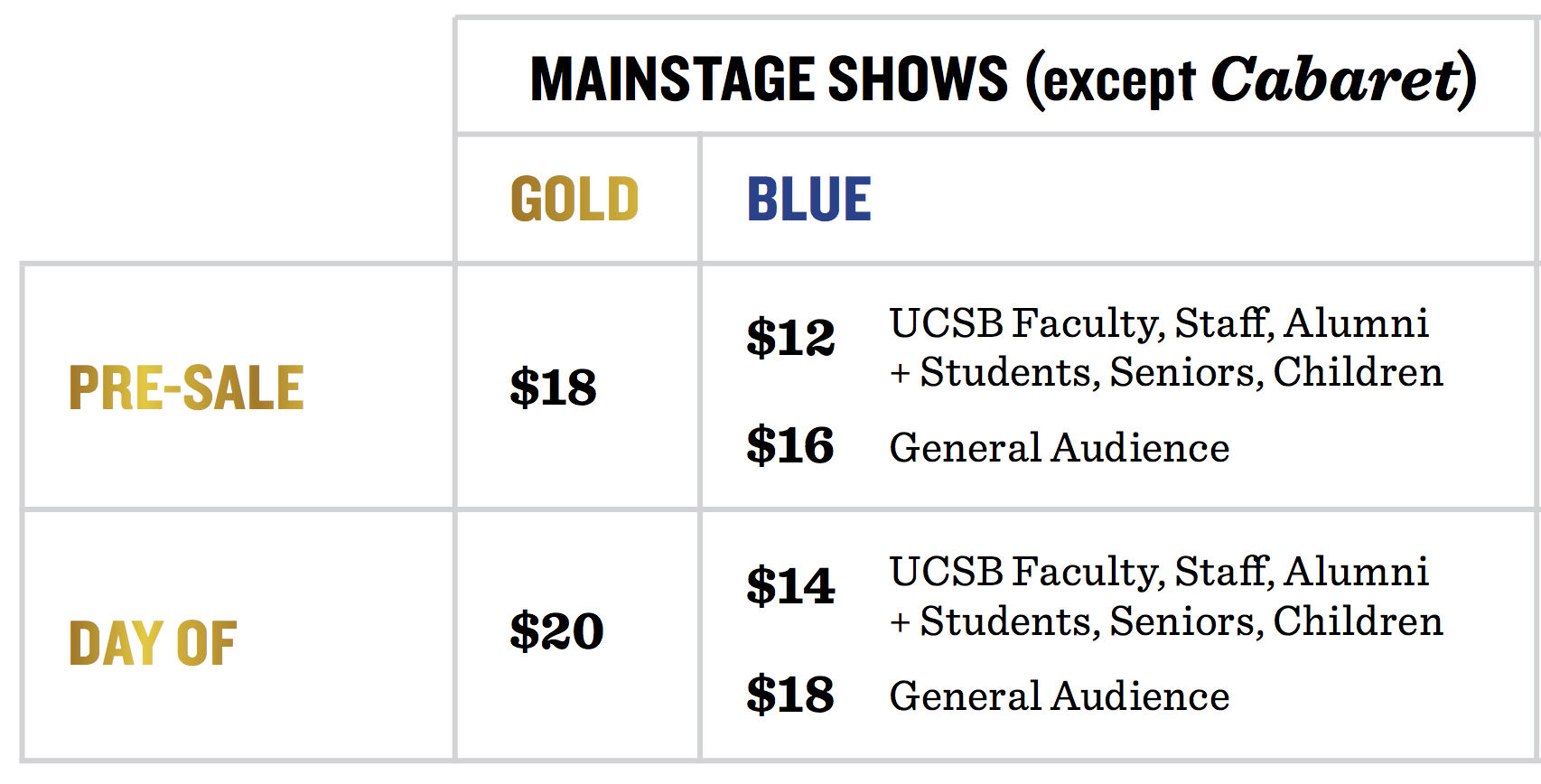 For more info on tickets and seating, click here.
a NAKED SHAKES production
by William Shakespeare        directed by Irwin Appel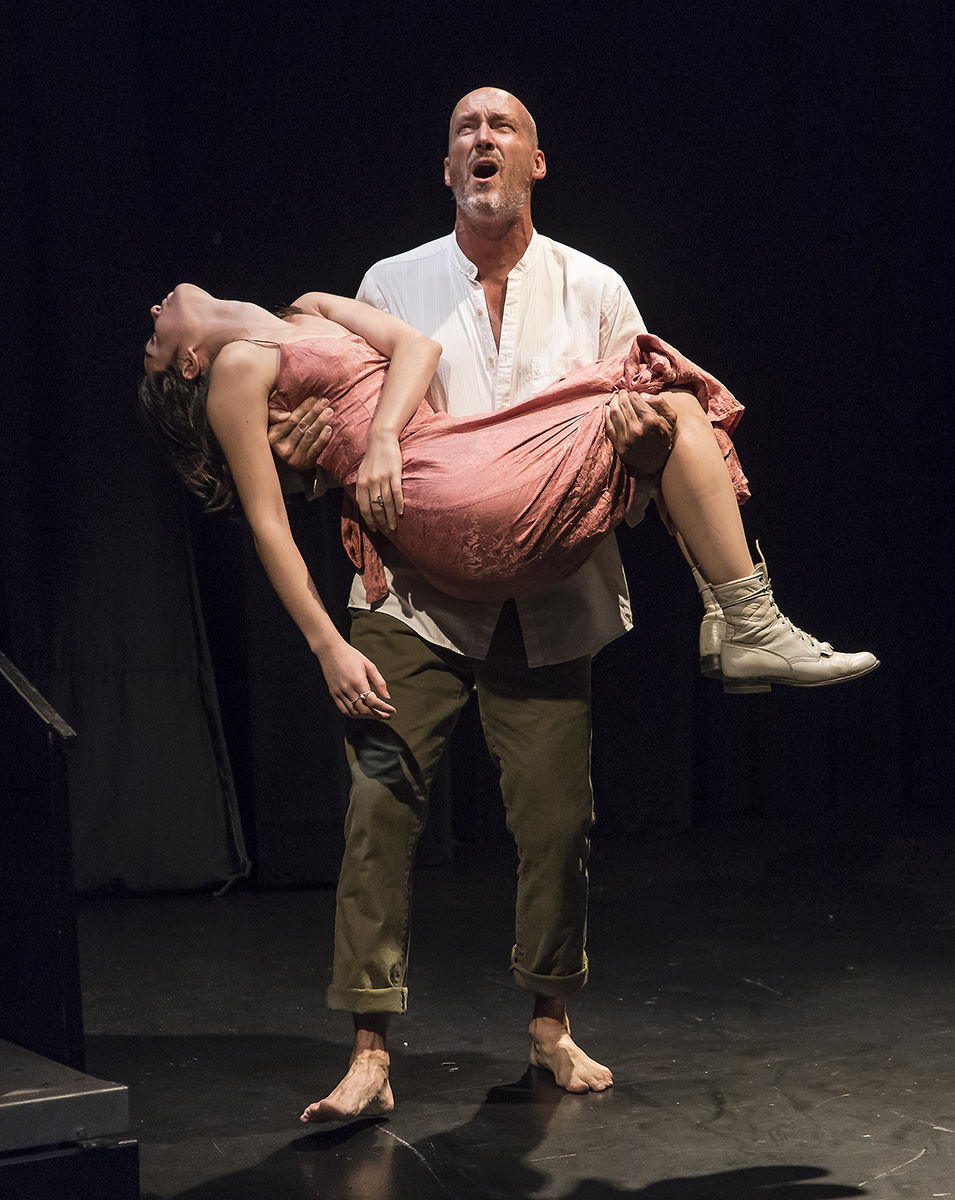 About the play
In this ninety-minute adaptation, two casts alternate nightly to explore the story of a king igniting a chain reaction of chaos with the simple question: "Tell me my daughters, which of you doth love us most?" In Shakespeare's great tragedy, King Lear discovers his own humanity and mortality as he teeters on the brink of madness. 
*PLEASE NOTE THAT THERE IS NO LATE SEATING.
About the playwright
About the director
Irwin Appel (Director) is Professor of Theater and Director of the BFA Actor Training Program at UCSB.  He is also a professional director, Equity actor and composer/sound designer, and has performed with Shakespeare Santa Cruz, Shakespeare Festival/LA, the New York, Oregon, Utah, and Colorado Shakespeare Festivals, The Acting Company, Theatre For a New Audience, Hartford Stage, Indiana Repertory Theatre, and other prominent regional theaters.  Acting roles include: Prospero in The Tempest, Shylock in The Merchant of Venice, Bottom in A Midsummer Night's Dream, Falstaff in Merry Wives of Windsor, Dogberry in Much Ado About Nothing, Kent in King Lear, Macbeth in Kabuki Macbeth, , Matt in Talley's Folly and the Emperor in a world premiere of Emperor's New Clothes.   
Since arriving in Santa Barbara, he played the title role in Richard III, Stage Manager in Our Town, DeVere inThe Beard of Avon, Frank in Molly Sweeney, Duke Senior and Duke Frederick in As You Like It, and won Santa Barbara Independent Awards for his portrayals of Oscar Wilde in Gross Indecency: The Three Trials of Oscar Wilde and the title role in Theater Artists Group's Timon of Athens.  Most recently, at the Colorado New Play Summit at the Denver Center of the Performing Arts, he played Aunt Chuck inAppoggiatura by James Still and directed by Department Chair Risa Brainin, a role he originally played in the LAUNCH PAD production at UCSB. 
He is also artistic director of Naked Shakes, producing award-winning Shakespearean productions at UCSB and traveling to downtown Santa Barbara and Los Angeles since 2006.  Directing credits at many theaters include:  Equivocation, Macbeth, A Streetcar Named Desire, The Merchant of Venice, Anowa, Hamlet (SB Indy Award), Measure for Measure, Romeo and Juliet, Rabbit Hole, Twelfth Night, The Winter's Tale (SB Indy Award), Seagull, The Tempest, Angels in America, Three Sisters, Comedy of Errors, Pentecost, A View from the Bridge (SB Indy Award), The Cherry Orchard, Speed-the-Plow, A Midsummer Night's Dream, The Crucible, The Countess, Madwoman of Chaillot, Sylvia, Much Ado About Nothing and the world premiere of Brown Baby (SB Indy Award for his sound design).  He also directed twice for the National Theatre Conservatory at the Denver Center for the Performing Arts.  
He has also served as composer/sound designer for the Oregon and New Jersey Shakespeare Festivals, PCPA, Shakespeare Santa Cruz, Ensemble Theatre, Pan Asian Repertory, Indiana Repertory, and other regional and local theaters.  Most recently, he served as composer/sound designer for a co-production of Other Desert Cities at Arizona Theatre Company and Indiana Repertory Theatre.  He is a graduate of Princeton University and the Juilliard School.
Read about Professor Appel's groundbreaking Shakespeare course with Associate Professor of English James Kearney here.
About NAKED SHAKES
Since 2006, the mission of NAKED SHAKES has been to present energetic, exciting, raw, vibrant Shakespeare using the power of the actors and the language. The critically acclaimed, Santa Barbara Independent Award-winning NAKED SHAKES has performed at UCSB and transported productions to the Shakespeare Center of Los Angeles, and Center Stage in downtown Santa Barbara. Past NAKED SHAKES productions include: the premiere of The Death of Kings, a two-part adaptation of Shakespeare's history plays, A Midsummer Night's Dream, Macbeth, The Winter's Tale, Twelfth Night, Romeo and Juliet, Measure for Measure, The Merchant of Venice, and The Tempest.
NAKED SHAKES believes in the transformation of the actor and the space, along with the imaginative ability of the audience. Each play is presented clearly and directly so that the audience inhabits the imaginative world of the play through Shakespeare's language. The barren physical theater space is very important to the NAKED SHAKES concept; it takes on the identity of whatever locale or particular piece of poetic language is described, and yet always reminds the audience they are in a theater. When Prospero in The Tempest describes "the great Globe itself," he is not only referring to the entire Earth, but also the "Globe" Theater – Shakespeare's theater. That duality is what NAKED SHAKES is all about.
A note about casting: NAKED SHAKES believes that the job description of "actor" is to step into the shoes of another individual. There is no rule that says only actors of the right gender, ethnic background, race, height and weight are allowed to play a certain character. NAKED SHAKES believes strongly in giving young
actors and actresses the opportunity to stretch themselves and play characters they might not normally get to play in the "real world." Our NAKED SHAKES cast is comprised of students from two summer courses, THTR 144A and 144B, and has actors of all experience levels. All that is necessary is a desire to study a great play and have an adventurous, exciting theatrical experience. Some of our actors are non-majors, and some are members of our prestigious Bachelor of Fine Arts (BFA) Actor Training Program, the only three-year actor training program in the entire UC system. If you are interested in participating, or in learning more about NAKED SHAKES or the UCSB BFA Actor Training Program, please contact Irwin Appel at appel@theaterdance.ucsb.edu. 
Synopsis
Lear, King of Britain, in an attempt to avoid future strife, divides his kingdom between his three daughters. His eldest two, Regan (wife of Cornwall) and Gonerill (wife of Albany), respond to his request for a show of love, but Cordelia is unable to, not wanting to be hypocritical. In a fit of rage, Lear banishes her and she leaves to marry the King of France. When his advisor Kent attempts to tell Lear he is doing wrong, he too is banished.
The Earl of Gloucester's bastard son Edmund is planning to gain his brother Edgar's lands by disinheriting him. He convinces Gloucester that Edgar is plotting against him, and then persuades his brother to flee from his father's anger. To avoid arrest, Edgar disguises himself as a mad beggar, Poor Tom. Edmund is taken into Cornwall's service.
Lear begins a series of visits to Gonerill and Regan, followed by a disguised and loyal Kent. Kent insults Gonerill's steward Oswald, and Lear takes him into his service. Gonerill then quarrels with Lear, who leaves her castle to go to Regan's. Kent is sent ahead, but he quarrels again with Oswald, and is put in the stocks by Regan, who supports her sister's attitude. The sisters meet together with Lear, and tell him to dismiss some and then all of his followers. He leaves the castle in a rage, going out into a violent storm accompanied only by his Fool and Kent. Lear harangues the storm, then meets Poor Tom, whom he treats as a counsellor.
Gloucester tells Edmund of his intention to help Lear, and advises Kent to take Lear to Dover, where Cordelia and a French army are to be found. But Edmund has informed on Gloucester to Cornwall, and when Gloucester returns to the castle he is accused of being a traitor, his eyes are put out, and he is thrown out into the wilderness. In the melee, Cornwall is killed by a servant. Edgar encounters his blind father, and, as Poor Tom, journeys with him to Dover, where Gloucester finds Lear.
There is growing animosity between Albany and Gonerill, who is showing increasing affection to Edmund, who also has a liaison with Regan. Oswald, taking a letter from Gonerill to Edmund, encounters Gloucester, but before he can harm him he is killed by Edgar. Lear is found by Cordelia's army, and they are reconciled, but they are then taken prisoner by Edmund's soldiers, and Edmund orders them both to be killed.
After the battle, Gonerill and Regan both encounter Edmund and display their feelings for him.
Albany challenges Edmund, and a disguised Edgar appears to fight him. Regan dies, poisoned by Gonerill, and Gonerill takes her own life when her husband hears of her betrayal. Edmund is fatally wounded and Edgar reveals himself. An order is sent to cancel Lear and Cordelia's execution, but it arrives too late to save Cordelia. Lear carries her in, and soon after dies of a broken heart. Albany abdicates, leaving Kent and Edgar to rule the realm; but Kent announces that he has a journey to go on like his master. Edgar reflects on the future.
Press
The Naked Shakes approach is like reading in the steady illumination of a substantial lamp. The words come first; the truth of their sense gives rise to everything else, from physical action to intonation and emotional engagement.
- Charles Donelan, The SB Independent
The SB Independent Article Review Cast One
Harwell's powerful physical characterization of the king left no doubt about who was the burning center of the play, yet he worked so well with the younger members of the cast that their performances shone more brightly for being seen in the circle of his light.
- Charles Donelan, The SB Independent
The SB Independent Article Review Cast Two
Gallery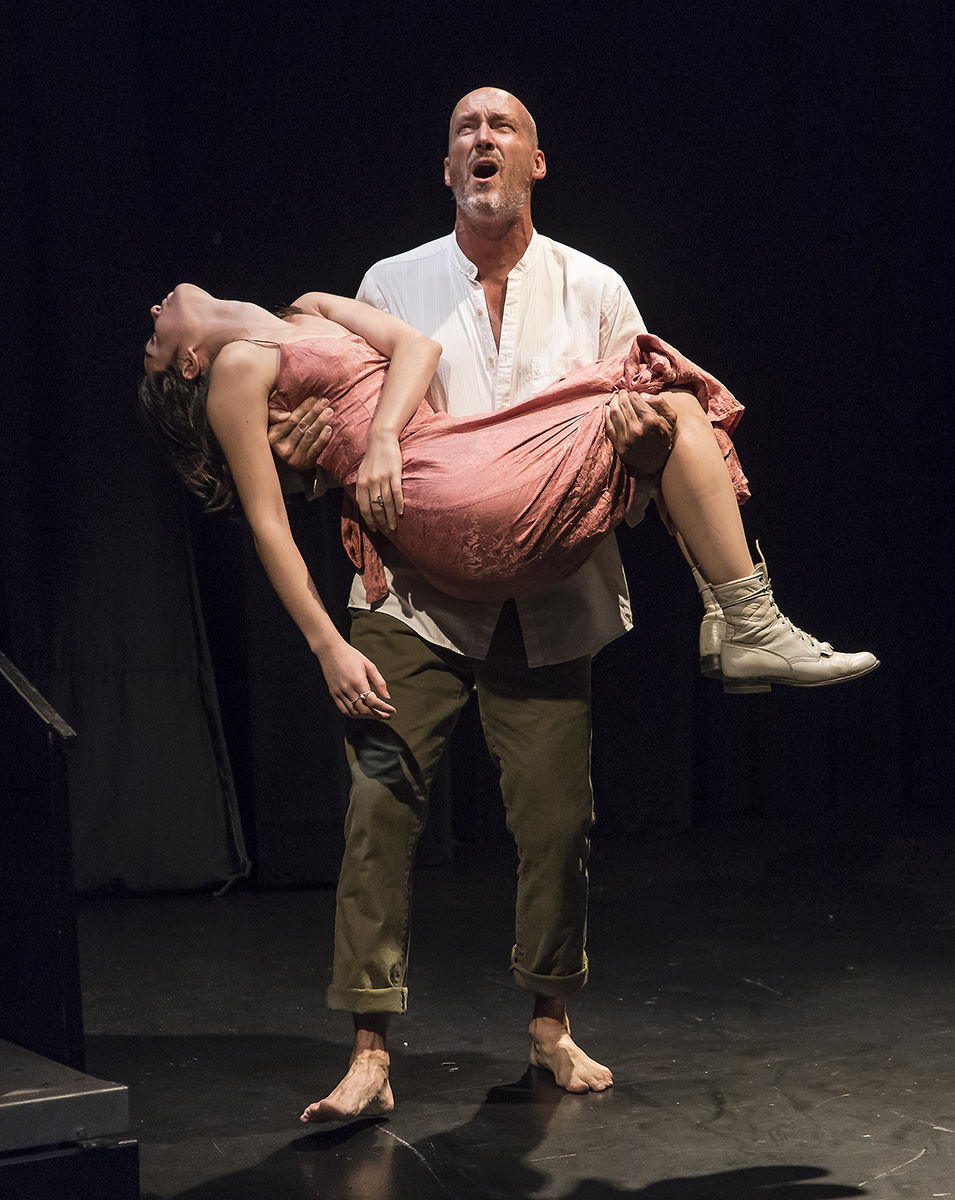 Cast ONE: Brian Harwell and Madison Kirkpatrick. PC: David Bazemore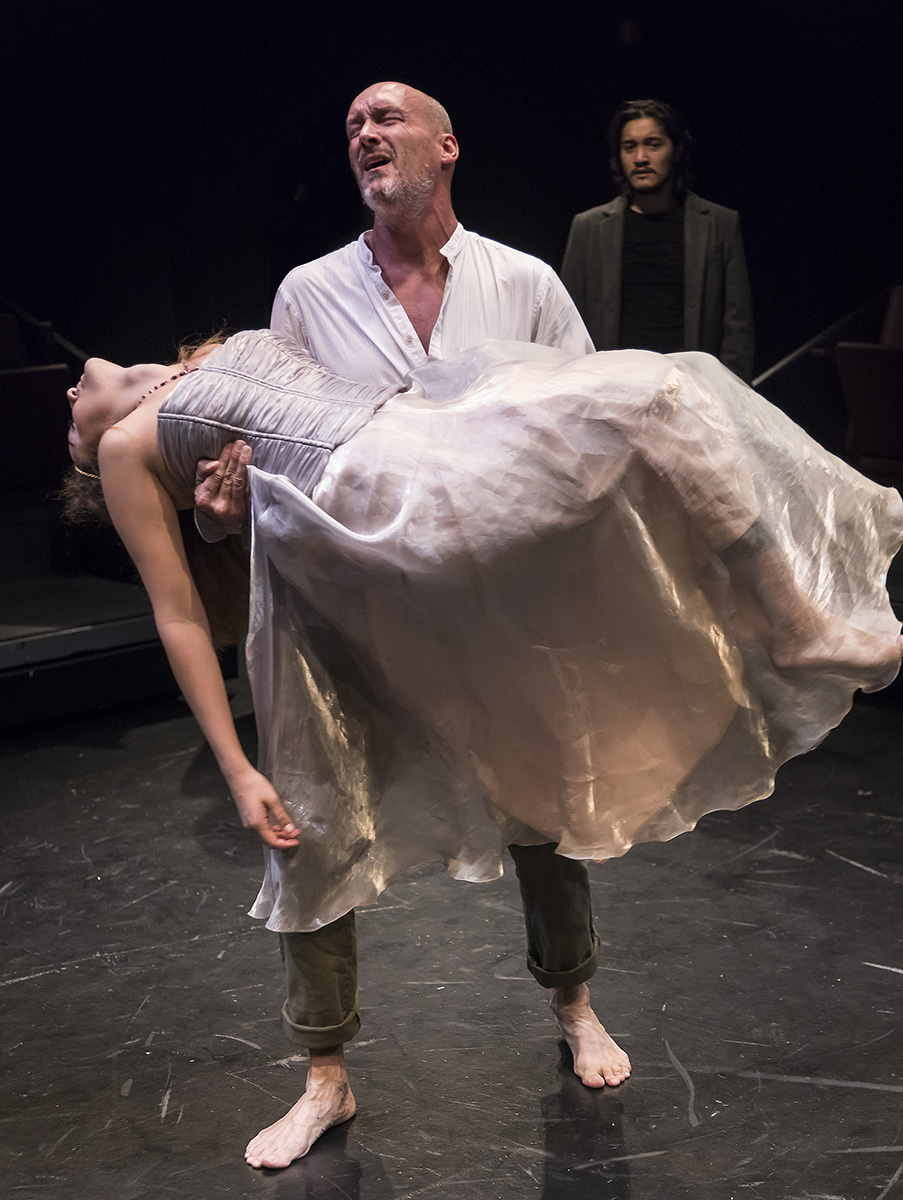 Cast TWO: Brian Harwell and Olivia Nathan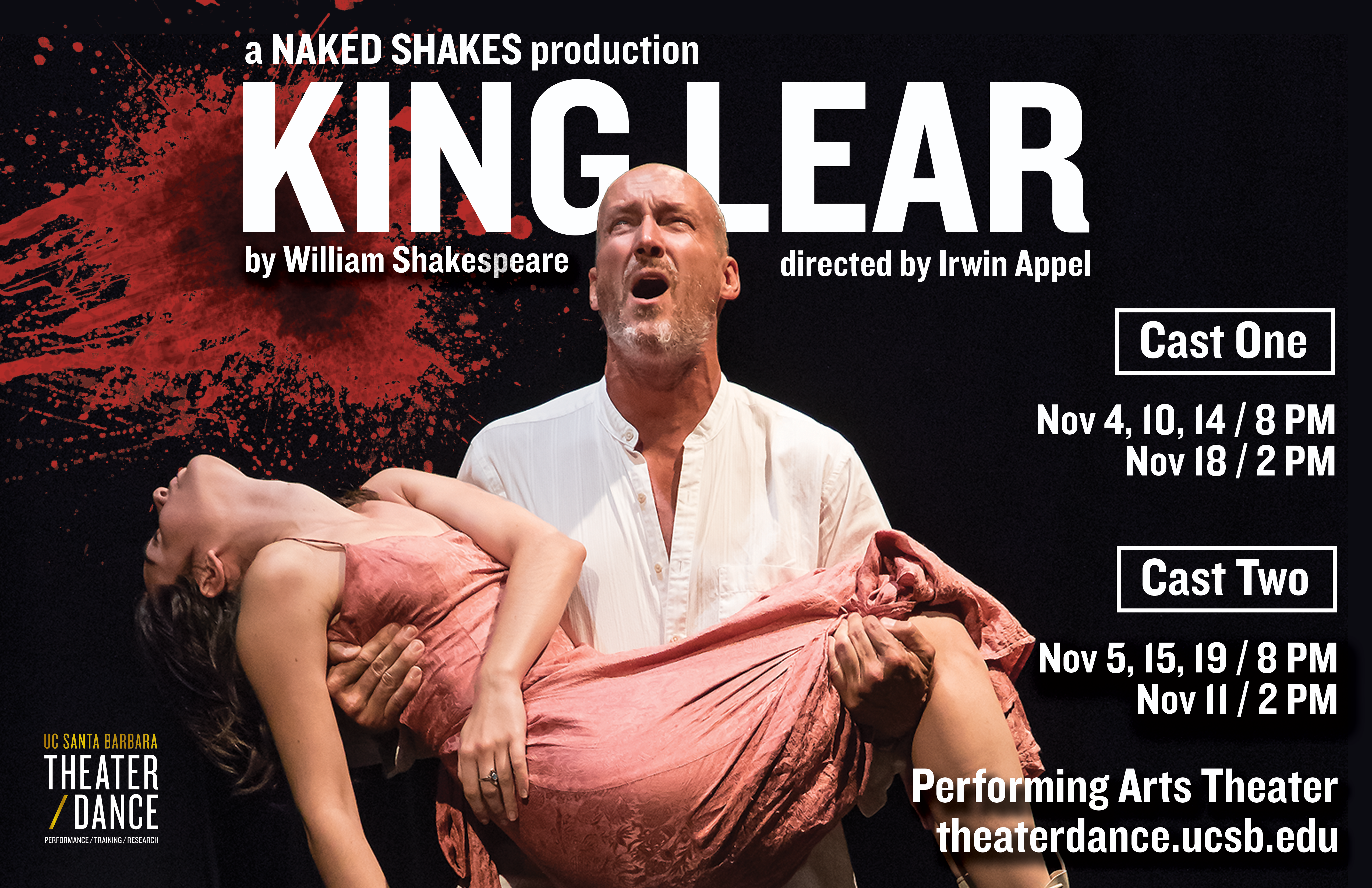 September 20, 2017 - 10:01am