Event Date:
Friday, December 2, 2016 - 8:00pm

to

Saturday, December 3, 2016 - 8:00pm
Saturday, December 3, 2016 - 2:00pm
Event Price:
$17 General Admission
$13 UCSB Student/Faculty/Staff/Alumni, Non UCSB Student/Senior/Child
DOUBLE EXPOSURE
revealing | relating | responding
under the direction of  Brandon Whited and Christina McCarthy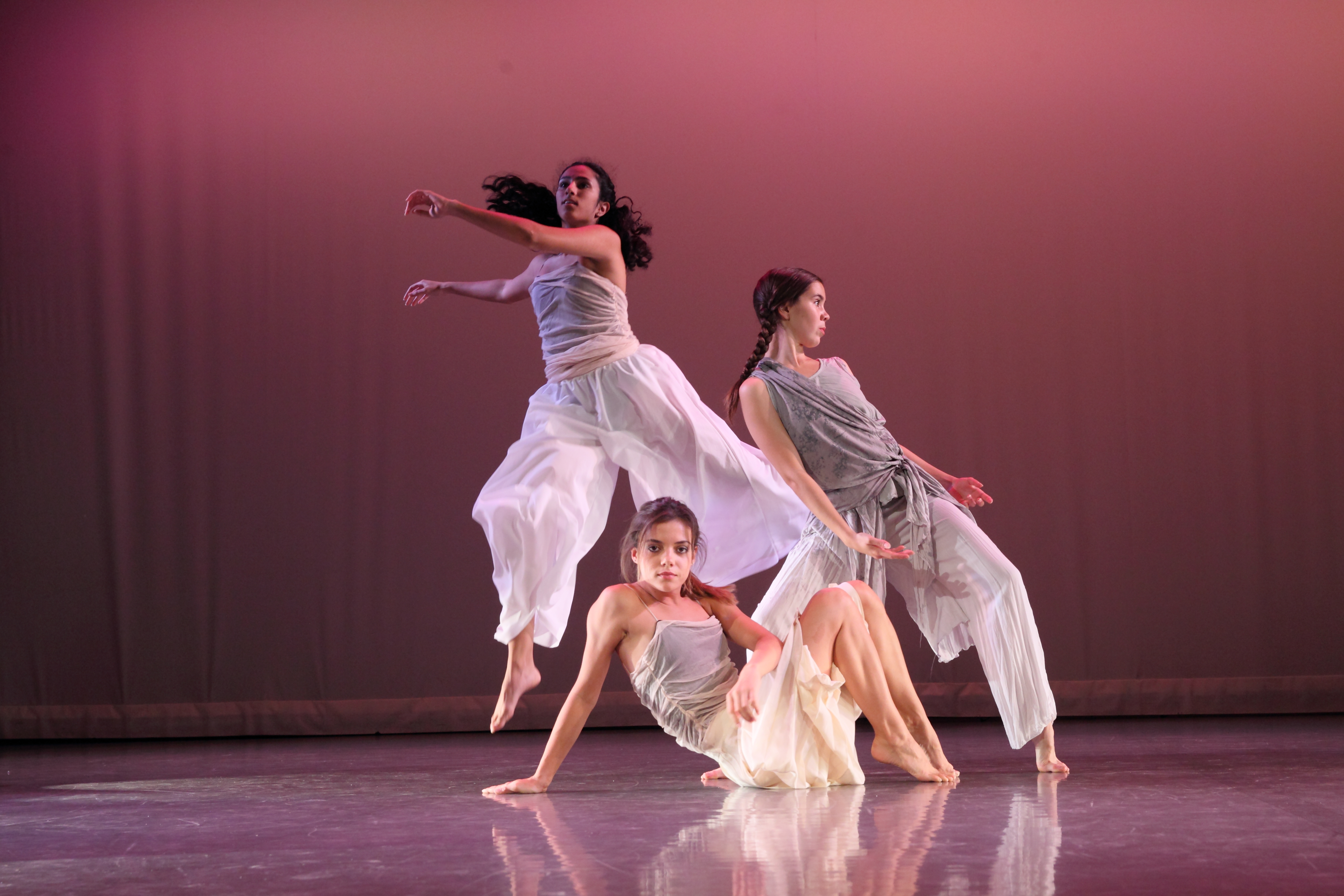 This year's Fall Dance Concert showcases the work of Kaydee Black, Andrea Rhoades, and Holly Warner: three student-choreographers presenting their final creative projects— toward the completion of their Bachelor of Fine Arts degrees. Following four years of hard work, rigorous auditions into the BFA program, and the high standards required to present on the mainstage concert, these three have tirelessly worked with student dancers to bring their vision to the stage. They are advised by new UCSB Dance Faculty member and Concert Director, Brandon Whited. In preparation for the concert, a once-weekly Dance Production course brings together these choreographers with faculty and student designers from the Theater Design Program in a truly collaborative process. Lighting/Scenic are mentored by Vickie J. Scott, and Costume design students are mentored by Ann Bruice—forming a creative triad with the choreographers.
UC Santa Barbara welcomes featured guest choreographer, Andrea Miller, Artistic Director of Galim Dance (and dancers from her company) to set her work Pupil Suite (2010) on UCSBDC, a student company led by Delila Moseley.  Her high-octane work, Pupil Suite is "an exuberant romp that plays with the extravagance of imagination"—is performed to the contagious music of the Israeli band Balkan Beat Box. (www.gallimdance.com)
Also Featured on the concert are two new works by UCSB Faculty Members. Christina McCarthy's Nevermore is a deconstruction of Edgar Allen Poe's "The Raven," rendered in her signature multimedia style incorporating dance, puppetry, video and design. Brooke Smiley offers Bone Stories, a work she developed in close collaboration with the student dancers. Bone Stories is an exploration of bones and relationship to lineage.
Concert Directors
Christina McCarthy is Acting Vice Chair of Theater and Dance and Director of Dance at UC Santa Barbara. She teaches all levels of modern technique, choreographs for both Dance Program Productions and Theater Productions within the department. She has choreographed for local high school and professional theater companies over the last fifteen years. She preformed with Nina Wiener Dance Company in New York and was both a dancer and Assistant Artistic Director of Santa Barbara Dance Theater. Last spring three productions she collaborated on earned Independent Theater Awards, NAKED SHAKES' A Midsummer Nights Dream, UCSB Theater's production of In the Red and Brown Water and La La La Strada presented by Proboscis Theater Company. La La La Strada also earned the 2015 Bitter Lemons Outrageous Award for Theater at the Hollywood Fringe Festival. Her latest projects include a site-specific dance and music installation in collaboration with the UCSB Music Department for the Library Grand Opening Ceremony this past January 2016, choreographing the musical Pippin for Santa Barbara High School and choreographing for the LAUNCH PAD preview productions of We Want the Funk: a rust belt lullaby on one! and Bernhard.
Brandon Whited is new to UCSB, having begun his post, this Autumn, as an Assistant Professor of Dance with a focus in creative/choreographic research.  Mr. Whited comes to the department following the completion of his MFA at the Ohio State University. Brandon enjoyed an intense seven year performing career in New York City as a core member of Shen Wei Dance Arts from 2008-2014, as well as a freelance artist performing with STEELEDANCE, Randy James Dance Works, danscores by Ofelia Loret de Mola, and Daniel Gwirtzman Dance Company.  Mr. Whited's choreographic research focuses on the intersection of masculinities studies and dance, as well as a broad consideration of feminist/queer/gender studies alongside historical dance frameworks.  Since arriving at UCSB, he is thrilled to have been given the honor of directing the Fall and Spring Dance concerts. Most recently, he contributed choreography to the LAUNCH PAD production of the new play, Bernhard—written by Lynn Rosen and directed by Anne Torsiglieri. In January, 2017, he will choreograph and perform in a new duet as a guest artist for Santa Barbara Dance Theater, and create a new work with students for the spring concert. 
Designer Directors
Ann Bruice is continuing Lecturer at the UCSB Department of Theater/Dance. Ms. Bruice is a recipient of the 2012 Academic Senate Distinguished Teaching Award. UCSB design credits include: Bernhard, The Death of Kings, Venus (Santa Barbara Independent Theater Award), Importance of Being Earnest, Macbeth, Eurydice, Anowa, Tartuffe, Cloud Nine, Hamlet, She Stoops To Conquer (Santa Barbara Independent Theater Award), Iphigenia 2.0, Kingdom City, Seagull, Plumfield, Iraq, Woyzeck, Idiot's Delight, and Pentecost. UCSB dance designs include: Christopher Pilafian's Oracle, Circuits, Between Thoughts; Christina McCarthy's Love, Petrushka, Occupation, Requiem for Bubbles; Nancy Colahan's Deep Currents, No Freedom Like a Dance, Elastic Flip and the re-staging of Lar Lubovitch's Marimba. Nationally and internationally Ann has designed 17 productions for South Coast Repertory, including: Philadelphia Story and You Can't Take It With You (Los Angeles Drama Critics' Circle Awards each), Hay Fever, Blithe Spirit, and New England (Drama-Logue Awards for each). Ms. Bruice has also designed for the Mark Taper Forum, American Conservatory Theater, Pasadena Playhouse, Los Angeles Theater Center, Manitoba Theater Center, San Jose Repertory, New Mexico Repertory, Philadelphia Theatre Company, the Grove Shakespeare Festival, and PCPA. Ms. Bruice spent five seasons (110 episodes) designing the series Babylon 5, garnering an International Cult Television Award. Local design credits include: The Fantasticks, Take Me Out for Ensemble Theatre Company; All My Sons, Night of the Iguana, Driving Miss Daisy (Ovation Nomination) for the Rubicon Theatre; A Christmas Carol for the Granada; The Beard of Avon (Indy Award) for SBCCTheater Group and Dancing Here Now for Santa Barbara Dance Theater. She holds an M.A. in Drama from UCSB, an M.F.A. in Costume Design from Cal Arts. Ms. Bruice is a member of USA 829, and CDG 892. Ann is most inspired by her son, Michael.
Vickie J. Scott is the Head of the Design Program, as well as the Faculty Undergraduate Advisor in the Department of Theater and Dance where she teaches design for theater and dance, designs productions, and mentors students. Vickie is also the Chairperson of the Board for The California Arts Project and is a member of the Illuminating Engineering Society of North America, the International Association of Lighting Designers, the United States Institute for Theater Technology, and United Scenic Artists Local 829.
Choreographers
Andrea Miller is the founder, artistic director, and choreographer of New York-based company Gallim Dance. Through a plural body of work that explores the relationships of movement with other forms of expression including theater, visual arts, music, and politics, Miller has developed a recognizable artistic language of extreme physicality and unprejudiced emotionality. In 2014, Miller received the honor of being named a Guggenheim Fellow by the John Simon Guggenheim Memorial Foundation, for demonstrating exceptional creative ability. New York Magazine writes, "Her viscerally physical movement wrings every inch of life from her dancers — and you'll be holding your breath, too." Miller is the recipient of multiple awards and honors, including Sadler's Wells Jerwood Fellowships (2012 and 2013), Princess Grace Foundation Special Projects Awards (2012 and 2013), New York City Center Choreography Fellowship (2011-2012), Joyce Theater Artist in Residence (2011-2012), Youth America Grand Prix Award for Emerging Choreographers (2011), Wesleyan University's Mariam McGlone Emerging Choreographer Award (2011), Princess Grace Foundation Works in Progress Award (2010), Dance Magazine's 25 to Watch (2009), and Princess Grace Foundation Fellowship in Choreography (2009). Miller's choreography for Gallim Dance has been commissioned and performed nationally and internationally, including Peak Performances at Montclair State University (NJ), and Dancers' Workshop, Jackson Hole, Nederlands Dans Theater 2, Ballet Bern at the Royal Opera House of London, Noord Nederlands Dans, and Phantom Limb's production 69° South for BAM's Next Wave (2011). Her commercial and art direction work includes installations for Hermès, Calvin Klein, Fabergé, movement coaching for Kate Upton at VOGUE, choreography for the film The Life and Death of Mick Rock, and the opening of SLS Miami and Las Vegas. Miller also served as Associate Artistic Director of Noord Nederlands Dans from 2010-2011. Miller is devoted to dance education for dancers and non-dancers and has developed programs for Gallim Dance's home studio in Brooklyn, as well as commissions and reconstructions for over 40 academic institutions such as Harvard University, the Juilliard School, Barnard College at Columbia University, and New York University. She is a founding collaborator of Movement Invention Project and resident choreographer at Dancewave in Brooklyn. 
Brooke T. Smiley is an international dance artist currently teaching at the UCSB Dance Department. She has worked with the Michael Clark Company (UK), Fabulous Beast (IE), and Ventura Dance Company (CH) in creating and performing new dance works for tours worldwide. Her solo art residencies and performance research investigates improvisation, relationships to land, identity, healing and transformation, bringing her to venues and communities across England, France, and the USA. She graduated from Trinity Laban (UK) with a Masters of Arts with Distinction, and earned a BFA from California Institute of the Arts. Ms. Smiley is currently studying body mind centering and embodied anatomy in a somatic movement educator program with teachings from Bonnie Bainbridge Cohen. Her heart is grateful for her family and friends for being undeniably incredible.
Kaydee Black has a broad background in movement training. Before transferring to UCSB she completed the Jimmie Defore Scholarship program where she trained in various jazz styles, hip hop, ballet, pointe, tap, social dance and pas de deux. In her choreography classes she has been researching ways of movement development. Her experiments include improvisation, silly-putty, journaling, discussion, and drawing; they feel like dance therapy.
Andrea Rhoades is a senior BFA Dance major with a minor in Education at UC Santa Barbara. She began dancing at the age of 2 and hasn't stopped since. Andrea started her training at Pirouettes Academy of Dance and later moved on to train at Northern Californian Dance Conservatory under ballet master Theodore Constant and artistic director Jen Bradford. Andrea has always been very passionate about dancing and could not imagine her life without it. This is her first time choreographing a piece for a main stage production and she is very excited about it. Andrea would like to take the time to thank all of the UCSB dance faculty for their guidance during this process. She would also like to thank her friends and family for supporting her in everything she does.
Holly Warner, a NorCal native, was inspired to begin dancing after being enthralled by the musical CATS. Before coming to UCSB to pursue dual majors in dance and psychology, she trained primarily in classical ballet at a local studio. Over the years, her love for movement has continued to grow. 
Designers
Madeline Berger has undertaken her second endeavor designing costumes for a main stage dance concert. Prior, she designed Extinct Animals for Meraki in 2015 and has worked on many of the main stage productions. She is a senior Art Major emphasizing in Costume Design at UCSB.
Jonathan Burman is a 4th year Theater Design major with a focus on scenic design.  This is his 5th show here at UCSB having previously worked as an assistant scenic designer for Venus, as an assistant stage manager for The Death of King Part One: I Come But For Mine Own and the Spring Dance Concert Aspire, and as the scenic designer for Too Much Water.
Jia Gu is a fourth year Theater Design and Film and Media Studies major. This is her first main stage realized costume design. She has been involved in different theater design and technique aspects for the last two years. She has served as Assistant Costume Designer for both dance and theater production, Assistant Scenic Designer for We Want the Funk, scenic artist, and production assistant in prior shows. She is also working as an assistant lighting technician in the department.
Melissa Hartman is a 3rd year Theater Design major with an emphasis in scenic and lighting design. This is her 7th show at UCSB, and her 2nd production as a lighting designer for the Fall Dance Concert. She is incredibly grateful to be able to design for this concert again. Previously she has done lighting for dance here at UCSB and scenic design work for high school shows. She would like to especially thank her friends and family for all of their love and support throughout this crazy adventure.  
Ryan Howard is a fourth year Theater major with an emphasis in Design. Past productions he has worked on at UCSB include Assistant Set Designing The Fairytale Lives of Russian Girls, being a Props Artisan on Equivocation, Assistant Scenic Designing Middletown, Designing Costumes for a piece in the 2015 Fall Dance Concert Meraki, and Assistant Costume Designing Death of Kings. Ryan works in the scene shop on campus as a student employee and would like to thank the UCSB Theater Staff and Faculty for their guidance, as well as his family for their love and support.
Mitchell Jakubka is a 3rd year Theater Design major, emphasizing in lighting design. This is his 10th show at UCSB, having previously designed for Meraki: soul | creativity | love - Fall Dance 2015, Too Much Water, and the recent production of Bernhard. He also works as a master electrician in the San Francisco Bay Area.  
Adrianna Perez is a 4th year Theater Design major, emphasizing in scenic design. This is her 5th show at UCSB, having previously held a variety of positions from stage management to various design roles. She is extremely grateful to have had this opportunity to work with such a knowledge group and can't wait to see what else this season has in store. 
Stephanie Shih is in her fourth year at UCSB, majoring in Theater Design with an emphasis in costume design. This is her first time designing for the Fall Dance concert and she is excited to be a part of this production and grateful for this opportunity to work alongside her peers. She thanks the costume director, Ann Bruice, for her guidance, as well as the Theater and Dance Department for providing a space that allows for creative collaboration. 
Dylan Wills is a 3rd year double major in Film and Media Studies and Theater with a concentration in lighting design.
UCSB Dance Company
The UCSB Dance Company is a student dance company under the direction of  Delila Moseley. Now in its 27th year, the company offers graduating senior dance majors the opportunity to perform and travel as a pre-professional dance company. The company performs at the University, in downtown Santa Barbara, on tour in California and other western states, and has toured internationally, twice to China, five times to Italy, and twice to Prague, Czech Republic. The UCSB Dance Company presents lecture-demonstrations in elementary schools, high schools, and community colleges as well as repertory concerts in theatrical venues. Each year the company features works by guest choreographers, from reconstructions of classic works of modern dance, to cutting edge contemporary choreography.
Press
Miller has developed a recognizable artistic language of physicality and emotionality through a plural body of work that explores the relationships of movement with
other forms of expression such as theater, visual arts, music and politics. - Noozhawk
Take a much-needed break before finals week and support UCSB's incredible dancers! - UCSB GradPost
Gallery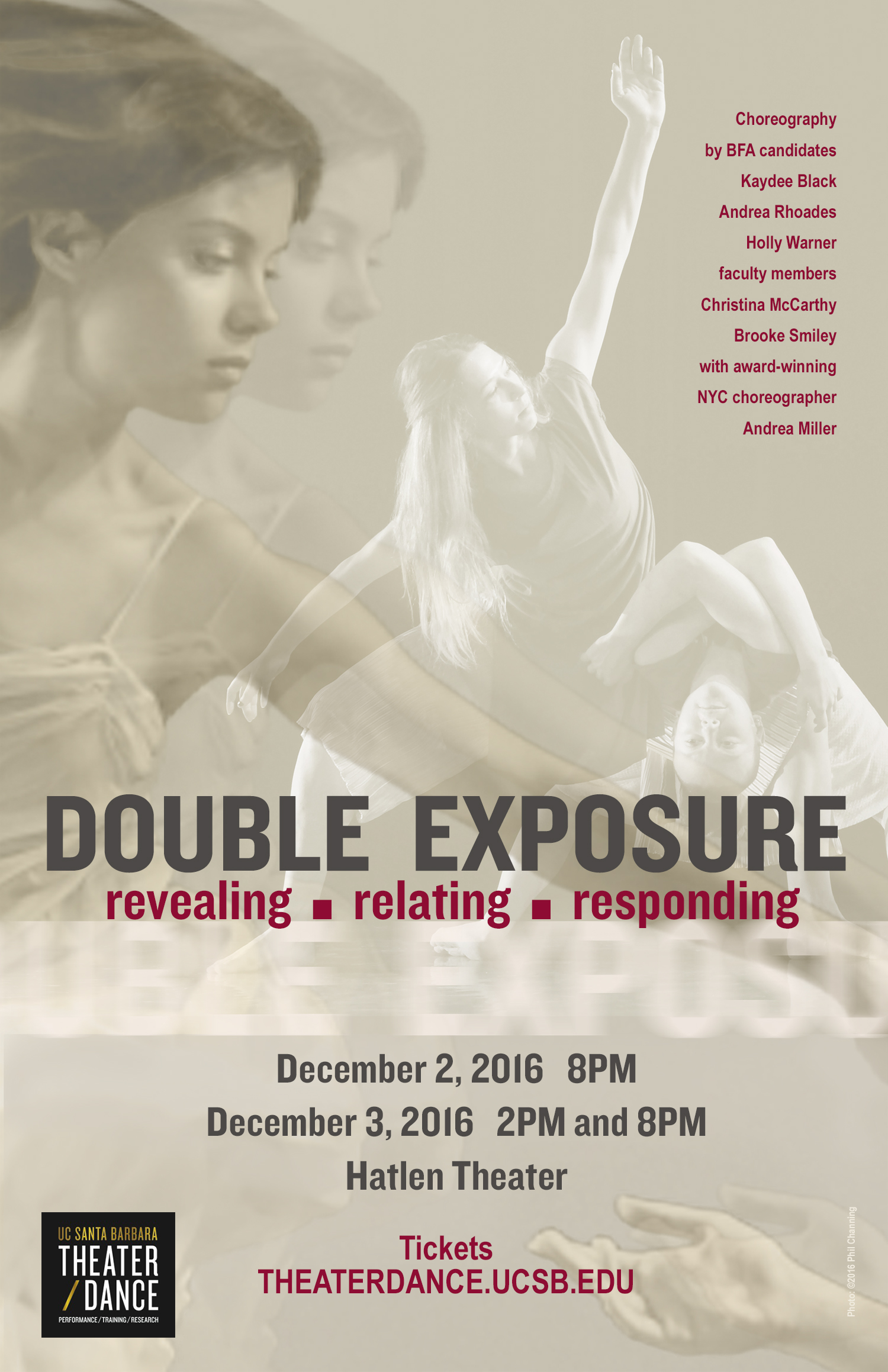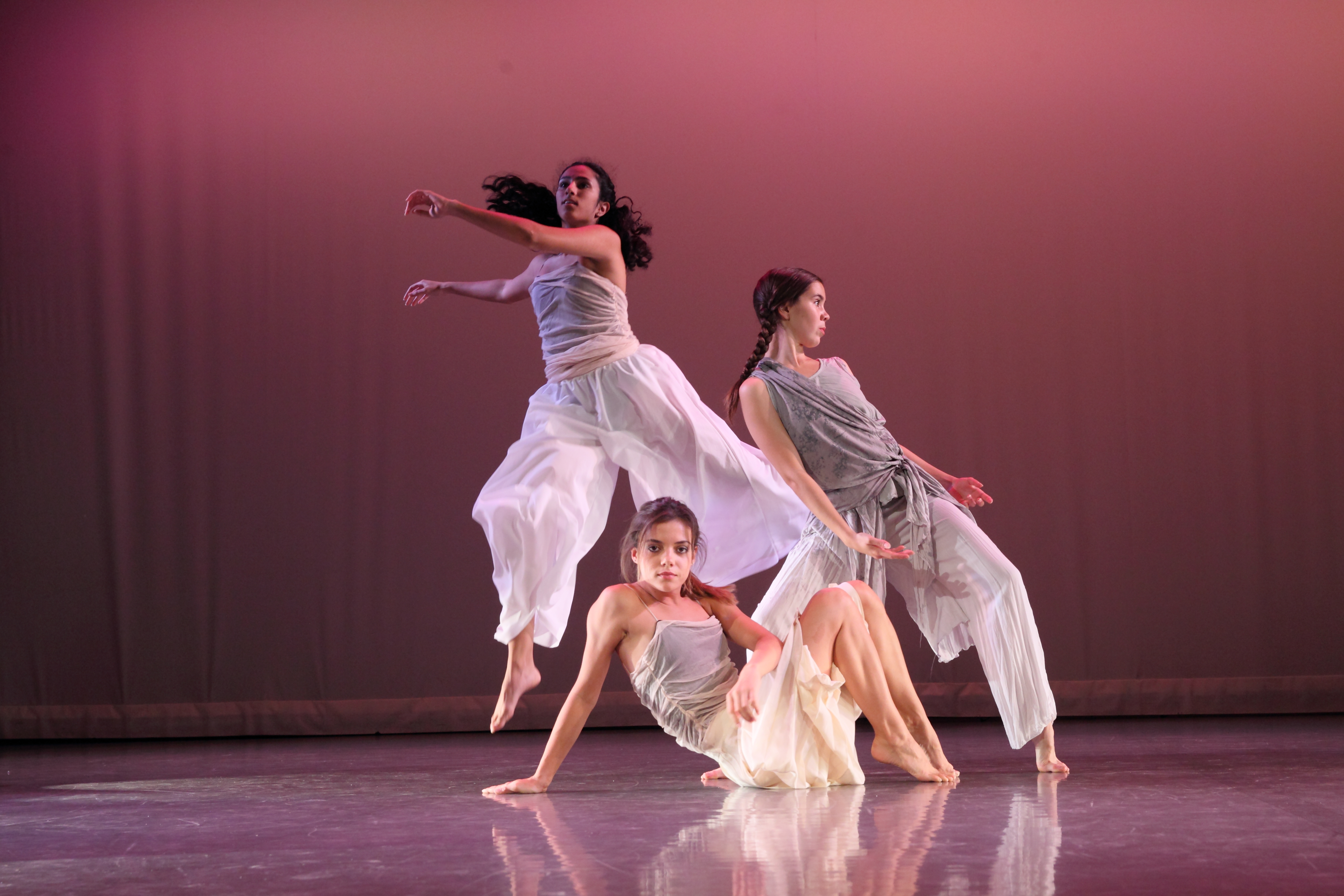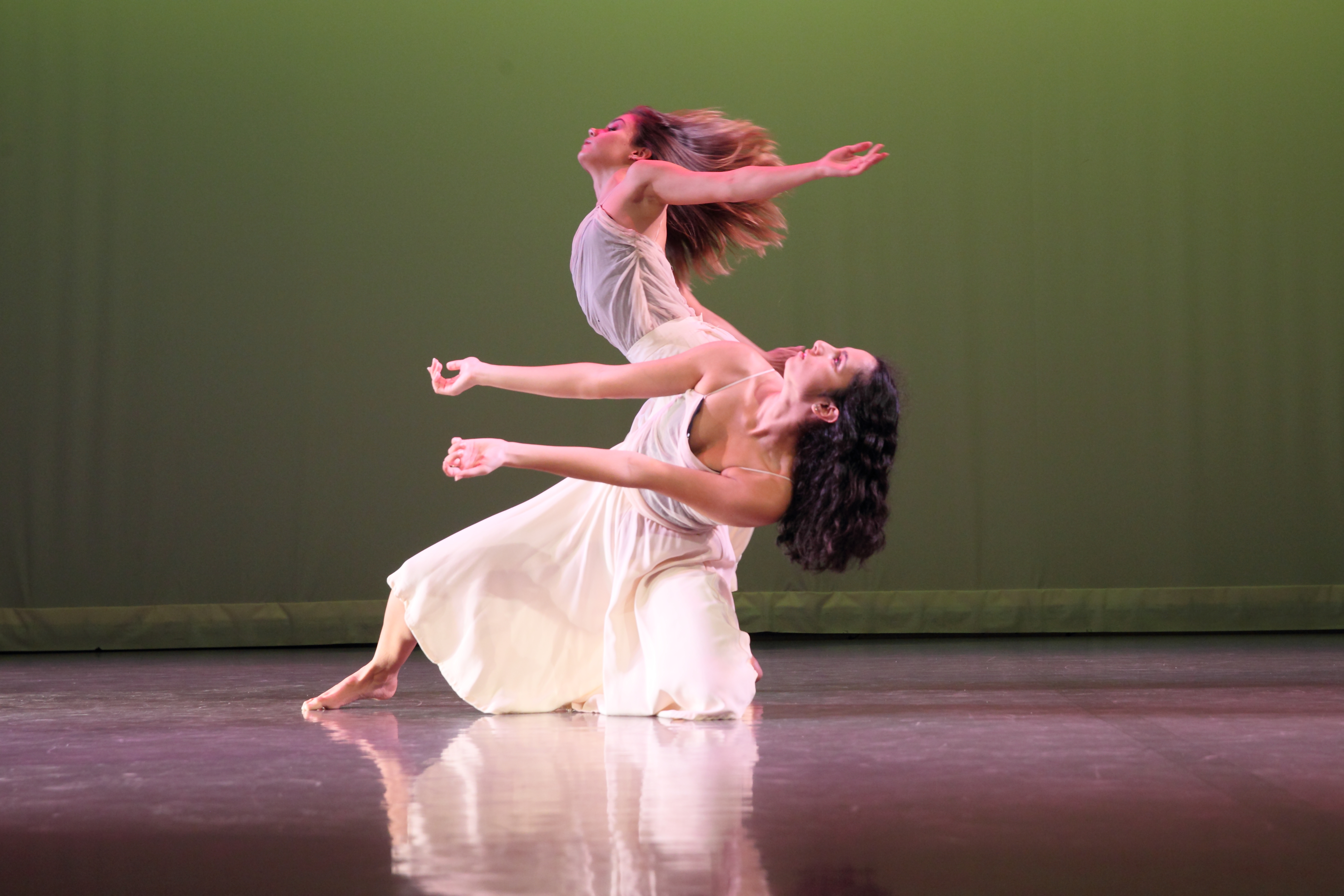 May 31, 2016 - 10:37am