Event Date:
Wednesday, January 14, 2015 -

8:00pm

to

10:00pm
Event Price:
$20 General Admission
$13 UCSB Student/Faculty/Staff/Alumni, Senior/Child
The Department of Theater and Dance, the UCIRA, the Talwar Family and Yardi Systems presents a Festival of Dance and Music, Film and Contemporary Performances from India, alongside an all-day scholarly conference filled with artists' roundtables, film showings, lecture-demonstrations and keynote lectures exploring the critical issues facing Indian dance art since India's Independence from Britain in 1947. A rich world of ornate costumes, instruments, solo and group dancing, accompanied by live musicians, Dance in India presents 2 professional companies on Wednesday and Thursday, January 14 and 15, in the Department's mainstage theater: the Hatlen Theater, located just above the campus lagoon.
We are delighted to be able to bring together internationally-recognized artists and scholars, both to the main stage and to an all-day conference to discuss the history, complexity and critical discourse surrounding dance in India. These events that range from performance on the Hatlen stage to lecture-demonstrations, to a focused consideration of the mother-daughter guru tradition, to the examination of Indian dance in a postcolonial and neoliberal era, accompanied throughout by film showings and talk-backs with the artists will enrich our scholarly community and ongoing research into the history and culture of India.
Co-sponsored by: Hemispheric South(s) Research InItiative and the Performance Studies & Politics Research Focus Group.
You may also be interested in the other events in this festival:
A STORY AND A SONG with Aparna Sindhoor and Anil Natyaveda and the Navarasa Dance Theater in the Bharata Natyam style 
Thu, Jan 15 / 8 pm
UCSB Hatlen Theater
SCHOLARLY / ARTISTIC CONFERENCE 
Fri, Jan 16 / 9 am - 4 pm  
UCSB HSSB Ballet Studio
FREE
followed by a reception and award-winning film showings at noon
FILM SHOWINGS 
Sat, Jan 17 / 1 pm
UCSB HSSB Ballet Studio
FREE
Seating is Limited
Nrityagram: for love of dance directed by Nan Melville (2010)
Kamhaka. Through Prayerful Eyes directed by Aparna Sharma (2013)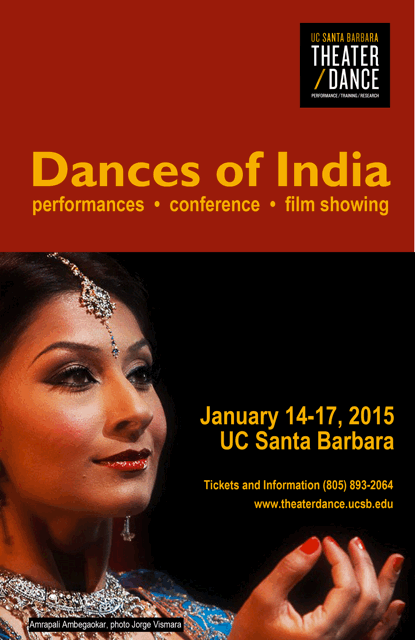 December 30, 2014 - 1:25pm