Event Date:
Wednesday, February 27, 2013 - 8:00pm

to

Thursday, February 28, 2013 - 8:00pm
Friday, March 1, 2013 - 8:00pm
Wednesday, March 6, 2013 - 8:00pm

to

Friday, March 8, 2013 - 8:00pm
Event Price:
$17 General Admission
$13 Students, Seniors, UCSB Faculty/Staff/Alumni
a LAUNCH PAD preview production of a new play
by Alison Tatlock
directed by Risa Brainin
ABOUT
LAUNCH PAD, under the direction of Professor Risa Brainin, once again brings an exciting "Preview Production" of a new play to the Hatlen stage. This year, the program is pleased to announce Alison Tatlock (writer of HBO's In Treatment and ABC's Betrayal) and her play, Untitled IV by Ruth Markofsky. The central character of Ruth will be played by Professor Anne Torsiglieri. Untitled IV by Ruth Markofsky is about place and family – the kind we're born into, and the kind that we build, sometimes haphazardly. At the center of the story is Ruth, a Boston native who has settled in Joshua Tree to build her famously expansive sculptures and raise her young son. In a moment of personal and creative crisis, Ruth summons an eclectic group of characters to grapple with questions about motherhood and loss, adoption and addiction – and the consequences, real or imagined, of putting plastic in the dishwasher. Also included in the cast are Lit Moon company member Victoria Finlayson and four student actors from the department.
Alison's play The Shore received workshops at the Pasadena Playhouse and the Vineyard Playhouse featuring Ted Danson and Mary Steenburgen and was produced by Ensemble Studio Theater in Los Angeles. Her play The Catch was developed at New York Stage and Film and EST-LA. Alison wrote the Debra Winger storyline for the critically acclaimed HBO drama In Treatment starring Gabriel Byrne. Her screenplay This is Jane is in development with Julie Lynn who produced Albert Nobbs. Alison currently writes for the new ABC series Betrayal. Other TV credits include A Gifted Man starring Patrick Wilson and Last Resort starring Andre Brauer.
This play contains strong language and is for mature audiences only.
Charles Donelan at the Santa Barbara Independent follows the progress of Untitled IV by Ruth Markofsky. Read his first report HERE and his follow up progress report HERE.
To purchase tickets please call the Box Office at 805.893.2064 between the hours of 10:00 am and 5:00 pm Monday through Friday.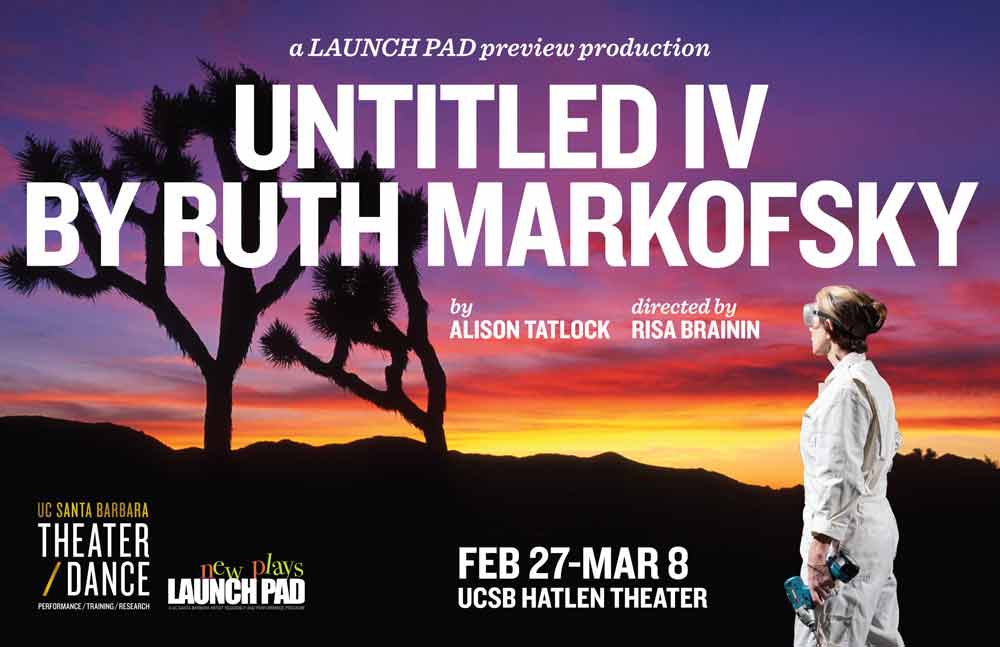 All Photo Credits: David Bazemore
June 11, 2014 - 1:30pm