Event Date:
Saturday, November 11, 2023 - 2:00pm
Saturday, November 11, 2023 - 7:30pm
Sunday, November 12, 2023 - 2:00pm
Event Date Details:
NOV 11 | 7:30 PM
NOV 11-12 | 2:00 PM
Event Price:
Free Admission*
*Suggested Contribution of $3.00
Windows in Time
Four One-Act plays, directed by Senior Directing students
mentored by Risa Brainin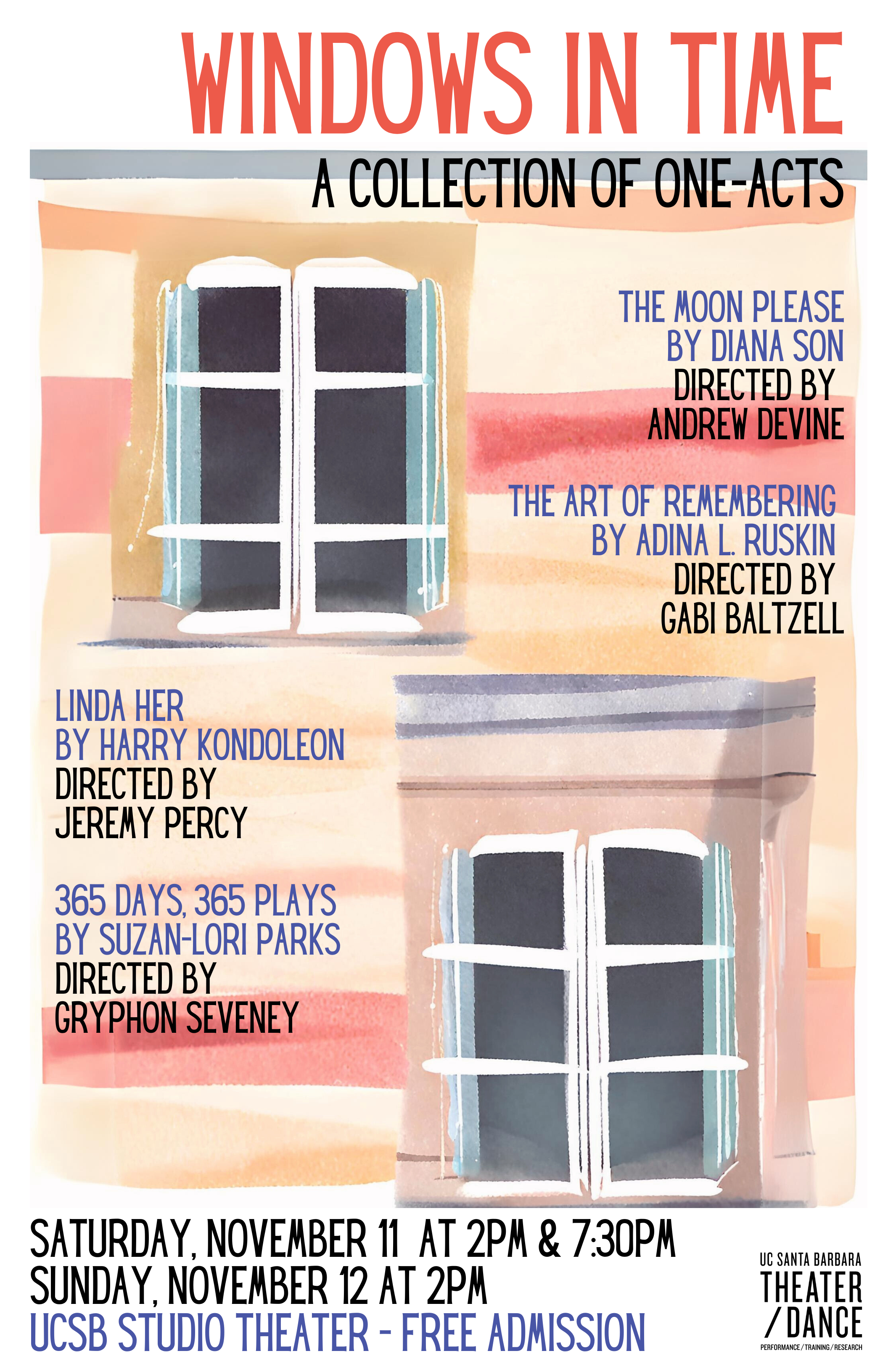 Directed by: Gryphon Seveney (she/her)
A story created by the director from a selection of plays from Suzan-Lori Parks' 365 Days, 365 Plays. This piece is set in a mental health hospital in the 1980s. It follows the journey of a young woman, recently institutionalized in a mental hospital, where she meets the long-term residents, each of whom faces their mental health trials, and serves as guides for her as she navigates the world of mental healing and the darker side of mental illness.
The Art of Remembering 
Directed by: Gabi Baltzell (she/her)
Rebecca returns home to go through her possessions after her father has recently died. As she rediscovers objects, memories come tumbling out, and she grapples with her own identity and the death of her father. Rebecca is represented by three different actors who represent different aspects of her as she witnesses her memories replaying of her Polish Jewish Grandmother Anna, a French Jewish Woman who escaped the Holocaust, and a German pen pal who witnessed the fall of the Berlin wall. The Art of Remembering reminds us of the importance of remembering our pasts, and the existence of beauty and human life. 
Linda Her
Directed by: Jeremy Percy (he/him) 
One in a pair of short plays written by Harry Kondoleon, both debuted as part of an off-Broadway play festival. A hot, sticky night and a dusty summer cottage with outlets that don't work set the stage for an instant classic. In the middle of the night, Carol is wide awake, and that's nothing to write home about, but the stale bedroom air isn't the only thing keeping her up on this special evening.
The Moon Please
Directed by: Andrew Devine (he/him)
If your life can be taken from you in a moment, why aren't you maximizing the richness of each moment? Find the optimism in life and run with it!
September 13, 2023 - 11:54am