Conference on El Teatro de la Esperanza
March 3, 2022
1 pm - 6 pm
UCSB's Multucultural Center
For live stream, click HERE.
The UCSB Department of Theater and Dance will host a conference March 3rd, 2022 on El Teatro de la Esperanza (The Theater of Hope) which was founded in the spring of 1971 by a group of UC Santa Barbara students who, in a show of community activism, relocated to the Santa Barbara barrio and constructed a theater space at the Casa de la Raza. Under the direction of Jorge Huerta, a first-year Chicano doctoral student in the then Department of Dramatic Art, the group became founding members of TENAZ (El Teatro Naciona de Aztlan (The National Theater of Aztlan)), a coalition of teatros emerging throughout the United States.
By 1974 the Teatro had developed their own style and collectively created "Guadalupe: A Legacy of Oppression" about a small town in San Barbara county which was the first docu-drama in the history of Chicano theater, expanding the scope of Chicano theatre beyond early actors. It also exposed the inherent racist school system present in California. In 1975 Huerta took a faculty position at UC San Diego confident that the troupe would continue as a collective, which they did, eventually relocating to San Francisco. Esperanza was the second most important theater company after El Teatro Campesino, founded by Luis Valdez.
The day-long event will be held March 3, 2022 from 1 pm to 6 pm at the Multicultural Center on the UCSB campus in the context of Professor Carlos Morton's THTR 180-E class (Latinx Theatre from 1965-Present) with students from the class participating in the readings from plays written by the collective in the 1970's. Other activities include panels with former Esperanza Teatro members, scholars and artists, and a "musical interlude" by musicians Luis Moreno and Juan Zaragoza featuring songs from the period. Founding member Jorge Huerta will deliver the closing remarks. 
Besides Huerta, former Esperanza teatro members Rodrigo Duarte-Clark, Martha Hernandez, Ginger Huerta, Ana Olivarez-Levinson, Romelia Morales, Salvador Ortiz, Santiago Rangel, Jose Luiz Valenzula, and Evelina Fernandez will be present. Invited scholars and artists include Tiffany Lopez.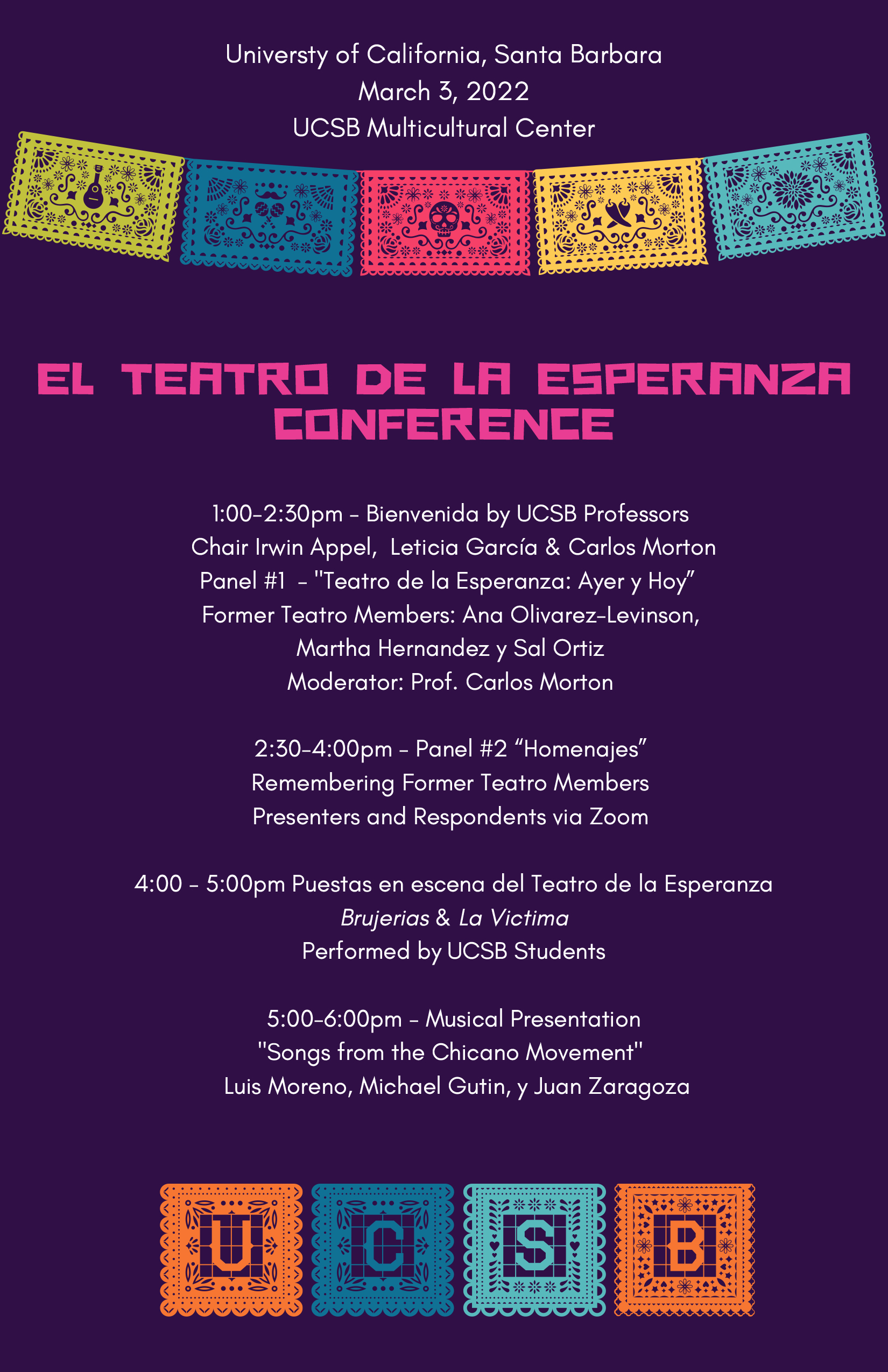 January 21, 2022 - 11:26am