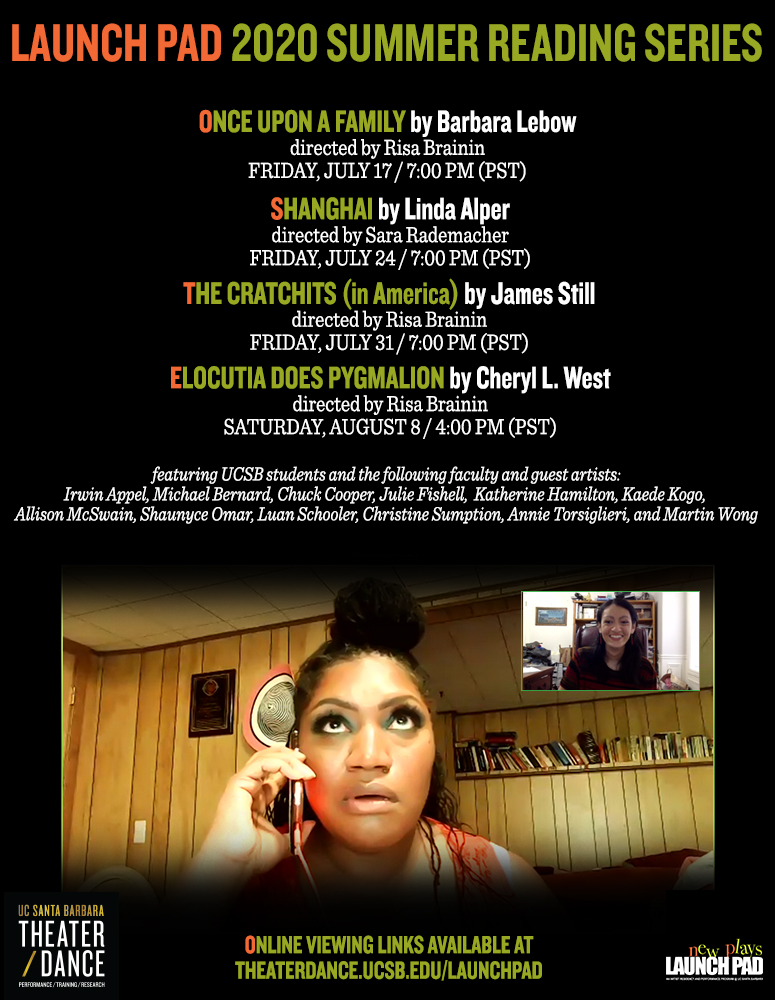 Online Viewing Links will be provided for you to join our virtual audience as we get closer to performance dates.
Play #1
Once Upon a Family by Barbara Lebow
Directed by Risa Brainin
featuring guest artists Julie Fishell and Annie Torsiglieri
Performance: Friday, July 17, 2020 at 7:00pm PST
WATCH HERE: https://bit.ly/2O6jXEV
Barbara Lebow, an almost 20-year Californian, was born in Brooklyn, N.Y., grew up in Manhattan, moved to Atlanta in the 1960s, where she joined Academy Theatre's developmental workshop, eventually becoming playwright-in-residence there. Among her plays with first productions at the Academy were A Shayna Maidel, The Left Hand Singing, Cyparis, The Keepers, Trains, The Adventures of Homer McGundy Revised, Little Joe Monaghan, Tiny Tim is Dead, The Phenom, and several plays for young audiences. Theaters producing her work include Alabama Shakespeare Festival, Hartford Stage Company, Jean Cocteau Repertory Theatre, Philadelphia Theatre Company, the Berkshire Theatre Festival, and Ensemble Theatre of Santa Barbara. A Shayna Maidel continues receiving national, regional, and international productions.  Barbara is a member of The Dramatists Guild and, in addition to her own writing, has facilitated play creation with disenfranchised segments of the population including homeless and addicted individuals, youth at risk, developmentally and physically challenged persons, and women in prison. She has received a Guggenheim Fellowship in Playwriting, a TCG/Pew Theatre Artists Residency, an NEA/TCG Residency, an Atlanta Mayor's Fellowship in the Arts, a Georgia Governor's Award in the Arts, and a Distinguished Service Award from the Santa Barbara County Probation Department. Newer plays, The Phenom and Plumfield, Iraq, were developed with assistance from The Playwrights' Center in Minneapolis, receiving workshops there. Plumfield, Iraq was developed in part at UCSB with a PWC New Plays on Campus grant.  It premiered at UCSB when Barbara was a Michael Douglas Visiting Artist here. The play has subsequently been produced at universities and high schools around the country. Her play, La Niñera: The Nursemaid, also premiered at UCSB, directed by Ms. Brainin. Killing Spiders received readings at LAUNCH PAD, Oregon Shakespeare Festival's Black Swan Lab and Urban Stages in New York. Once Upon A Family evolved to its present form after its Act I reading as part of LAUNCH AD's Summer Reading Series in 2014.
Once Upon A Family
The lives of a multi-generational, middle-American family are forever changed when they are abruptly thrown into the aftermath of a deadly shooting. Their average suburban life with teenagers full of budding romances and growing pains, set against parental worries, is broken. The bonds between family and friends are destroyed. Central is a survivor who is severely injured in mind and body. No one escapes the pain. With time, some struggle to move from despair to strength and resiliency; others remain angry or lost, longing to return to what was once home and family.  They hold on to the past while struggling to recognize their new, and future, reality.
Play #2
Shanghai by Linda Alper
Directed by Sara Rademacher
featuring guest artists Michael Bernard, Annie Torsiglieri, and Martin Wong
Performance: Friday, July 24, 2020 at 7:00pm PST
WATCH HERE: https://bit.ly/3gXUeuB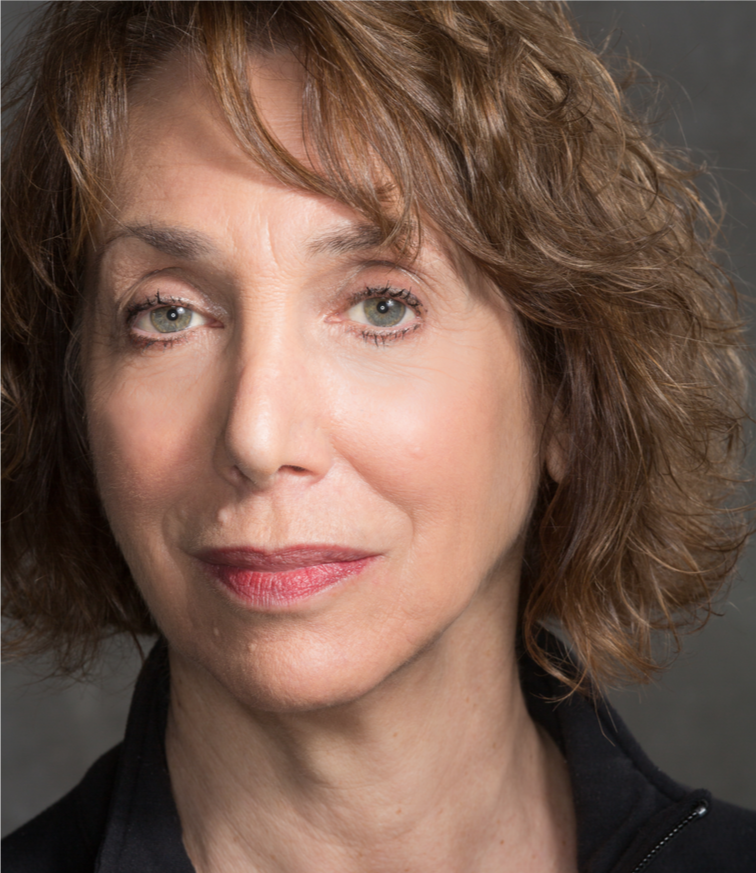 Linda Alper has co-written adaptations and translations of Great Expectations, The Three Musketeers, William Saroyan's Tracy's Tiger, Eduardo De Filippo's Saturday, Sunday, Monday and Napoli Milionaria!, all produced at The Oregon Shakespeare Festival, with additional productions at A.C.T. (San Francisco,) The Denver Center, The Acting Company, Virginia Rep, plus Santa Cruz, Colorado, Stamford (UK) and many other Shakespeare Festivals, smaller theatres and universities. A Fulbright Senior Scholar in Taiwan, Ms. Alper wrote Talk/No Talk, a play about cultural misunderstanding, which also earned a Visiting Science and Artist Grant. After earning a Fulbright Specialist Grant in Pakistan, Ms. Alper was awarded a $350,000 U.S. Cultural Affairs Grant, for which she devised a theatre piece about terrorism and public space with Islamabad's Theatre Wallay. She brought fourteen Pakistani artists to perform the piece at OSF and Artists Rep, serving as co-producer for their American tour. A leading actress at OSF for 24 seasons, Ms. Alper performed in over 50 plays there. She has also performed many leading roles at Artists' Rep, where she is a Resident Artist. Roles include Nora in A Doll's House Part 2, Ranevskaya in The Cherry Orchard, Jeanette in The Quality of Life, Esther in The Price, Dorine in Tartuffe, Lady Bracknell in The Importance of Being Earnest and Lynn Fontanne in Ten Chimneys. Shanghai was commissioned by Artists Rep, as part of their Creative Heights Grant and Table/Room/Stage. It will be produced by Artists Rep in 2021.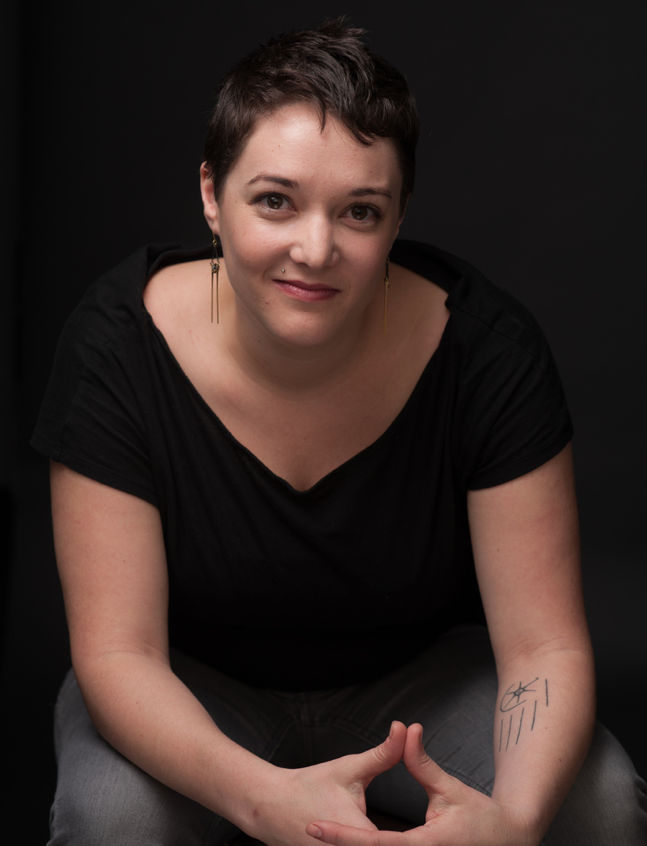 Sara Rademacher is a theatre director and mother, currently residing in Santa Barbara. She is the Co-Founder and former Artistic Director of Elements Theatre Collective, an organization committed to making theatre more accessible, and is the co-creator of The Outlet Project, a virtual arena of catharsis and connection for creatives in response to the social distancing of Covid-19. As a director, Sara has worked throughout the country and abroad; her work has spanned theatrical genres, from directing classic to contemporary theatre, musical theatre and opera, and experimental theatre and new plays. New work development and directing credits include: Three Sisters by Carolyn Dunn (Anishinaabe Theatre Exchange, MI), Suzy Storck by Magali Mougel (PEN World Voices Int'l Fest, NY), Ybor City, The Musical by Anita Gonzalez and Dan Furman (PUNTO Space, NY), The Long Walk by Fabrizio Sinisi (Segal Center, NY), A Notebook for Winter by Armondo Pirozzi Segal (Segal Center, NY), The Snow Maiden of Appalachia by Andrew Austin (Tidewater Opera Initiative, VA), Training: The Musical by Joe Schermann (Elements Theatre Collective, CA), Yet UnNamed by Devising Collective (Columbia University, NY), These Mistakes by Samantha Cooper (Schapiro Theatre, NY), Ngizobona by Devising Collective (UKZN, Durban, South Africa), and Propaganda by DETEXT (Museum of Art and Design, NY). Sara holds an MFA in Theatre Directing from Columbia University. www.SaraRademacher.com
Shanghai
Between 1937 and 1947, eighteen thousand European Jews were refused entry to the United States, Canada, Mexico, South America, South Africa, Central America and Australia. Only Shanghai, the colorful and corrupt international city teeming with displaced persons from around the world, accepted them without visas. Although originally allowed anywhere in the city, they were eventually forced into a square mile ghetto, which they shared with 100,000 of the poorest Chinese. 
Shanghai follows Eva Broder, an adolescent girl from Berlin who grows to maturity in one of the most crowded, crime-ridden and unhealthy places on the planet. During her journey to adulthood, Eva discovers how her life is interwoven with that of others and what kind of responsibilities, even under extreme adversity, she has the courage and obligation to embrace. Writing for families and young adult audiences, Linda's play is part adventure story, part coming-of-age and part exploration of a fascinating, nearly forgotten, piece of history. 
Play #3
THE CRATCHITS (in America) by James Still
Directed by Risa Brainin
featuring guest artist Julie Fishell
Performance: Friday, July 31, 2020 at 7:00pm PST
WATCH HERE: https://bit.ly/2O6jXEV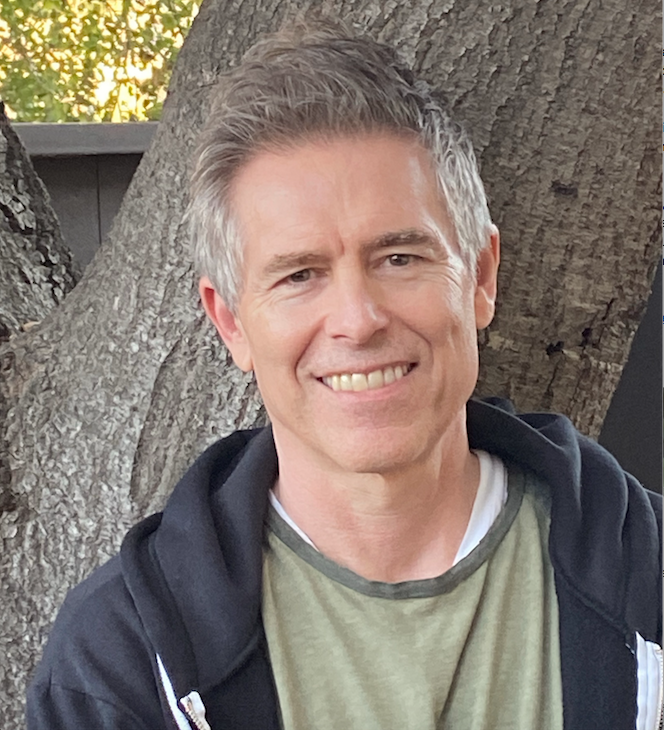 James Still's plays have been produced throughout the U.S., Canada, Europe, Australia, South Africa, China and Japan. His new plays include Dinosaur(s); (A) New World; and Black Beauty (premiering recently at Seattle Children's Theatre). Recent work includes a trilogy of linked-plays: The House that Jack Built (Indiana Repertory Theatre), Appoggiatura (Denver Center Theatre), and Miranda (Illusion Theater, Minneapolis). Also: April 4, 1968: Before We Forgot How to Dream (Indiana Repertory Theatre); two plays about the Lincolns: The Widow Lincoln and The Heavens are Hung in Black (both premiering at Ford's Theatre in Washington, D.C.); a play for one actor about culinary icon James Beard called I Love to Eat (Portland Center Stage); a play for 57 actors called A Long Bridge Over Deep Waters (Cornerstone Theater Company in Los Angeles); Looking Over the President's Shoulder at theaters across the country; and And Then They Came For Me at theaters around the world (most recently at Alabama Shakespeare Festival). His short play When Miss Lydia Hinkley Gives A Bird The Bird was a winner of Red Bull Theater's Short New Play Festival in New York and performed at many festivals. Still is an elected member of both the National Theatre Conference in New York and the College of Fellows of the American Theatre at the Kennedy Center. He received the Otis Guernsey New Voices Award from the William Inge Festival and the Todd McNerney New Play Prize from Spoleto. His plays have been developed at the New Harmony Project, the O'Neill Conference, Sundance, Seven Devils, the Colorado New Play Summit, LAUNCH PAD, and many others. He is a four-time Pulitzer nominee for his work in the theater, and a five-time nominee for his work in television. He is the Playwright in Residence at Indiana Repertory Theatre, Artistic Affiliate at American Blues in Chicago, and lives in Los Angeles.
THE CRATCHITS (in America)
The Cratchit family. Weren't they in A Christmas Carol by Charles Dickens? Yes. But this isn't that story, exactly. THE CRATCHITS (in America) isn't a sequel, it isn't meant to answer questions about whatever happened to the Cratchit family after Scrooge supposedly had an enormous change of heart. This play is about another Cratchit family that is both contemporary and American. Siblings Martha, Belinda, and (Tiny) Tim share history with Dickens' fictive family, but also have history of their own making. Maybe the American cousins from the future? Set in a declining American city called Dickens, some of the Cratchits live in the house they grew up in, some of them have moved away, some of them have suddenly returned.  They are a family of broken relationships trying to find ways to repair and move forward. Of course they're also trying to pay their electric bill, fighting for forgiveness, and getting to know each other all over again. There's also a wedding in the mix. And happily, disco music.  
Play #4
Elocutia Does Pygmalion by Cheryl L. West
Directed by Risa Brainin
featuring guest artists Irwin Appel, Chuck Cooper and Shaunyce Omar
Performance: Saturday, August 8, 2020 at 4:00pm PST
WATCH HERE: https://bit.ly/2O6jXEV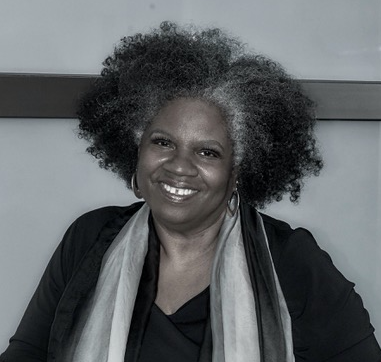 Cheryl L. West's plays have been seen on Broadway (Play On!), Off-Broadway and in England as well as numerous regional theaters including: Minneapolis Children's Theatre, Seattle Children's Theatre, Seattle Rep Theatre, Arena Stage, Old Globe Theatre, The Goodman Theatre, Indiana Rep Theatre, Williamstown Theatre Festival, Bay Street Theatre Festival, Syracuse Stage, Cleveland Play House, South Coast Rep Theatre, Cincinnati Playhouse in the Park, and off‐Broadway's Manhattan Theatre Club, The Atlantic Theatre, Second Stage and Primary Stages. Her plays include: Shout Sister, Shout!, The Watsons Go To Birmingham, 1963, Fannie, Last Stop on Market Street, Akeelah and the Bee, Pullman Porter Blues, Motherhood Out Loud (co-author); Addie, American Girl Story (21-city tour); and Jar the Floor. She has written TV and film projects at Disney, Paramount, MTV Films, Showtime, TNT, HBO, CBS and is the Webby-nominated writer for the original web series Diary of a Single Mom. Ms. West is currently working on commissions for Chicago's Goodman Theatre, Seattle Rep Theatre, Oregon Shakespeare Festival, Chicago Children's Theater, Minneapolis Children's Theatre, Seattle Children's Theatre and UC Santa Barbara's LAUNCH PAD Program.
Elocutia Does Pygmalion
When Elocutia meets Professor Herbert on the University of Chicago campus, each of them meets their match. The professor tries to tame her wild tongue, and Elocutia teaches the teacher about being his authentic self. A Black riff on Shaw's Pygmalion, with comic twists and turns and sharp-eyed observations about race, class, and language-based identity.
(photo credit for Cheryl L. West: Abe Booker)
July 6, 2020 - 11:29am