UCSB'S LAUNCH PAD ZOOMS INTO ACTION WITH "ALONE, TOGETHER"
24 Professional Playwrights Answer The Call To Energize Spring Quarter
 Saturday, June 6, 2020
Chapter 1 11:00 am PST
Chapter 2 1:00pm PST
Chapter 3 4:00pm PST
Chapter 4 6:00pm PST
61 Actors
39 Plays
24 Playwrights
23 Directors
8 Artistic/Production/Administrative Staff
5 Stage Managers
4 Time Zones
3 Dramaturgs
3 Designers
2 Festival Directors
1 ZOOM!
Created to provide vibrant opportunities for theater students during the "Stay at Home" order in California, Alone, Together is a celebration of innovation, ingenuity, and generosity. Inspired by the prompt "Alone, Together" and responding to an invitation to collaborate from Artistic Director Risa Brainin and Professor Annie Torsiglieri, 24 distinguished LAUNCH PAD alumni playwrights have written 39 short plays and monologues specifically created to be performed on Zoom. The festival is split into 4 chapters and you are welcome to see them in any combination that works for your schedule as each chapter is self-contained!
Bringing together UC Santa Barbara students, faculty, and professional guest artists, Alone, Together is a perfect celebration of LAUNCH PAD's 15-year anniversary as it continues its mission to provide students the opportunity to work with living playwrights on new plays. In these extraordinary times, LAUNCH PAD is doing its part to keep theater alive.
A pdf of the scripts for 
Alone, Together
 can be read on line
HERE
. For further information, including licensing and performance of any of these plays, please contact the writers and/or agents using the contact information that appears at the front of every play.
Program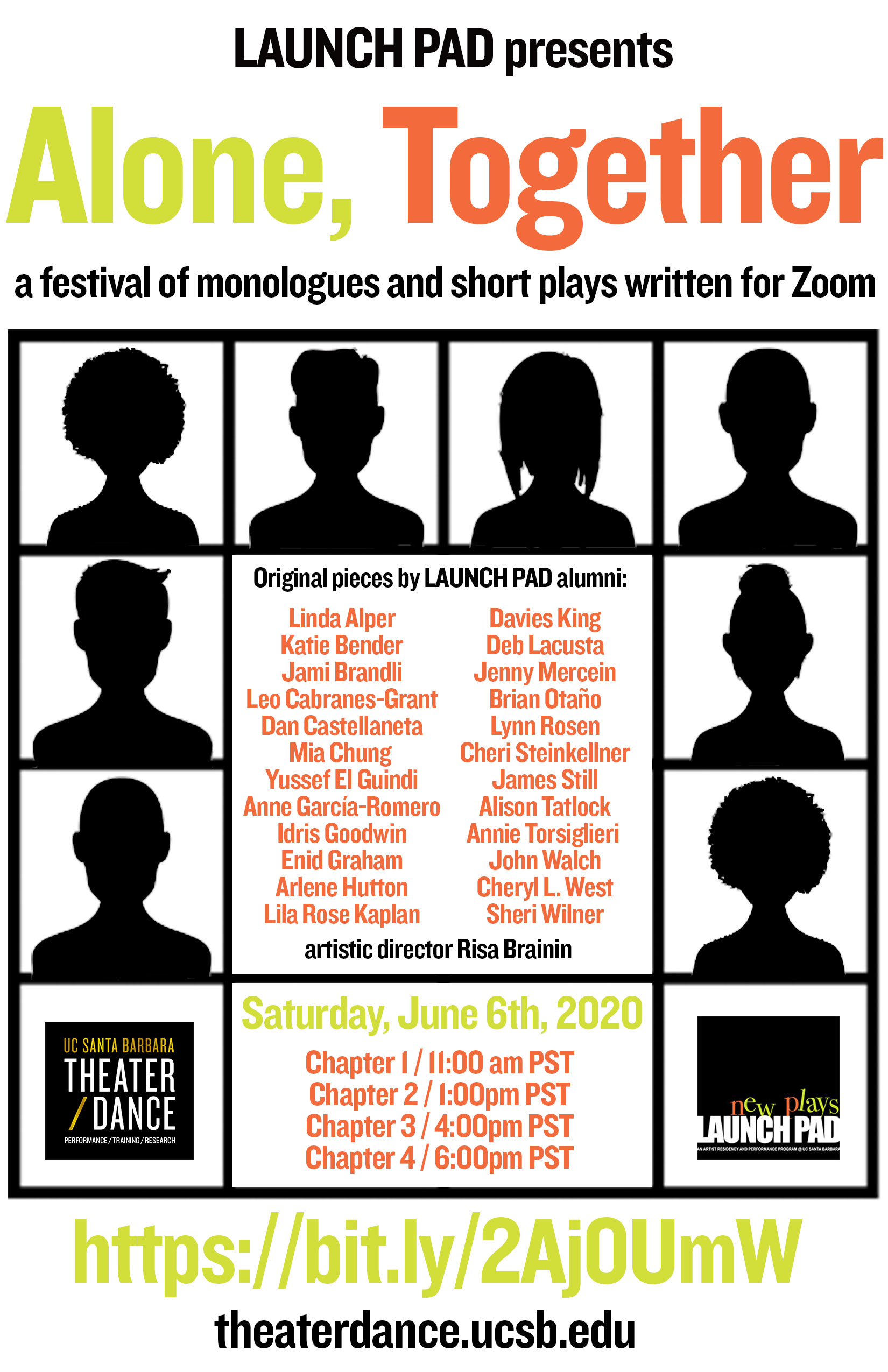 April 16, 2020 - 1:12pm