RUN & WARDROBE CREW
Do you know your 29D, 49 or 149 requirement? Find it HERE
One can split their 2 Unit commitment up for instance taking one Unit of 29D and one unit of 49 or 149 on the same show.
POSITIONS AVAILABLE (DEPENDS ON THE PRODUCTION)
Light Board Operator
Sound Board Operator
Fly Crew
Deck/Props Crew
Followspot Operator
Wardrobe/Makeup Crew
HOW TO APPLY FOR RUN OR WARDROBE CREW:
Review the show calendars below to find a production that fits your schedule.
Email the Technical Director Jamie Birkett jbirkett@ucsb.edu if you are interested in any of the positions other than Wardrobe/Makeup Crew, send him a screen shot of your weekly schedule, and three potential times you could meet to sign the contract.  For Wardrobe/Makeup Crew, email the costume shop manager Denise Umland at denise.umland@ucsb.edu
We will schedule an appointment via email to give you to discuss and to potentially assign your add code.
IMPORTANT NOTES:
All crew positions are first-come, first-served your spot is not secure until you have signed the crew contract..
All events listed on the calendars are required. It is not possible to partially participate in a production.
There are no opportunities to make up for an unexcused absence or lateness.
CALENDARS:
WMDID Crew Spots Still Available: 0 of 4
WMDID Wardrobe Crew Spots Still Available: 0 of 3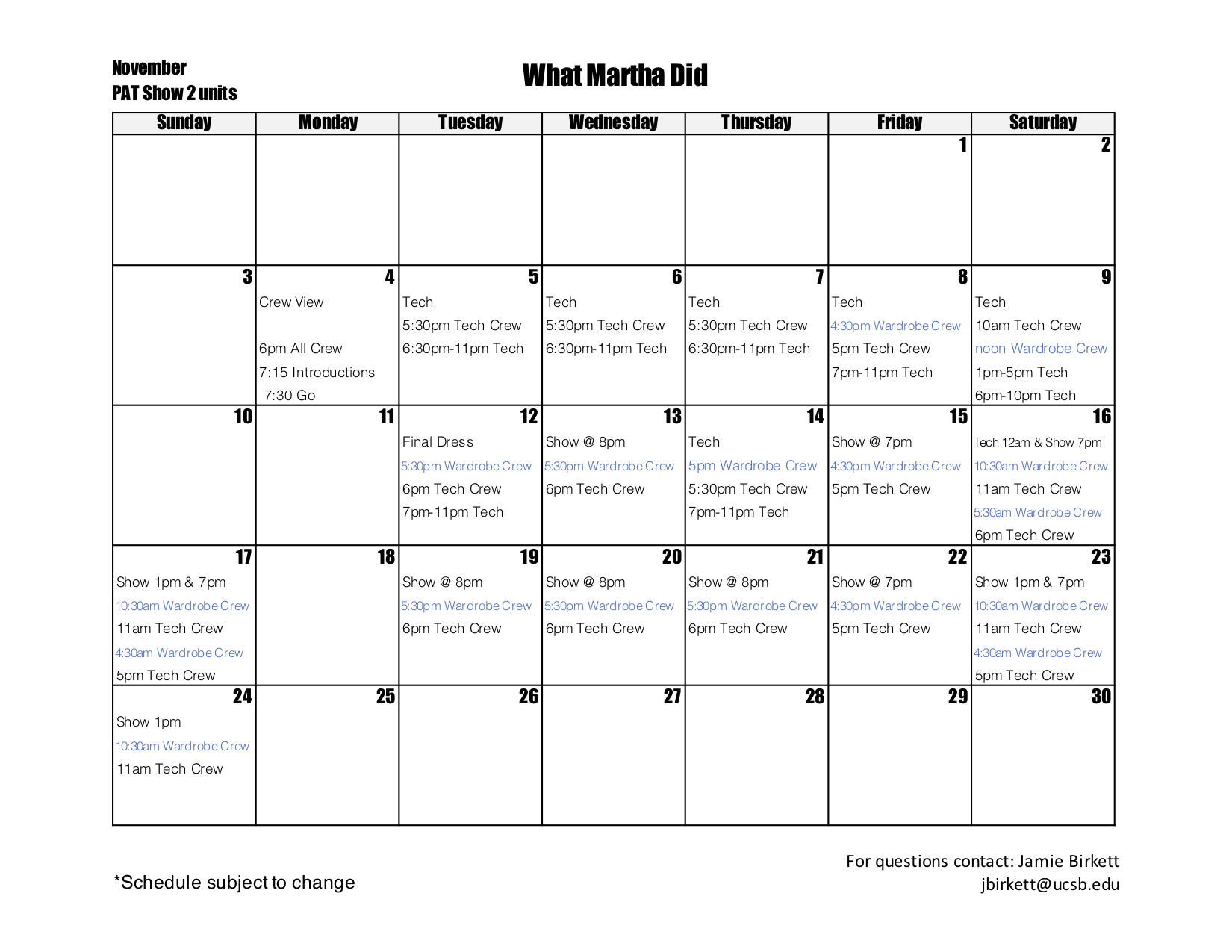 Fall Dance 2 unit Crew Spots Still Available: 0 of 3
Fall Dance 2 unit Assistant Stage Manager: 0 of 2 (Dance majors get priority)
Fall Dance 1 Unit Crew Spots Still Available: 0 of 4: Color Changers
Fall Dance Wardrobe Crew Spots Still Available: 0 of 4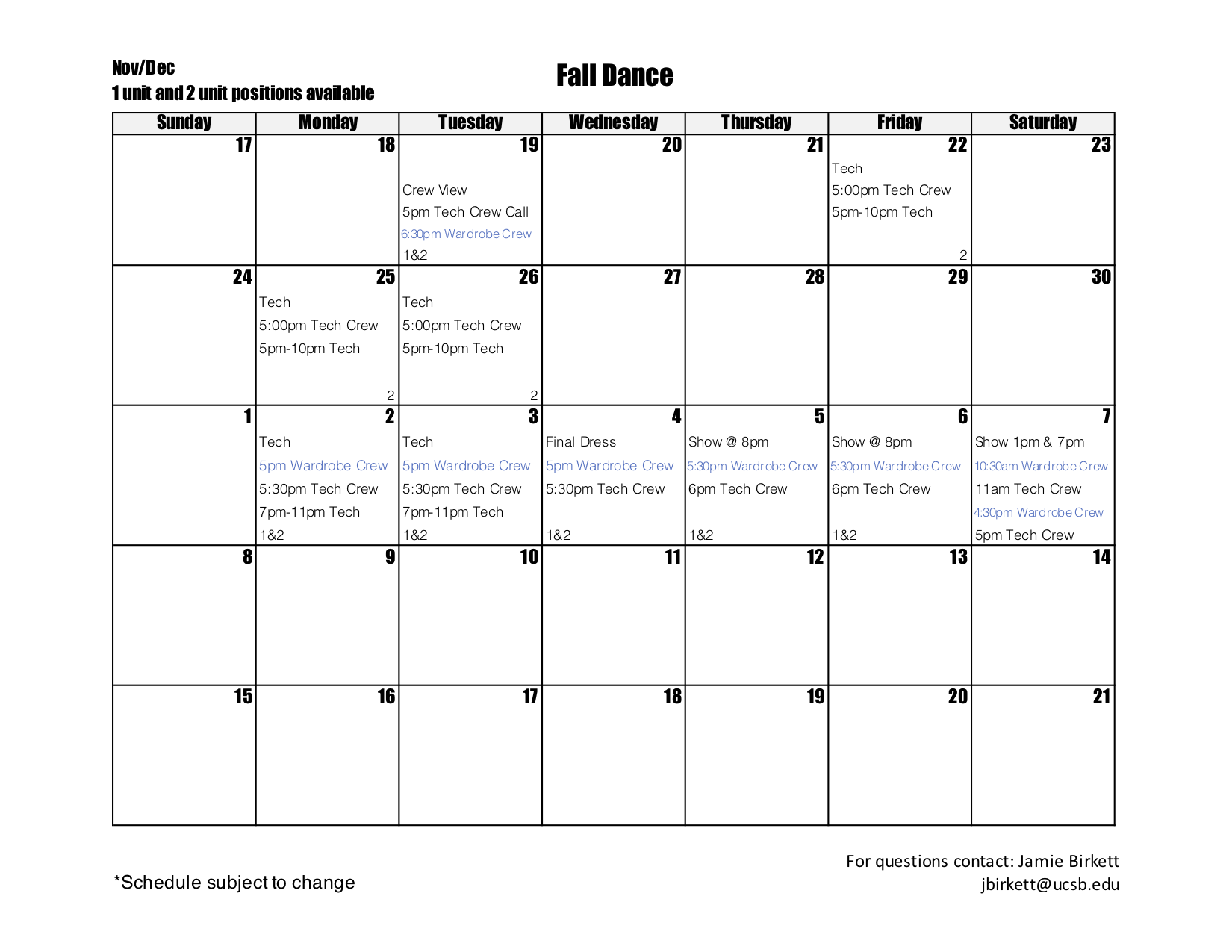 Black Flag 1 unit Crew Spots Available: 1 of 5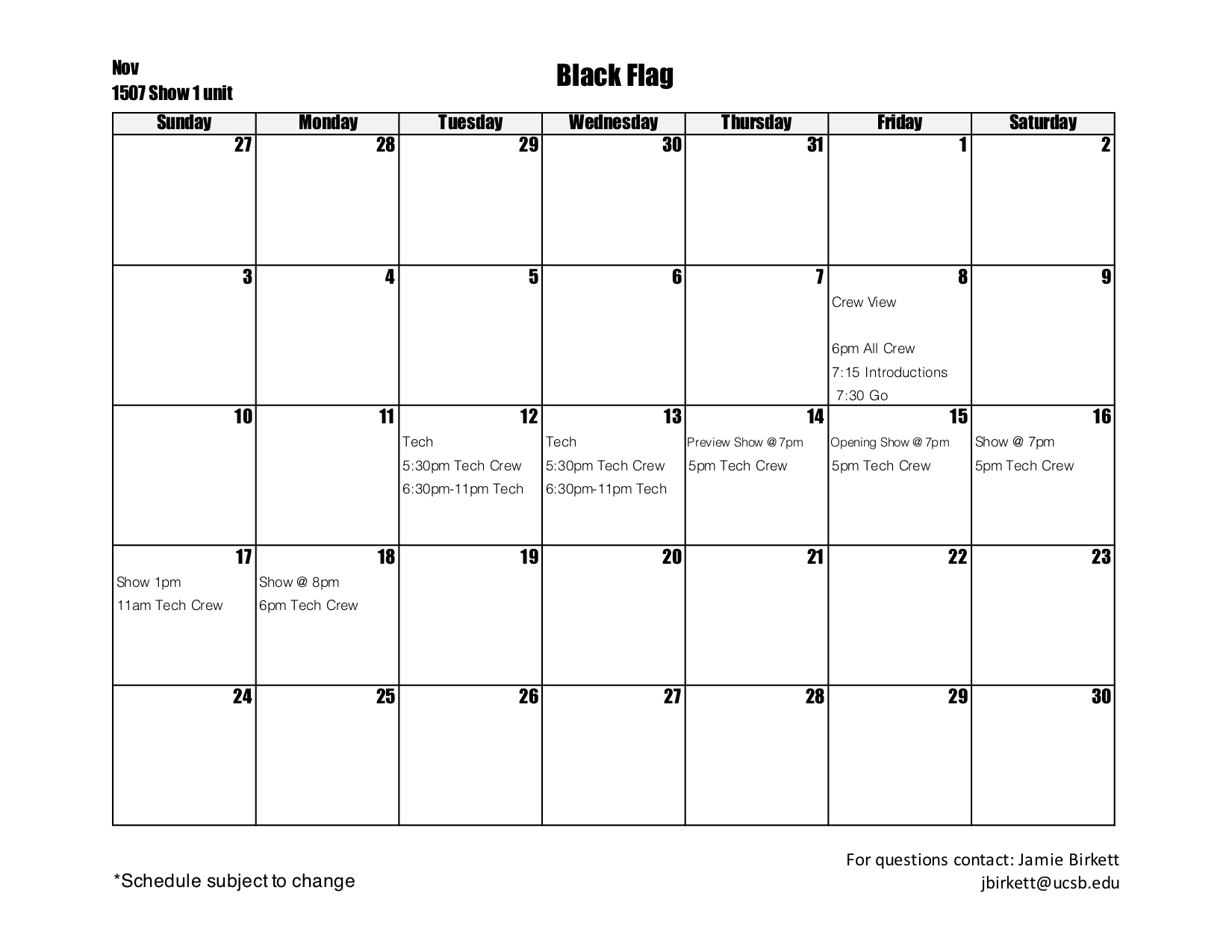 Winter One Acts 1 unit Crew Spots Available: 5 of 5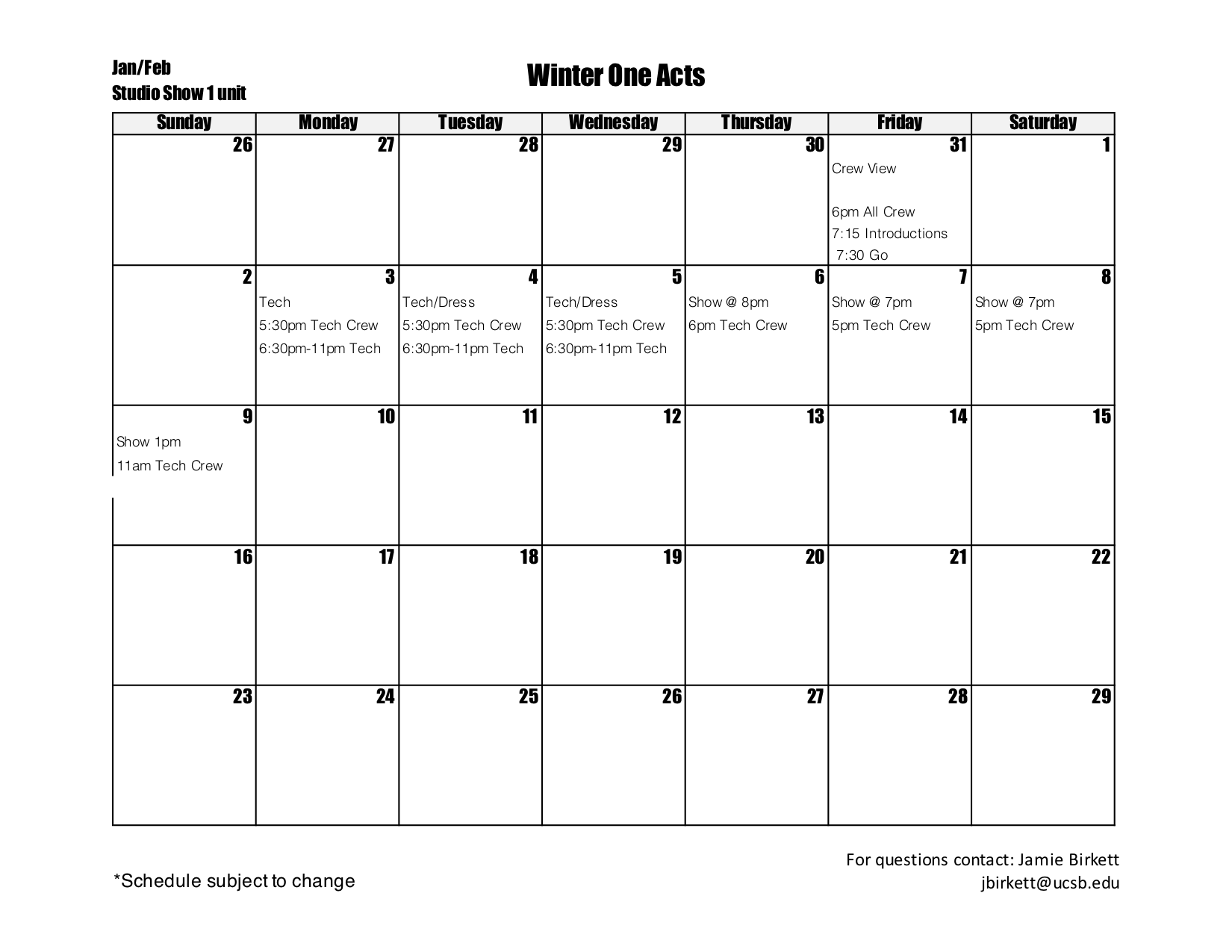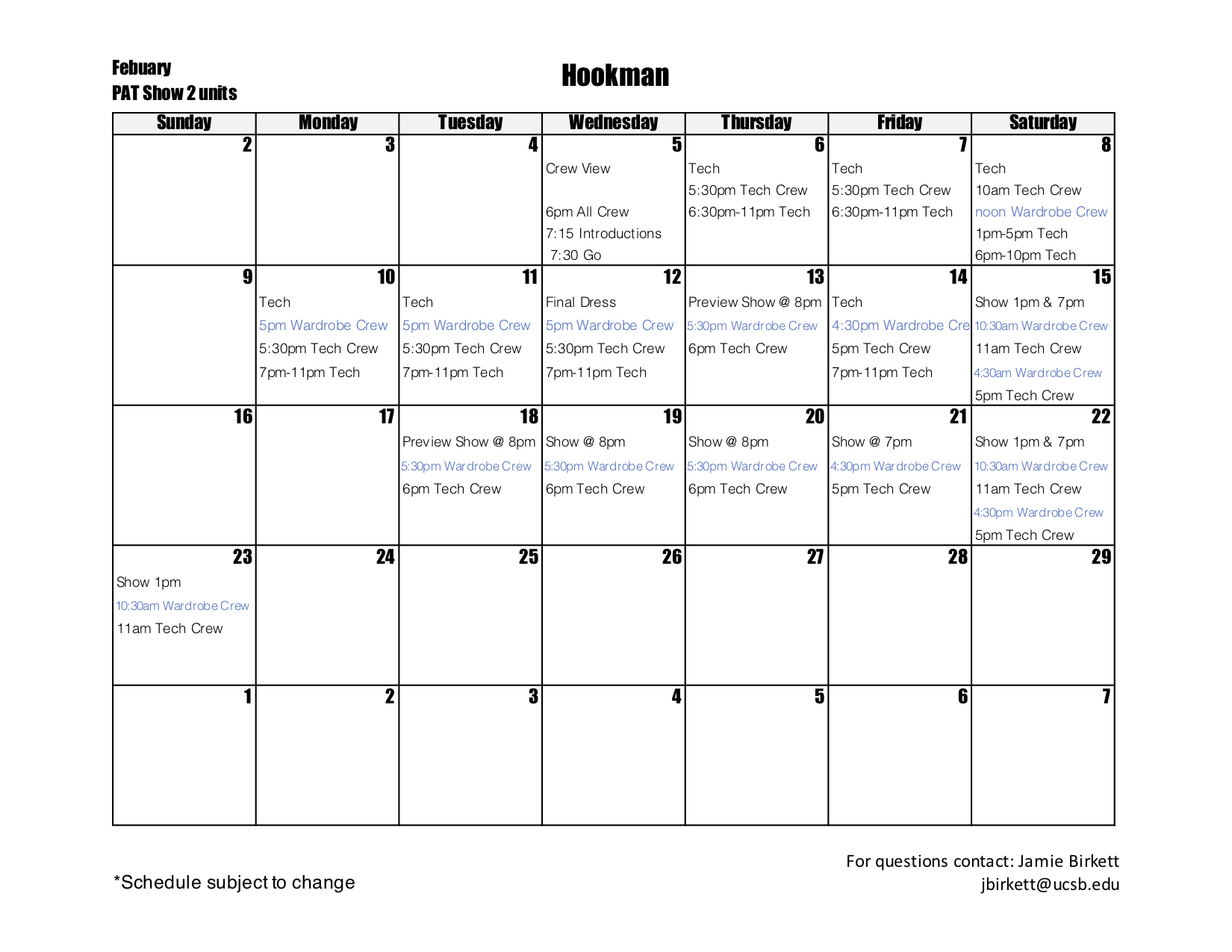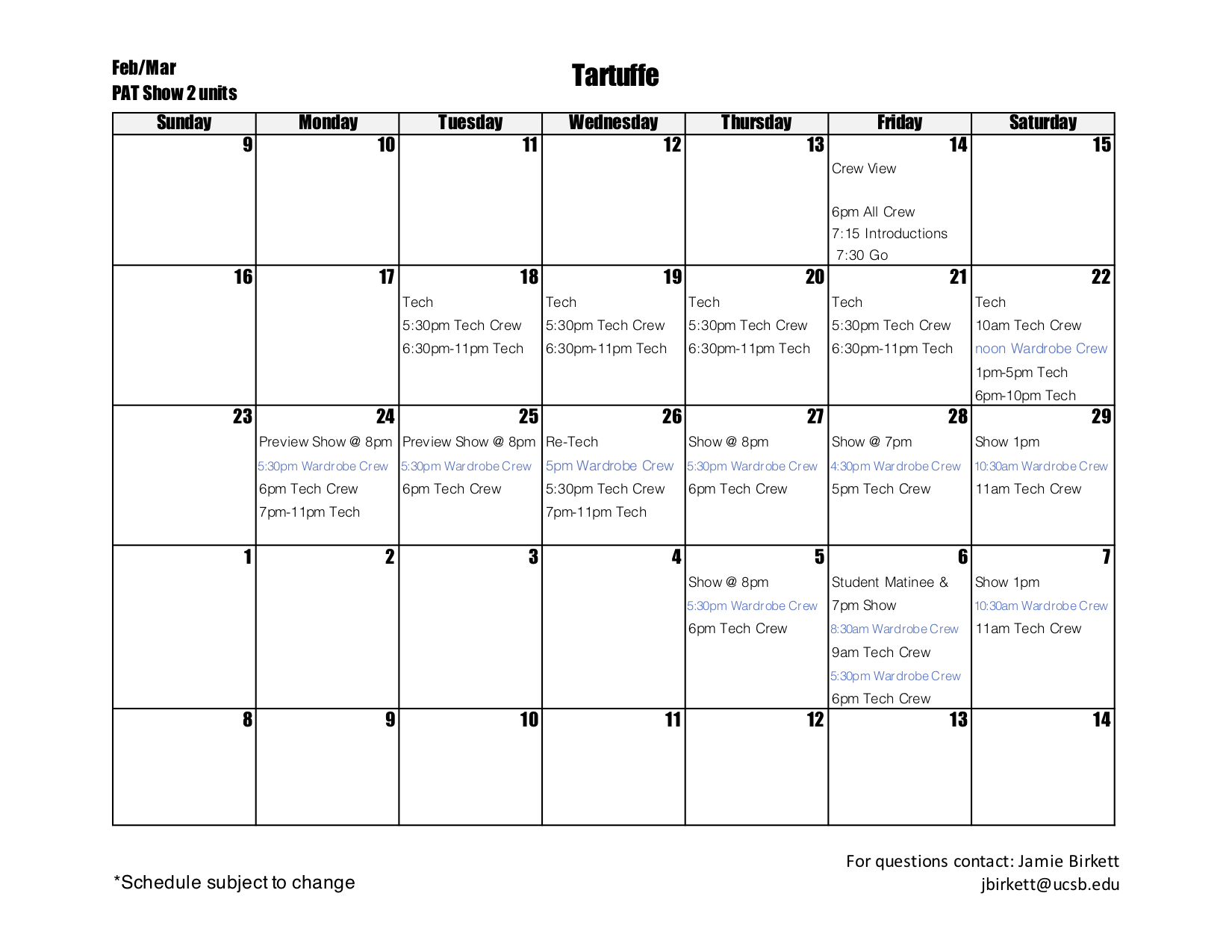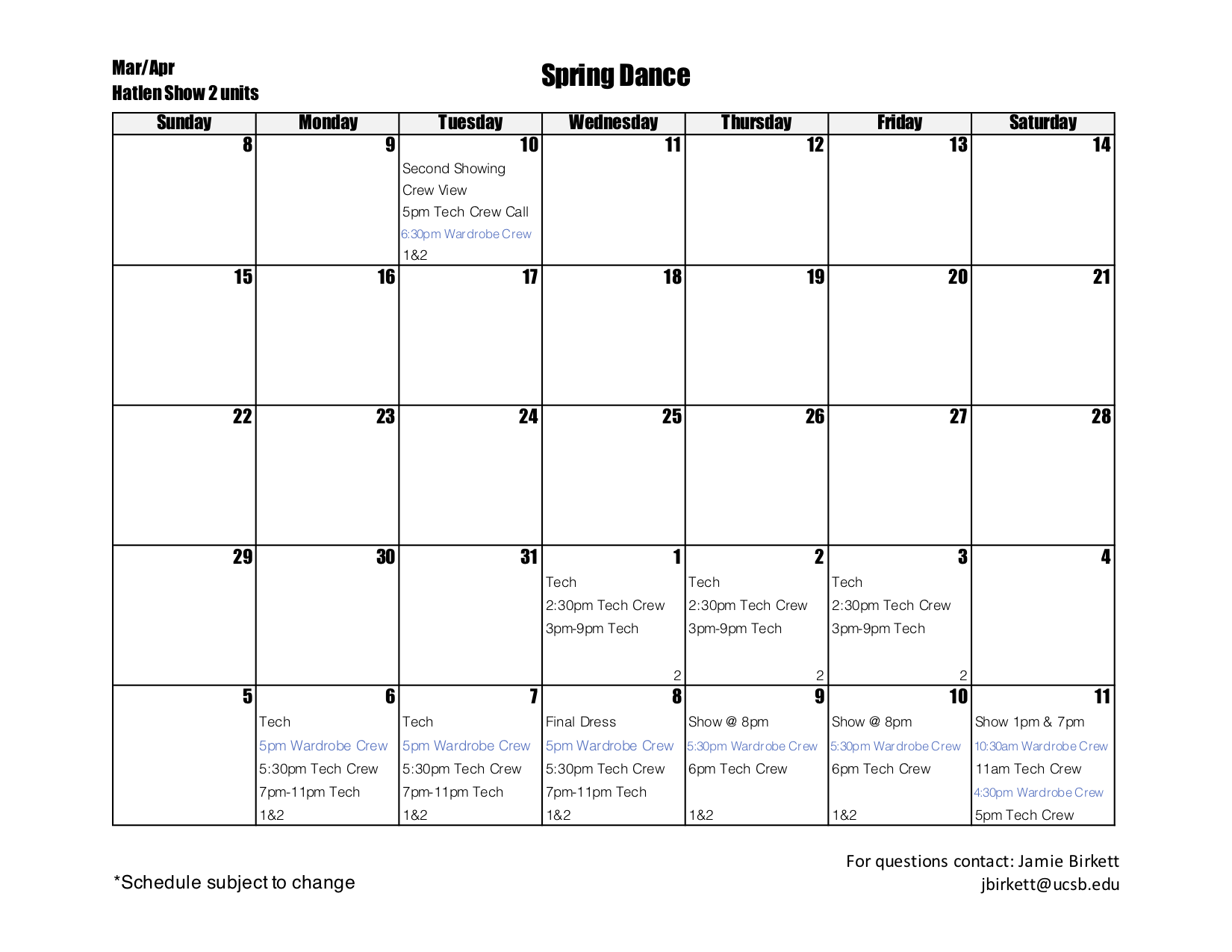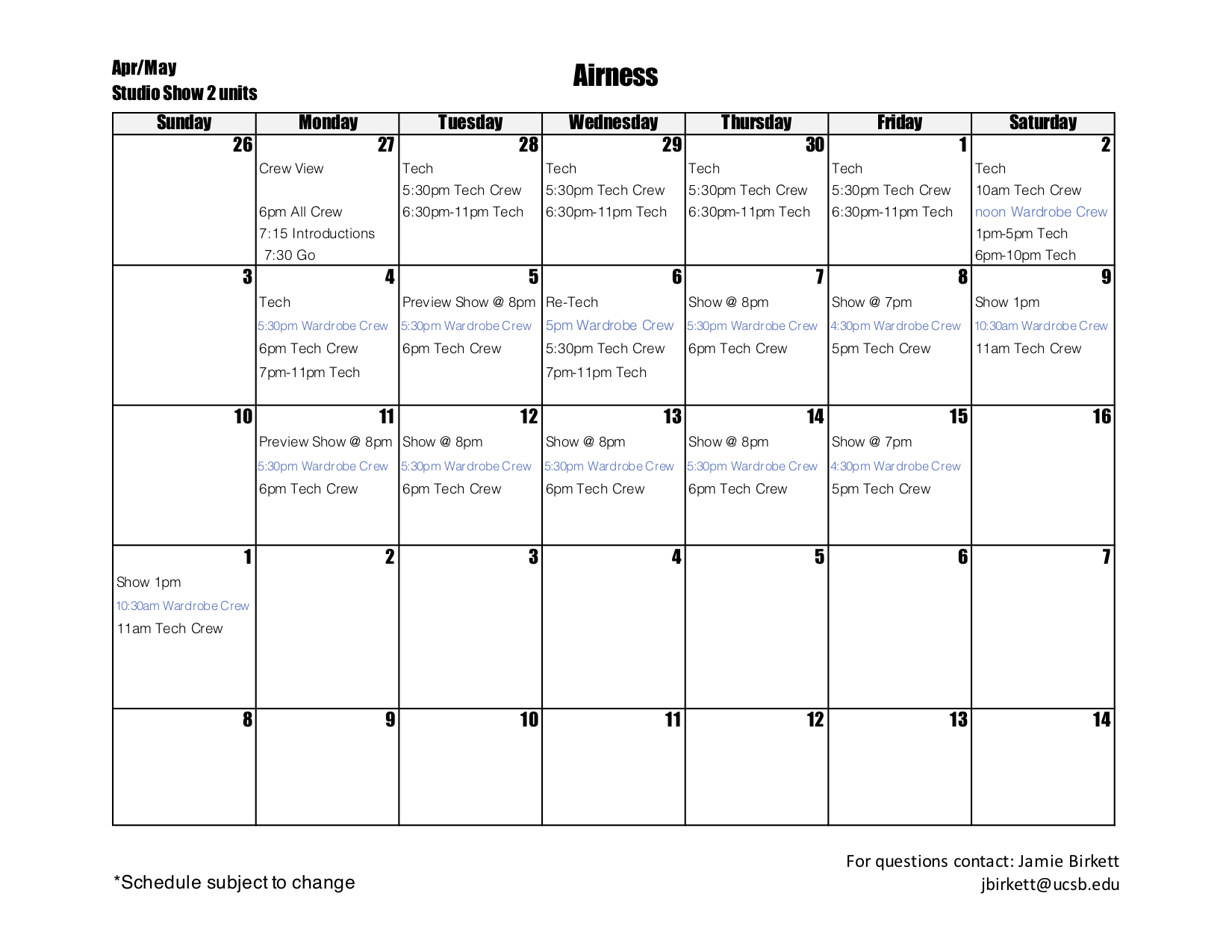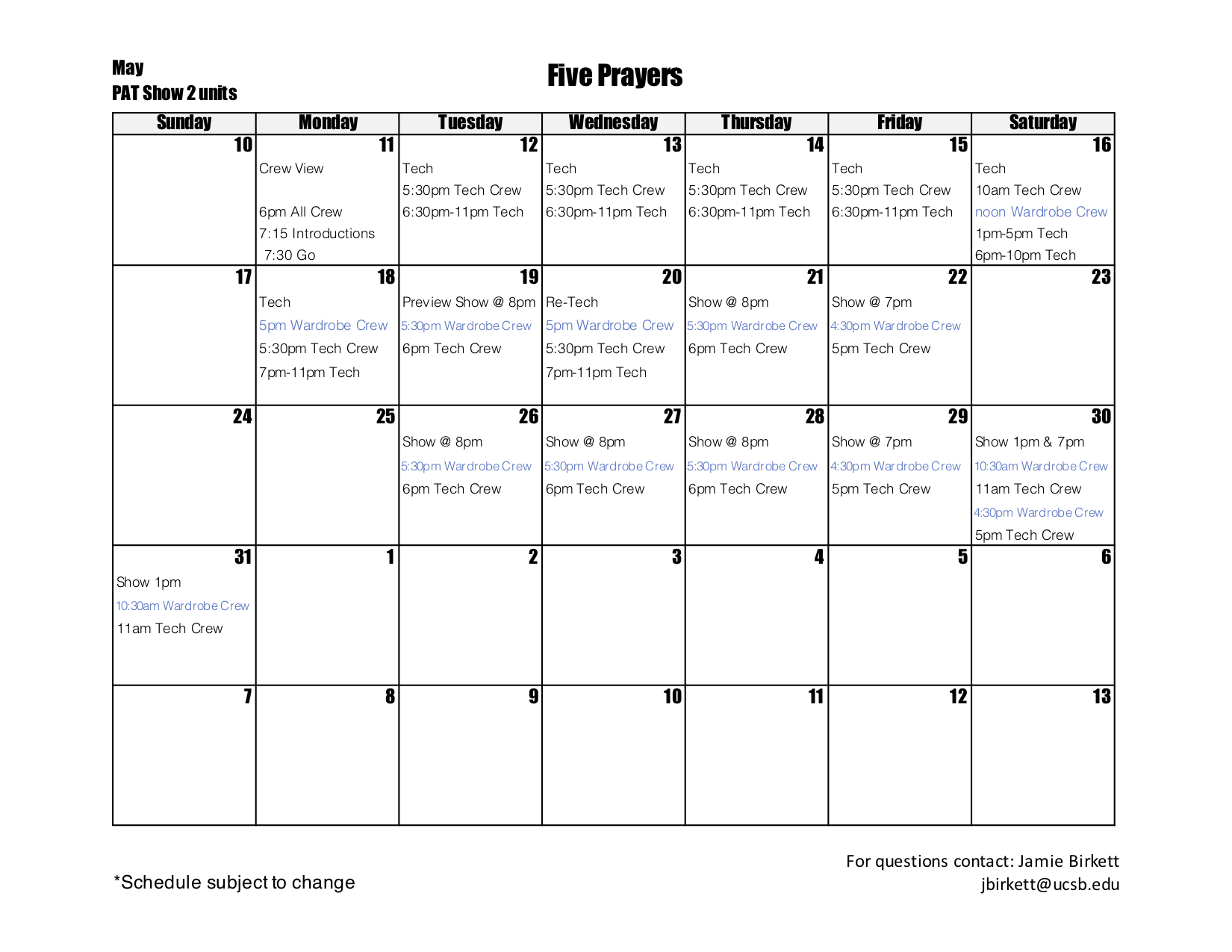 CONTACTS:
USHERING
Want to be more involved with the Department? Want to see shows for free? Volunteer to be an usher for one of our shows!
WHAT: As an usher for the department's productions, you will be asked to hand out programs before the show, direct audience members to facilities during intermission, and organize the venue after the performance.
WHEN: Ushers should arrive 45 minutes PRIOR to curtain at the VENUE of the performance and check in with the house manager for instructions and a brief training session.
WEAR: Please arrive dressed tastefully in ALL BLACK.
WHY: For ushering, students may see the performance at no charge. It is possible (though not likely) that ushers will be asked to attend another performance if seating is very limited.
HOW: Use the buttons below to to sign up! You will be asked to enter your email address so that we can send you a reminder. Be advised that sign ups are on a first come, first served basis.
TO SIGN UP CLICK HERE!
STAGE MANAGEMENT
To learn more about stage management and assistant stage management opportunities please contact Production Manager Daniel Herrera at daniel12@ucsb.edu.
November 14, 2019 - 5:56pm