Event Date:
Wednesday, September 2, 2015 - 8:00pm
Thursday, September 3, 2015 - 8:00pm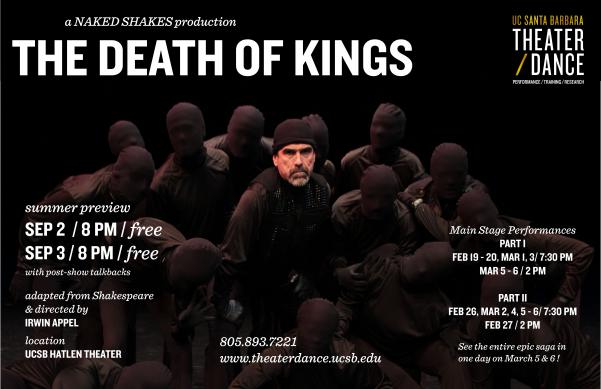 Adapted and directed by Irwin Appel
A Preview of this winter's Epic world premiere event
UC Santa Barbara's Department of Theater and Dance is proud to announce NAKED SHAKES' most ambitious project to date: The Death of Kings! The epic project is made up of a pair of two and a half hour plays performed together in repertory, adapted and directed by Irwin Appel from the history plays of William Shakespeare.  Part One:  "I Come But For Mine Own" comprises Richard II, Henry IV 1 and 2, and Henry V.  Part Two: "The White Rose and the Red" encompasses Henry VI 1, 2 and 3, and Richard III.  Since 2006, the critically acclaimed, award-winning NAKED SHAKES has presented energetic, exciting, raw, vibrant Shakespeare using the power of the actor and the word. This summer the NAKED SHAKES program will present a preview of The Death of Kings on September 2nd and 3rd, 2015 at 8PM in UCSB's Hatlen Theater, with full productions of both parts in repertory to follow in February and March, 2016.  If you like Breaking Bad or Game of Thrones, come see the original: William Shakespeare's The Death of Kings.
August 11, 2015 - 11:51am